Gulfton Real Estate Guide
Gulfton homes for sale & insider real estate guide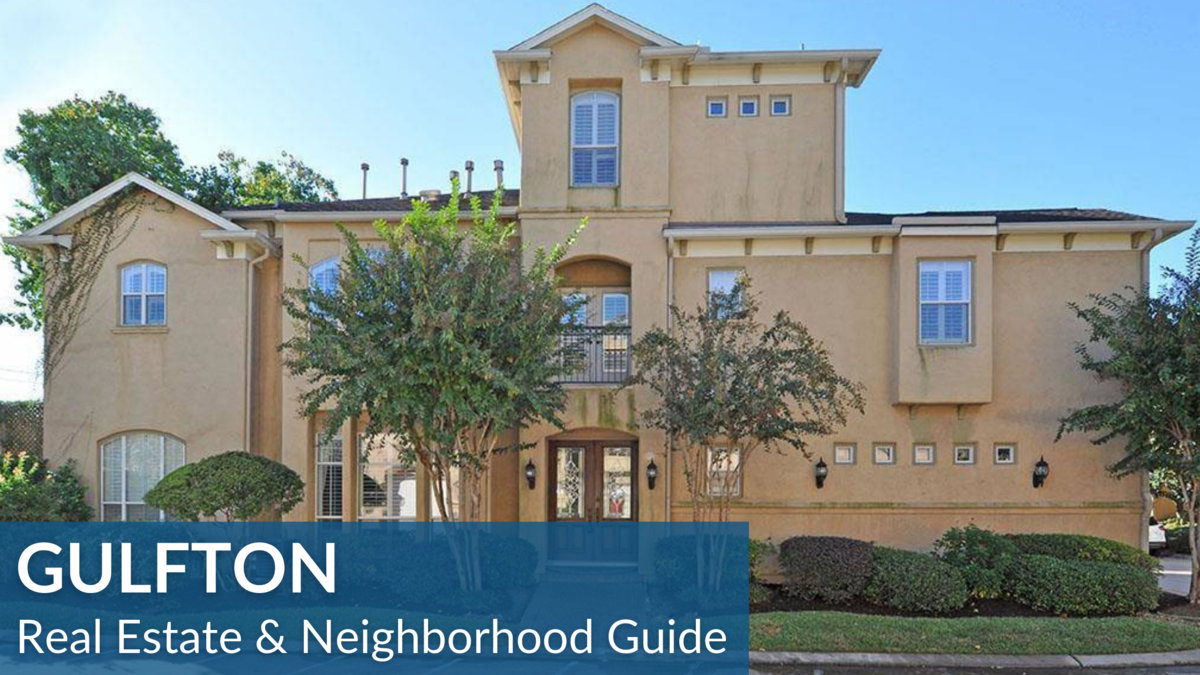 Gulfton is a community of single-family homes and townhome complexes in Southwest Houston. It is just off 610 Loop and beside the affluent Bellaire, one of Houston's most popular neighborhoods. Gulfton is one of the older towns in Southwest Houston. The homes were developed during the oil boom in the 1970s.
Gulfton is famous for its:
EXCELLENT LOCATION: Downtown Houston is about 10 miles, while Westchase is 6 miles west of Gulfton. The upscale retail shops of The Galleria are less than 3 miles north of the neighborhood. The Meyerland Plaza is a few minutes south.

** RECENT COMMUNITY DEVELOPMENT:** Gulfton features its community center, the Baker-Ripley Neighborhood Center, built in 2010. It houses a gym, a community garden, an elementary school, and a tax center.

** GOOD COMMUTE TO INNER LOOP:** The community features convenient access to main roads and thoroughfares. These include the 610 Loop, Beltway 8, and Westpark Tollway. It runs south of Interstate 69, east of Hillcroft Avenue, and north of Bissonnet Street.

** AFFORDABILITY:** Gulfton Houston is one of the more established neighborhoods in Houston. It has been around since the 1970s. Many Gulfton homes for sale cost less than homes in nearby communities inside the Inner Loop.

** PROXIMITY TO OUTDOOR RECREATION:** The 1,466-acre Memorial Park is about 15 minutes from Gulfton Houston. Other options include Burnett Bayland Park, Bayland Park, and Sharpstown Country Club. It is near the hiking and biking trails of Brays Bayou as well.

** DIVERSE HOUSING OPTIONS:** Gulfton offers single-family homes, townhomes, and condos. These range in style from vintage ranch-style to contemporary single-family residences. There are affordable townhomes as well. Some homes in the area feature single-story floor plans and two bedrooms. Larger properties feature three stories with up to four bedrooms and three baths.
Gulfton real estate can be challenging to navigate. It is due to the number of older, underdeveloped properties in the area. It is also rising due to its location, affordability, and recent commercial development. Homebuyers can benefit from the assistance of a top Houston realtor familiar with the Gulfton homes.
To get personal advice on buying or selling homes in Gulfton, contact Paige Martin, one of Houston's best realtors and one of the top-ranked Realtors in the United States.
"Paige Martin is the best Houston realtor, having awarded continuously year after year for her hard work, dedication and excellent customer service. She and her team share great information backed by data and research so you are confident that you are making a sound decision regarding your home. Even after the purchase or sale, you can expect that she keeps in touch on a regular basis to check on your needs and or concerns you may have. That is great customer service hard to find nowadays!" - Joyce Dy-Scott (Google Review)
---
Table of Contents
---
Gulfton Home Sale Trends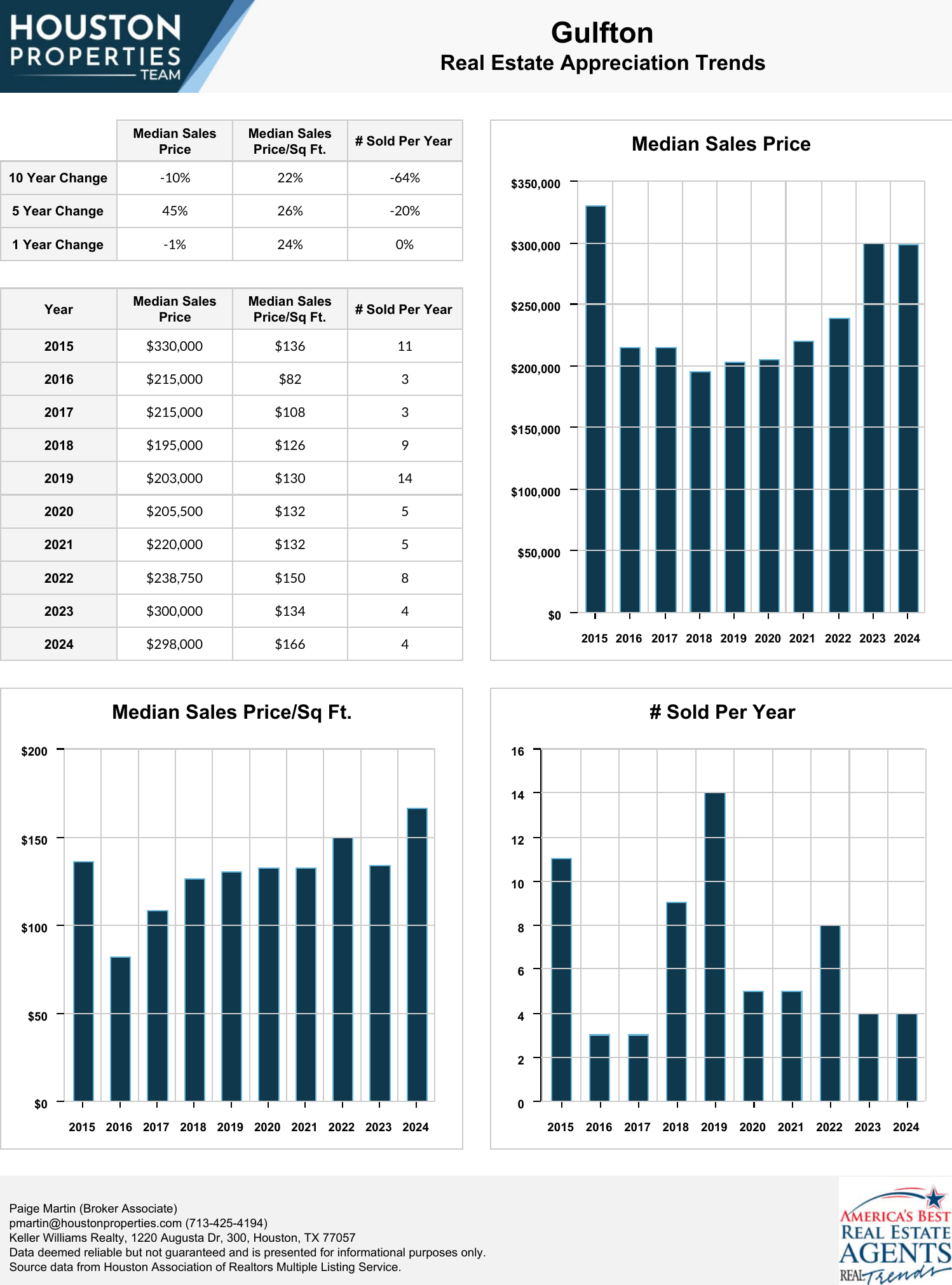 Gulfton is located in Southwest Houston between 610 Loop and the Bellaire. It is popular for its superb location and is one of the oldest towns in the Southwest.
Gulfton is known for its:
PROXIMITY TO ECONOMIC CENTERS: Downtown, Westchase Area, and Galleria are only a few miles away. Meyerland Plaza offers more retail options and is just a short drive south of Gulfton.

ACCESSIBILITY: The community is nearby Interstate 610, U.S. Highway 59, and Westpark Tollway. Several bus stations are readily accessible from the center of Gulfton.

PARKS AND TRAILS: The popular Memorial Park is only a 15-minute drive from Gulfton. Other options include Burnett Bayland Park and Sharpstown Country Club. The hike and bike trails of Brays Bayou are also accessible from Bayland Park.

ATTRACTIVE ARCHITECTURE: Homes in Gulfton have diverse architectural styles, from modern to countryside. Various one-story and two-story home layouts are available.
Gulfton real estate is gaining popularity due to a variety of factors, such as its location, architecture, amenities, and more.
---
Gulfton Best Realtor Insights
Gulfton is a super neighborhood located outside Loop 610 in Southwest Houston.
Gulfton is near Downtown Houston, Westchase, The Galleria, and Meyerland Plaza. It is also adjacent to Bellaire.

Gulfton provides easy access to major roadways and thoroughfares like the 610 Loop, Beltway 8, and Westpark Tollway.

Gulfton is a more affordable housing option compared to nearby neighborhoods.

It's close to outdoor recreation areas like Memorial Park and Brays Bayou hike and bike trails.

Gulfton has varied housing options, including single-family homes, townhomes, and condos.

Residents enjoy easy access to major employment hubs, top schools, and cultural centers.

Gulfton is zoned to Houston Independent School District. Students can attend Cunningham Elementary School and Long Academy for quality education.

Gulfton has a couple of well-maintained townhomes, with styles from vintage ranch-style to contemporary.

Home sizes vary from 1,000 to more than 5,000 square feet. These homes have different floor plans and can be customized accordingly.

The prices of homes for sale in Gulfton range from $60,000 to more than $950,000.
---
Gulfton Maps, Location & Zip Code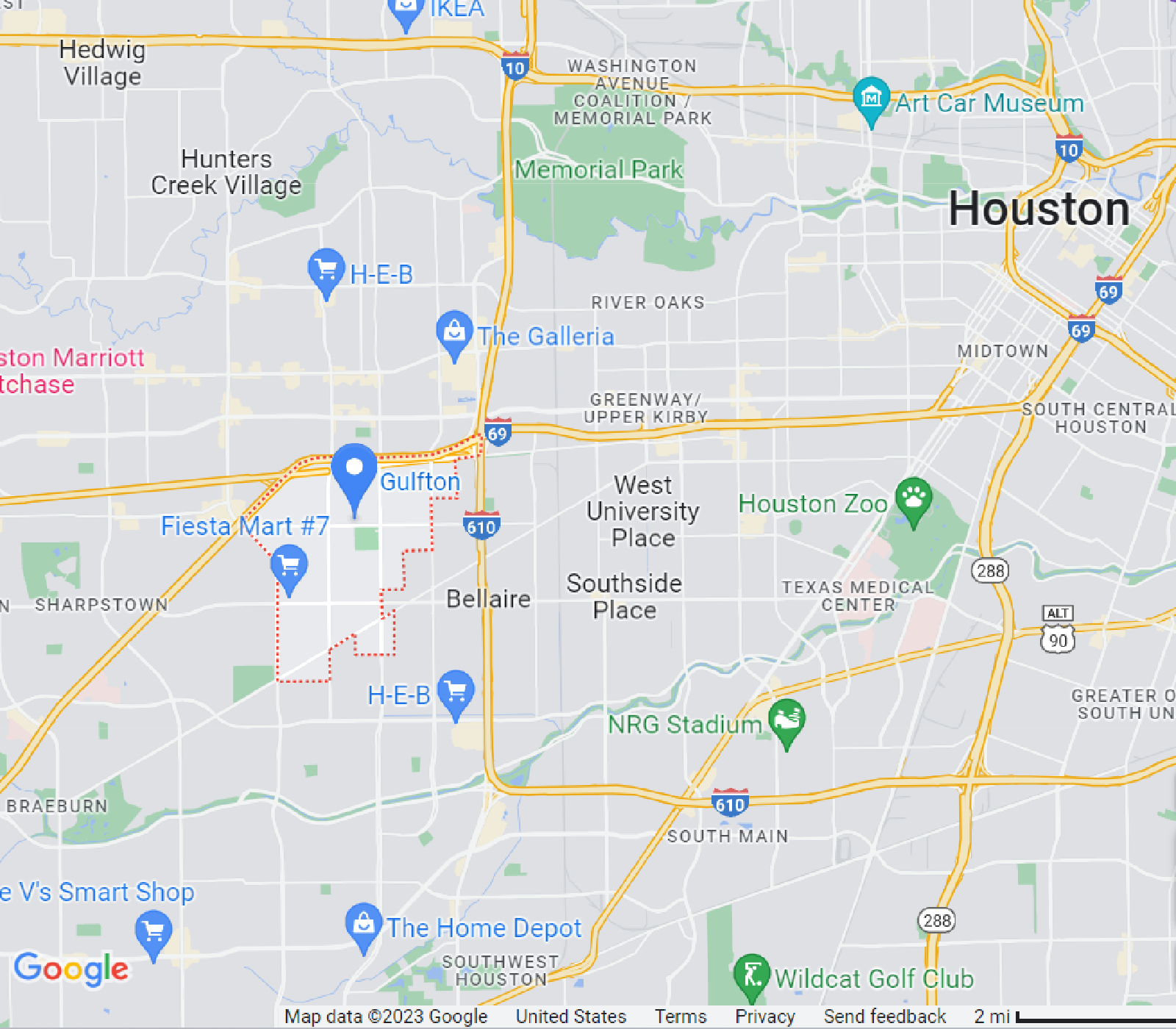 | Commute Time | Gulfton |
| --- | --- |
| Downtown (min) | 15 |
| Med Ctr (min) | 15 |
| Energy Corridor (min) | 20 |
| Galleria (min) | 5 |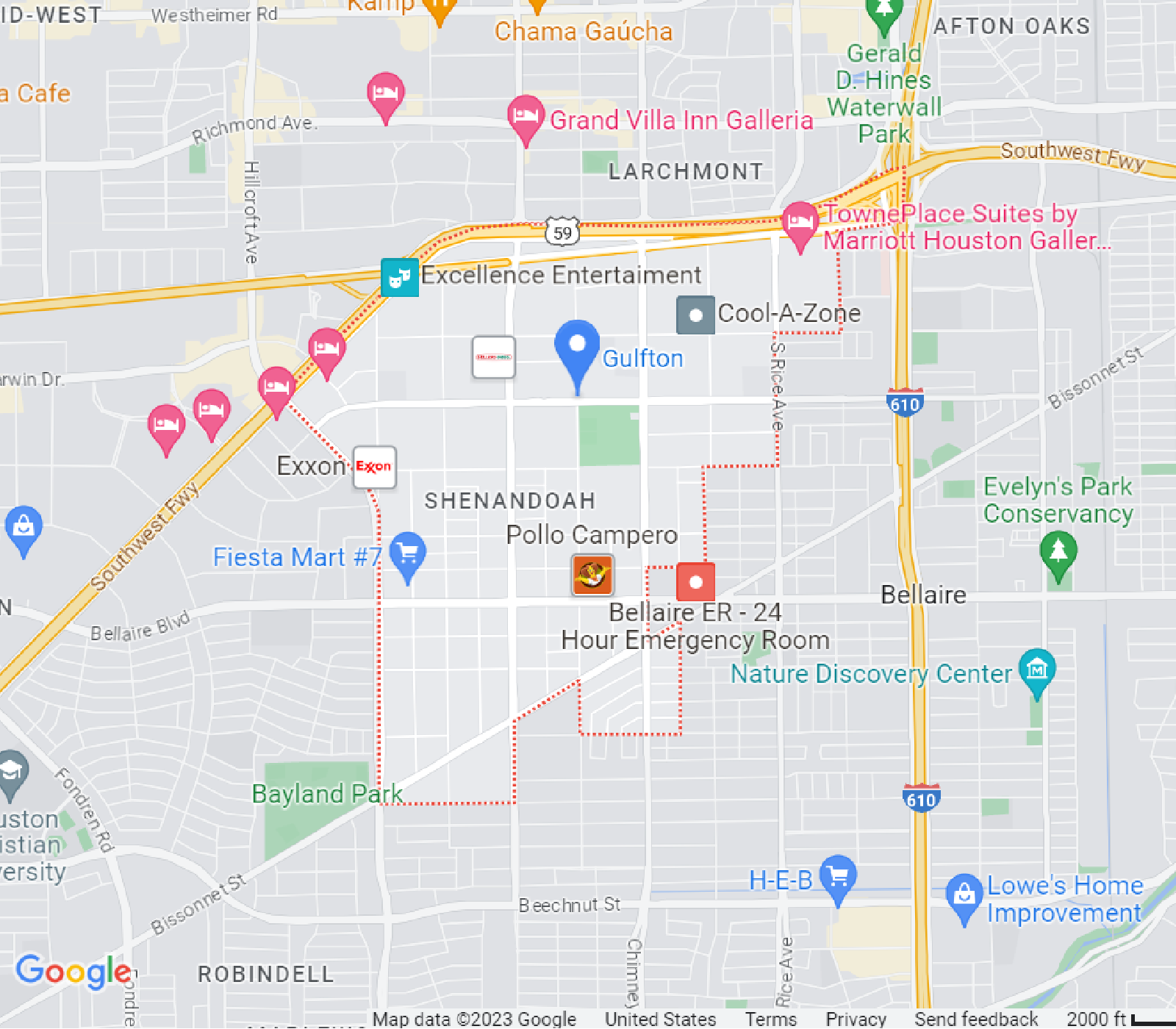 Highlights
Gulfton
Amenities
Burnett Bayland Park has a community center and garden, a water playground, a ball field, and a bike trail.

Gulfton Skatepark is located within Burnett Bayland Park and has unique lines in the street area and an enclosed bowl for skateboarding.
Golf Courses
- Sharpstown Park Golf Course
- Arty Fleckman Golf Inc
- BraeBurn Country Club
- Westwood Golf Club
Run / Bike Trails
- Memorial Park Hike and Bike Trailhead
- Memorial Park Green Ridge Trail
- Cullen Running Trails Center
Nearby Retail / Dining
Retail

- LOFT
- Rainbow Shops
- Ross Dress for Less
- Marshalls
- Sam's Club

Dining

- Jax Grill
- Bubba's Texas Burger Shack
- Auntie Pasto's
- Lemongrass Cafe
- Saltillo Mexican Kitchen
- Jack in the Box

Nightlife

- Latina Sports Bar
- Ron's Pub
- Muldoon's the Patio

Grocery

- Grocers Supermarket
- Renwick Food Market
- Pop's Supermarket
- H-E-B
- Sunny Food Store
Major Employers
- Texas Children's Hospital
- Chevron Corporation
- AT&T Corporate
---
Gulfton Schools
Gulfton schools are zoned to the Houston Independent School District (HISD).
HISD, the largest school district in Texas and the eighth-largest in the US, has been awarded the prestigious Broad Prize twice.
Condit Elementary School and Bellaire High School are among our list of best Houston Schools. Here are some of the most notable schools in Gulfton:
---
Elementary Schools
---
Cunningham Elementary School at 5100 Gulfton St. Cunningham offers various programs for Prekindergarten through fifth grade students, including Bilingual, ESL, GT, PALS, SLL, Resource, and EXPLORER classes.

Condit Elementary School at 7000 S Third St. Condit Elementary is a dual-language school, offering programs in English and Spanish. It also provides enrichment activities, including chess, drama, sewing, robotics, cooking, Spanish, art, and karate.
---
Middle Schools
---
Pin Oak Middle School at 4601 Glenmont Dr. Pin Oak is introduces students to various languages, including Mandarin Chinese, French, German, Italian, Hindi, Japanese, Latin, and Spanish in 6th grade. As they progress to 7th and 8th grade, students have the opportunity to specialize in the languages of their preference.

Energized For Excellence Academy Inc Middle School at 6107 Bissonnet St. Energized Middle School is a prominent institution in the Energized for Excellence Academy, serving students from Pre-K to 8th grade.
---
High Schools
---
Challenge Early College High School at 5601 West Loop St. CECHS offers a college-style environment where students are mentored to develop self-directed learning skills through diverse courses. Students can earn up to 61 college credits upon completing high school.

Bellaire High School at 5100 Maple St. Bellaire High School offers a robust Advanced Placement program and Dual Credit options. Students also have access to athletic activities and a performing and visual arts curriculum.
---
Gulfton Private Schools
---
Gulfton has some remarkable private schools, namely:
Robindell Private School at 6610 Alder Dr.

Veritas Christian Academy of Houston at 7000 Ferris St.

YES Prep Gulfton Secondary at 6565 De Moss Dr.
To find an updated listing of all Gulfton real estate zoned to any specific public school, please email Paige Martin at PMartin@HoustonProperties.com with the property preference and budget that you're working with.
Note: For more detailed information on specific schools zoned to different Gulfton areas, please refer to our Houston Schools Guide OR email me.
Note: School zoning tends to change from year to year. The information provided above is accurate but not guaranteed. Please double-check by visiting the school's website.
---
Gulfton Real Estate Market
Gulfton Single-Family Home Sale Trends
---
While the number of single-family homes in Gulfton is limited, they remain a desirable option due to their style and location.
These homes often feature open floor plans, allowing for customization.
Homes in Gulfton offer modern and cozy styles.
---
Gulfton Townhome Sale Trends
---
Townhomes in Gulfton come with varying price ranges, but mostly under $100,000.
Homes are near Westchase and prime shopping spots like Galleria and Meyerland Plaza.
The median price for Gulfton townhomes ranges from $60,000 to $70,000, depending on the size and style.
---
Gulfton Condo Sale Trends
---
There are no mid- or high-rise Gulfton condos for sale, but plenty of units are available in the surrounding areas.
To see other condos within the Inner Loop, see Inner Loop Houston Condos. To see condos within the nearby Galleria area, see Galleria Houston Condos. To see other condos within Downtown Houston, see Downtown Condos. To see condos within Museum District, see Museum District Condos.
The Houston Properties Team is an expert in Gulfton real estate. Please contact us if you'd like to see Houston condos or learn more about buildings that could be a fit for you.
---
Gulfton TX History
---
Gulfton was mostly rural and made up of open fields and farmland when the neighborhood's development started in the 1950s. The region was a desirable location for residential development due to its proximity to downtown Houston and easy access to major highways.
The neighborhood's name, "Gulfton," relates to its proximity to the Southwest Freeway (I-69) and the Gulf Freeway(I-45). The fact that these major thoroughfares offer quick access to Houston's downtown and other parts of the city contributed to the city's expansion.
Gulfton saw a significant boom in flat construction in the 1960s and 1970s. In order to meet the demand for affordable housing, numerous sizable apartment complexes were built by developers who noticed the potential for housing in the region.
The 1980s and 1990s witnessed an uptick in Gulfton's population as a result of the influx of immigrants looking for jobs in Houston. The neighborhood attracted people from various nations and cultures, which added to its multicultural and diverse nature.
Gulfton experienced crime, poverty, and shoddy infrastructure issues in the early 2000s. In addition to causing overcrowding, the concentration of high-density apartment buildings made it clear that there were not enough green spaces or recreational facilities.
Local businesses, government officials, and residents did make an effort to address these problems, though. The quality of life for residents of Gulfton has been improved through initiatives to increase safety, renovate public areas, and spend money on educational and social programmes.
Gulfton is a dynamic and diverse Houston neighborhood that is still changing and reflecting larger trends and changes in the urban landscape of the city.
---
Fun Things To Do Near Gulfton
---
Residents of Gulfton have choices for retail shopping, parks, dining establishments, and entertainment venues.
A selection of parks and golf courses are within the area, including some bike and hike trails. Some of these notable spots are Burnett Bayland Park, Sharpstown Park Golf Course, and Memorial Park Green Ridge Trail.
Here are some of Gulfton's must-visit places:
Retail
LOFT
Rainbow Shops
Ross Dress for Less
Marshalls
Sam's Club
Dining
Jax Grill
Bubba's Texas Burger Shack
Auntie Pasto's
Lemongrass Cafe
Saltillo Mexican Kitchen
Jack in the Box
Nightlife
Latina Sports Bar
Ron's Pub
Muldoon's the Patio
Grocery
Grocers Supermarket
Renwick Food Market
Pop's Supermarket
H-E-B
Sunny Food Store
---
Best Gulfton Realtor – Paige Martin
---
As featured on Fox News in the Morning, Houston Business Journal, and Houston Magazine, Paige Martin, a consistent Top Producing Broker-Associate and head of the Houston Properties Team, is ranked as one of the top residential real estate agents in the world.
---
Best Houston Real Estate Resources
---