Hempstead Real Estate Guide
Hempstead homes for sale & insider real estate guide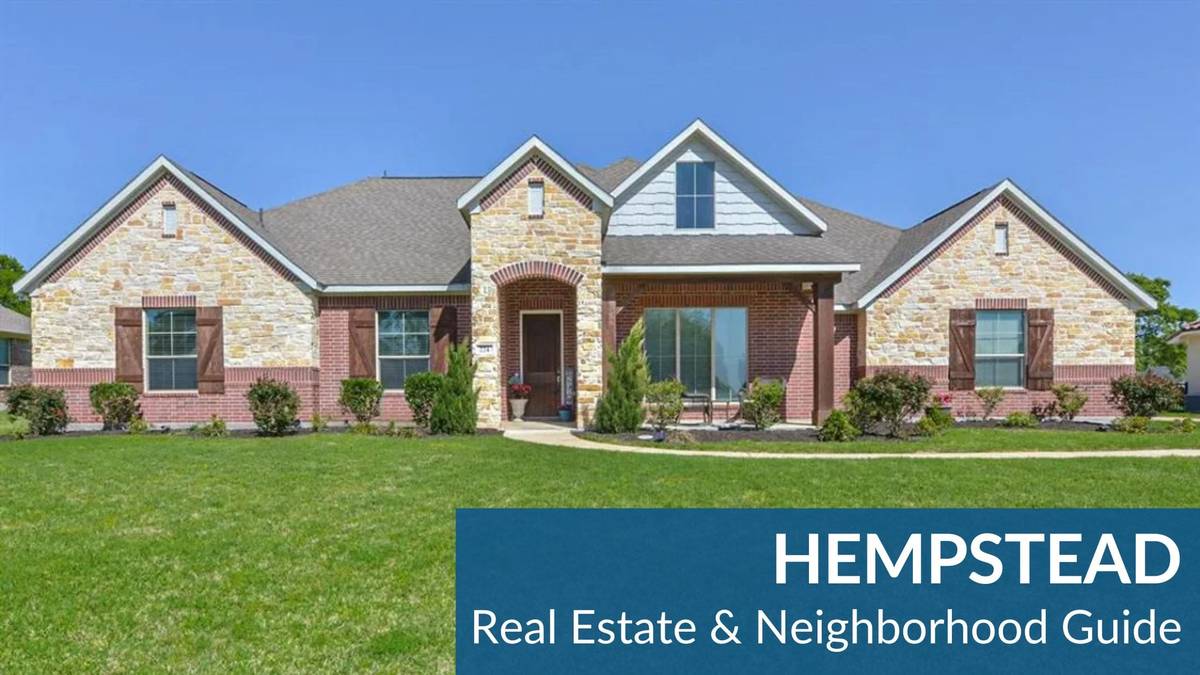 Located west of Downtown Texas (approximately 50 miles northwest) and at the junctions of Texas State Highway 6 and 159 and Highway 290, Hempstead is conveniently situated near academic schools and universities.
Hempstead residential market is growing due to:
GOOD COMMUTE: Students like living in Hempstead due to its proximity to the schools and universities. Mostly it's a 5 to 6-minute commute to Texas A&M University, Prairie View A&M University, and Blinn College.

FOOD OPTIONS: Grocery stores nearby include Walmart, Dollar Tree, Krolczyk Meat market, Alameda Meat Market No 3, and Brookshire Brothers to name a few. Hempstead is well-known in Houston for its watermelon crops. Dilorio Farms, El Puas, and Gurrola Produce are the fruit market for buying sweet and delicious watermelons.

DINING RESTAURANTS: The Hempstead neighborhood is home to various restaurants like Hill Country Bbq, Hempstead Steak & Seafood, Classic Events Cafe, Breakfast Paradise, and Erik's Mexican Restaurant which are within a few minutes of Hempstead residences.

LAID-BACK LIFESTYLE: The quaint city of Hempstead is a getaway from the hustle and bustle of city life. The sceneries are mostly green hills, pastures, and dark and beautiful, tall oak trees. Just a little traffic on the roads could be seen even during rush hour. Perfect for a good study environment or a peaceful and relaxing home after a tedious day at work. The country life is best in this neighborhood because most properties offer huge acres of land, perfect for farming, raising chickens and other farm animals

FAMILY-ORIENTED COMMUNITY: The neighborhood mostly has single-family houses with 3 bedrooms and 2 baths while some have 4 beds and 2 full baths. There are houses for rent for single-family or multi-family but there are houses for rent for a single individual too. Hempstead is a perfect haven for raising a child or a family.

PARK AND RECREATION: The community is kid-friendly. Situated at 250 Blasingame Road is the Hempstead City Park with playing fields for the kids, park amenities, and a pavilion.

LUXURIOUS AMENITIES: The neighborhood offers homes with granite countertops and stainless steel appliances. The residences boast large living and dining rooms, spacious bedrooms, and beautiful flooring which is mostly plank and tiles. Some houses offer a black appliance kitchen package, a built-in fireplace, and covered parking.
Due to the proximity of schools and quaint communities, many families choose to live in Hempstead.
To get personal advice on buying or selling Hempstead homes, contact Paige Martin, one of Houston's best realtors and one of the top-ranked Realtors in the United States.
"Aaron with the Houston Properties Team was phenomenal! He helped us buy a home in Houston and made the process extremely smooth. He was knowledgeable and communicated with us every step of the way. He will forever be my go to guy for all future land/home purchases." - Alexis Sibila (Google Review)
---
Table of Contents
---
Hempstead Home Sale Trends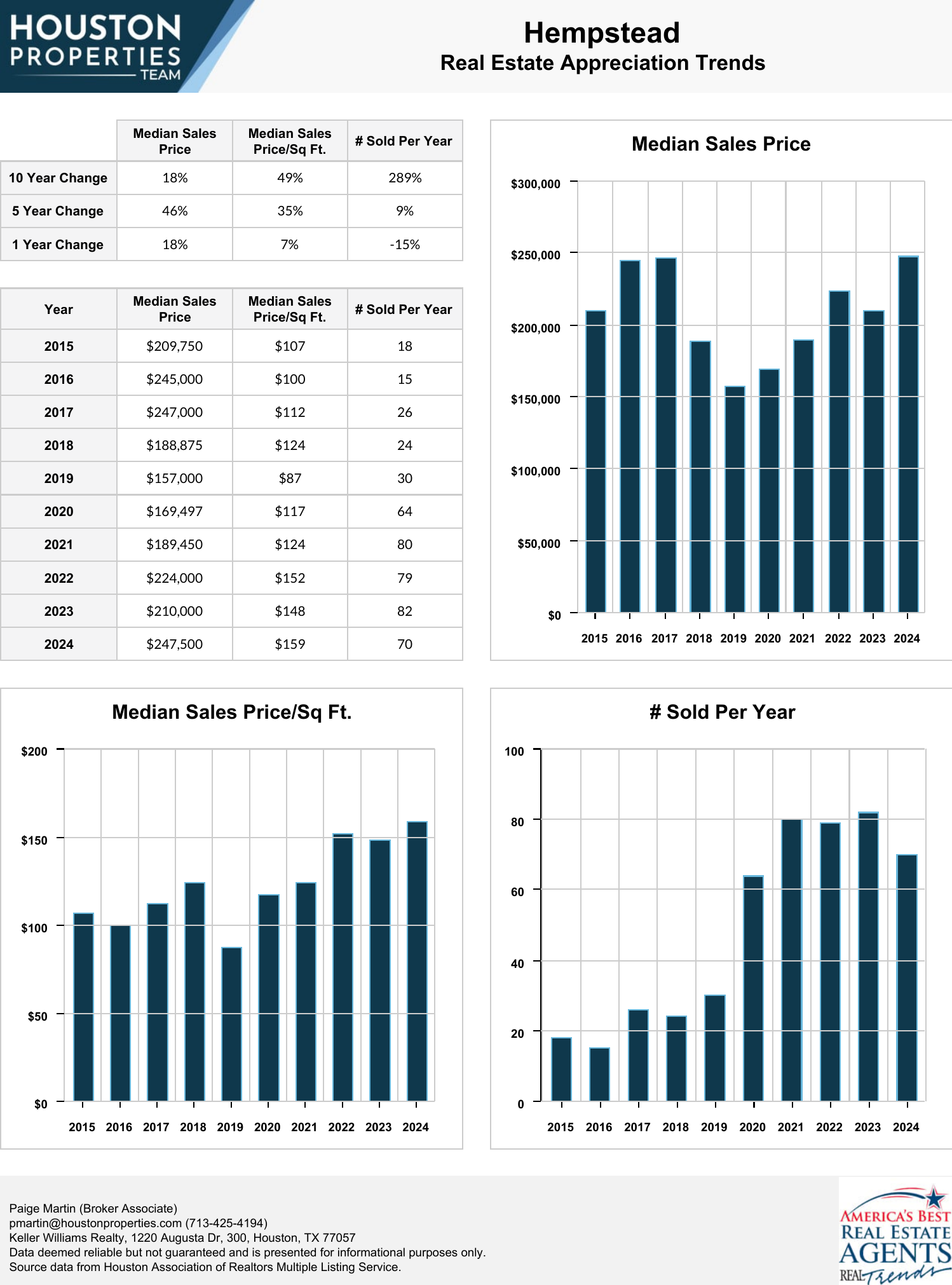 Located at the junction of roads Highway 290, and Texas State Highways 6 and 159, Hempstead is just 50 miles west of Downtown Texas.
Hempstead is well-known for its:
ACCESSIBILITY: Hempstead neighborhood is situated near academic schools and universities. It is a 5-minute good commute to schools like Blinn College, Texas A&M University, and Prairie View A&M University.

RETAIL: Nearby grocery stores include Dollar Tree, Walmart, and Brookshire Brothers. Some fresh fruits and vegetable markets where you can shop for produce and juicy watermelons are El Puas, Gurrola Produce, and Dilorio Farms.

DINING OPTIONS: Residents of Hempstead enjoy a variety of restaurant options in the neighborhood. Dining restaurants with 4 to 5-star ratings are Hempstead Steak & Seafood, Breakfast Paradise, and Hill Country BBQ.

GREEN SPACE: Hempstead is rich in vegetation and there is a lot of green space perfect for farming or gardening and even raising farm animals like chickens. Sceneries are green hills and beautiful oak trees which makes the neighborhood a haven for relaxation.
The residents enjoy hanging out at Hempstead City Park nearby which is pet-friendly. The park amenities include a playground and pavilions for children and adult outdoor activities.
---
Hempstead Maps, Location & Zip Code
| Commute Time | Hempstead |
| --- | --- |
| Downtown (min) | 50 |
| Med Ctr (min) | 50 |
| Energy Corridor (min) | 40 |
| Galleria (min) | 40 |
Highlights
Hempstead
Amenities
Hempstead City Park features new and old pavilions, playing fields, and park amenities.
Golf Courses
Legendary Oaks Golf Course
Run / Bike Trails
Hempstead City Park
Nearby Retail / Dining
- Joe's Italian Grill
- Hempstead Chicken
- Ayala's Cafe
- First Class BBQ
- Granny's Homestyle Meals
- Hempstead Seafood Restaurant & Steak
- Tacos El Carnalito
- Erik's Mexican Restaurant
- Arcelia Mexican Taqueria
- Taqueria Las Palmas
- Sealand Seafood Steak and Pho
Major Employers
- Subway
- Taco Bell I B and G Food Enterprises
- Sonic Management
- Jack In The Box I A3H Foods, LLC
---
Best Houston Real Estate Resources
---