Heritage Grand in Cinco Ranch Real Estate Guide
Heritage Grand in Cinco Ranch homes for sale & insider real estate guide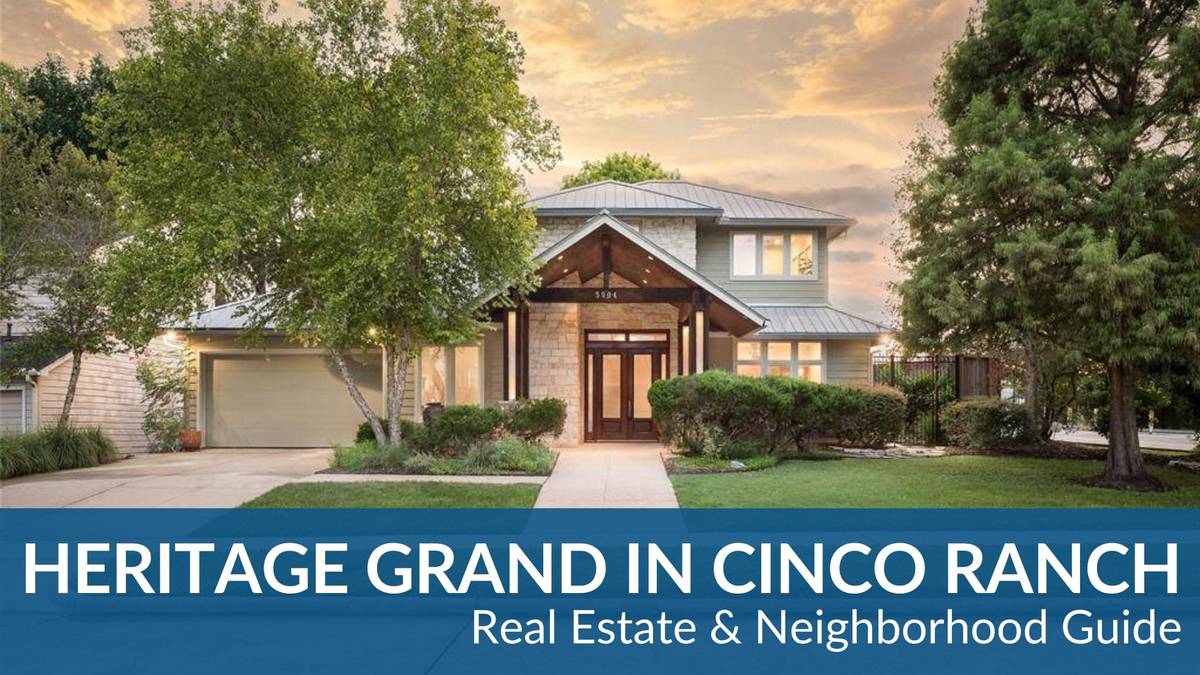 Heritage Grand offers an excellent lifestyle for active folks at 55 and up. It is also part of the Greater Katy area's master-planned neighborhoods. There are a total of 650 homes in this community. It also comes with spacious houses and plenty of indoor and outdoor features.
Famous features of the Heritage Grand in Cinco Ranch include:
EXCELLENT LOCATION: There are a variety of outdoor recreation options nearby. This includes golf courses, parks, and hiking routes. Additionally, nearby medical service facilities are also accessible. Grand Medical Clinic and Ivy League Urgent and Primary Care are two examples.
GREAT ACCESSIBILITY: Major highways and freeways are nearby to Cinco Ranch. Grand Parkway, I-10 and I-99, and Westpark Tollway are a few examples.
VARIOUS RETAIL OPTIONS: A short distance away is the La Centerra shopping center. There are also many drugstores and supermarkets close by.
SPACIOUS LOTS: The living area of a home might be anywhere between 1,561 and 2,996 square feet. Backyards are all fenced in for both single-family homes and duplex models.
LARGE ARRAY OF AMENITIES: This distinct resort-at-home community is close to many amenities. Daily or weekly events are also held throughout the year.
The Heritage Grand at Cinco Ranch is located in a rapidly developing neighborhood. Due to its proximity to freeways, the real estate market can be challenging to navigate.
To get personal advice on buying or selling a Heritage Grand residence, contact Paige Martin, one of Houston's best realtors and one of the Top-Ranked Realtors in the United States.
"Houston Properties Team helped us to sell our condo within a week and closed it within a month. It was really an amazing experience. The entire process was very smooth. They provided the timeline schedule so we know exactly where we are and what to expect. They are the best professional real estate team we have ever worked with. Excellent teamwork from the beginning to the end!" - Sandra Chao (Google Review)
---
Table of Contents
---
Heritage Grand in Cinco Ranch Home Sale Trends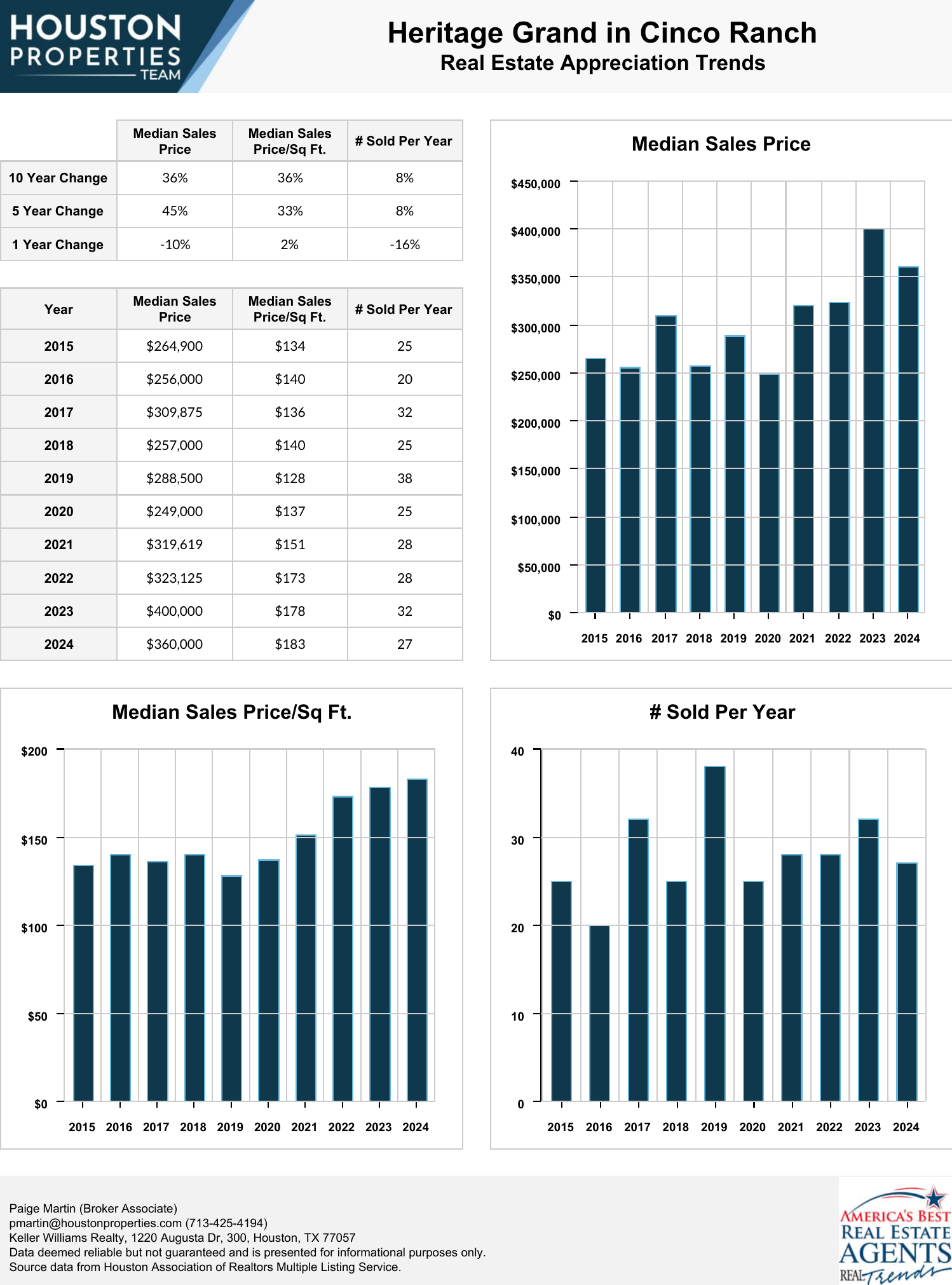 Heritage Grand is a neighborhood for active adults. It is within Cinco Ranch, a master-planned community west of Houston in Katy.
Heritage Grand is very popular due to its:
LOCATION: Residents are close to parks and golf courses. They are also minutes away from shops and every kind of medical service.

INDOOR & OUTDOOR AMENITIES: Heritage Grand has pools and different kinds of ball courts. The 14,000-square-foot clubhouse is its centerpiece.

ENVIRONMENT: Walkways and bike lanes make it pedestrian-friendly. It also takes pride in its well-maintained boulevards and landscape.

YEAR-ROUND ACTIVITIES: Onsite directors have planned activities throughout the year. These events include line dancing, weekly potlucks, and fashion shows.
Heritage Grand offers luxurious homes with fenced-in backyards. The community sets the standard for lifestyle, fulfillment, and value.
---
Heritage Grand in Cinco Ranch Best Realtor Insights
Heritage Grand is a senior living neighborhood offering independent living. It is a 650-home community built between 2002-2010.
Heritage Grand was specially built for those over 55 who focus on an active lifestyle.

It is in Cinco Ranch, a master-planned community in Katy, Texas. It is approximately 30 miles from Downtown Houston.

Heritage Grand has easy access to main Houston roads like Interstate 99 and Interstate 10.

Residents are only 4 minutes away from LaCenterra, a shopping destination. It features upscale shopping, dining, and entertainment.

Residents are less than a mile to the nearest park. It is also a 4-minute drive away from Buffalo Bayou Nature Trail.

The Heritage Grand clubhouse is one of its best features. Homeowners can also enjoy an array of amenities and activities.

There are 26 models for single-family homes and four duplex models.

All Heritage Grand homes feature fenced-in backyards for privacy. Most homes also have 2-3 car garages.

Houses in Heritage Grand are mostly single-story designs. All units have 2-3 bedrooms, with master bedrooms on the first floors.

The residences' sizes range from 1,561 to 2,996 square feet. List prices start at $300,000.
---
Heritage Grand in Cinco Ranch Maps, Location & Zip Code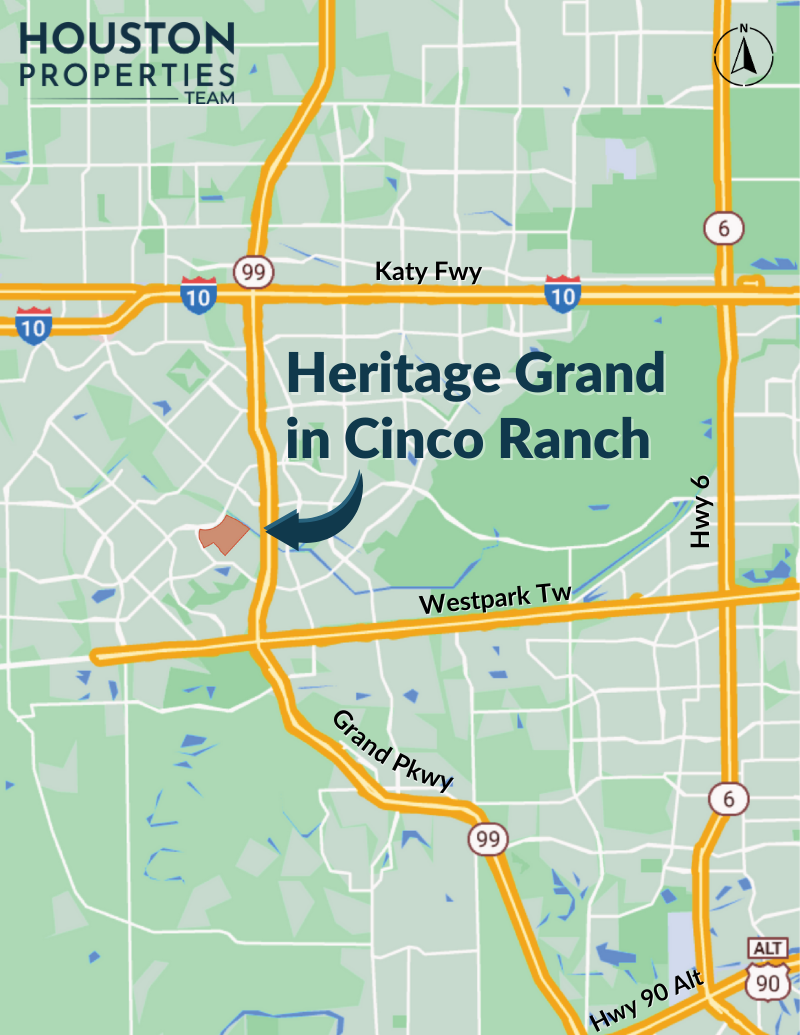 | Commute Time | Heritage Grand in Cinco Ranch |
| --- | --- |
| Downtown (min) | 35 |
| Med Ctr (min) | 35 |
| Energy Corridor (min) | 15 |
| Galleria (min) | 25 |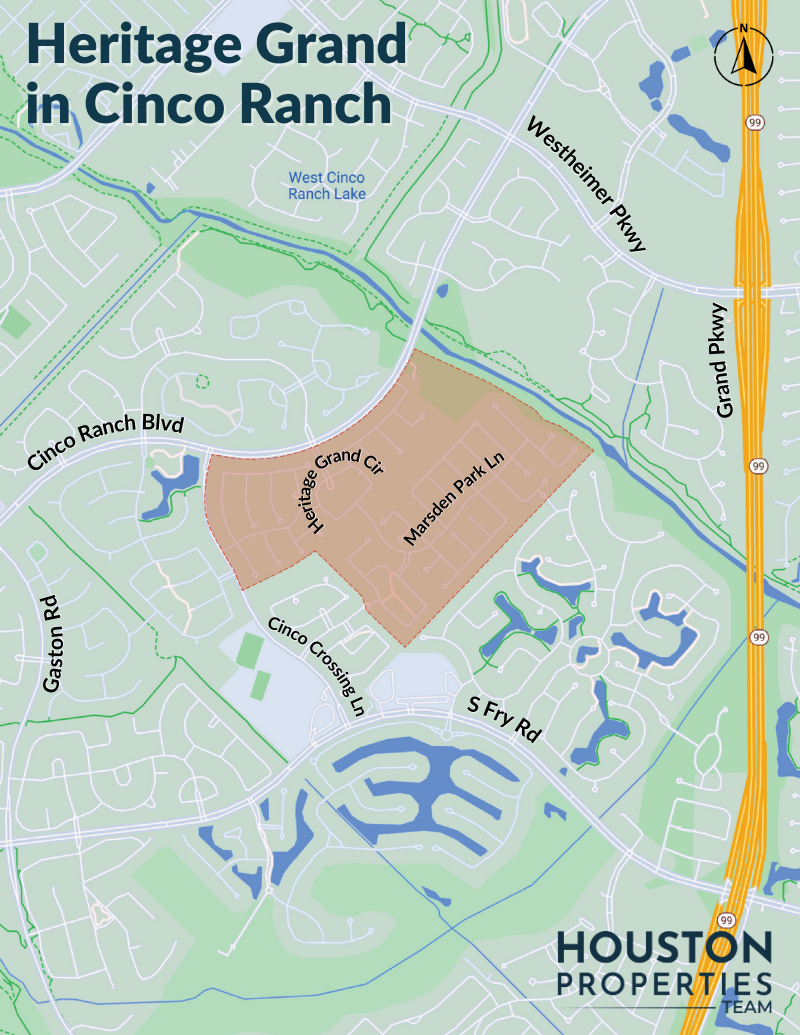 Highlights
Heritage Grand in Cinco Ranch
Amenities
The Heritage Grands has a 14,000-square-foot Heritage Grand clubhouse.

Other amenities in the area include:
- fitness center
- clubhouse ballroom
- library
- computer room
- 2 billiard tables
- spa
- pool with lap lanes and a counterflow exercise circle

Cinco Ranch is also home to an 18-hole premier championship golf course. This 72-par course is open to Heritage Grand residents and non-residents.
Golf Courses
- Meadowbrook Farms Gold Club
- The Golf Club at Cinco Ranch
- The Club at Falcon Point
- Willow Fork Country Club
- State of Golf
Run / Bike Trails
- Cinco Ranch II Park at Pine Forest
- Cinco Ranch II Park at Sagewood
- Cinco Ranch II Park at Spring Lake
- Cinco Ranch II Park at Cedar Grove
- Cinco Ranch II Park at Haywards Crossing & Burgess Heights Ln
- Buffalo Bayou Nature Trail
- Willow Fork Park
- Katy Boardwalk
- Oak Park Trails Park
Nearby Retail / Dining
- The Rouxpour
- Local Table
- Jax Grill Katy
- Urban Thai Kitchen
- 9er's Grill
- The Local Bar Katy
- Mo's Irish Pub - Katy
- The Public House
- The Social Pub & Grill
- Southland Bar & Grill
Major Employers
- U.S.Silica Company Corporate Headquarters
- Katy Steel Co.
- Energy Corridor
- McDermott International Inc.
- Gulf States Toyota
---
Heritage Grand in Cinco Ranch Schools
| Top Elementary Schools | Great Schools Ranking |
| --- | --- |
| Griffin Elem (Katy) | 9 |
| Top Middle Schools | Great Schools Ranking |
| --- | --- |
| Beckendorff Jr High | 10 |
| Top High Schools | Great Schools Ranking |
| --- | --- |
| Seven Lakes High | 9 |
Heritage Grand in Cinco Ranch is zoned to Katy Independent School District. A district recognized by the Texas Education Agency.
The KISD features several National Blue Ribbon and multi-award-winning schools. It serves a 181-square-mile area.
Note: School zoning tends to change from year to year. The information provided above is accurate but not guaranteed. Please double-check by visiting the school's website.
---
Elementary Schools
---
Students in the area may attend the following public elementary school:
Michael Griffin Elementary School Griffin Elementary is a public school in Katy, TX. The school's environment embraces the unique learning styles of all students. They offer programs such as Character Counts. They focus on teaching the value of respect, responsibility, generosity, and perseverance.
---
Middle Schools
---
Students in the area may attend the following public middle school:
Beckendorff Junior High School Beckendorff Junior High School is a highly regarded public school. It opened its doors in 2004. The school's community is committed to building relationships and providing educational opportunities.
---
High Schools
---
Students in the area may attend the following public high school:
Seven Lakes High School Seven Lakes High School is one of the KISD's highly rated schools. It received a TEA exemplary rating. It features a wide range of Advanced Placement courses. It also offers an excellent athletics program.
---
Heritage Grand in Cinco Ranch Real Estate Market
Heritage Grand Single-Family Home Sale Trends
---
Heritage Grand's real estate highlights a variety of home styles and floor plans. The neighborhood has 552 single-family homes.
There are 26 models for single-family homes in the area. Most houses have 2-5 bedrooms.
Single-family homes offer a living area of 1,561 to 2,996 square feet.
---
Heritage Grand Townhome Sales Trends
---
Detached single-family dwellings are typical in Heritage Grand. But, sections of Cinco Ranch also offer townhome options.
Despite the lack of townhomes, duplex houses are available in Heritage Grand. Currently, there are four duplex models available and 98 duplexes.
The living area of duplexes ranges from 1,423 to 1,887 square feet.
---
Heritage Grand Condo Sale Trends
---
Currently, there are no mid- or high-rise Heritage Grand condos for sale. But, there are plenty of units available in the surrounding areas.
Here are a few condo buildings within the area:
To see other condos within the Inner Loop, see Inner Loop Houston Condos. To see condos within the Galleria area, see Galleria Houston Condos.
The Houston Properties Team are experts in Heritage Grand real estate. Kindly contact us if you'd like to see Houston condos or learn more about buildings that fit you.
---
Heritage Grand TX History
---
Heritage Grand nestles in Cinco Ranch. It is built between 2002-2010 and has 650 homes.
In the early 1930s, Cinco Ranch used to be a working cattle ranch. It covered around 15,000 acres. Bassett Blakeley was the owner of the area.
In 1937, William Wheless, J.S. Abercrombie, W.B. Pryon, H.G. Helms, and L.M. Josey bought the ranch from Blakeley and renamed it Cinco Ranch.
In 1984, the ranch changed hands in one of the largest land transactions in Houston history. Cinco Ranch Venture (U.S. Home, Mischer Corporation, and American General Corporation) bought a 5,000-acre parcel to develop an expansive master-planned community. Cinco Ranch changed hands a few times until San Diego-based Newland Communities purchased it in 2003.
Today, Cinco Ranch is a well-known master-planned community. It is also home to Heritage Grand.
---
Fun Things To Do Near Heritage Grand
---
The community is home to an array of retail, dining, and entertainment options.
LaCenterra, a mixed-use development, features several dining and retail options. It is less than a 5-minute drive from Heritage Grand.
Here are some of Heritage Grand's must-visit places:
Dining
The Rouxpour
Local Table
Jax Grill Katy
Urban Thai Kitchen
Antonia's Restaurant
9er's Grill
Black Walnut Cafe
Ambriza
Nightlife
Mo's Irish Pub - Katy
The Social Pub & Grill
Baker St. Pub and Grill
The Social Sports Pub
The Public House
Grocery Stores
Whole Foods Market
Target Grocery
H-E-B plus!
Sprouts Farmers Market
Kroger
---
Best Heritage Grand Realtor – Paige Martin
---
As featured on Fox News in the Morning, Houston Business Journal, and Houston Magazine, Paige Martin, a consistent Top Producing Broker-Associate and head of the Houston Properties Team, is ranked as one of the top residential real estate agents in the world.
---
Best Houston Real Estate Resources
---