4 Important Highland Village Real Estate Trends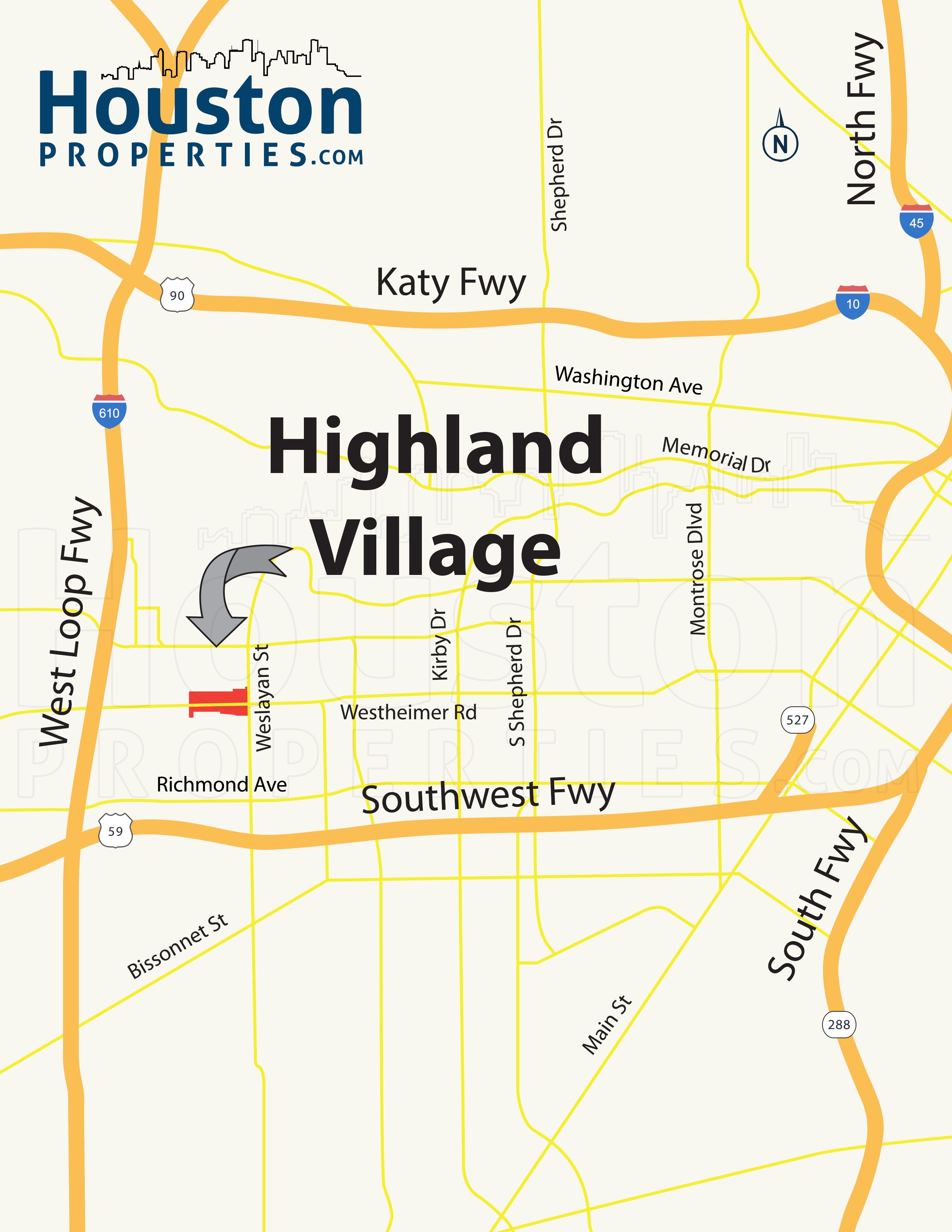 Over the last 10 years, Highland Village real estate have steadily increased, marking a 30% positive change from 2005 to 2014.
Average price per square foot has increased by over half over the same period.
Made up of about 83 homesites, Highland Village is a relatively small community, with easy access to Houston's key business, cultural, retail, and entertainment centers.
Located about 6 miles from Downtown Houston, Highland Village homes are popular for their great location, high accessibility, excellent schools, and gorgeous homes.
Below are 4 key Highland Village real estate trends every homebuyer should know.
For questions, advice, Highland Village Houston real estate recommendations, or off-market MLS listings, contact Paige Martin, head of the Houston Properties Team and rated as a top performing Keller Williams Memorial realtor the last four years.
Highland Village Village TX Resources:
For an updated and customized Highland Village real estate pricing or trend analysis, please contact Paige Martin at [email protected].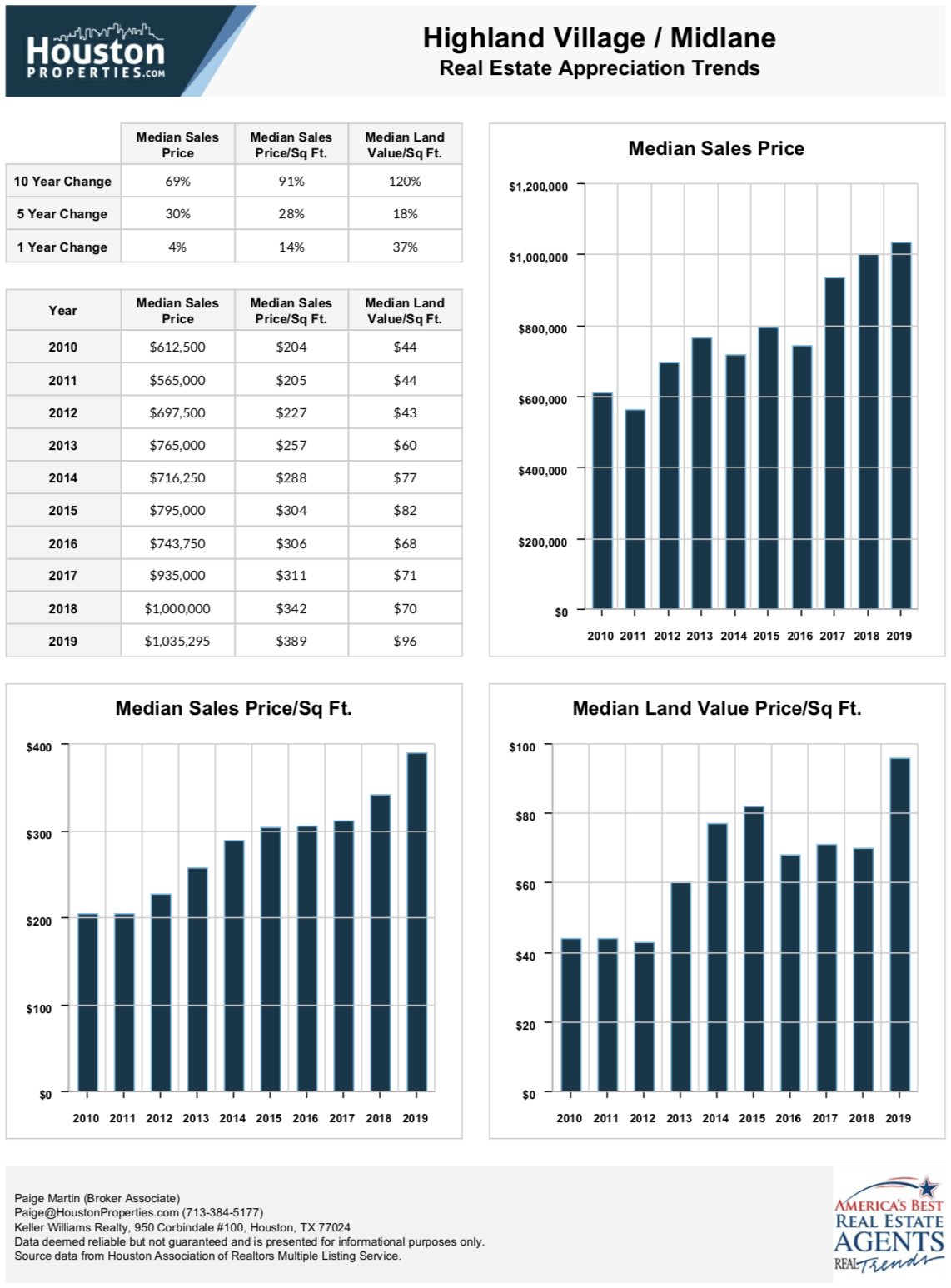 4 Interesting Highland Village Real Estate Market Trends
1. Prices for Highland Village real estate have increased by 30%.
Though a bit modest compared to Houston's hottest neighborhoods, the growth of Highland Village real estate has been impressive nonetheless.
In 2005, the median sales price for Highland Village homes was at $543,564. By 2014, this has increased to $705,000, a 30% positive change.
2. Average price per square foot has increased by over half.
From $181 in 2005, the average price per square foot of a typical Highland Village home has increased to $284 by 2014.
3. Prices in Highland Village tend to fluctuate.
Highland Village home prices have fluctuated over the last decade, though this doesn't necessarily indicate a weak or unstable market.
These fluctuations can be attributed to a number of factors, including the neighborhood's limited number of homes, as well as the price differences between old and new homes.
4. The number of Highland Village homes sold annually is steadily declining.
In 2005, 43 homes were sold in the area. By 2014, however, this number has decreased by 47% to 23 homes.
A number of factors may have contributed to this interesting Highland Village real estate trend, including the low home inventory in the area and homeowners opting to hold on to their properties.
Highland Village Houston Realtor – Paige Martin
As featured on Fox News in the Morning, the Houston Business Journal, Houston Chronicle, and Houston Magazine, Paige Martin – a consistent Top Producing Broker-Associate and head of the Houston Properties Team – is ranked amongst the very top Keller Williams agents in the Houston area.
Paige is ranked as one of the top realtors in Highland Village Houston, and the state of Texas. Read more about the over 65 awards she's won in the last few years.
Paige works with a tremendous number of buyers and sellers in Highland Village.
For a specific recommendation of neighborhoods, homes or properties based upon your personal style, goals & price point, please contact Paige Martin, head of the Houston Properties Team & Broker Associate at [email protected] or 713-425-4194.