Four Great New Ways To See The Heights Neighborhood in Houston
One of Houston's first master-planned communities, Houston Heights is an upscale neighborhood of over 3,700 homes located North of the I-10 highway, South of Loop 610 and West of Highway 45.
Located in the 77008 zip code, just northwest of Downtown Houston, the Houston Heights borders Highway I-10 on the South, 610 on the North, 45 on the East and Shepard on the West.
Useful Houston Heights Resources
Houston Heights: Pedestrian-Friendly, Peaceful and Exciting Rolled Into One
The Heights is rated as one of the most "walkable" neighborhoods in Houston. Yelp alone has over 1,000 rated establishments in the area, giving residents and visitors alike a multitude of entertainment options all conveniently close to each other.
Some of the most notable ones include:
Revival Market (Cafe, Coffee, Grocery) at 550 Heights Blvd
Liberty Kitchen (Restaurant) at 1050 Studewood
Zelko Bistro (Restaurant) at 705 E 11th St
Down Houston (Cafe, Bar) at 1801 Yale St
Antidote (Coffee) at 729 Studewood
Wabash Antiques & Feed Store (Shopping & Antiques) at 5701 Washington Ave
As you can see on the inner Houston Heights map below, the neighborhood is master-planned for its residents to have a comfortable lifestyle. The easy access to all sorts of service-oriented and entertainment-focused establishments help define Houston Heights' hassle-free vibe.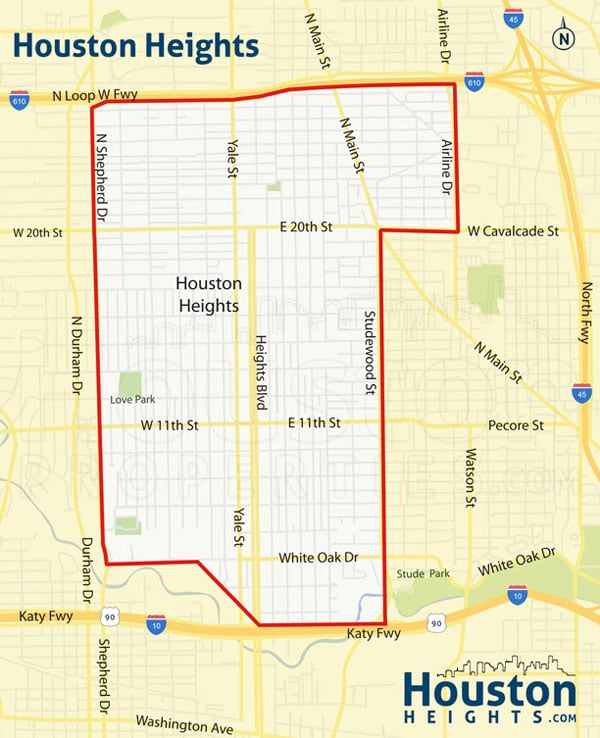 A Close Look At Houston Heights' Historic Districts
The Heights is one of Houston's first master-planned communities. Many of today's homeowners work hard to preserve the neighborhood's old charm and traditional feel. This resulted is a diverse mix of renovated Victorian-themed houses and newly built single-family homes and townhomes.
The Heights has an enforced deed restriction to keep the neighborhood's character and charm. Referred to as Houston Heights' historic districts, these areas have residential construction limits to preserve its history and its common look and feel.
These Houston Heights historic districts are:
Houston Heights Historic District West
Houston Heights Historic District East
Houston Heights Historic District South
As you can see on the maps below, they are clustered around Heights Blvd, north of I-10 and below 20th.