Hyde Park Real Estate Guide
Hyde Park homes for sale & insider real estate guide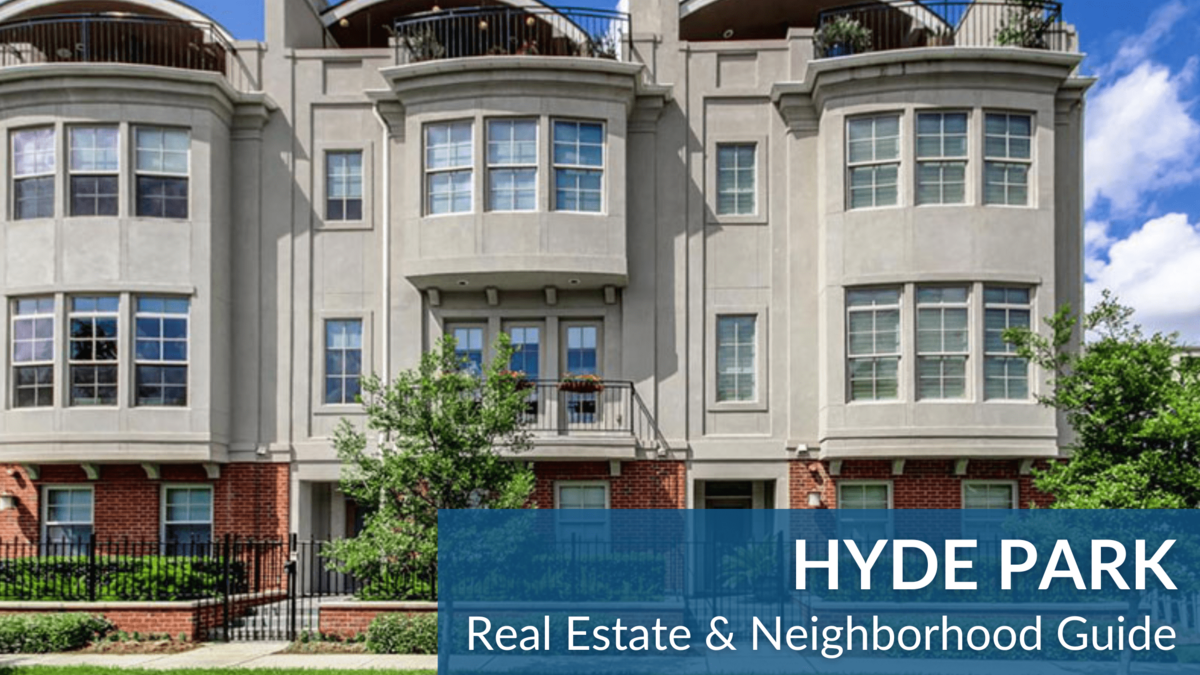 Opened in 1983, Hyde Park is one of Houston's most established and historic neighborhoods. It settles within the Inner Loop and is near central districts and top-ranked schools. The Lanier Middle is one of Houston's Best Middle Schools rated 9/10 by GreatSchools.
Hyde Park is well-known for its:
WALKABLE NEIGHBORHOOD: Hyde Park in Montrose is one of Houston's most accessible and walkable neighborhoods. The area is a mix of single-family homes and townhomes with tree-lined streets. It is accessible to many restaurants, shops, golf courses, trails, hikes, and parks.

PROXIMITY TO DISTRICTS: Hyde Park's inner loop location has the Katy, Gulf, and Southwest Fwy as its borders. It offers a 20-minute drive to Downtown, Galleria, and Medical Center. These districts houses major employers and business centers. It also offers various activities for entertainment, leisure, and relaxation.

VIBRANT CULTURE: Hyde Park is home to the surrealist paintings of Rene Magritte, the Menil Collection. It is one of the most extensive art collections in the country, having over 17,000 pieces. The Houston Museum of Natural Science and the Museum of Fine Arts, Houston are less than 3 miles away. Other popular venues include the River Oaks Theatre and the River Oaks Country Club.

MAJOR RETAIL CENTERS: The River Oaks Shopping Center is less than a mile away from the heart of Hyde Park. It houses around 100 restaurants and retail stores in the shopping center. More options along Shepherd and Westheimer are available, from Mexican cuisine to Japanese.

ACTIVE ASSOCIATION: The Hyde Park Civic Association maintains the area's amenities, parks, and common areas. It also actively enforces deed restrictions within the neighborhood and provides community services.

HOME VARIETY: Hyde Park offers a variety of home designs and layouts. Homes styles in the area are a mix of Traditional, Craftsman, Mediterranean, and Modern. Its main features include high ceilings, fireplaces, floor-to-ceiling windows, and modern touches.

LAND APPRECIATION: Hyde Park has one of Houston's Best Land Value Appreciation. Its median sales price exceeds $1,030,500, with lot sizes ranging from 2,000 to 13,000 square feet. The community also maintains its green spaces and tree-lined streets.
Navigating the Hyde Park real estate market can be tricky. The neighborhood has various home types and designs that influence its prices. Also, the noise and street parking issues in some areas can affect the resale of properties.
To get personal advice on buying or selling in the Hyde Park area, contact Paige Martin, one of Houston's Best Realtors and one of the top-ranked Realtors in the United States.
"Courtney and Dani were a dream! Selling our house was a stressful proposition. I have anxiety just thinking about it! But Courtney and Dani made the whole experience stress-free as they were by our side every step of the way. No question was too small to answer. I felt like they prioritized our well-being and happiness over the transaction as they talked us OUT of purchases just as much as they endorsed our decisions TO buy. Not to mention their knowledge of local vendors for inspection, house work, tree-trimming, insurance agents, etc was incredible. I would recommend Courtney, Dani, and the Houston Properties Team to anyone who is serious about what could be the most important purchase of their life, their home!" - Brandon Weinbrenner (Google Review)
---
Table of Contents
---
Hyde Park Home Sale Trends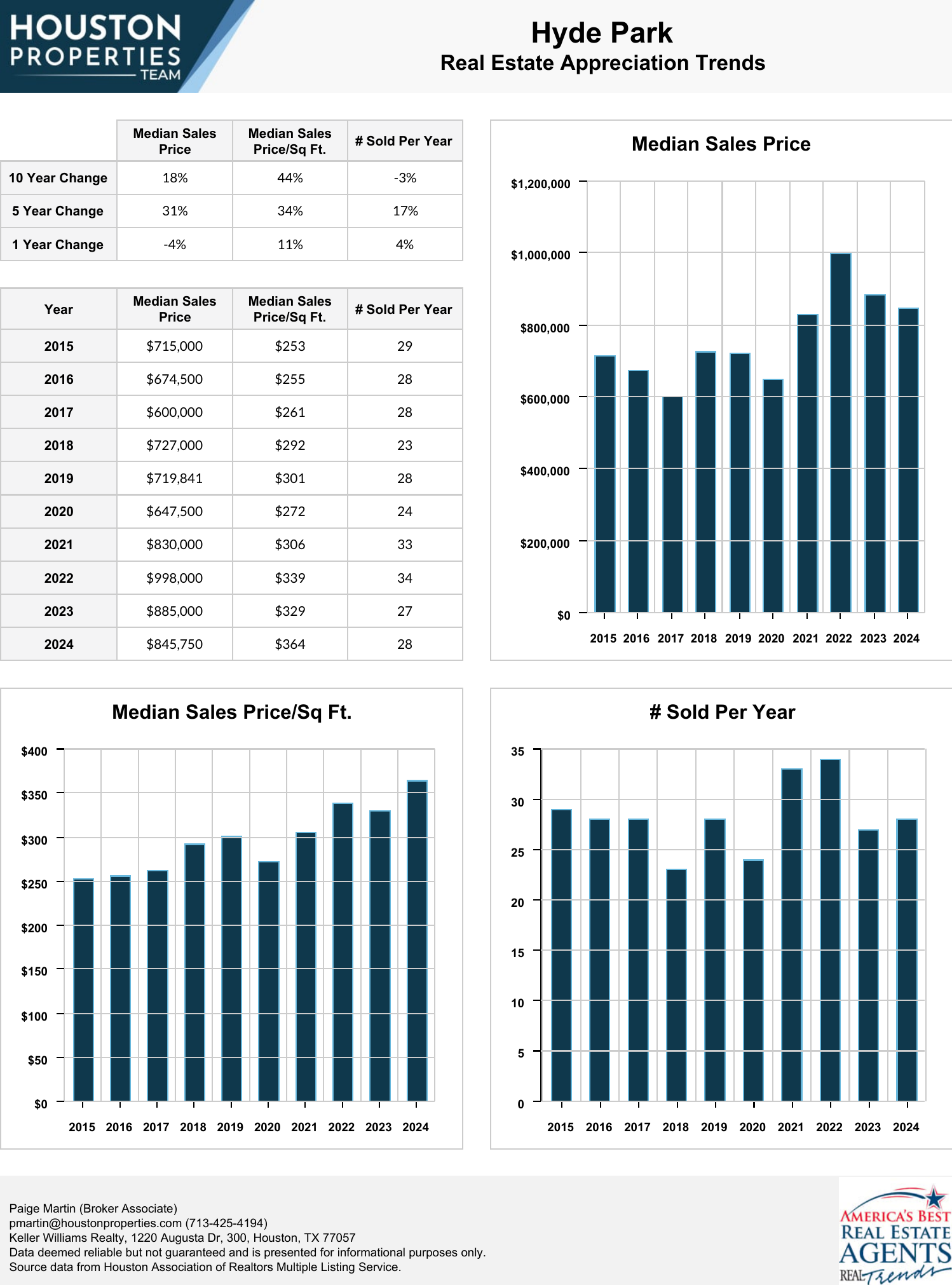 Hyde Park is one of the Most Walkable Neighborhoods in Houston. Its Inner Loop location makes it accessible to districts, freeways, and cultural centers.
Hyde Park is known for its:
NEARBY DISTRICTS: With major freeways as its borders, Hyde Park provides access to central districts. The Galleria, Downtown, and Medical Center are a 10-minute drive from the neighborhood.

RECREATIONAL OPTIONS: Hyde Park has access to golf courses, parks, museums, and art centers within a 5-mile radius. It is home to many popular options for dining, shopping, and nightlife.

LAND VALUE APPRECIATION: Hyde Park features some of the Best Land Value Appreciation in Houston. Its HOA actively enforces deed restrictions and community maintenance.
Hyde Park is zoned to the Houston Independent School District. It is home to one of Houston's Top Middle Schools, the Lanier Middle School.
---
Hyde Park Best Realtor Insights
One of the most accessible neighborhoods in the city, Hyde Park is ideally located for people who like being at the center of all the action Houston has to offer.
The historic neighborhood is centrally located within the Inner Loop and is one of Houston's most accessible neighborhoods. Bordered by main roads, Hyde Park is around 2 miles away from downtown Houston, home to more than 3,500 businesses and over 150,000 employees.

Other key employment and business districts are also nearby. The Greenway Plaza, a mixed-use development with 10 commercial high-rises, is blocks away from Hyde Park homes. The Uptown/Galleria area and the Texas Medical Center (the largest medical complex in the country) are around 4 and 2 miles away, respectively.

The neighborhood is mostly residential, but several options are available around its borders. The River Oaks Shopping Center, one of Houston's oldest retail centers, is located along Hyde Park's northwest borders. The shopping center features around 100 restaurants and retail stores. More options are available along with Shepherd and Westheimer.

The Hyde Park Civic Association covers most of the area's historic neighborhoods. The association enforces those neighborhood deed restrictions and helps maintain parks and common areas. The neighborhood has maintained its peaceful atmosphere, thanks to the association's efforts.

Hyde Park real estate is a mix of old and new, from vintage bungalows to new construction custom homes. Townhomes and condos have also become popular housing options in the area.

Hyde Park is one of Houston's oldest and most established neighborhoods. It was established in 1893 and was part of Mirabeau Lamar's estate.

The neighborhood is zoned to the Houston Independent School District. Wilson Montessori is located within the neighborhood.

Some of Hyde Park's older homes have been torn down to make way for new construction patio homes and townhomes.

Homes in the area can offer 2 to 4-bedroom options with living spaces between 2,000 to more than 4,000 square feet.

Older traditional homes (some of which date back to the 1910s) often offer 2 to 3 bedrooms and around 1,000 to 2,500 square feet.
---
Hyde Park Maps, Location & Zip Code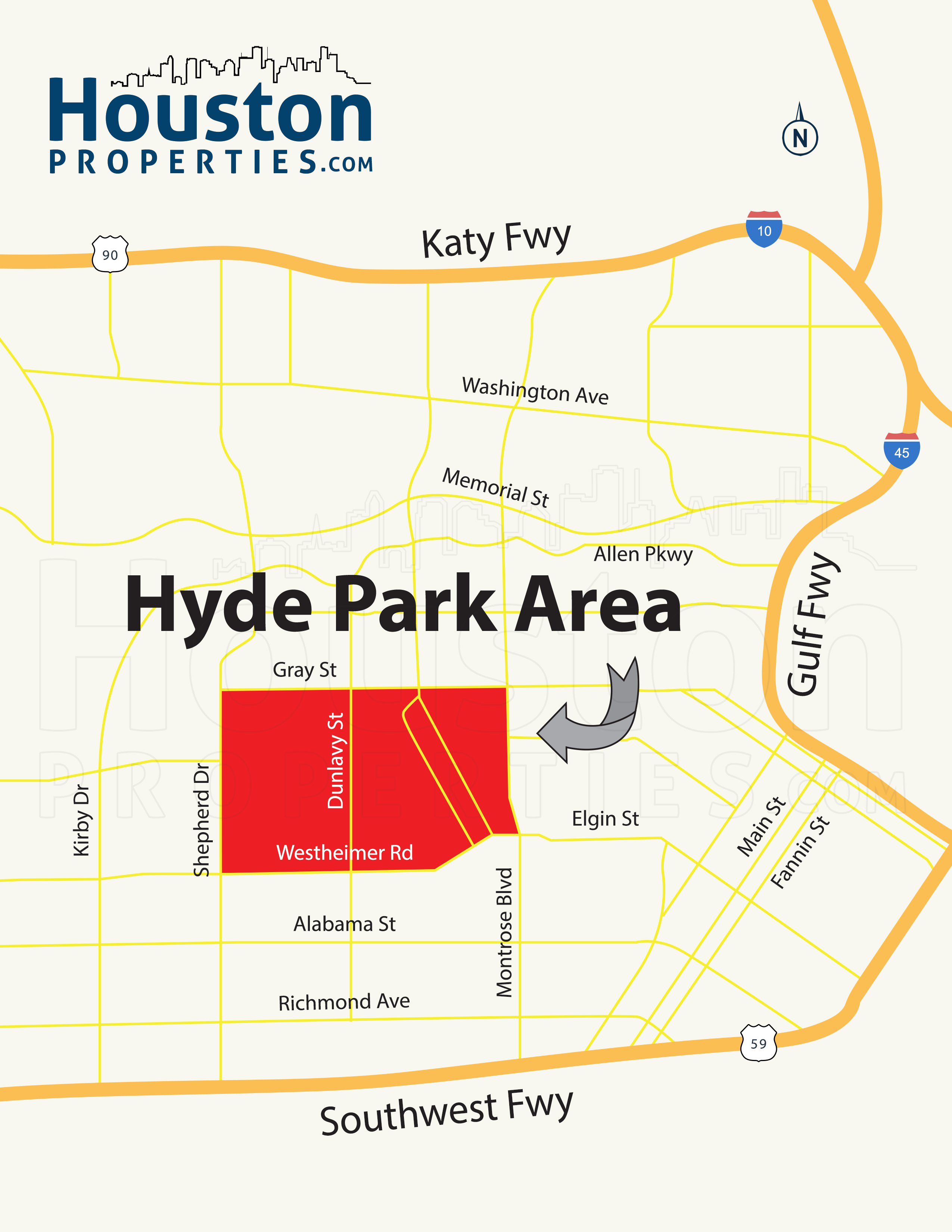 | Commute Time | Hyde Park |
| --- | --- |
| Downtown (min) | 10 |
| Med Ctr (min) | 10 |
| Energy Corridor (min) | 20 |
| Galleria (min) | 10 |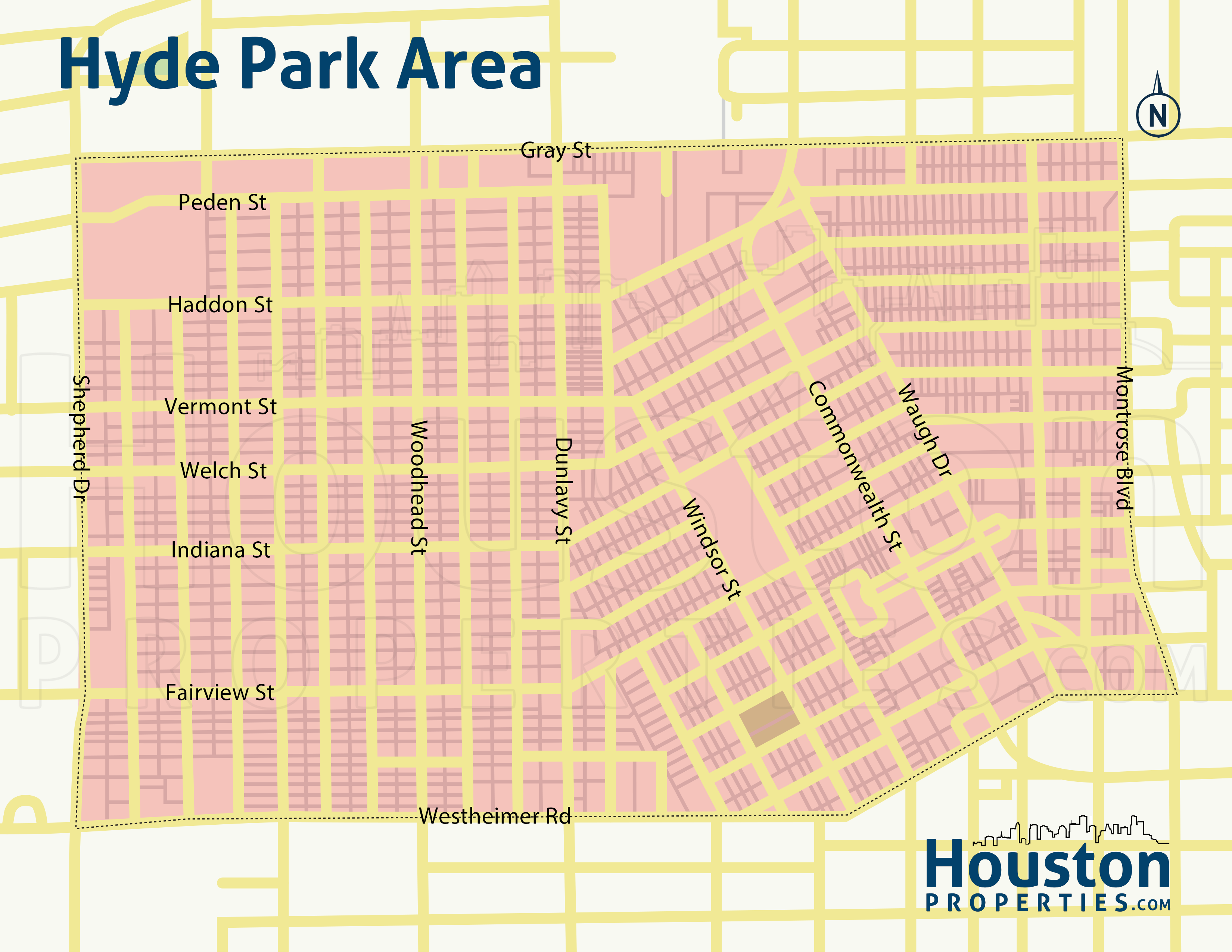 Highlights
Hyde Park
Amenities
Hyde Park provides various entertainment, dining, and shopping options within its area.

Many golf courses and restaurants are within a 5-mile radius of the neighborhood.

It is also accessible to surrounding arts and cultural centers.
Golf Courses
- Hermann Park Golf Course
- Memorial Park Golf Course and Driving Range
- River Oaks Country Club
- Puttery
Run / Bike Trails
- Eleanor Tinsley Park
- Sam Houston Park
- Spotts Park
- Bagby Park
- Cherryhurst Park
- Midtown Park
- Menil Park
- Mandell Park
- Baldwin Park
- Fleming Park
Nearby Retail / Dining
Retail:

- High Fashion Home
- Marshalls & HomeGoods
- The Cottage Shop
- Gap
- T.J. Maxx
- Space Montrose
- Boss Lady Couture Boutique
- Target
- Select Skate Shop
- Hollywood Super Center

Dining:

- Niko Niko's
- Oporto Fooding House & Wine
- Tacos A Go Go Midtown
- Cuchara
- La Tapatia Mexican Cafe
- Shake Shack Montrose
- Barnaby's Cafe
- The Burger Joint
- Lankford's Grocery & Market
- Katz's
- The Pit Room
- District 7 Grill Midtown
- Cafe Express
- Aladdin Mediterranean Cuisine
- Luigis Pizzeria

Nightlife:

- Front Porch Pub
- Rudyard's
- Komodos
- Griff's
- The Brass Tap
- The Phoenix on Westheimer
- Molly's Pub
- Pimlico
- Coaches Pub
- Cecil's Pub
- The Spot
- Porch Swing Pub
- The Maple Leaf Pub
- Henderson Heights
- The Cellar Bar

Groceries:

- Randalls
- Whole Foods Market
- H-E-B
- Kroger
- Whole Foods Market
- Trader Joe's
- Phoenicia Specialty Foods
- Sprouts Farmers Market
- Target Grocery
- Central Market
Major Employers
- Deloitte
- Chevron
- JP Morgan Chase
- Bank of America
- United Airlines
- Wells Fargo
- KPMG
---
Hyde Park Schools
| Top Middle Schools | Great Schools Ranking |
| --- | --- |
| Lanier Middle | 9 |
Hyde Park homes are zoned to the Houston Independent School District (HISD).
Established in the 1920s, Houston ISD is the largest school district in the state (with 283 schools). The Texas Education Agency (TEA) gave the district a "Met Standard" rating. HISD features several International Baccalaureate (IB) World schools, including Lamar High School and Lanier Middle School.
Students in the area may attend the following public schools:
---
Elementary Schools
---
MacGregor Elementary School at 4801 La Branch St. Founded in 1922, MacGregor Elementary is a music and science magnet academy serving students in grades EE to 5. Apart from its magnet programs, MacGregor also offers an Extended Day program.

Wharton Dual Language Academy at 900 W Gray St. Wharton is a dual-language magnet school that caters to b-5 and 6-8 students. It features a curriculum that incorporates Spanish and English. It has a GreatSchools.org rating of 10/10.

Wilson Montessori at 2100 Yupon St. Located in the Neartown/Montrose area, Wilson offers a Montessori program for students in grades PK to 8. The school is famous for being built on the former site of Mirabeau Lamar's summer farm home.
---
Middle Schools
---
Lanier Middle School at 2600 Woodhead St. Lanier is both a Vanguard magnet and an International Baccalaureate World School (serving the Middle Years Program). A Texas Gold Performance awardee, the school has a GreatSchools.org rating of 9 out of 10.

Gregory-Lincoln Education Center at 1101 Taft. Located in the Fourth Ward, GLEC serves grades Pre-K to 8 students. It features a fine arts program and classes in vocal and instrumental music, dance, theater, visual arts, multimedia arts, and culinary arts.
---
High Schools
---
Lamar High School at 3325 Westheimer Rd. Home to the Lamar Texans (formerly known as the Redskins), this secondary school is considered to have one of the best athletics programs in Houston. It has one of the oldest lacrosse teams in the state and offers great academic programs as well. It features International Baccalaureate Diploma Program, business magnet, and Advanced Placement programs.

High School for the Performing and Visual Arts at 4001 Stanford St. The HSPVA – or simply, PVA – is divided into 6 departments: instrumental music, vocal music, dance, theater, visual arts, and creative writing. Creative writing is a relatively new addition.
---
Hyde Park Houston Private Schools
---
The following are some of the more notable private schools near Hyde Park.
River Oaks Academy at 10600 Richmond Ave.

Annunciation Orthodox School at 3600 Yoakum Blvd.

The Harris School at 900 Lovett Blvd.

Avalon Academy at 1616 Indiana St.

Kipling Street Academy at 1425 Kipling St.

School For Young Children at 810 Sul Ross St.

St. Stephens Episcopal School at 1800 Sul Ross St.

The University of St. Thomas at 3800 Hyde Park Blvd.
To find an updated listing of all Hyde Park real estate zoned to any specific public school, please send an email to Paige Martin at PMartin@HoustonProperties.com with the property preference and budget that you're working with.
Note: For more detailed information on specific schools zoned to different Hyde Park areas, please refer to our Houston Schools Guide OR email me.
Note: School zoning tends to change from year to year. The information provided above is accurate but not guaranteed. Please double-check by visiting the school's website.
---
Hyde Park Real Estate Market
Hyde Park Single-Family Home Sale Trends
---
Hyde Park has a diverse collection of single-family homes. Its architectural styles range from old bungalows to modern custom-built homes.
Some older homes in the area date back to the 1910s. It features 2-3 beds with homes ranging from 1,000 to 2,500 square feet.
The newer homes in Hyde Park feature much larger homes of 2,000 to 4,000 square feet with 3-4 beds layouts.
Lot sizes are generally between 2,000 to around 13,000 square feet.
Prices of Hyde Park single-family homes range from $200,000 to $1,500,000 depending on their size, age, and location.
---
Hyde Park Townhome Sale Trends
---
A few townhomes make up the residential community of Hyde Park.
Most townhomes feature 3-stories and 2-3 bedroom floor plans. Its home sizes range from 1,500 to 3,500 square feet, with lot sizes between 1,000 to 3,000 square feet.
Older townhomes in Hyde Park are generally smaller. Some newer townhomes are within gated communities.
Pricing for Hyde Park townhomes for sale starts from $300,000. The highest-priced townhomes in the area are over $1,000,000.
---
Hyde Park Condo Sale Trends
---
There are no mid- or high-rise Hyde Park condos for sale, but plenty of units are available in the surrounding areas.
Several condo buildings are located in Downtown Houston including:
To see other condos within the Inner Loop, see Inner Loop Houston Condos. To see condos within the nearby Galleria area, see Galleria Houston Condos. To see other condos within Downtown Houston, see Downtown Condos. To see condos within Museum District, see Museum District Condos.
The Houston Properties Team are experts in Hyde Park real estate. Please contact us if you'd like to see Houston condos or learn more about buildings that could be a fit for you.
---
Hyde Park TX History
---
Hyde Park's history started in 1983, which is why it is one of the oldest Houston neighborhoods.
In the 1840s, the second President of the Republic of Texas, Mirabeau Lamar, owned the land currently known as Hyde Park. The City of Houston later annexed it.
By 1911, J. W. Link of the Houston Land Corporation bought roughly 250 acres. Link thought of the land as a "streetcar suburb" with Montrose running through the center.
The Link-Lee mansion, the former house of Link himself, is a few blocks from Hyde Park. The building now serves as the administrative office of the University of St. Thomas.
---
Fun Things To Do Near Hyde Park
---
There are many shopping, nightlife, and dining options within and outside Hyde Park.
The Menil Collection is a few blocks away, one of the largest private art collections in the country. The collection has over 17,000 paintings, drawings, sculptures, photographs, and rare books.
Many golf courses, parks, and retail centers surround the community. The River Oaks Shopping Center and The Galleria are within a 5-mile radius of Hyde Park.
Here are some of Hyde Park's must-visit places:
Dining
Niko Niko's
Oporto Fooding House & Wine
Tacos A Go Go Midtown
Cuchara
La Tapatia Mexican Cafe
Shake Shack Montrose
Barnaby's Cafe
The Burger Joint
Lankford's Grocery & Market
Katz's
Nightlife
Front Porch Pub
Rudyard's
Komodos
Griff's
The Brass Tap
The Phoenix on Westheimer
Molly's Pub
Pimlico
Coaches Pub
Cecil's Pub
Parks
Eleanor Tinsley Park
Sam Houston Park
Spotts Park
Bagby Park
Cherryhurst Park
Midtown Park
Menil Park
Mandell Park
Baldwin Park
Fleming Park
Golf Courses
Hermann Park Golf Course
Memorial Park Golf Course and Driving Range
River Oaks Country Club
Puttery
Retail
High Fashion Home
Marshalls & HomeGoods
The Cottage Shop
Gap
T.J. Maxx
Space Montrose
Boss Lady Couture Boutique
Target
Select Skate Shop
Hollywood Super Center
Groceries
Randalls
Whole Foods Market
H-E-B
Kroger
Whole Foods Market
Trader Joe's
Phoenicia Specialty Foods
Sprouts Farmers Market
Target Grocery
Central Market
---
Best Hyde Park Realtor - Paige Martin
---
As featured on Fox News in the Morning, Houston Business Journal, and Houston Magazine, Paige Martin, a consistent Top Producing Broker-Associate and head of the Houston Properties Team, is ranked as one of the top residential real estate agents in the world.
---
Best Houston Real Estate Resources
---