Best Value Hyde Park Homes For Sale Under $500K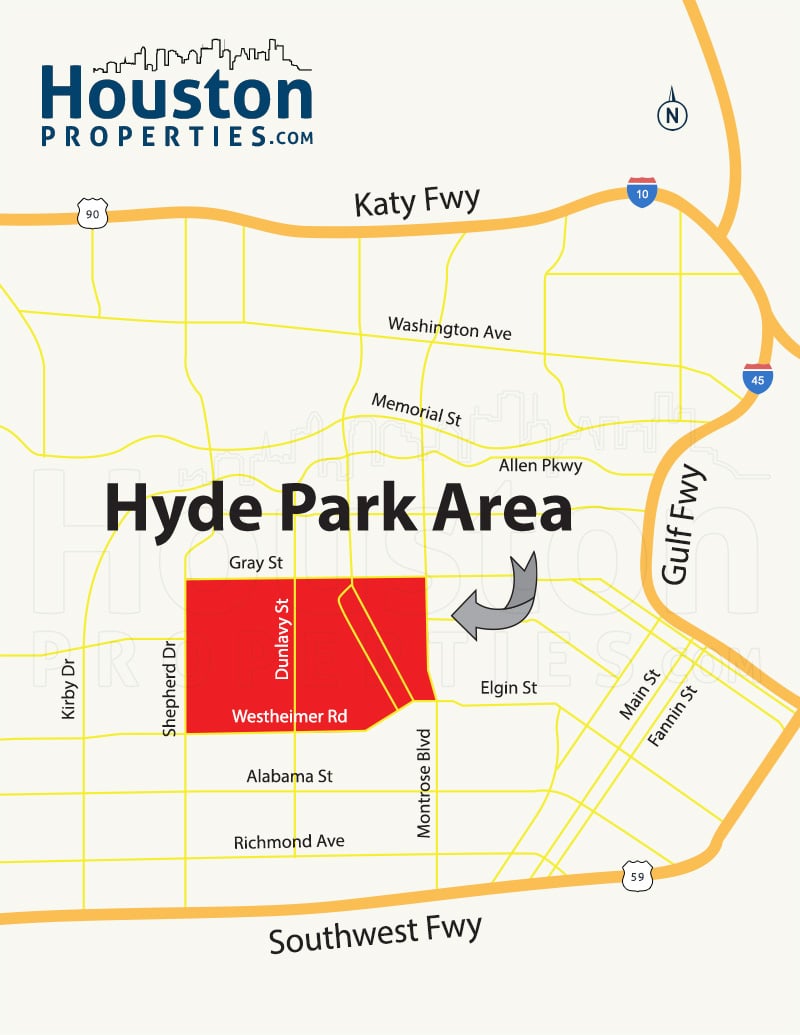 Located a few minutes west of Downtown Houston, Hyde Park is one of the many subdivisions that make up the colorful neighborhood of Neartown/Montrose.
Hyde Park homes for sale are highly prized for their location, high accessibility, and great housing options.
Centrally located within the Inner Loop, Hyde Park homes have easy access to business, work, and cultural centers. Key Houston hubs like Downtown Houston, the Medical Center, the Galleria, and the Museum District are all within easy reach.
The neighborhood also has great access to a variety of retail, entertainment, and dining options. The River Oaks Shopping Center is a short distance away from Hyde Park, while several bars, restaurants, cafes, and lounges are located in the surrounding Montrose areas.
Like most neighborhoods in the Montrose/Neartown area, Hyde Park features a great variety of housing options, including old patio homes, townhomes, condos, and more recently constructed single-family homes.
With so many options from which to choose, homebuyers can easily find something that suits their needs and wants. However, with increasing demand and new developments in the area, Hyde Park real estate may be tricky to navigate. Homebuyers will need the expertise of the best Houston realtor to help understand this challenging market.
Contact Paige Martin, head of the Houston Properties Team & Broker Associate at [email protected] or 713-425-4194 for advice or questions about buying or selling a Hyde Park townhome.
Hyde Park Houston Resources:
NOTE: Hyde Park homes are among the fastest selling real estate in Houston. Some of the properties are off-market (not publicly listed). For more information on available Hyde Park homes for sale call Paige Martin at 713-425-4194 or email [email protected]
Hyde Park Houston Neighborhood Guide
Hyde Park is a mostly residential, deed-restricted community located within the west-central area of Neartown/Montrose. It is roughly defined as the area south of Gray Street, west of Montrose Boulevard, north of Westheimer Road, and east of Shepherd Drive.
Hyde Park residents enjoy easy access to other Inner Loop areas, as Montrose is considered one of the most accessible neighborhoods in Houston.
Nearby neighborhoods include River Oaks, Upper Kirby, Midtown, Downtown Houston, Rice Military/Washington Avenue, Museum District, and Medical Center.
One of the oldest neighborhoods in Houston, Hyde Park was established in 1893 and was later annexed into the City of Houston.
Development in the area, like in most Inner Loop neighborhoods, was driven by demand. During the 70s, the Montrose/Neartown area drew in the creative crowd, particularly due to the neighborhood's proximity to Houston's cultural centers.
Hyde Parks's wide variety of homes and affordable real estate were also major factors that contributed to the neighborhood's popularity during this period.
Today, the neighborhood remains popular – though the market for Hyde Park homes for sale has shifted more toward those working in Downtown and Medical Center. Like Midtown and other Montrose subdivisions, tearing down or updating old homes is a trend apparent in the neighborhood. New construction is a common sight in the area – and like in neighboring communities, new development is driving prices up.
Still, Hyde Park single-family homes, townhomes, and condos are relatively affordable. Home prices depend on a number of factors, including size and age of the home and location.
Hyde Park is within the 77006 and 77019 zip code of Harris County.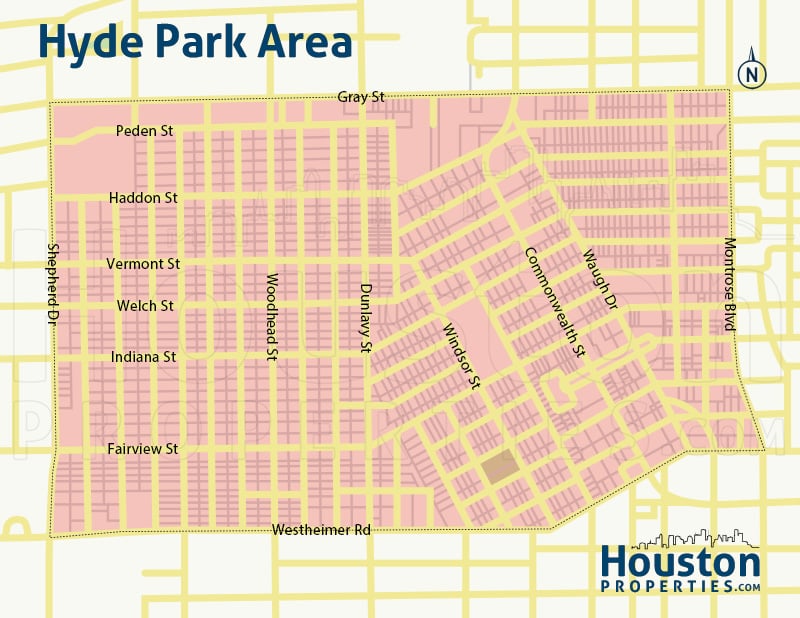 Hyde Park Schools Information
Hyde Park is zoned to the Houston Independent School District (HISD).
Public
Elementary
MacGregor Elementary School at 4801 La Branch St. Founded in 1922, MacGregor Elementary is a music and science magnet academy serving students in grades EE to 5. Apart from its magnet programs, MacGregor also offers an Extended Day program.
Wharton Dual Language Academy at 900 W Gray St. Wharton is a dual language magnet school that caters to both K-5 and 6-8 students. It features a curriculum that incorporates Spanish and English. It has a GreatSchools.org rating of 10/10.
Wilson Montessori at 2100 Yupon St. Located in the Neartown/Montrose area, Wilson offers a Montessori program for students in grades PK to 8. The school is famous for being built on the former site of Mirabeau Lamar's summer farm home.
Middle School
Lanier Middle School at 2600 Woodhead St. Lanier is both a Vanguard magnet and an International Baccalaureate Middle Years World School. It was awarded with Texas Gold Performance Award and has a GreatSchools.org rating of 9 out of 10.
Gregory-Lincoln Education Center at 1101 Taft. Located in the Fourth Ward, GLEC serves grades Pre-K to 8 students. It features a fine arts program as well as classes in vocal and instrumental music, dance, theater, visual arts, multimedia arts, and culinary arts.
High School
Lamar High School at 3325 Westheimer Rd. Home to the Lamar Texans (formerly known as the Redskins), this secondary school is considered to have one of the best athletics programs in Houston. It has one of the oldest lacrosse teams in the state and offers a great academics programs as well. It features International Baccalaureate Diploma Programme, business magnet, and Advanced Placement programs.
High School for the Performing and Visual Arts at 4001 Stanford St. The HSPVA – or simply, PVA – is divided into 6 departments, namely  instrumental music, vocal music, dance, theater, visual arts, and creative writing. Creative writing is a relatively new addition.
Hyde Park also features several private schools. Here are some of them:
Annunciation Orthodox School at 3600 Yoakum Blvd.
The Harris School at 900 Lovett Blvd.
Avalon Academy at 1616 Indiana St.
Kipling Street Academy at 1425 Kipling St.
School For Young Children at 810 Sul Ross St.
St Stephens Episcopal School at 1800 Sul Ross St.
To find an updated listing of all Hyde Park real estate zoned to any specific public school, please send an email to Paige Martin at [email protected] with the property preference and budget that you're working with.
*Note: School zoning tends to change from year to year, information provided above are accurate but not guaranteed. Please double check by visiting the school's website.
Hyde Park Houston Realtor – Paige Martin
As featured on Fox News in the Morning, the Houston Business Journal, Houston Chronicle, and Houston Magazine, Paige Martin – a consistent Top Producing Broker-Associate and head of the Houston Properties Team – is ranked amongst the very top Keller Williams agents in the Houston area.
Paige is ranked as one of the top realtors in Hyde Park Houston, and the state of Texas. Read more about the over 65 awards she's won in the last few years.
Paige works with a tremendous number of buyers and sellers within the Inner Loop.
For a specific recommendation of neighborhoods, homes or properties based upon your personal style, goals & price point, please contact Paige Martin, head of the Houston Properties Team & Broker Associate at [email protected] or 713-425-4194.