Hyde Park Houston Neighborhood Maps
Located between Montrose and Midtown Houston, Hyde Park is an Inner Loop subdivision rated as one of the 10 most accessible Houston neighborhoods.
Hyde Park's small town vibe and beautiful scenery inspires creativity and has been home to many artists in Houston for the past 80 years.
Commonly referred to as a "River Oaks Neighbor," Hyde Park is a small collection of homes on the Southeast side of River Oaks near Shepherd, Westheimer and Montrose. Hyde Park residents have fabulous access to grocery, shops, restaurants, bars, parks and schools.
Hyde Park Houston Related Resources:
Two New Hyde Park Houston Neighborhood Maps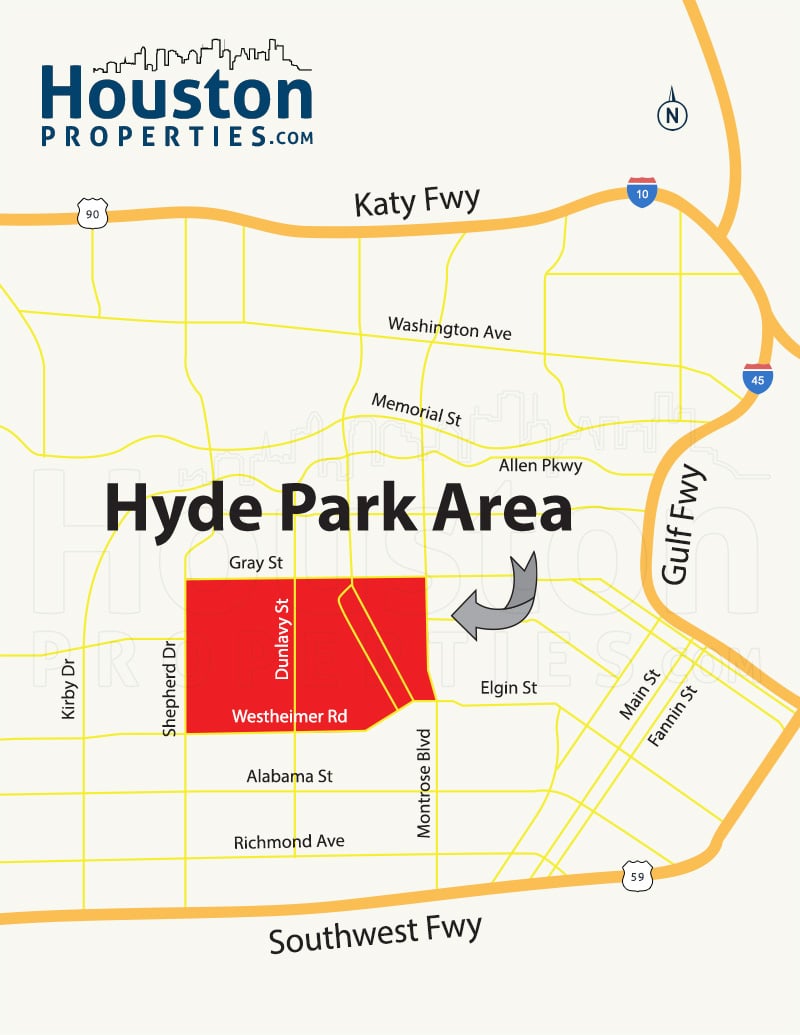 Hyde Park Houston Maps: Neighborhood
About 10 minutes from Downtown Houston and Galleria, Hyde Park is part of Houston's Neartown area along with Cherryhurst, Courtlandt Place, Montrose, Vermont Commons, Mandell Place, and Winlow Place.
Hyde Park is within the 77006 zip code and is roughly bordered by Shepherd Drive to the west, Gray Street to the north, Montrose Boulevard to the east, and Westheimer Road to the south.
Developers built most of the original Hyde Park homes for sale between the 1920s to 1940s and are commonly ranch-style or Victorian design.
In the past 20 years, contractors bought many of the older homes and apartment buildings to build new construction single-family homes and townhomes. Developers renovated a good number of the remaining inventory, giving the area an interesting variety of traditional and modern homestyles.
Together with the rest of Neartown and Montrose, Hyde Park is one of the most accessible neighborhoods in Houston. Aside from the many boutiques and restaurants along Westheimer Road, the main city streets of Hyde Park houses numerous commercial establishments.
Residents can do their grocery shopping at the Super K Food Store on South Shepherd Drive, Time Food Mart on Dunlavy Street, and Walgreens and Kroger on West Gray Street.
For some recreation or entertainment, the River Oaks Theatre, Lamar Park, and Cherryhurst Park are also within the neighborhood.