Tropical Depression Imelda's Impact On Houston Real Estate Market
Tropical Depression Imelda's Impact On Houston Real Estate Market
Here's a look at Houston neighborhoods that flood and did NOT flood during Imelda. Also, here's a list of things to do to address minor to major property damages due to flooding.
---
Just two years after Hurricane Harvey, Tropical Depression Imelda is now one of the wettest storms to hit Texas.
Imelda dumped over 41 inches of rain in Houston. Including 25 inches in just 12 hours. That's a 1-in-1000 year rainfall event.
The latest reports say that rain totals could reach a potentially crippling 55 inches in just three days.
While some parts of Houston is no stranger to flooding, many are not used to dealing with a catastrophe of this magnitude. Early reports also show that many neighborhoods that did not flood during Harvey, are now suffering from Imelda flooding.
As homeowners face minor and major property damages (for some, even potential loss of houses because of flooding), what do we do now?
Based on our calls and outreach, we have compiled a list of Houston areas that flooded (and those that did not flood). If you have any information we can add or anything that appears wrong please email [email protected]
---
Table of Contents
---
Houston Real Estate Post Imelda: What Happens After The Flooding?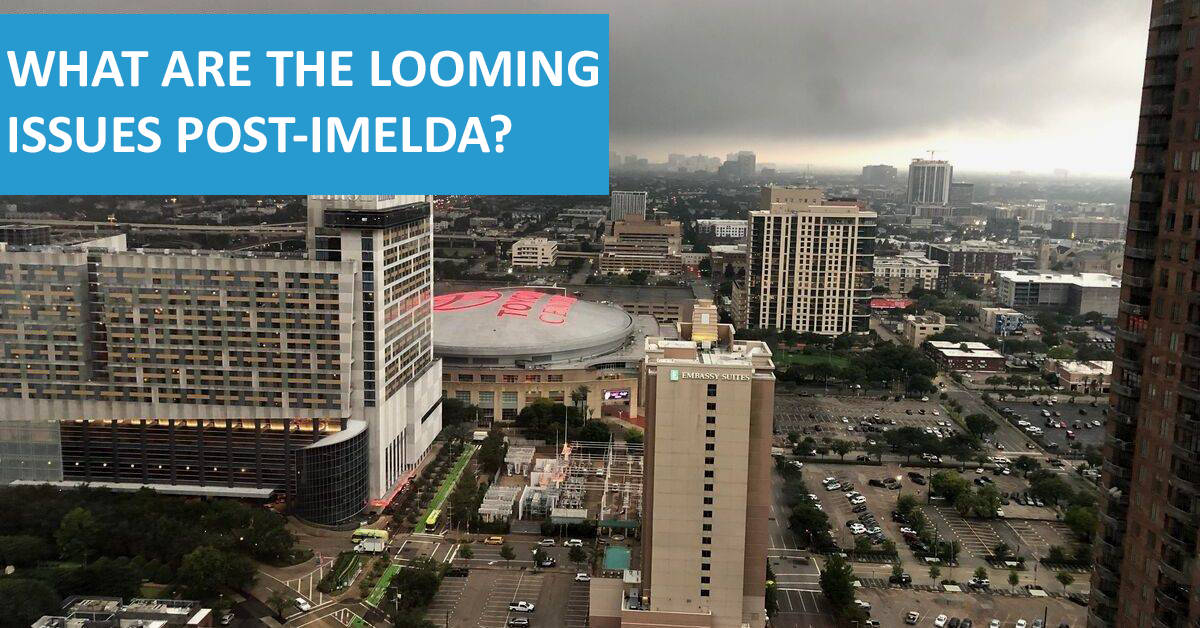 Home values and land prices in flood prone areas are materially impacted from the floods. If you're looking to buy a home in areas of Houston that did not flood, please contact us for streets and subdivisions that did well during Harvey and Imelda. Email [email protected]
Our heart goes out to everyone affected by Tropical Depression Imelda.
Based on what happened after Hurricane Harvey (and previous similar disasters), here's likely what the Houston real estate market will look like for the next few months:
Increase in rental transactions (especially short-term rentals).
Increase in the condo segment (see the benefits of living in a Houston condo).
Significant increase in homes and neighborhoods that did not flood (details below).
Decline in sales in Houston flooded areas Imelda
It is a good time to be a buyer as there will be fewer buyers in the market (ergo less competition). Home search will be slow because of:
Buyers impacted by the flooding cannot carry two mortgages, and they will need to fix their home before they can sell it (or consider moving).
Buyers whose homes did not experience Imelda flooding Houston, but their business, family or friends were hit hard and were included among Houston flooded areas during Imelda. Because of this, they're unable to consider making a move now.
Some buyers will pause and not do anything, out of general concern and uncertainty.
There are also typically several deals that come on the market after a natural disaster like this. They are rare in non-flooded areas, or those Houston neighborhoods least flooded by Imelda, but they often come from the following types of situations:
Vacant homes (especially if the buyer lives out of the area or out of state).
Homes where the buyer is willing to take on work (renovations/repairs/etc.) Note: this has a financing implication as these would need to be covered out of pocket.
If builders are close to their lines of credit or had inventory that fared poorly, they may be willing to discount or provide more allowances on their new construction inventory as they'll need more cash flow.
If you see properties that really stand out to you, or you're wondering how to rebuild Houston home after Imelda, let us know, and we can do the legwork to find out how they did during Imelda flooding streets Houston and how flexible a seller may be. We can also provide you an overview of the most and least flooded areas in Houston during Imelda.
---
Houston Neighborhoods With Little To No Flooding From Imelda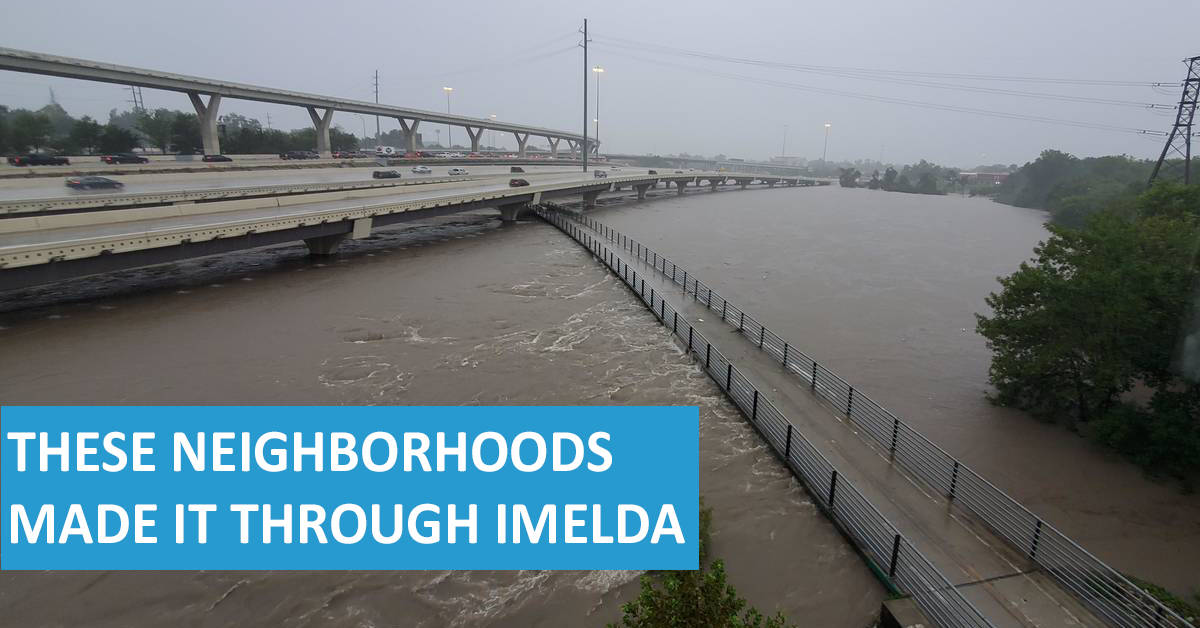 Our list of Houston neighborhoods that did NOT flood during Imelda is updated real-time. We are reaching out to clients, partners, and contacts all over Houston to get the most updated data. If you have specific questions or updated information, please email us at [email protected]
We started by focusing on the 52 Houston neighborhoods from: Houston's Best Neighborhoods: Where Can I Afford To Live and have added neighborhoods by request.
If you have specific questions or updated information, please email us at [email protected]
Neighborhoods And Communities That Did Well:
Briar Hollow
EaDo (East Downtown)
Highland Village / Mid Lane
Midtown
Montrose
Rice / Museum District (northern parts)
River Oaks (southern parts)
River Oaks Shopping Area / Hyde Park
Royden / Afton Oaks (northern parts)
Southbelt/Ellington Area
The Woodlands
Upper Kirby (northern parts)
West University (northern parts)
These are the communities that were not included in the list of flooded areas in Houston during Imelda. The Houston flooding map, which you can find below, also shows how well these neighborhoods did.
---
Houston 311 Service Requests Heatmap During Imelda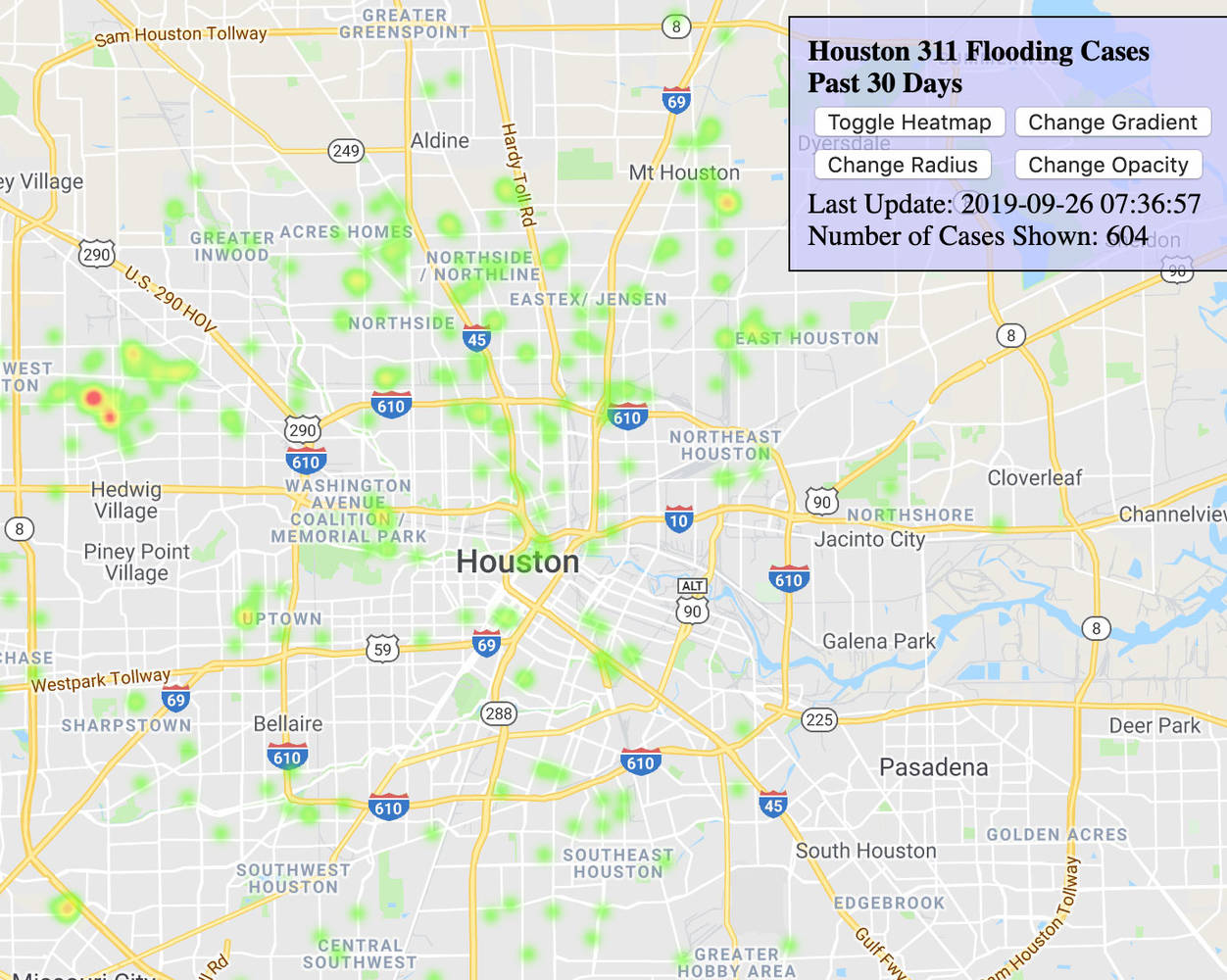 Where were Houston 311 service requests/calls coming from during Imelda?
Heat Map of flooding-related 311 service requests/calls made between August 26 to September 26.
Source: City of Houston 311 Service Request Heatmaps
Red and orange areas had the highest 311 Service calls about flooding during Imelda.
Yellow areas had moderate 311 service calls about flooding during Imelda.
Green areas had somewhat of a concentration of 311 service calls about flooding during Imelda.
Areas without color did not show reports of flooding calls.
Below, please find our Houston neighborhood maps that show the breakdown of what areas flooded in Houston. Please contacts us for more specific maps.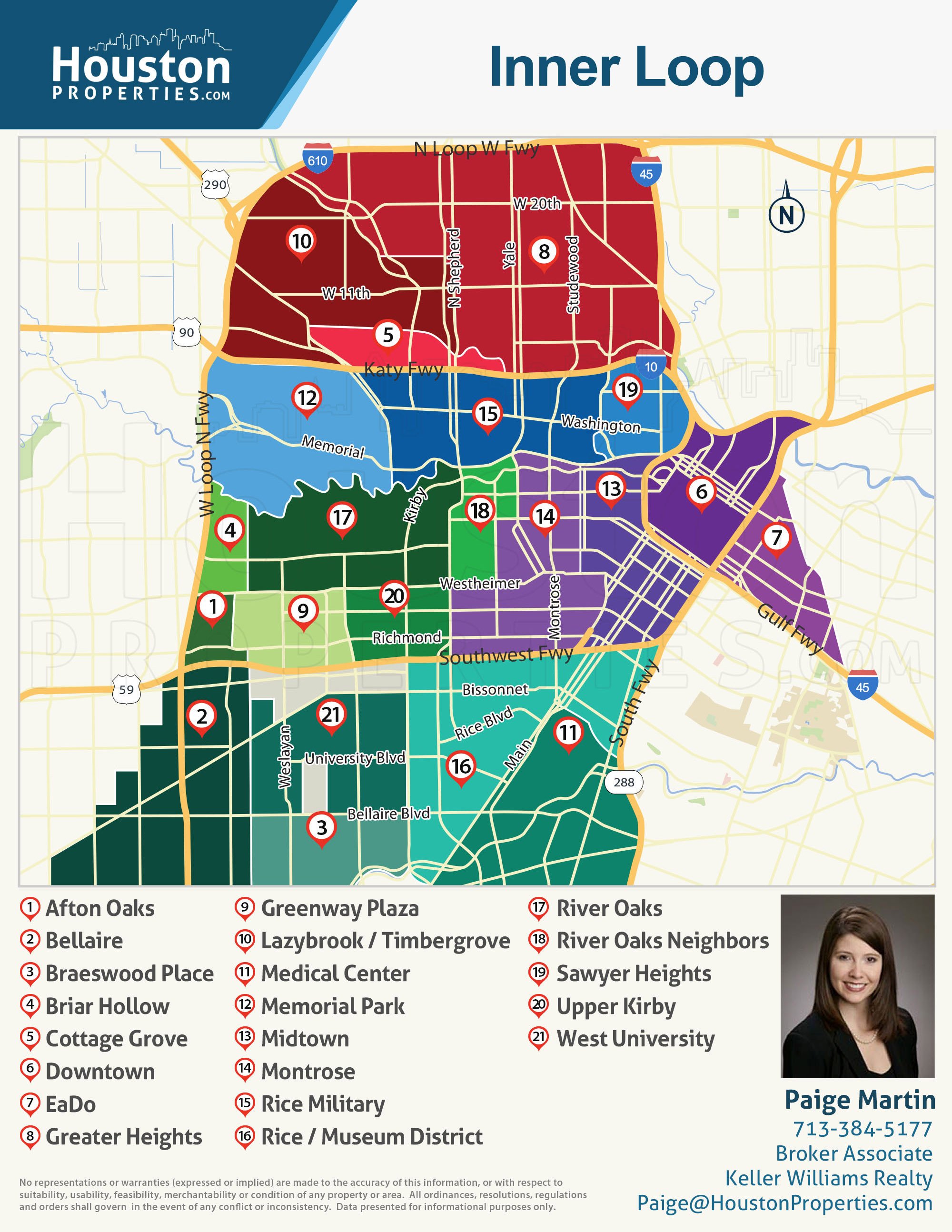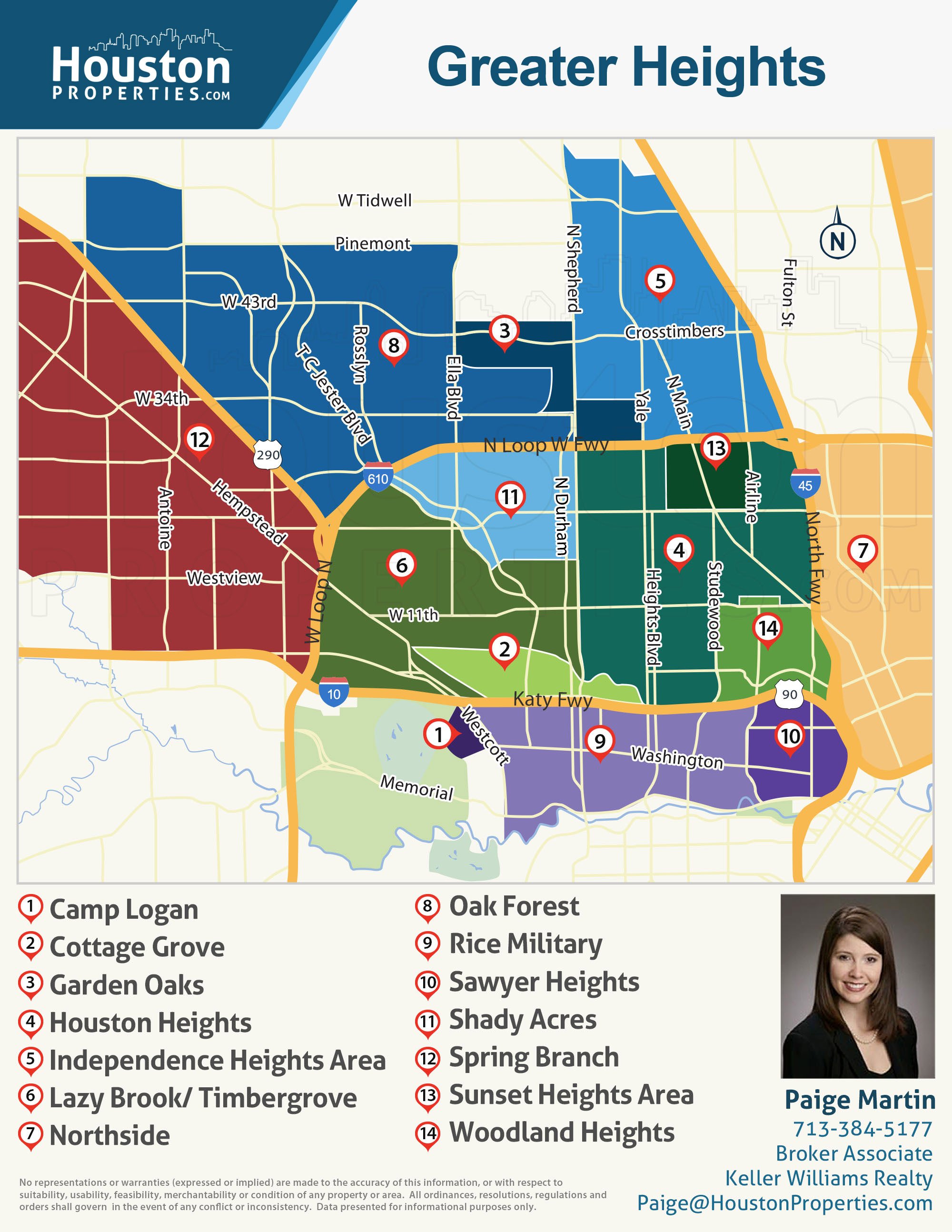 ---
Houston Neighborhoods That Flooded Due To Imelda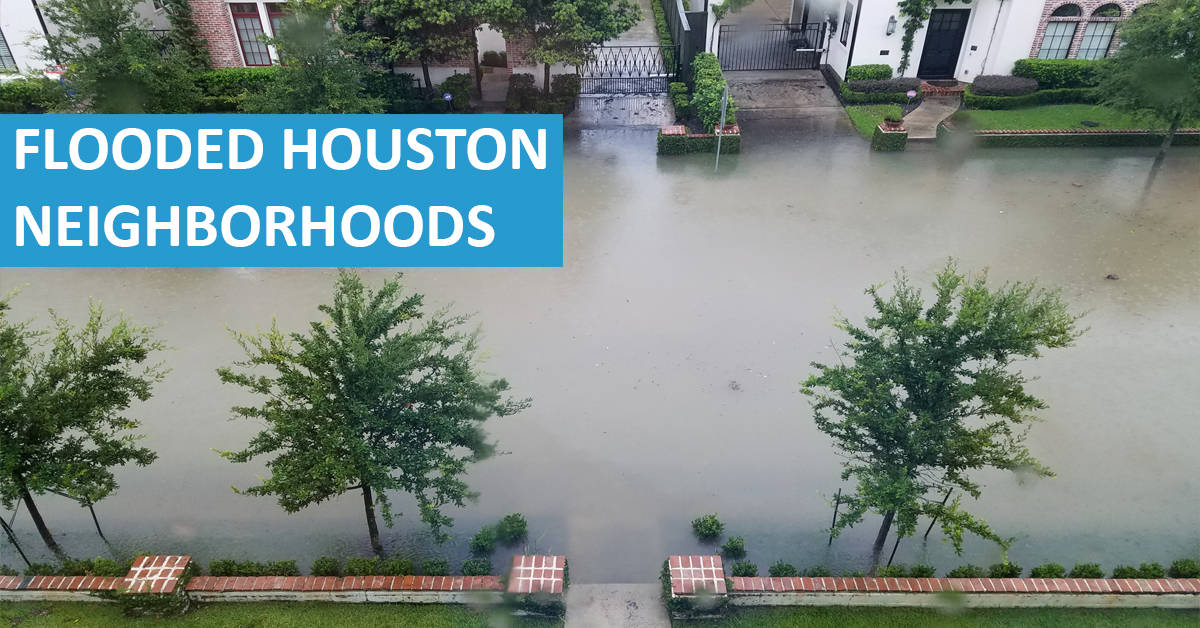 Our list of Houston neighborhoods that flood during Imelda is updated real-time. We are reaching out to clients, partners, and contacts all over Houston to get the most updated data. If you have specific questions or updated information, please email us at [email protected]
A flood is defined as a rising body of water that impacts two or more contiguous properties (e.g. water rising over a curb onto two adjacent homesites is a flood).
We collected 200+ data points throughout Houston including videos and pictures of Houston area flooding Imelda.
When we originally posted the full list of areas that experienced reported flooding events, we received an outcry from area residents who did not want their region listed.
As we are in the business of selling homes and providing the most valuable data to our clients (not of making area residents angry) we have removed the list of flooded areas from this post.
Clients, if you're looking for the full, accurate data set of flood reports from Tropical Depression Imelda or if you have more videos and photos to share, please contact us at [email protected]
Interestingly enough, we've received over 45 emails since this article originally went live.
One very interesting thing to note is that there is a material disconnect between buyers and sellers.
Buyers were very concerned about water anywhere near the house. This included water that reached over the property line ("I don't want to live anywhere where flood water comes over the curb or anywhere near the front door." and "I don't want there to be a chance of water coming on my property.")

Residents specifically claimed that they "did not flood" even though they acknowledged water came over the curb because they stated that water didn't enter the structure. ("There was NO FLOODING at all in XXXX . . . We had water in the streets and in some places it was over the curbs and on the driveway, but we did not flood.")
Again, the technical definition of a flood is a rising body of water that impacts two or more contiguous properties – if it's on the property line – it's a flood (regardless if it went into the structure or not).
As a side note – we are seeing a very similar trend in a number of public listings in the HAR MLS. Some sellers will include the words "DID NOT FLOOD" in the public description. However, later in the Seller's Disclosure, they will acknowledge that water came over the property line and/or water came into storage sheds or garages. Some buyers feel misled because they don't want water in their house, in their garage or on their property.
Fortunately, the newest Texas Seller's Disclosure Documents (which are just now in effect) separate the different flooding events.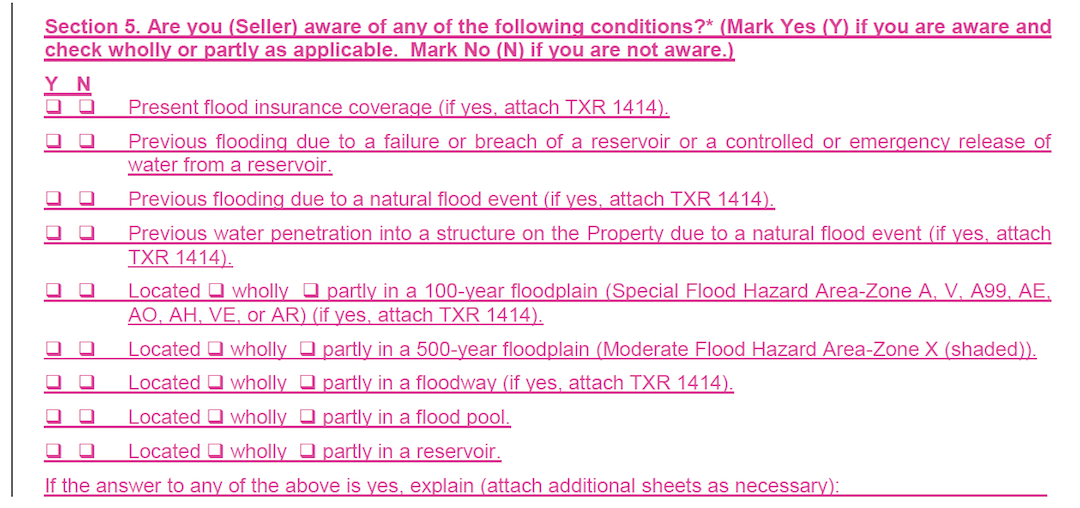 Unfortunately, despite the regulations, not all sellers have updated their listings with the newest seller's disclosure notices. If you have questions about this or would like help on due diligence, please contact us.
From our research, most of the flooding from Imelda was isolated to the property's boundary lines (as opposed to the flooding in the home/structures that many residents experienced during Harvey – as Hurricane Harvey stayed over Houston for a longer duration).
Below, we've included a collection of videos and Houston flooding pictures from third parties throughout parts of Houston.
We'll leave it to you to determine if these are flooding events or not . . .
However, if you're concerned about flooding in Houston and you want to know what the resale data says, please contact us. We can provide you data on how storm Imelda flooded Houston areas so that you can avoid them. We can definitely help you if you're looking to buy or sell a home.
Most Flooded Neighborhoods Houston Imelda
Knowing the most flooded areas in Houston Imelda tropical storm can work for your benefit when you are purchasing a home.
---
What To Do To Homes With Minor To Major Damages Due To Imelda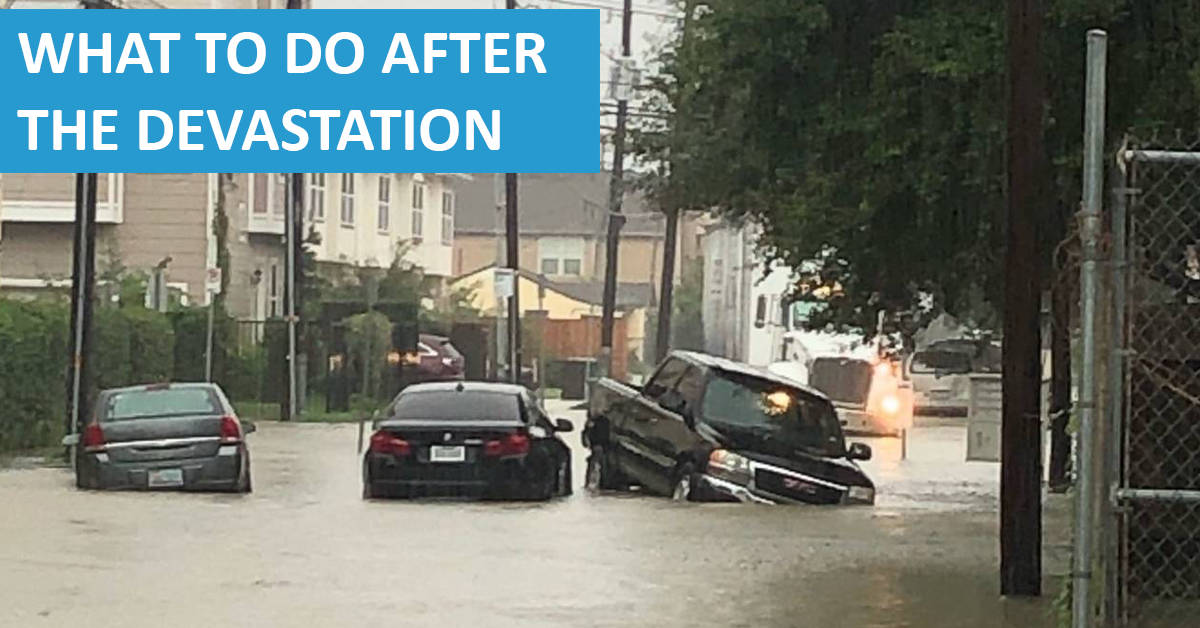 We have some great vendors. We have already reached out to a few and while some of them are dealing with their own home flooding, some are already preparing to bring in contractors from out of state to be able to assist with a rapid clean up. Contact us if you need recommendations.
Imelda is one of the wettest storms to hit Houston.
Reminder: Property assessing or rebuilding must be done after the storm has passed. It is best to keep monitoring the storm's development until the coast is cleared by government authorities. Check credible news sites, including local and national radio networks.
Houston Flooded Areas Imelda: What to Do After
As soon as authorities have confirmed that the storm has passed, you can try to start with rebuilding your home.
Wear protective clothing such as face masks, gloves, coats, and boots.
Gather debris from the yard. Pile them up and secure them.
Take a look at your home's exterior and identify any possible damage. Do this before deciding to enter the property. Be wary of these spots. If you see that the integrity of the structure was compromised, don't think of getting in. Foundation cracks, sagging roofs, and walls are worrisome signs. If in doubt, feel free to send me a message as we have great contractors who can help out.
After entering the structure, use flashlights. Ditch the candles. You will not know if there are any gas leaks or other highly flammable substances. Avoid burning charcoal indoors. This can lead to carbon monoxide buildup in closed spaces.
The moment power is restored, it is advised not to turn on appliances altogether. Do it one by one. This will ensure that any possible damage to equipment is minimized. Avoid using .appliances that have been wet. Using these appliances exposes users to the risk or electrocution. In some cases, it can even be a fire hazard.
Don't forget your insurance claims. Make sure to take photos of everything. If you can have both digital and printed formats, better.
As soon as possible, execute some post-Imelda fixes to your damaged home. Ensure that your property will not sustain any additional damage. Try to fix the roof or broken windows, if there are.
Watch out for any sign of mold growth. While this may be a common thing after a storm, it must be noted that this can pose a health risk. In a matter of a day of flooding, mold can form already. Signs of mold include musty smell and surface discoloration.
One more thing, if you have pets at home, ensure that their pens or living spaces don't have any debris. Also, avoid tying your dogs unless you are sure that flash floods will not occur in your area.
Try to contact a storage facility nearest you and make a reservation. You need to find a safe and suitable place for your belongings while home repairs are ongoing.
You can also check Texas flooding map in case you have family members or friends not living in Houston. News on Texas flooding today can be easily accessed online.
IMPORTANT: When it comes to home repairs after Imelda, you have to understand that you, as the homeowner, can only so much. These repairs are best left to the hands of professionals. What may be an "okay" structure to you may be an unstable structure in the eyes of professionals.
---
What To Do To Homes That Flooded Due To Imelda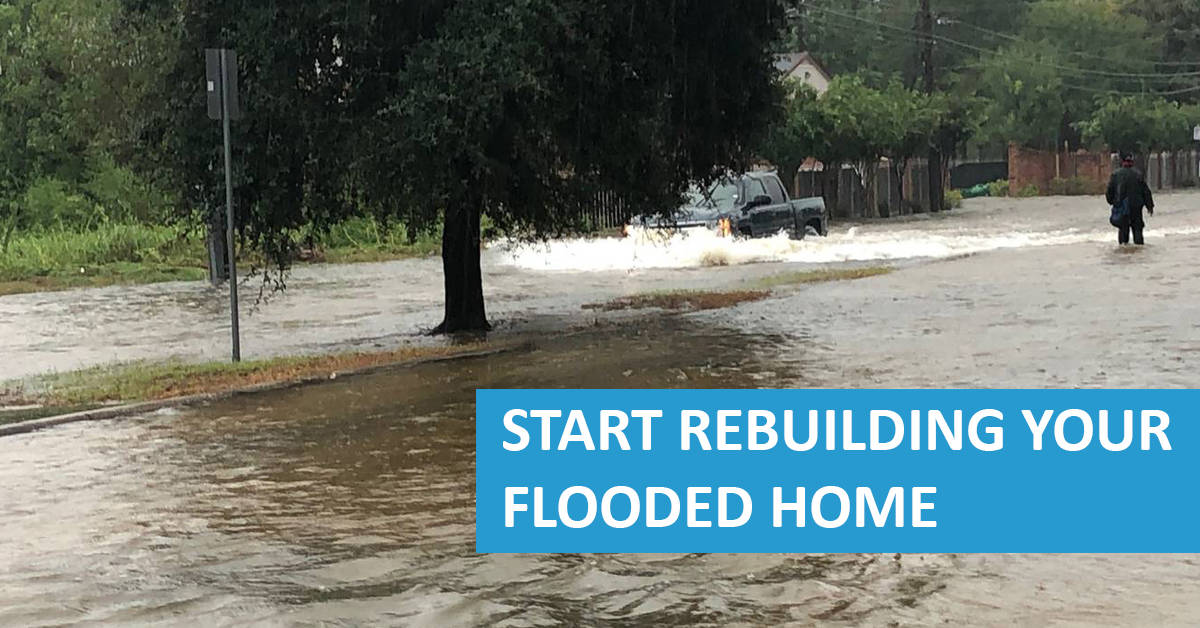 We have great contractors and vendors. Contact me if you need recommendations.
What To Do To Homes That Flooded Due To Imelda
Finding water rushing in, invading the deepest recesses of your home is heartbreaking. When you realize that major flooding will cause you to lose some of your most precious belongings, just hang on. Below are some of the things you can do to help lessen the burden caused by Imelda.
The first number to call is that of the Federal Emergency Management Agency (FEMA): 800-621-3362. Whatever information you have regarding the disastrous aftermath of Imelda will be useful to them. Yes, you may receive a small grant from FEMA, and it may not suffice, but it is something that you can start with. You may also want to check a Houston road closures map to determine how to find your way post-Imelda.

Record everything. Make sure that you take photos of all kinds of damages to your property. If you still have photographs of your home before Imelda, then better. Another useful reminder, receipts of any purchase you make after the storm must be kept. There are a lot of insurance policies that cover not just damage to property. There are instances when additional expenses that you incur after the storm will be recognized by the insurance company too.

Post Imelda activities would entail a substantial amount of paperwork. Make sure that you prepare all the important documents that you need. Get a photocopy of your birth certificate, driver's license, property tax record, vehicle insurance, house insurance, etc. Try to upload a copy on the cloud for backup purposes. At the same time, have your copy as well.

File for damage to property claim at the earliest possible time. Unlike during Harvey where legislation was passed to help victims file for their claims at a certain date, there still isn't one as of this writing following Imelda. Just be vigilant and keep yourself abreast of the latest developments concerning Imelda so that you can be equipped and prepared. It could even entail monitoring Houston sea level reports.

If during the flooding, you lost your car in the process, gather whatever pictures of your car are available so that you can file a claim for insurance. Take a picture of where it happened as well. Also, following the aftermath, resist buying used cars. You might end up with a flooded car sold as "not flooded." If you can't avoid buying a secondhand car, do a thorough check of the interior, including the lights, for any sign of dampness. Check under the hood too. If unsure, get a mechanic to do the checking for you.

Since there are properties that would be rendered as unsafe and has no other way to go but to be demolished, make sure that you get everything out at the earliest possible time. Try to go through your stuff and retain those that could still be used. Try to get a storage unit for stuff that you can still use. This will keep your things safe while you are attending to the demolition and other pertinent post-Imelda processes.

Contractors and vendors will be on high demand considering that thousands of structures were affected by Imelda. Even construction workers will be hard to find. If your home's structural integrity is still okay, try to seek the help of family and friends to make some repairs. In the process, you and your neighbors can help each other out.

Before hiring a contractor to do the home repairs, make sure that you check out their credibility. Don't get duped by those who would be trying their hand at ripping off their customers. Just do careful research before hiring the services of one.

After everything has settled, try to make some property improvements. Plan for the future. Small upgrades to your home like modifying where cables are laid out, as well as improving piping of water will matter a lot.

Don't forget to the following simple reminders while you are rebuilding your home devastated by Imelda:

Protect your lungs from molding, gas leaks and other chemicals. Use a facemask or a respirator.
Turn off the main power. Remember to unplug all appliances and avoid exposed wiring.
Use whatever tools are left. Account for them. You may find the crowbar very useful at this point. Pliers and cutters would be essential too. Since you might collect debris, you might need a wheelbarrow.
Don't let the fridge stay inside the house. Take it out. You can also seal the doors of the fridge using duct tape, especially if rotten food is inside.
Prime areas for mold include carpets and vinyl tiles. Get them out too.
Methodology & Disclaimers
A flood is defined as a rising body of water that impacts two or more contiguous properties (e.g. water rising over a curb onto two adjacent homesites is a flood). We collected 200 data points throughout the city including videos and pictures of flooding. When we originally posted the full list of areas that experienced flooding we received an outcry from many area residents who did not want their region listed. As we are in the business of selling homes, we have removed the list of flooded areas on this website. Clients, if you're looking for the full, accurate data set of flood reports from Tropical Depression Imelda, please contact us.
— The areas that experienced higher than average flooding are in comparison to the rest of Houston, not in comparison to prior storms
— Some parts of 'higher than average' geo market areas experienced different levels of flooding
The article uses HAR MLS geo market definitions for areas. Here is the map of the HAR MLS regions http://web.har.com/mlsareamap.html
— While the report lists neighborhoods based on its Geo Market Area, please note that the flooding is on a street-by-street (and in most cases, home-by-home) basis.
Houston was fortunate in that the majority of the flooding reported is largely street flooding that also led to some property flooding but less structural (home) flooding. Most of the flood damage reports we're hearing largely seem to be car flooding and not home flooding.
Data sources include, but are not limited to:
— Reports from major news outlets
— Our agent partners all over Houston
— Our contacts, partners, and clients all over Houston
— Social media updates from people living in the area
Our list of Houston neighborhoods that flood and did not flood during Imelda is updated in real-time. We are reaching out to clients, partners, and contacts all over Houston to get the most updated data. If you have specific questions or updated information, please email us at [email protected]