Jersey Village Real Estate Guide
Jersey Village homes for sale & insider real estate guide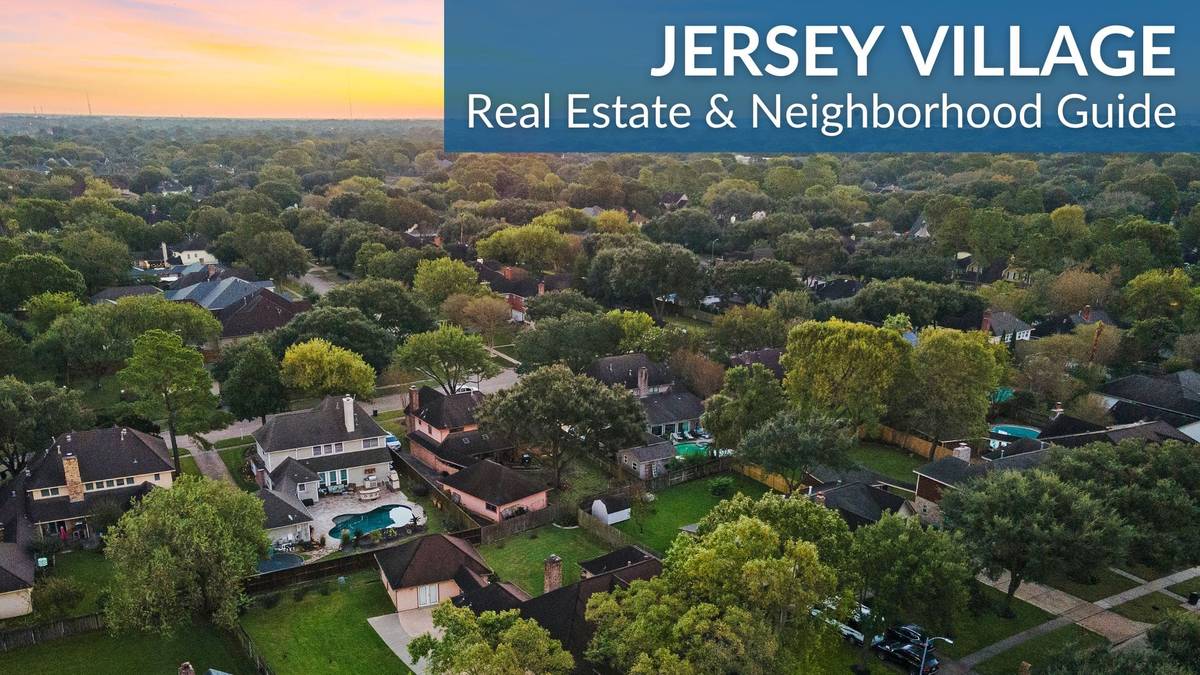 Jersey Village is a small community that ranks among the Best Houston Suburbs. It is recognized as a "small town with great plans". It is due to its tranquility, ambiance, and fast-growing real estate development.
Residents living in Jersey Village enjoy:
ACCESSIBILITY: The neighborhood is accessible to Houston's relevant business and leisure spots. These include the four most significant business hubs in Houston: Downtown, Energy Corridor, Medical Center, and the Galleria. The Memorial City Mall and City Centre Plaza are also a few minutes away from the neighborhood.

EXCELLENT AMENITIES: Jersey Village gives homeowners various recreational activities in the area. The Jersey Meadow Golf Course is one of Houston's Best Golf Course Communities. Residents can enjoy the amenities that the homeowner's association maintains. This includes swimming pools, parks with playgrounds, and a small lake.

LARGE LOTS SIZE: Jersey Village offers generous lot sizes with a median size of over 13,000 square feet. This is comparable to most houses having a livable space of an average of 2,300 square feet. Homeowners can enjoy living in a spacious home.

CONVENIENT COMMUTE: Jersey Village is not a walkable community. The homeowners rely on their cars to get around the area. The neighborhood provides an easy commute experience for residents as Jersey Village bounds the Sam Houston Parkway to the east and Northwest Freeway (US 290) to the west. The neighborhood has direct access to main roads such as West Road, Jones Road, and N Eldridge Parkway.

INEXPENSIVE HOA DUES: Jersey Village does not have Home Owners Association (HOA) dues. It is among the few Houston communities that have this current city status. Having no expensive HOA dues is one of the neighborhood's best perks.

SECURED COMMUNITY: Residents receive services from the city police and fire departments. Jersey Village is managing the Crime Control and Prevention District. This provides city officials the extra funding for more police services.
Homebuyers may find it tricky to navigate Jersey Village's market. This is due to the increasing demand for homes close to Downtown and complex forms of policy in the village. Consulting the best Houston realtor will be beneficial.
To get personal advice on buying or selling in the Jersey Village area, contact Paige Martin, one of Houston's best realtors and one of the top-ranked Realtors in the United States.
"I wholeheartedly recommend Courtney from the Houston Properties Team! I worked with her to sell my home, and I couldn't be happier with the results. Courtney's knowledge of the market was exceptional, and she worked tirelessly to get the best possible price for my home. She was always available to answer my questions and provided excellent support throughout the entire process. Without a doubt, Courtney and her team are the best in the business! Thanks very much!" - MAYNOR DERAS (Google Review)
---
Table of Contents
---
Jersey Village Home Sale Trends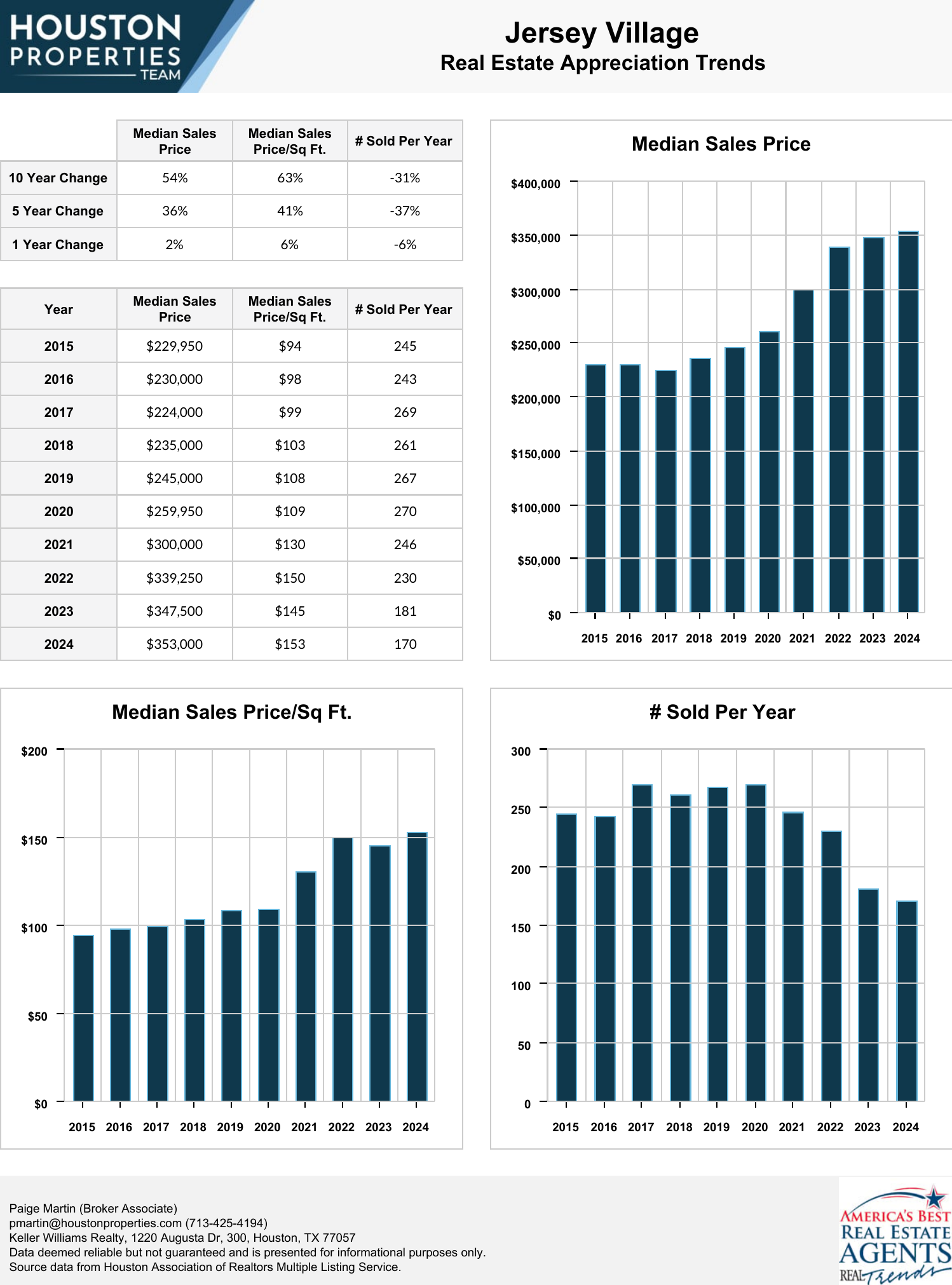 Jersey Village is a small city located at the crossroads between Highway 6 and U.S. Highway 290. It's considered to be one of the top suburbs to live in Houston.
Jersey Village features:
RECREATIONAL AMENITIES: There are a lot of amenities available in Jersey Village, including a public swimming pool, a golf course, and a public park with a playground. A small lake is also available to residents and guests near its shores.

CENTRAL LOCATION: Jersey Village offers convenient access to the Houston area's main freeways. Its central location makes commuting fast and easy.

LOCAL GOVERNANCE: Jersey Village is a home-rule municipality. It's granted wide latitude under Texas law to allow residents self-governance and complete control of the neighborhood's development.
Jersey Village provides direct access to many downtown businesses belonging to the Cy-Fair Chamber of Commerce. The area is less than 30 minutes away from two of the biggest employment centers in the city: Energy Corridor and Downtown Houston.
---
Jersey Village Best Realtor Insights
Jersey Village is a neighborhood of about 600 homes. It sits at the crossroads of two major highways, the Northwest Freeway (US 290) and Sam Houston Parkway (Beltway 8).
Jersey Village real estate owners have convenient access to major freeways and roadways connecting to key Houston areas.

Two of the city's biggest employment centers, Downtown Houston and Energy Corridor, are less than 30 minutes away.

Jersey Village is a home-rule city and operates under a Council-Manager form of government.

This enables the local government to have full control over the development and maintenance of streets. These improvements have renewed interest in commercial and retail development in the area.

Jersey Village is under the Cypress-Fairbanks Independent School District. Student residents may attend Post Elementary School, which is in Jersey Village. The neighborhood is also zoned to Cook Middle School and Jersey Village High School.

The neighborhood enjoys a location close to a 24-hour Wal-Mart, hardware and grocery stores, specialty retail shops, and movie theaters. Memorial City Mall and CityCentre Plaza are a short 15-minute drive from Jersey Village Houston.

Jersey Village real estate is mostly single-family homes on large lots that have a median size of over 13,000 square feet. Homes have a median size of around 2,300 square feet and typically feature 3- and 4-bedroom floor plans.

Located within the neighborhood is Jersey Village Country Club, a collection of 30 luxury properties. Homes here have more than 4 bedrooms and 3 baths, larger liveable space, and a higher price range that starts at $240,000.

Jersey Village homes for sale range in price from $130,000 to more than $600,000.

The neighborhood features a mix of upgraded vintage homes and modern custom-built properties.
---
Jersey Village Maps, Location & Zip Code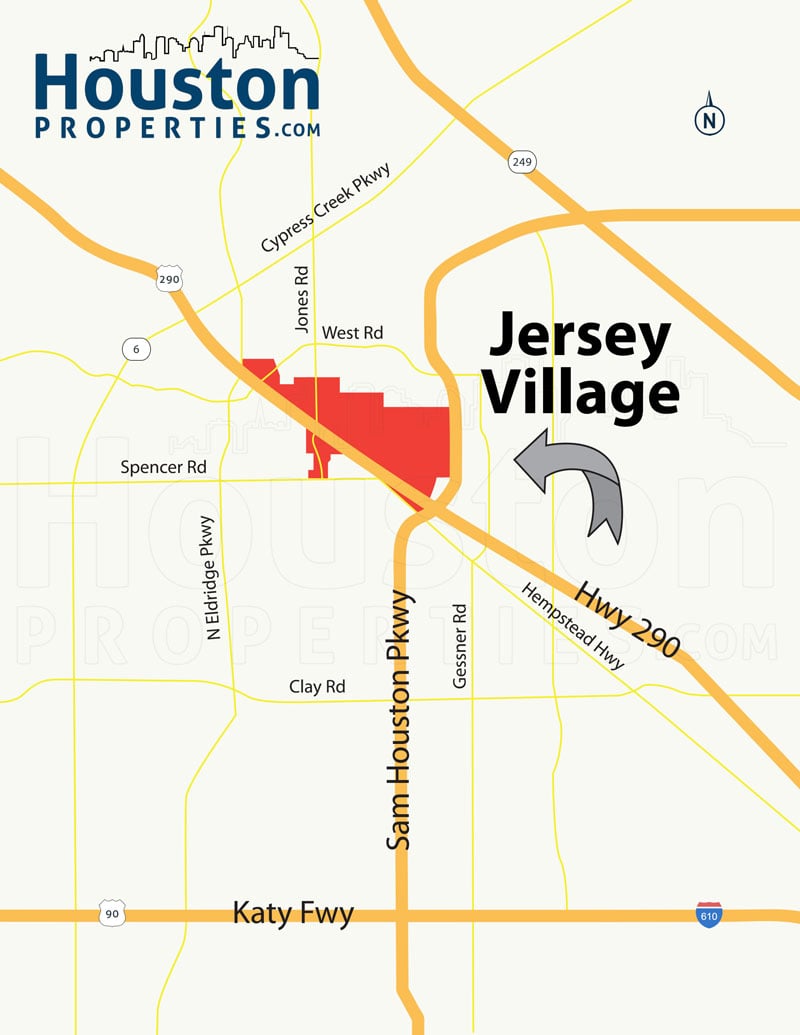 | Commute Time | Jersey Village |
| --- | --- |
| Downtown (min) | 20 |
| Med Ctr (min) | 30 |
| Energy Corridor (min) | 10 |
| Galleria (min) | 20 |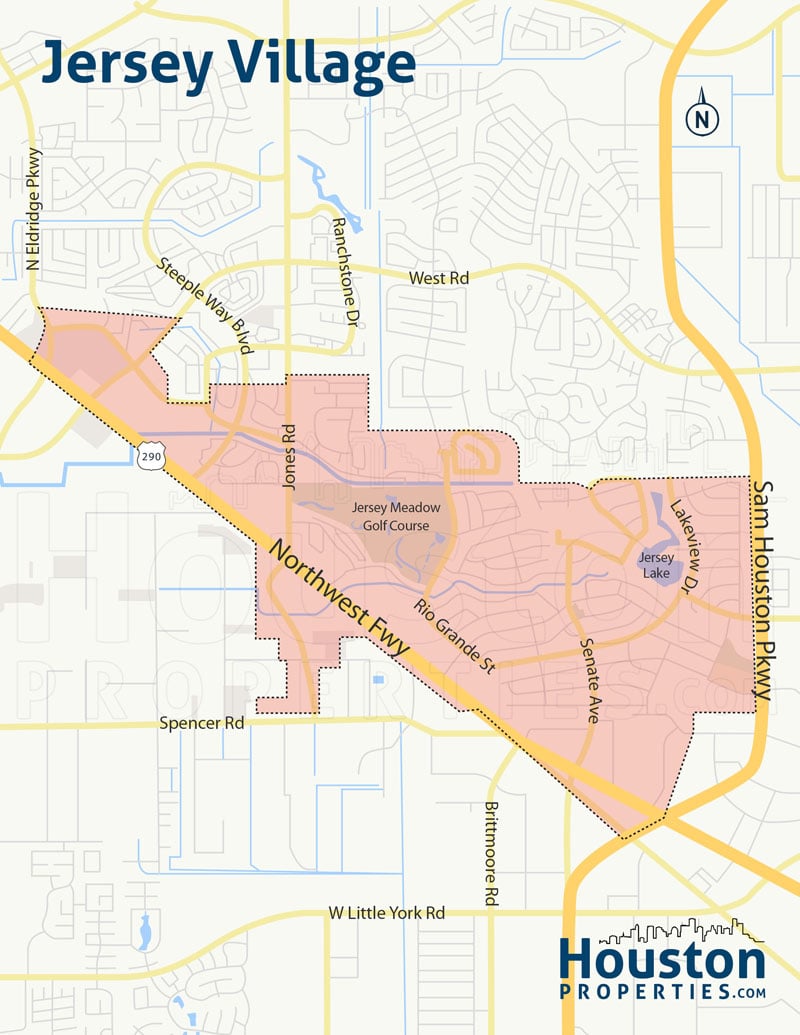 Highlights
Jersey Village
Amenities
Jersey Village offers excellent recreational facilities like a golf course, parks, and pools.

Residents enjoy water activities in Cameron Pools, Clark Henry Pool, and Jersey lake.

The best highlight of the amenities is no expensive Home Owner's Association (HOA) dues.
Golf Courses
- Jersey Meadow Golf Course
Run / Bike Trails
- Jersey Meadow Park
- HC Mud 11 Hike & Bike Trail
- Jersey Village Walking & Jogging Trail
- Carol Fox Park
- Jersey Village Dog Park
- Wortham Park & Trail
Nearby Retail / Dining
Retail:

- Memorial City Mall
- City Centre Plaza
- Cricket Wireless Authorized Retailer
- Ross Dress for Less
- Dickies Retail Store (Houston)

Dining:

- Little Kitchen HTX
- Taquerias Arandas
- Adriatic Cafe and Italian Grill
- Whataburger
- Natalitas
- Los Cucos Mexican Cafe

Entertainment:

- Color Factory Houston
- Nightlife(bar)
- Tex Axes
- Golf & Poker Club
- Javan Entertainment
- UOE - Ultimate Outdoor Entertainment Houston

Groceries:

- Kroger
- ALDI
- West Food Mart
- Senate Food Mart
- H-E-B
Major Employers
- Exxon
- Chevron
- McDermott International
- Shell Oil Company
- Dow Chemical Company
- Foster Wheeler
- Gulf States Toyota
---
Jersey Village Schools
| Top Middle Schools | Great Schools Ranking |
| --- | --- |
| Cook Middle | 7 |
Jersey Village homes are zoned to Cypress-Fairbanks Independent School District (CFISD), the largest school district to have all its 87 schools rated as 'Met Standards' by the Texas Education Agency.
Campuses that earned a Met Standard rating are also eligible to earn distinction designations, awarded in recognition of outstanding achievement in academic areas such as Reading, Writing, Science, English, Algebra, and Biology. Fifty-six of CFISD's eligible campuses earned at least one distinction designation.
CFISD is the third-largest school district in Texas and the 22nd-largest in the United States. It has 87 schools educating more than 114,000 students.
Schools zoned to Jersey Village include:
---
Elementary Schools
---
Post Elementary School at 7600 Equador St. Ranked 35th in Cypress-Fairbanks ISD schools according to niche.com. The institution strives to create a learning community where rigorous and structured education is being observed. Programs include music and athletic camps, and exciting clubs are also available.
---
Middle Schools
---
Cook Middle School at 9111 Wheatland Dr. Cook Middle School is a model school community committed to the greatest level of individualized learning in all endeavors. Providing an education that will enable students to live successfully in an ever-changing society in a positive environment.
---
High Schools
---
Jersey Village High School at 7600 Solomon St. (National Blue Ribbon School from 1999-2000) Ranked 8th in Cypress-Fairbanks ISD schools, received B from the Texas Education Agency in 2018-2019. The school opened its doors in 1972. Programs offered include after-school organizations and clubs that students could join, including Technology, music, and fine arts.
To find an updated listing of all Jersey Village real estate zoned to any specific public school, please email Paige Martin at PMartin@HoustonProperties.com with the property preference and budget that you're working with.
Note: For more detailed information on specific schools zoned to different Jersey Village areas, please refer to our Houston Schools Guide OR email me.
Note: School zoning tends to change from year to year. The information provided above is accurate but not guaranteed. Please double-check by visiting the school's website.
---
Jersey Village Real Estate Market
Jersey Village Single-Family Home Trends
---
Most of Jersey Village's single-family homes feature a traditional style with brick and wood exteriors. Properties occupy lots that span up to 24,240 square feet.
These homes mostly have 2-4 bedrooms and bathrooms. Some properties have private pools and central heating and cooling systems.
The single-family homes in Jersey Village are priced up to around $840,000.
---
Jersey Village Townhome Sale Trends
---
There are no townhomes in Jersey Village. There are, however, plenty of townhome options available in nearby neighborhoods.
The Houston Properties Team are expert in Jersey Village real estate. Please contact us if you'd like to see Houston townhomes or learn more about properties that could be a fit for you.
---
Jersey Village Condo Sale Trend
---
There are no mid- or high-rise Jersey Village condos for sale, but plenty of units are available in the surrounding areas.
Several condo buildings are located in Galleria, including:
To see other condos within the Inner Loop, see Inner Loop Houston Condos. To see condos within the nearby Galleria area, see Galleria Houston Condos. To see other condos within Downtown Houston, see Downtown Condos. To see condos within Museum District, see Museum District Condos.
The Houston Properties Team are expert in Jersey Village real estate. Please contact us if you'd like to see Houston condos or learn more about buildings that could be a fit for you.
---
Jersey Village TX History
---
Jersey Village was founded in 1953 by Clark W. Henry and N. E. Kennedy and Son. They decided to build homes on Jersey Lake. F&M Dairy was operated on 1,236 acres owned by Henry, and his Jersey cows inspired the name of the residential development.
At first, a few miles of drains, roadways, water, sewage, gas, and lighting were built. The first family moved to Jersey Drive in October 1954 after a few houses were built along the road.
A school, park, and 18-hole golf course were built at Jersey Village, where local students were originally taught in Cypress and Fairbanks. A volunteer police force was created in 1956.
Jersey Village is roughly bordered by US Highway 290 (Northwest Freeway) to the west and Sam Houston Parkway to the east. Jones Road, N Eldridge Parkway, and West Road traverse the neighborhood. The community became a popular suburb as a result of its central location and proximity to Downtown.
Presently, the neighborhood is known for its "small town" atmosphere and rapid commercial and real estate development.
Housing options in the area have since expanded to redeveloped vintage houses and custom-built modern buildings.
---
Fun Things To Do Near Jersey Village Houston
---
Jersey Village offers entertainment, dining, and retail options just minutes away. The neighborhoods and an active homeowners' association maintain a pool, a park, and a small lake.
Jersey Village residents can enjoy various recreational opportunities, including the Jersey Meadow Golf Course. Golf courses in the neighborhood have their advantages.
Downtown, the Energy Corridor, Memorial City Mall, CityCentre Plaza are all minutes away from the neighborhood.
Here are some of Jersey Village Houston's must-visit places:
Dining
Little Kitchen HTX
Taquerias Arandas
Adriatic Cafe and Italian Grill
Whataburger
Natalitas
Los Cucos Mexican Cafe
Retail
Memorial City Mall
City Centre Plaza
Cricket Wireless Authorized Retailer
Ross Dress for Less
Dickies Retail Store (Houston)
Groceries
Alvi
Senate Food Mart
Kroger
Memorial City Mall
Foodtown
H-E-B
ALDI
West Food Mart
Nightlife
Jersey Pub
Fats Sports Bar
JB's Pub and Grill
Bootleger's Bar & Grill
Club Yani
Parks
Clark Henry Park
Carol Fox Park
Jersey Dog Village Park
Jersey Meadow Park
Waller Park
Welwyn Drive Park
---
Best Jersey Village Houston Realtor – Paige Martin
---
As featured on Fox News in the Morning, Houston Business Journal, and Houston Magazine, Paige Martin, a consistent Top Producing Broker-Associate and head of the Houston Properties Team, is ranked as one of the top residential real estate agents in the world.
---
Best Houston Real Estate Resources
---