Churchill Farms Real Estate Guide
Churchill Farms homes for sale & insider real estate guide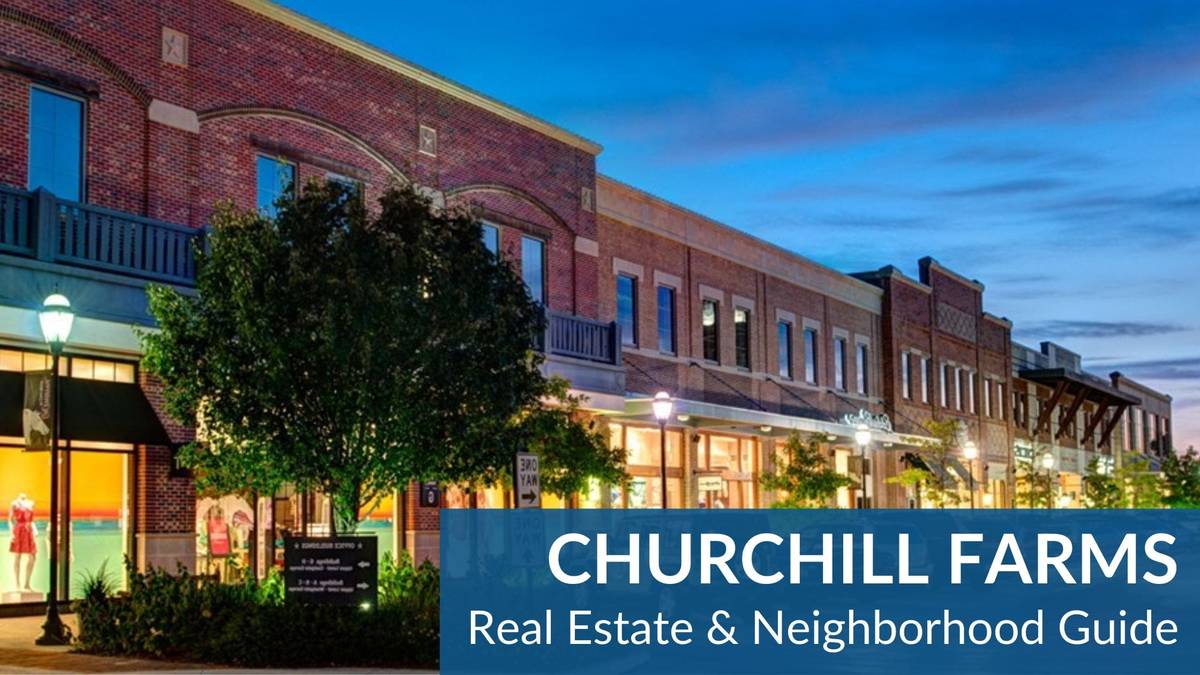 Churchill Farms is a new master-planned neighborhood in Katy. Located along FM 1463, the neighborhood offers accessibility and great amenities.
Churchill Farms features:
COMMUTING IN COMFORT: Travelling is more accessible, the neighborhood is exceptionally located nearby main roads such as FM 1463, FM 1093, and Cinco Ranch Boulevard.

MODERN HOUSES: A newly constructed development, Churchill Farms offers new, affordable homes.

EXCITING FACILITIES NEARBY: It hosts fascinating amenities around, including pools, parks, dining areas, and a nearby mall for the residents to relish.

NOTABLE SCHOOLS: Excellent new schools in Katy are around the area.
Buying in Churchill Farms can be very difficult due to its popularity in recent years. Another thing is that it sits in one of Houston's recognized Suburbs, Katy.
To get personal advice on buying or selling a Churchill Farms home, contact Paige Martin, one of the top-ranked Realtors in the United States.
"We worked with the Houston Properties team for a work-relocation in 2nd quarter of 2022. We had a pretty short timeline to find a suitable home, make an offer, and close on the property. Holly and team were fabulous in helping us narrow our search so we could be very efficient with our house-hunting trip. We got an offer accepted on our #1 property with quick close date. Holly and the team were very helpful in managing details associated with the move including intercepting packages that were delivered to the address before we closed on the house. Also provided useful support for months after we moved including helpful references to services that might be needed for general property upkeep and any potential emergency weather-related needs due to the recent freeze. Highly recommend HPT!" - Kelli Wright (Google Review)
---
Table of Contents
---
Churchill Farms Home Sale Trends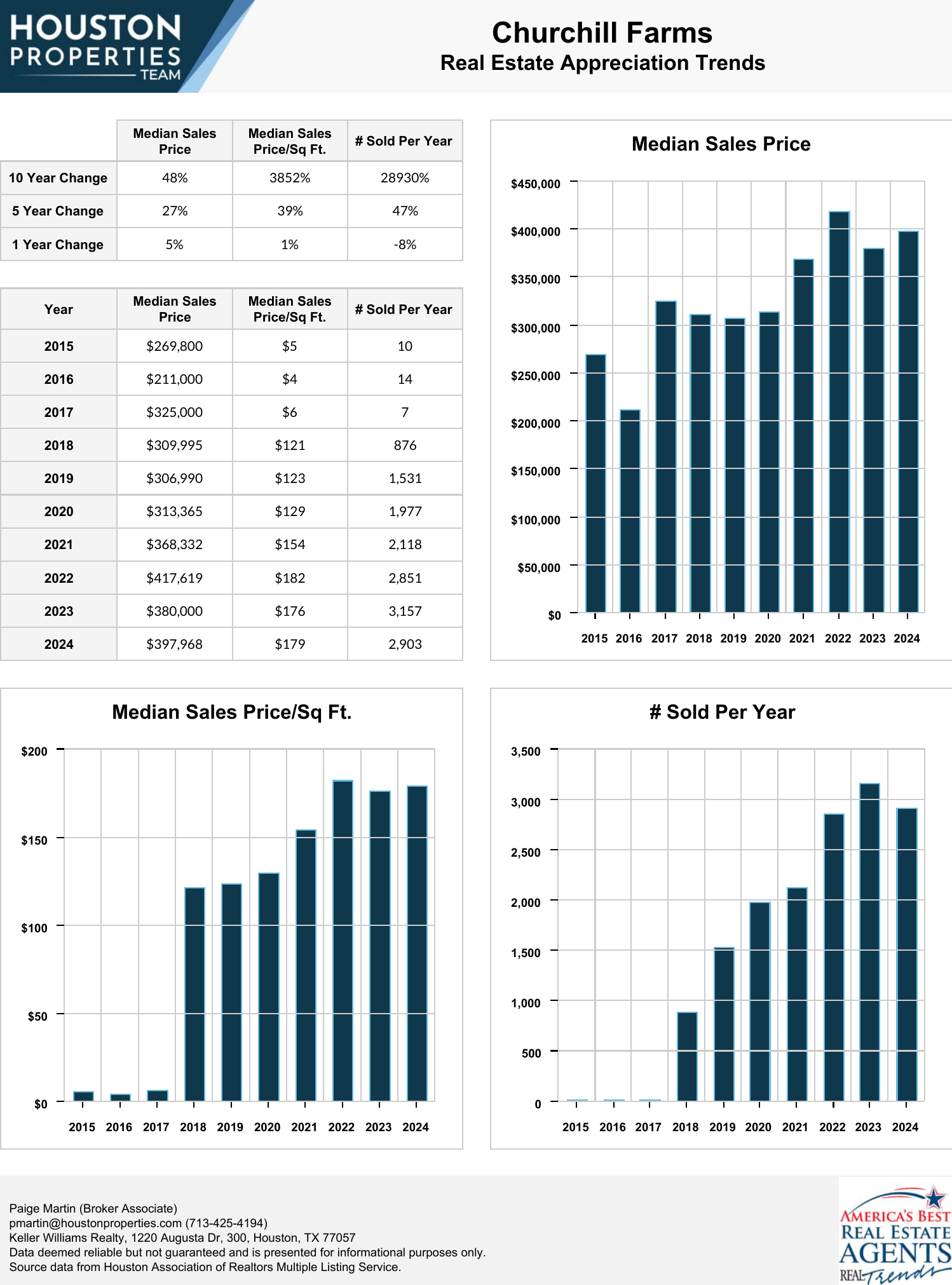 Churchill Farms is a 191-acre new construction community lying close to main roads, including FM 1463 and FM 1093. The community is notable for its affordable homes, great amenities, exalted schools in the neighborhood, and convenience to residents.
Churchill Farms is desired for its:
EFFORTLESS TRAVEL: Churchill farms is exceptionally positioned on the following nearby main roads such as FM 1463, FM 1093, and Fry Road, which makes travel more accessible.

MAGNIFICIENT TRENDY HOMES: A newly constructed master-planned neighborhood, Churchill farms offer a new, available set of homes.

THRILLING FACILITIES IN THE NEIGHBORHOOD: It is also home to fascinating amenities, including dining spots, pools, parks, and a nearby mall for the residents to enjoy, namely Katy Mills Mall and Churchill Farms Swimming Pool.

NOTABLE SCHOOLS: New, high rating, excellent schools are surrounding the area.
Churchill Farms is situated in Katy, which is one of Houston's recognized districts.
---
Churchill Farms Maps, Location & Zip Code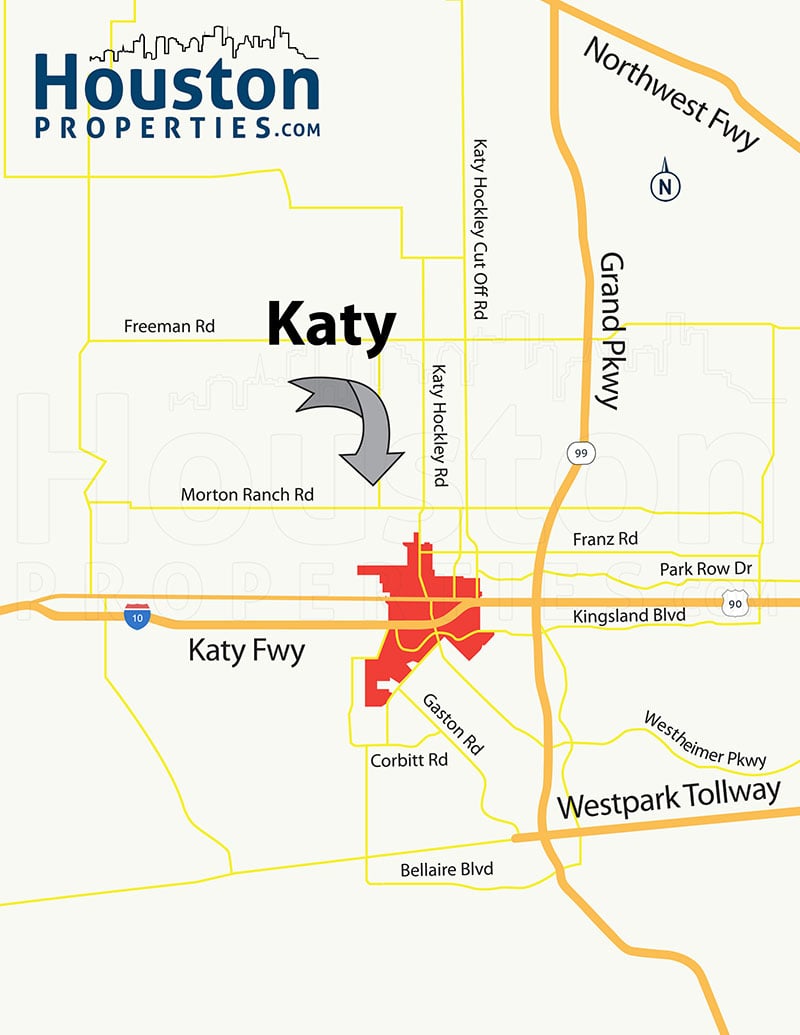 | Commute Time | Churchill Farms |
| --- | --- |
| Downtown (min) | Unknown |
| Med Ctr (min) | Unknown |
| Energy Corridor (min) | Unknown |
| Galleria (min) | Unknown |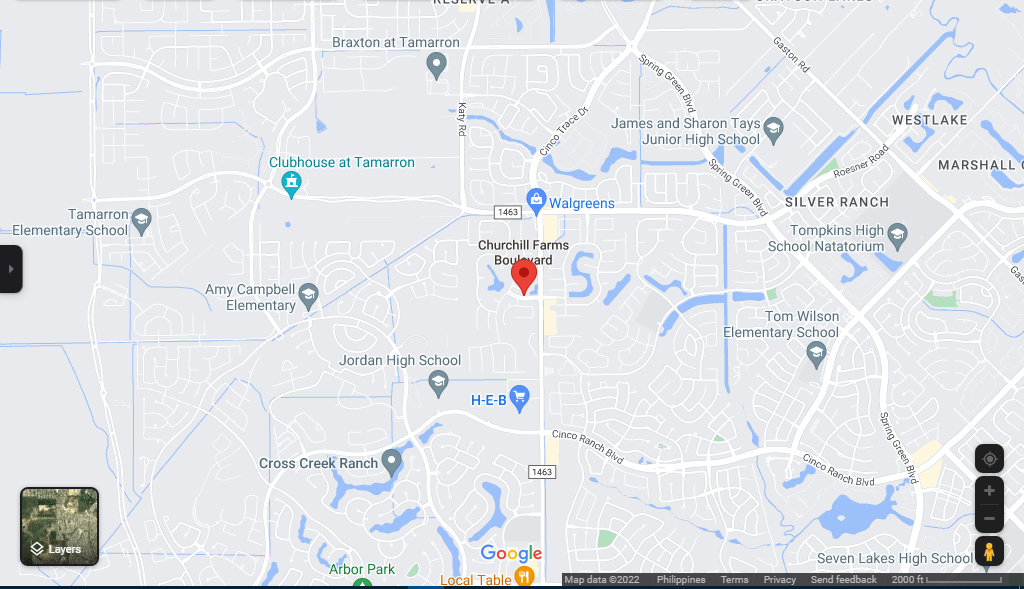 | Highlights | Churchill Farms |
| --- | --- |
| Amenities | Unknown |
| Golf Courses | Unknown |
| Run / Bike Trails | Unknown |
| Nearby Retail / Dining | Unknown |
| Major Employers | Unknown |
---
Churchill Farms Schools
| Top Elementary Schools | Great Schools Ranking |
| --- | --- |
| James E Randolph Elem | 9 |
| Katy Elem | 9 |
| Stanley Elem | 10 |
| Wilson Elem (Katy) | 10 |
| Wolman Elem | 10 |
| Woodcreek Elem | 8 |
| Top Middle Schools | Great Schools Ranking |
| --- | --- |
| Beck Jr High | 10 |
| Cinco Ranch Jr High | 9 |
| Katy Jr High | 7 |
| Mayde Creek Jr High | 8 |
| Mcdonald Jr High | 7 |
| Mcmeans Jr High | 9 |
| Seven Lakes Jr High | 10 |
| Woodcreek Jr High | 9 |
| Top High Schools | Great Schools Ranking |
| --- | --- |
| Cinco Ranch High | 8 |
| Seven Lakes High | 9 |
| Taylor High | 7 |
| Tompkins High | 8 |
---
Best Houston Real Estate Resources
---