Guide To Katy TX Neighborhood And Real Estate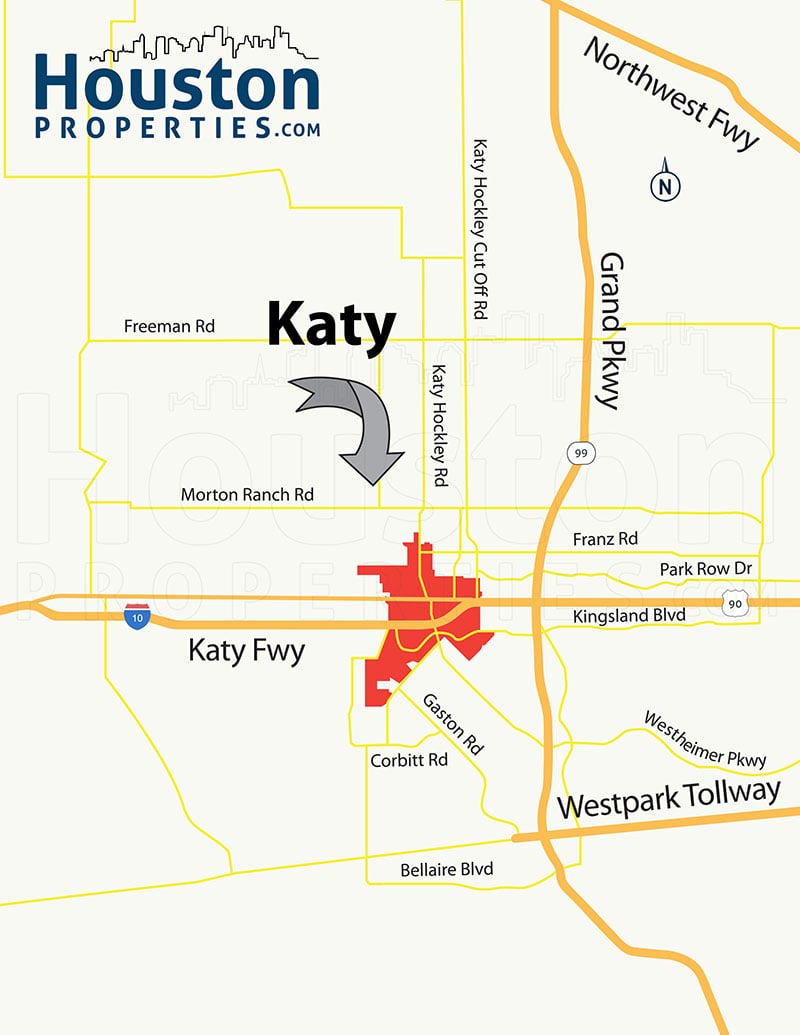 Located west of Downtown Houston, the city of Katy has come a long way from its humble beginnings as a prairie land.
Katy can refer to both the city and the unincorporated areas around it.
Colloquially known as "Old Katy", the city is located in the westernmost area of the greater Katy area.
"Greater Katy" refers to the unincorporated areas in Harris, Fort Bend, and Waller counties that are within the boundaries of the Katy Independent School District.
The city of Katy features a mayor-city council type of government and operates its own municipal services. Unincorporated areas are governed by their respective counties.
Several master-planned neighborhoods and communities are located within the Katy area, including Cinco Ranch, Pin Oak Village, Pine Mill Ranch, and Grand Lakes, among others. These upscale developments mostly feature expensive homes and luxury amenities.
Though located about 29 miles from Houston's central business district, Katy has several job centers nearby, including the Energy Corridor.
Residential developments have spurred growth in the area's commercial sector. Several retail, office, and entertainment centers are located within and around the Katy area.
Katy homes for sale are zoned to the Katy ISD, known for its excellent schools. Several National Blue Ribbon Schools, including Katy High School, Taylor High School, and Mayde Creek High School, serve homes in the area.
Katy homes come in different designs, price points, sizes, and floor plans. Home prices in the area can range from $200,000 to more than $1 million.
For more information on available Katy TX Homes for sale
and how they compare to nearby Houston neighborhoods
call Paige Martin at 713-425-4194 or email [email protected]
Guide To Katy Homes For Sale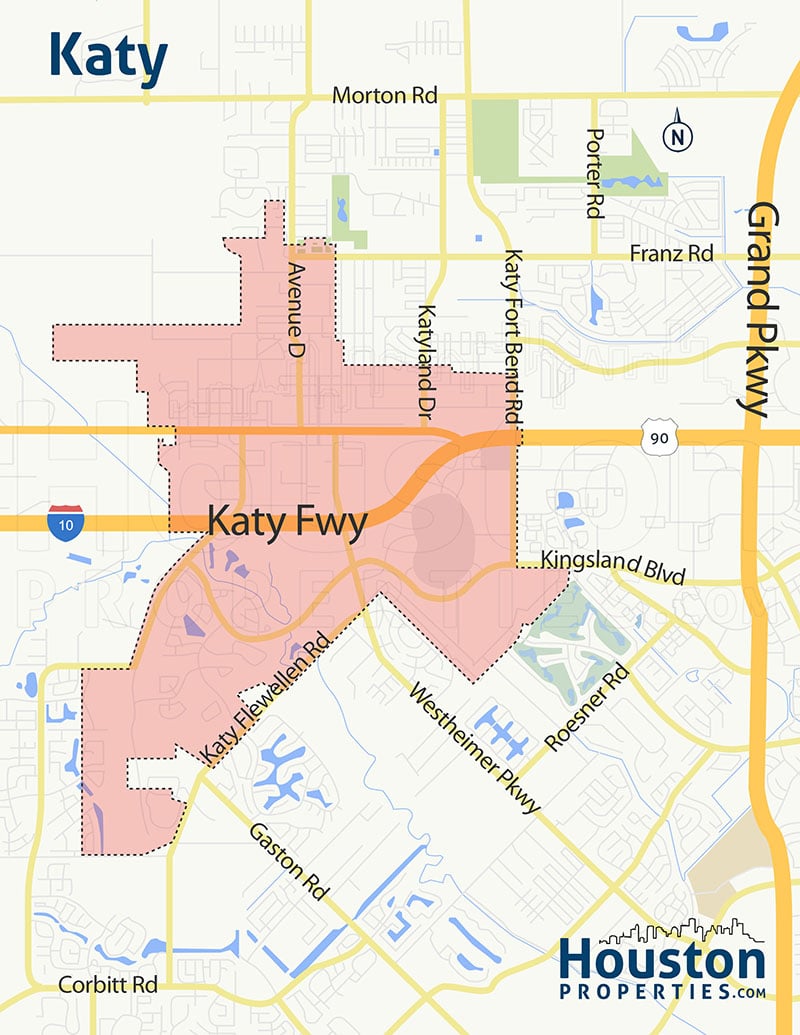 Spanning 10.7 square miles, the city of Katy is part of the much larger Greater Katy area. The city is often referred to as Old Katy, while the Katy area includes surrounding unincorporated neighborhoods within the 181-square mile boundary of the Katy Independent School District.
Greater Katy is a mix of residential and commercial areas, and features several gated communities and master-planned neighborhoods.
Located west of Houston's city boundaries, Katy is a few miles away from the Energy Corridor, one of the Bayou City's main job centers.
Access to Houston and other key areas is easy via the I-10 (Katy Freeway), though there are plenty of retail, entertainment, and business hubs to be found in and around the area.
Katy homes for sale are centrally located near parks, schools, restaurants, bars, and shopping centers. The Katy Mills Shopping Mall and other retail centers provide residents with plenty of options.
National Blue Ribbon and multi-award winning schools from the Katy ISD are located and serve homes within the area.
The area owes its name to the Missouri-Kansas-Texas Railroad (MKT), then nicknamed "Katy" by railroad officials. The railroad – and years later, the I-10 – greatly contributed to the Katy area's growth and development.
Today, the area is well-known for its wide choice of homes, affordable housing options, and excellent schools. Several new developments including several upscale residential projects are underway, including master-planned neighborhoods and gated communities.
Single-family homes is Katy's main housing option, and homes can come in different architectural styles and price points.
Katy TX Realtor – Paige Martin
As featured on Fox News in the Morning, the Houston Business Journal, Houston Chronicle, and Houston Magazine, Paige Martin – a consistent Top Producing Broker-Associate and head of the Houston Properties Team – is ranked amongst the very top Keller Williams agents in the Houston area.
Paige is ranked as one of the top realtors in Houston, and the state of Texas. Read more about the over 65 awards she's won in the last few years.
Paige works with a tremendous number of buyers and sellers within Katy.
For a specific recommendation of neighborhoods, homes or properties based upon your personal style, goals & price point, please contact Paige Martin, head of the Houston Properties Team & Broker Associate at [email protected] or 713-425-4194.