Pin Oak Village Real Estate Guide
Pin Oak Village homes for sale & insider real estate guide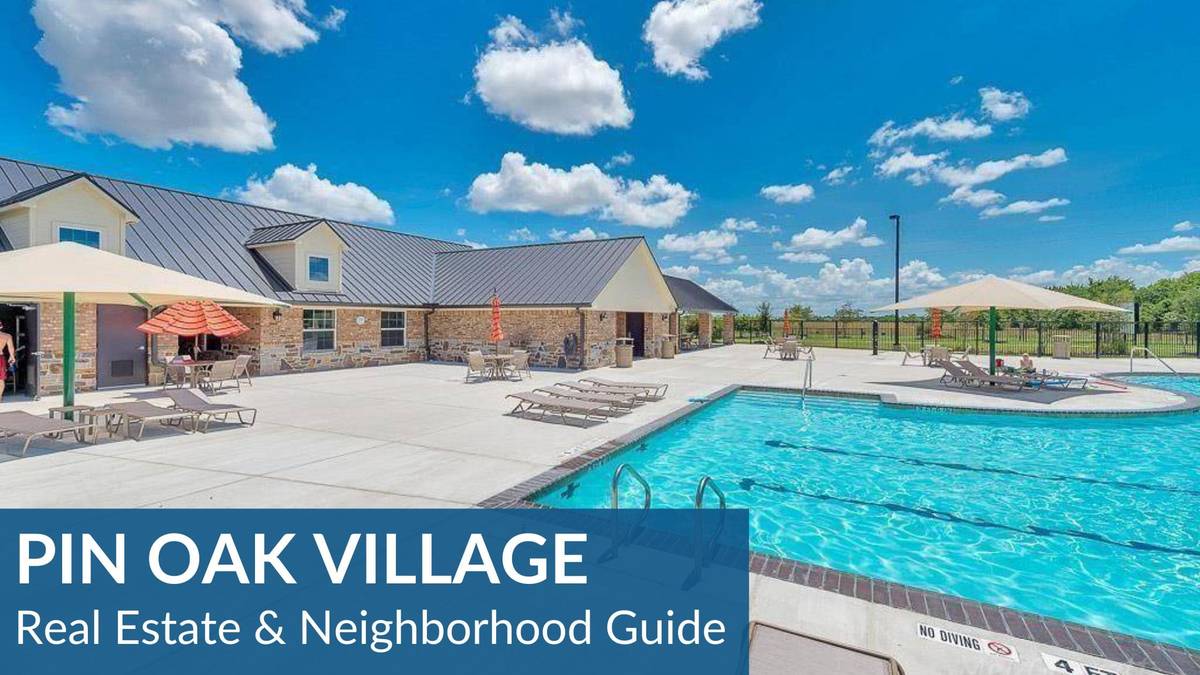 Pin Oak Village is one of the Greater Katy area's older master-planned neighborhoods. It is located near the southwest corner of Grand Parkway and Interstate 10. The community features an excellent suburban atmosphere, exemplary schools, and sprawling lots.
Its continuing popularity can be attributed to its:
SUBURBAN VIBE WITH GREAT LOCATION: Pin Oak Village is located just outside the borders of the city of Katy. Greater Katy is one of Houston's top suburbs. Residents enjoy easy access to major thoroughfares like Grand Parkway, Interstate 10, and Westheimer Parkway. Residents have easy access to key business and employment centers. Pin Oak Village homes are just minutes from Houston's Energy Corridor.

TOP-RATED SCHOOLS: Pin Oak Village is zoned to highly acclaimed Katy ISD schools. Some schools serving the area include Katy Elementary and Katy High School. The Katy ISD has some of the best schools in the Greater Houston area. There are also notable private schools located in and around the area.

EXPANSIVE LOTS: Pin Oak Village homes are prized for their large, wooded lots. Lot sizes in the area range from 10,000 to more than 13,000 square feet.

PROXIMITY TO RETAIL AND ENTERTAINMENT: Residents in the neighborhood enjoy close proximity to retail and entertainment options. Katy Mills Mall is a stone's throw away from the neighborhood. Over 100 retail stores, including AMC Theatres, Old Navy, Marshalls, and Books-A-Million, are located in the mall. The LaCenterra at Cinco Ranch, another retail hotspot, is just minutes away from the community.

COMMUNITY AMENITIES: Pin Oak Village residents have easy access to excellent community amenities. Pin Oak Village features two recreational areas, the clubhouse and the park. Amenities include a swimming pool, tennis courts, and a playground.

OUTDOOR AND RECREATIONS NEARBY: Several outdoor spaces and parks are located around the area, only a short distance away. There are several clubs and golf courses nearby. Pin Oak Village homes are close to the Golf Club at Cinco Ranch and the Club at Falcon Point. Katy International Sports Complex and Katy Boardwalk are just a stone's throw away from the community. Additional parks are available at Falcon Point, adjacent to the community.
Pin Oak Village real estate market can be challenging to navigate because the area's homes have continued to sell well.
To get personal advice on buying or selling a Pin Oak Village home, contact Paige Martin. One of Houston's best realtors and one of the top-ranked Realtors in the United States.
"Yolanda Ames is an excellent listing agent! She expertly handled all of the steps involved in selling our house in Clear Lake. Trying to sell a property is very intimidating, we were completely overwhelmed. Fortunately, Yolanda and the Houston Properties Team came in and took care of everything for us: from staging our house, getting it listed, all the way down to negotiating with buyers to get us the best offer. With Yolanda and her team's help, we were able to get through all the challenges of selling our house in Clear Lake. In just two weeks, we've had multiple showings and offers. They made things easy for us, and they worked so fast! We can't thank her enough." - landrus fields (Google Review)
---
Table of Contents
---
Pin Oak Village Home Sale Trends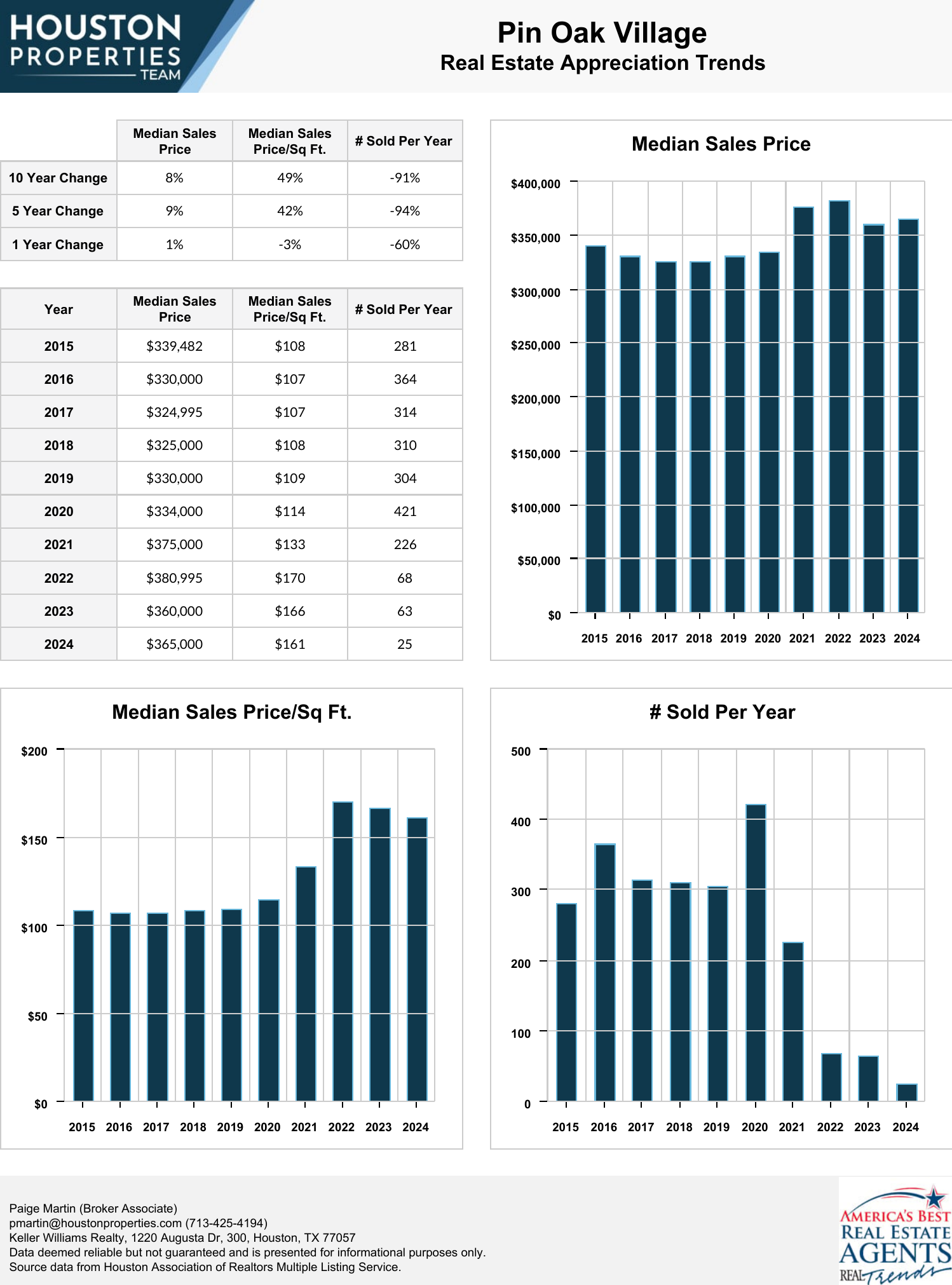 Pin Oak Village neighborhood is located in KATY (77494 zip code) in Fortbend county. Located just off Katy Flewellen Road, Pin Oak Road, and Westheimer Parkway, the neighborhood is a relatively small residential enclave of about 440 homes, and thanks to the neighborhood's central location, residents have easy access to the best the city has to offer.
Its neighborhood has two recreational areas:
•POV clubhouse (available for rental) which is along Misty Bend Drive features a swimming pool (home of the Pin Oak Piranhas) and tennis courts. As of this writing, it is under maintenance for their pool. They are working to get things repaired and have work started.
•The South Park at the intersection of Westheimer Parkway and Viewridge has a second tennis court complex and a playground, with updated equipment installed in 2011.
The POV homeowners association regularly organizes neighborhood events, which are typically held at the community's clubhouse. The community also has a swim team and a tennis team. There is also a nearby golf course which is Golf Club at Cinco Ranch and the Club at Falcon Point.
In addition, the neighborhood is adjacent to Katy Mills Mall which has over 100 retail stores and several stores. LaCenterra at Cinco Ranch is near the village as a retail hotspot.
---
Pin Oak Village Maps, Location & Zip Code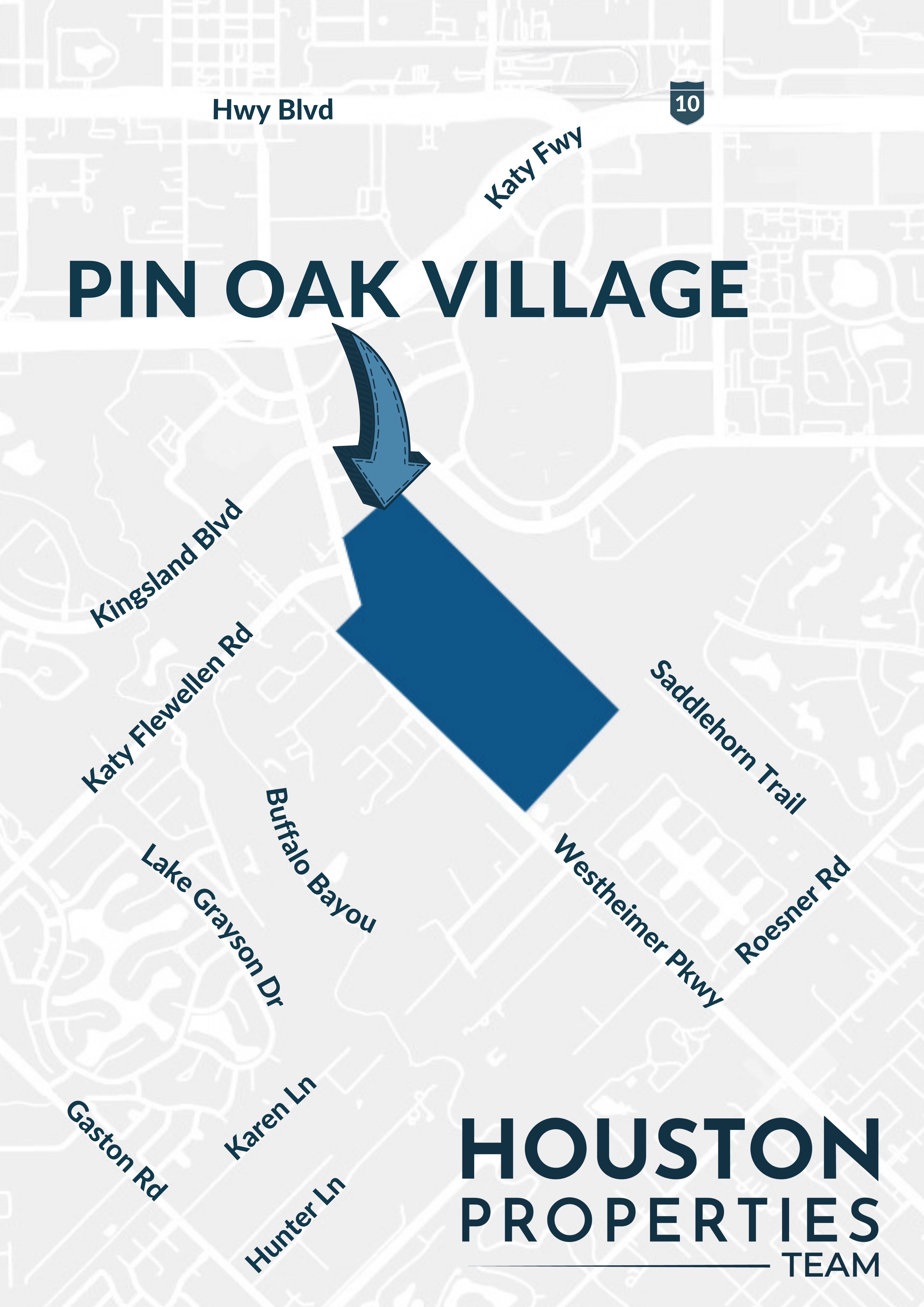 | Commute Time | Pin Oak Village |
| --- | --- |
| Downtown (min) | 37 |
| Med Ctr (min) | 3 |
| Energy Corridor (min) | 16 |
| Galleria (min) | 33 |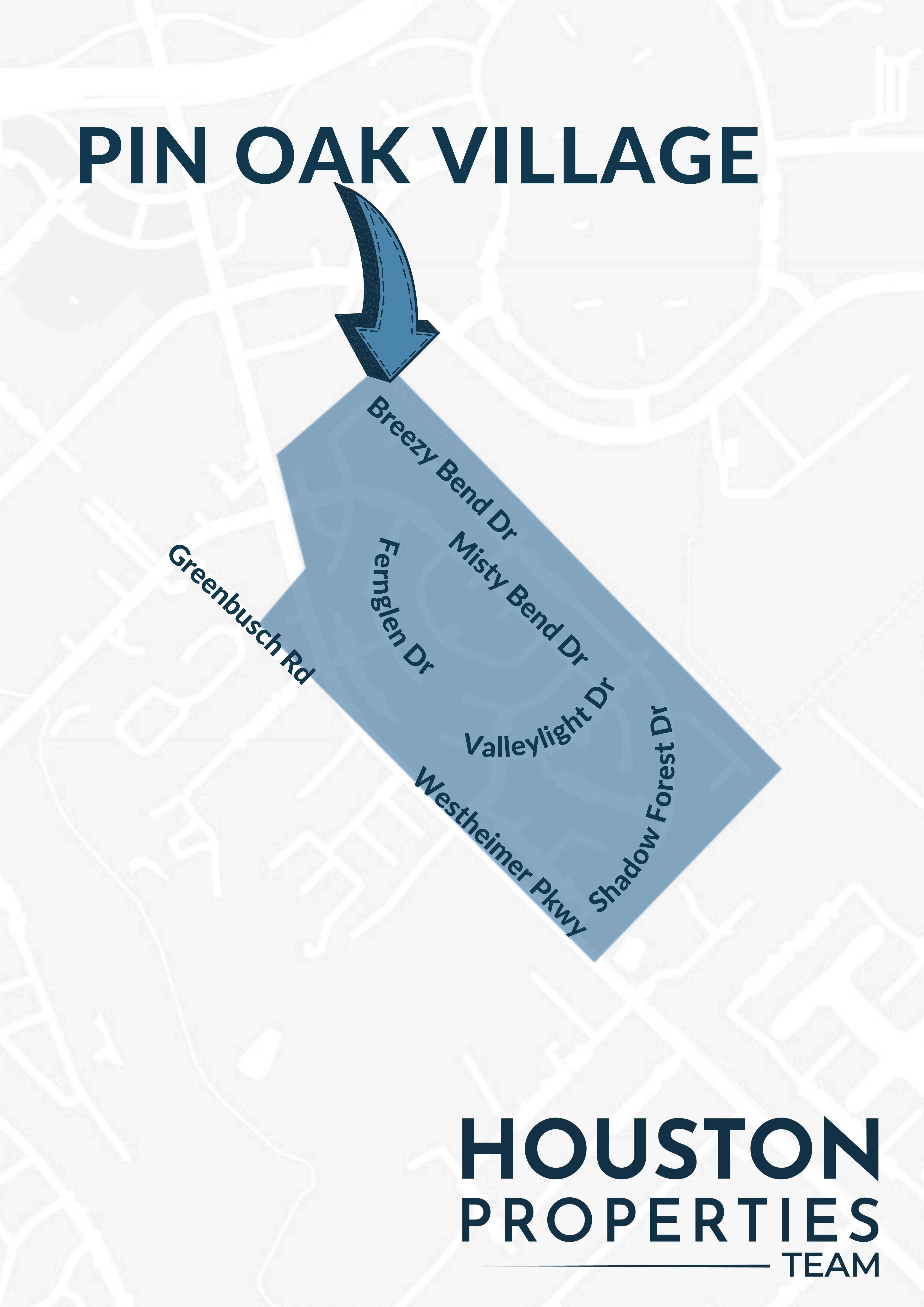 | Highlights | Pin Oak Village |
| --- | --- |
| Amenities | Unknown |
| Golf Courses | Unknown |
| Run / Bike Trails | Unknown |
| Nearby Retail / Dining | Unknown |
| Major Employers | Unknown |
---
Best Houston Real Estate Resources
---