Pine Mill Ranch Homes For Sale & Real Estate Trends
2022 Pine Mill Ranch homes for sale & insider real estate guide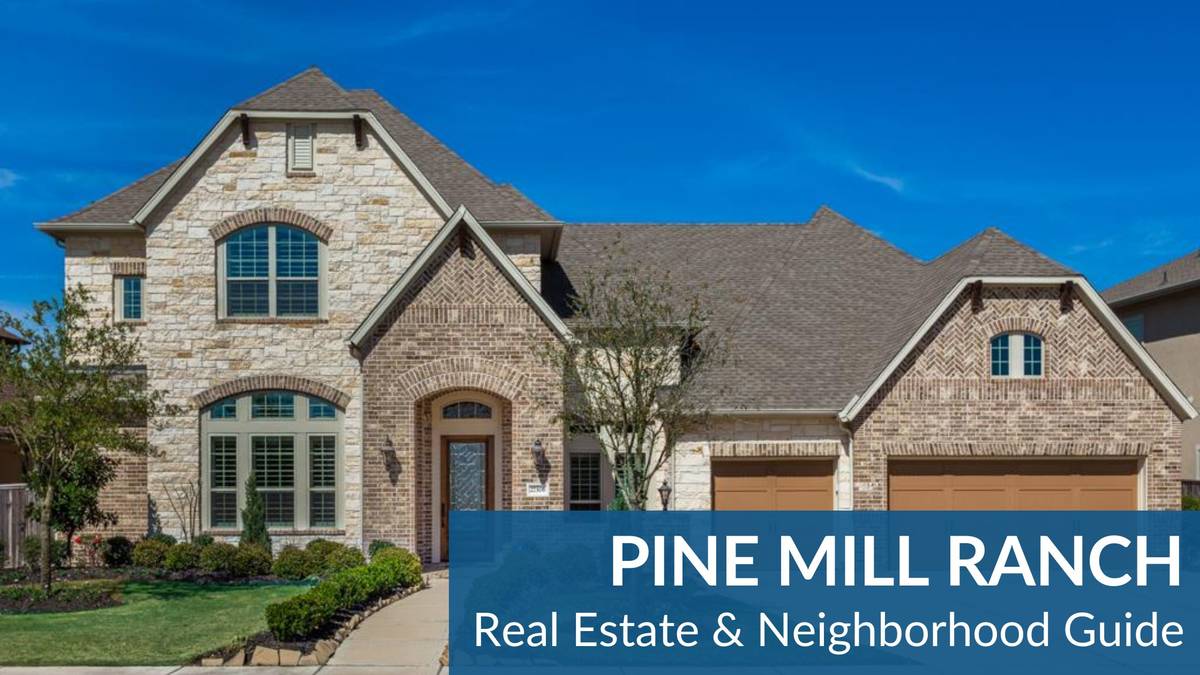 One of the most sought-after subdivisions, Pine Mill Ranch offers residents traditional-style homes and resort-style amenities! It is a community offering residents a tranquil setting to call home.
Located 40 minutes west of Houston, Pine Mill Ranch is nestled in the city of Katy, Texas. The 585-acre master-planned subdivision was built between 2006 and 2015. It consists of about 1,400 homes and offers homebuyers one and two-story single-family homes.
In addition to upscale homes, Pine Mill Ranch provides residents with a distinctive blend of unique amenities, award-winning schools, medical facilities, and a small-town atmosphere.
Pine Mill Ranch also features:
People search for houses to find the right blend of practicality, comfort, entertainment, and a place they can call home. Pine Mill Ranch can give them that!
To get personal advice on buying or selling Pine Mill Ranch houses, contact Paige Martin, one of Houston's best condo realtors and one of the top-ranked Realtors in the United States.
"The Houston Properties Team helped make the purchase of our first home so much less stressful, especially in this market. They kept in constant communication and helped us navigate the process from beginning to end." - Meagan Joacim (Google Review)
---
Table of Contents
---
Pine Mill Ranch Home Sale Trends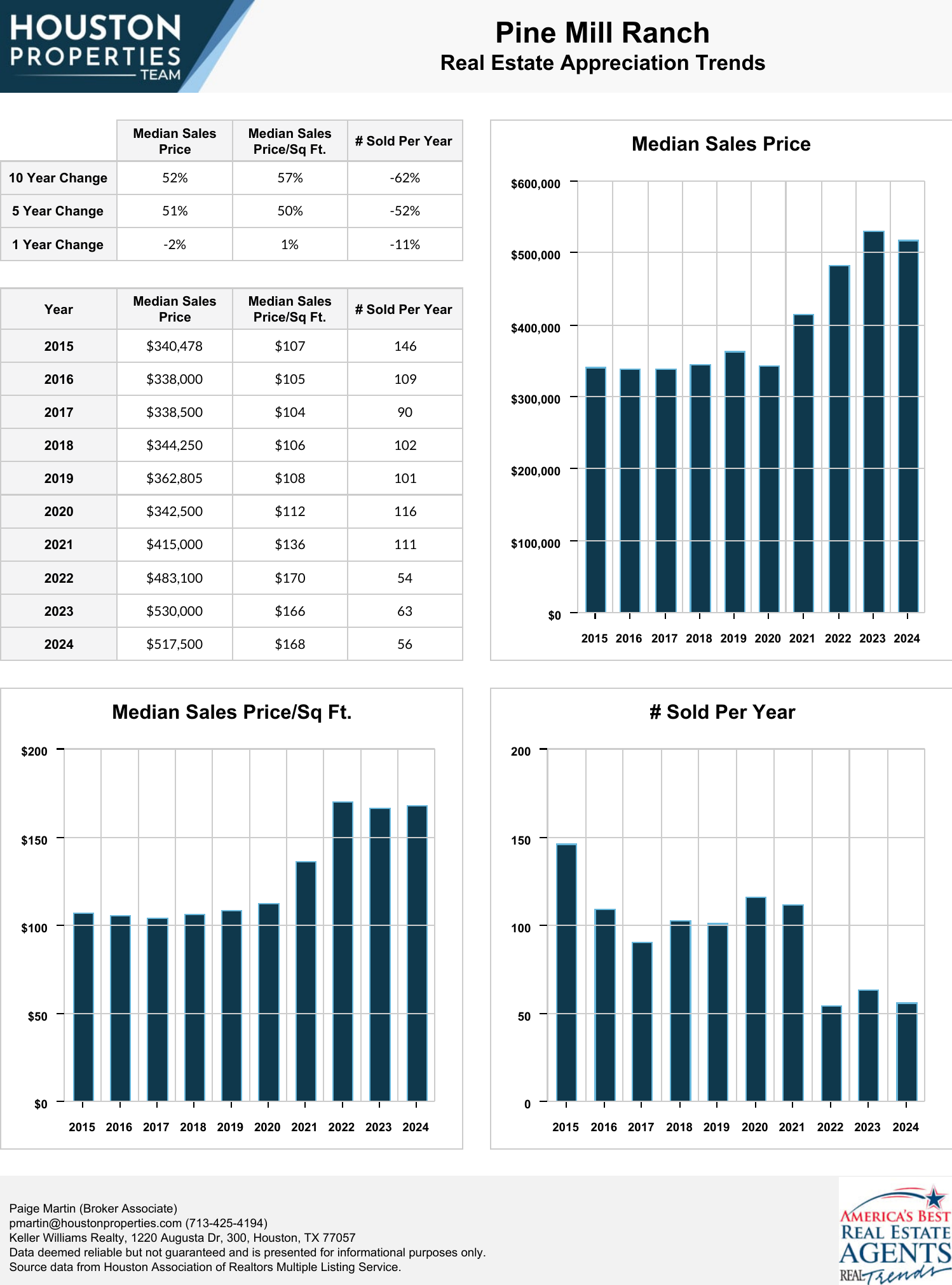 Pine Mill Ranch is one of the most sought-after subdivisions in Katy, Texas. The 585-acre master-planned community offers its residents traditional-style homes and resort-style amenities.
Pine Mill Ranch features the following:
Pine Mill Ranch is a community that offers a quality living experience to residents.
---
Pine Mill Ranch Best Realtor Insights
Pine Mill Ranch has prestigious schools, top-notch community amenities, and a prime location.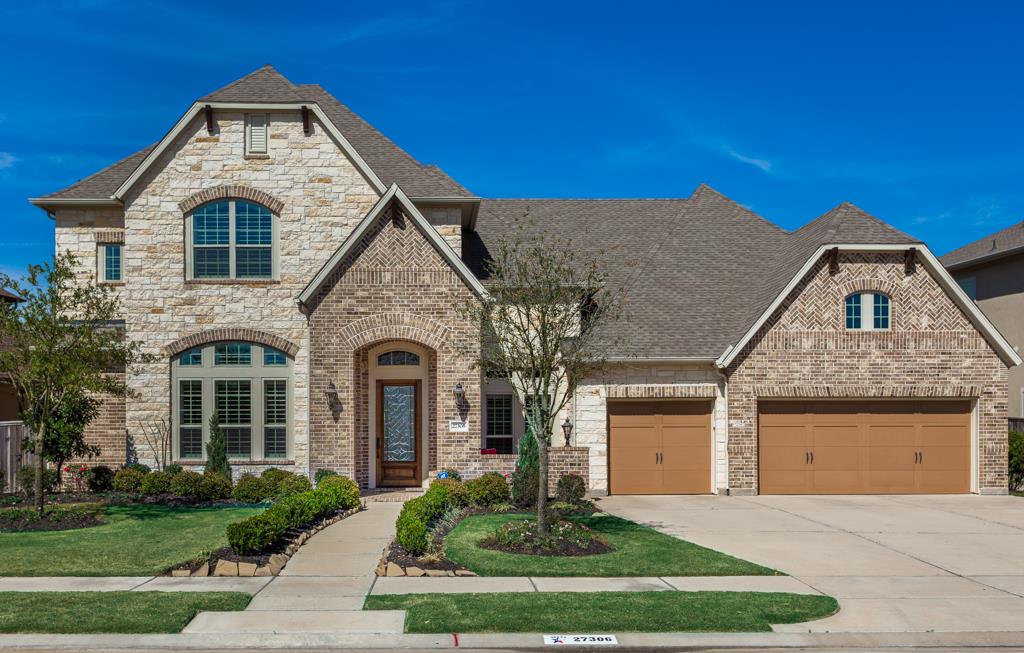 ---
Pine Mill Ranch Maps, Location & Zip Code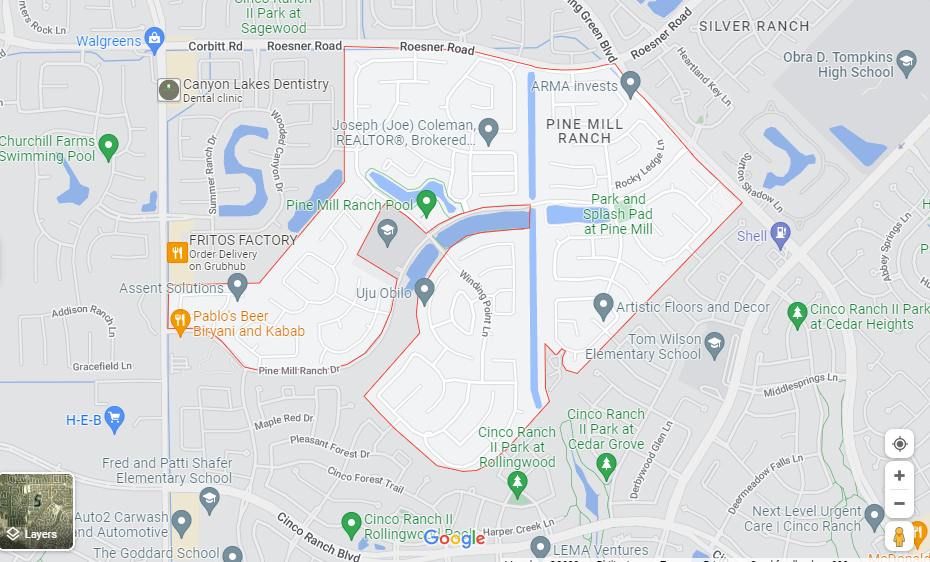 | Commute Time | Pine Mill Ranch |
| --- | --- |
| Downtown (min) | 35 |
| Med Ctr (min) | 35 |
| Energy Corridor (min) | 20 |
| Galleria (min) | 35 |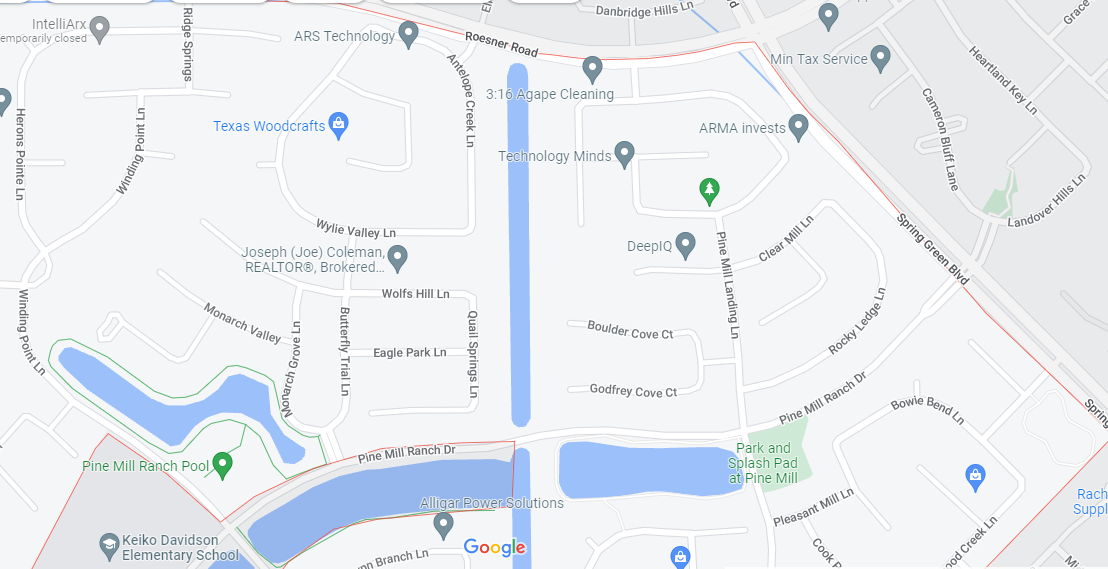 Highlights
Pine Mill Ranch
Amenities
Enjoy a day with the kids at the Pine Mill Ranch. The place features an impressive array of amenities for residents to enjoy.

- Biking and Walking Trails
- Splash Pad Park
- Green Belts
- Community Lake and Fountains
- Swimming Pool
- Tennis Courts
- Parks and Tot Lots
- Fenced Sandlot Volleyball Court
- Fishing Pier
- Covered Outdoor Lakeside Exercise Station
- 9 Covered Parks and Tot Lots
Golf Courses
Pine Mill Ranch is a prime location with nearby golf courses where residents can also spice up their golf life.

- LaCenterra at Cinco Ranch
- Meadowbrook Farms Golf Maintenance Barn
- The Club at Falcon Point
- The Golf Club at Cinco Ranch
- State of Golf
Run / Bike Trails
Pine Mill Ranch residents can enjoy trials with the breathtaking view of these nearby places:

- Katy Boardwalk
- Willow Fork Park
Nearby Retail / Dining
Located just minutes away from Pine Mill Ranch, residents can enjoy shopping and dining.

- RH Outlet Houston
- Tuesday Morning
- Hobby Lobby
- Far Pavilions
- Mid in Mod Katy Mid Century Modern Furniture Outlet Store
- Big Lots
- LaCenterra at Cinco Ranch
- OfficeMax
- Dollar Tree
Major Employers
- Aerotek
- Robert Half Recruiters & Employment Agency
- Workforce Solutions
- Primary Services
- Dean's Professional Services
- Fort Bend County Economic Development Council
- Elwood Staffing
---
Pine Mill Ranch Schools
| Top Elementary Schools | Great Schools Ranking |
| --- | --- |
| Keiko Davidson Elem | 8 |
| Top High Schools | Great Schools Ranking |
| --- | --- |
| Tompkins High | 8 |
Exemplary Education
Katy ISD continues to draw families in part because it has been recognized on both the state and national levels as a place of academic achievement. The Texas Education Agency has awarded Tomkins High School and Tays Junior High with Exemplary ratings amongst thirty other Katy ISD schools with "exemplary" or "recognized" ratings.
Fourteen of the district's schools have received the National Blue Ribbon Schools of Excellence Award. Students in Katy ISD scored above the state average in every grade level of the Texas Assessment of Knowledge and Skills (TAKS) test, and their SAT and ACT scores also remain above both the state and national averages.
---
Keiko Davidson Elementary
---
The mascot for Keiko Davidson Elementary is a dragon, and the school colors are "Cobalt blue, silver, and crimson". The school motto is: "Ignite your inner fire".
Dragons are...
Dedicated to Academic Excellence
Respectful of Our Diverse Community
Achievers of Our Goals
Gracious at All Times
Optimistic and Encouraging
Never Quitters
Supportive of Each Other
---
Tays Junior High School
---
James and Sharon Tays (Ties) arrived in Katy when there was only one high school, one junior high, and two elementary schools. James Tays graduated from Texas A&M University with a Bachelor of Science in Industrial Education in 1972 and then began his teaching career as a Coordinated Vocational Academic Education teacher at Katy Junior High. He mentored young men and developed their academic interests for future employment from 1972 until 1975.
While teaching, he received his Master of Education in Educational Administration from Texas A&M with a Principal Certification. In 1976, James became the assistant principal of West Memorial Junior High, under the leadership of Garland McMeans. In 1979, James took over as principal when McMeans opened Taylor High School. James served more than 20 years in his role at West Memorial Junior High and was a role model and mentor to other principals until his retirement from public education in 2002.
Sharon Tays graduated from Southwest Texas State University in 1971 with a Bachelor of Science in Education and a specialization in English. She taught 1st grade in Hearne, Texas from 1971 to 1972, when she moved to Katy ISD and served as a substitute. Sharon substituted on elementary, junior high, and high school campuses from 1972 until 1973, when she was hired at Katy Elementary to teach second grade. She taught at Katy Elementary from 1973 to 1978, teaching second grade for four years and then teaching a pull-out learning disabled program for two years.
Sharon received a Masters of Education in Educational Psychology from Texas A&M with kindergarten, early childhood handicapped, and learning disabled certifications in 1977 while teaching. When Hutsell Elementary School opened in 1978, Sharon transferred and continued to teach second grade and serve as a team leader for many years from 1978 to 1996. While at Hutsell, she was honored as a Campus Teacher of the Year. In 1996, Sharon moved to Katy Junior High where she taught sixth-grade reading and writing and served as a team leader until her retirement in 2001.
As mentors, James and Sharon Tays were encouraging and supportive to both teachers and students. As individuals and as a couple, they significantly and positively impacted the lives of thousands of Katy ISD students and colleagues. With nearly 60 years of combined service, the Tays represents a lifelong commitment to the education of Katy ISD students. They truly understand what it means to "Be the Legacy."
---
Obra D. Tompkins High School
---
Obra D. Tompkins High School is the newest high school in Katy Independent School District and opened its doors for students in the fall of 2013. The building is named after a legendary educator who dedicated 35 years of service to Katy schools. Mr. Tompkins carries a strong presence and embodies exceptional characteristics that are embedded throughout the hallways and classrooms. In partnership with the parents, businesses, and community of Tompkins High School we strive to represent the qualities of integrity, fairness, discipline, modesty, and respect.
Tompkins High School inspires its students to uphold a tradition of excellence and success. The comprehensive curriculum offered provides students with the opportunity to excel not only academically, but also in the areas of Fine Arts, Athletics, Journalism, Business, Technology, and other career-oriented fields.
---
Best Houston Real Estate Resources
---