Westgreen Park Real Estate Guide
Westgreen Park homes for sale & insider real estate guide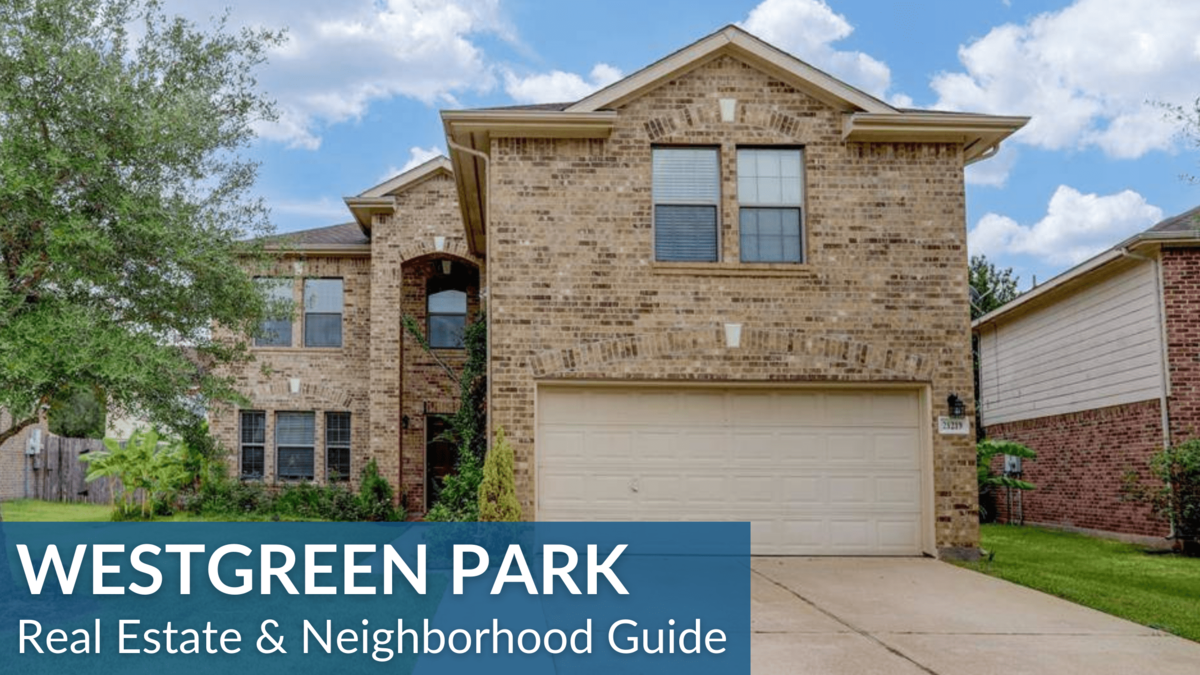 Nestled within one of Houston's best suburbs, Westgreen Park is a 31-acre master-planned community with affordable homes. It offers picturesque homes surrounded by green spaces just west of George Bush Park.
Westgreen Park is popular thanks to its:
HIGH ACCESSIBILITY: Westgreen Park residents have easy access to the most essential services in the city of Katy. The neighborhood sits north of Kelliwood Lakes, east of Oak Park Trails, south of Memorial Parkway, and west of Kelliwood Place. The Oak Park Trails are situated east of the community.

GOOD COMMUTE: Westgreen Park provides a convenient commute. With Interstate 10, Grand Parkway, and Westpark Tollway within driving distance, homeowners can easily access key areas in Katy. Other easily accessible roads include Westgreen Boulevard, Highland Knolls Drive, Fry Road, Westheimer Parkway, and Mason Road. Owing to the neighborhood's location, in the easternmost part of Katy, key business and employment districts are within reach. Notably, the Energy Corridor, the Galleria, and Downtown Houston are within 30 minutes drive.

PROXIMITY TO RETAIL AND ENTERTAINMENT: Westgreen Park's neighborhood is surrounded by shopping centers, entertainment hubs, and a wide variety of dining options. A short drive away can lead to nearby hotspots like the Katy Mills Mall and the LaCenterra at Cinco Ranch.

ACTIVE COMMUNITY: Westgreen Park's HOA boasts an active community association. The HOA handles additional security, organizes community events, and enforces deed restrictions and architectural guidelines, among others.

GREAT COMMUNITY AMENITIES: Westgreen Park features a large open space, a swimming pool and splash pad area, covered playgrounds, and a picnic area. The majority of the community showcases traditional architectural styles with well-kept lawns and backyards.

TOP RATED SCHOOLS: The Westgreen Park homes are zoned for the Katy Independent School District. Several multi-awarded schools from the Katy ISD serve the neighborhood. Some of them are Hayes Elementary and Memorial Parkway Junior High, National Blue Ribbon School, and Taylor High School. Notably, these schools are also top-rated at GreatSchools.org.
Navigating River Hollow's real estate market can be intricate. Some common reasons that can be bad for resale values are limited inventory and lack of zoning. Additionally, some homes' proximity to the freeways can also affect the resale values. Thus, recommendations from a knowledgeable and experienced realtor will be beneficial.
To get personal advice on buying or selling in the Westgreen Park area, contact Paige Martin, one of Houston's best realtors and one of the top-ranked Realtors in the United States.
"Holly and Laura are the best realtors I've worked with. From rental properties to my own home, their support, knowledge, and professionalism are top-notch. Can't go wrong - I will definitely be back." - Brian Yokley (Google Review)
---
Table of Contents
---
Westgreen Park Home Sale Trends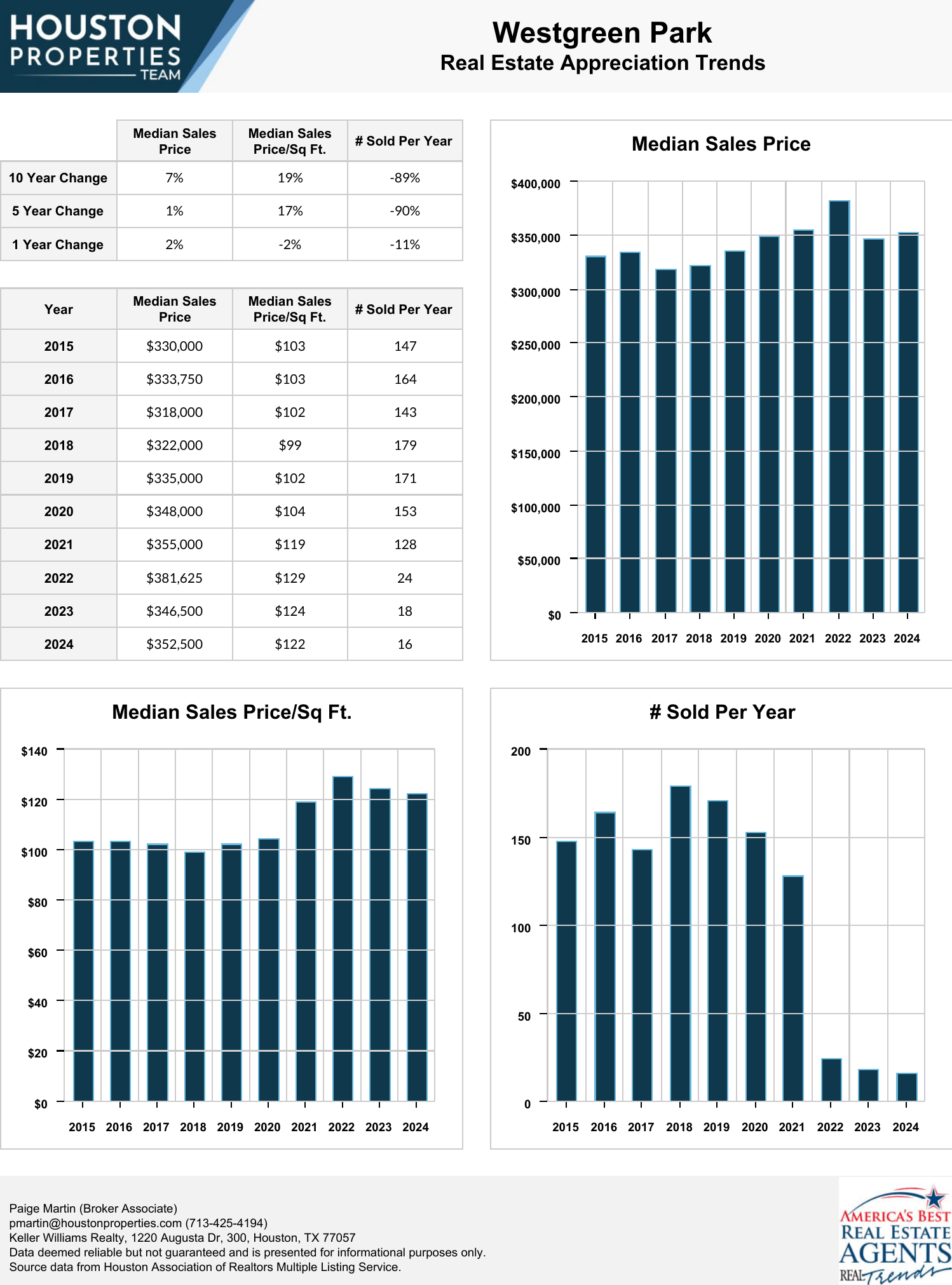 ---
Westgreen Park Maps, Location & Zip Code
| Commute Time | Westgreen Park |
| --- | --- |
| Downtown (min) | Unknown |
| Med Ctr (min) | Unknown |
| Energy Corridor (min) | Unknown |
| Galleria (min) | Unknown |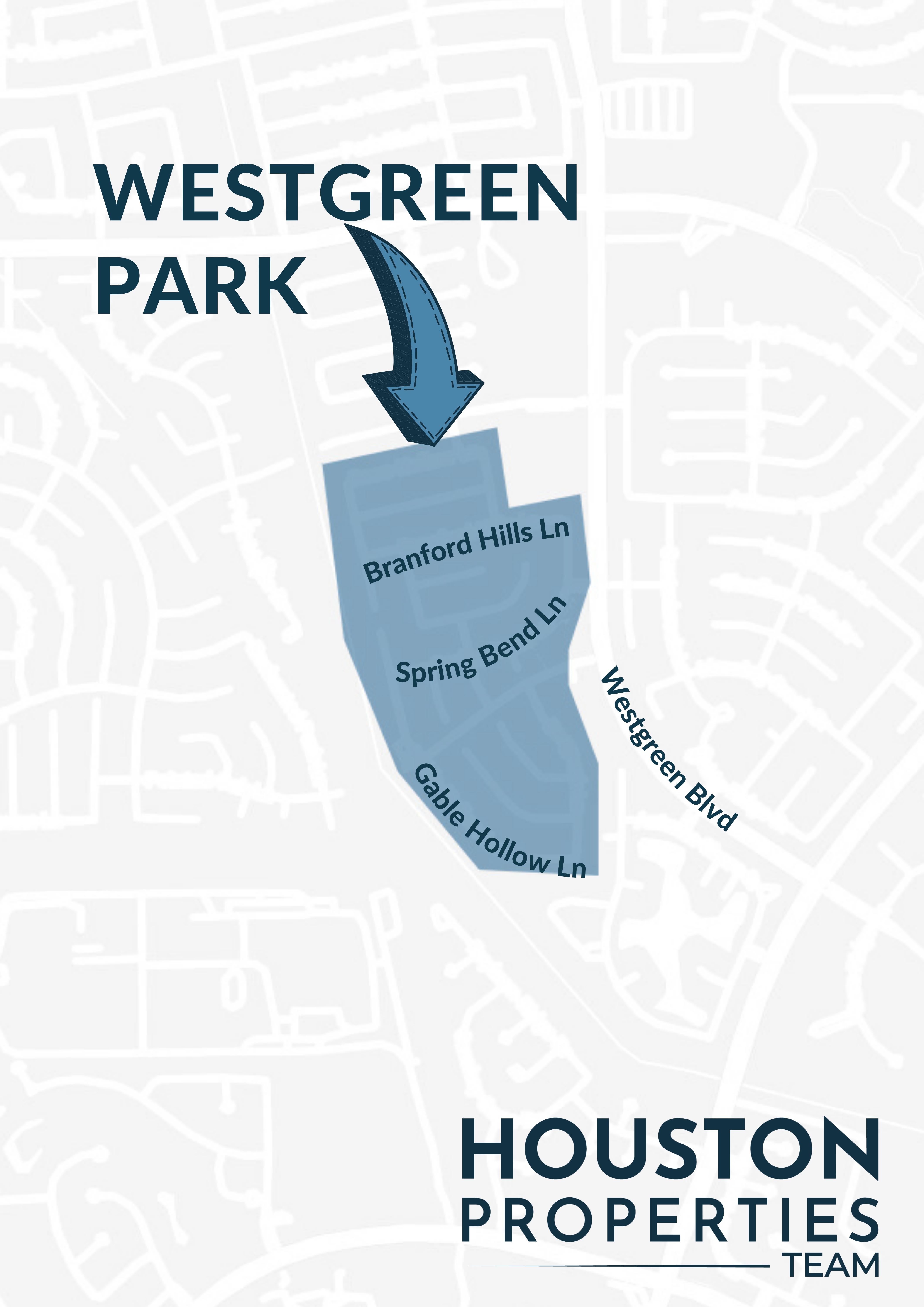 | Highlights | Westgreen Park |
| --- | --- |
| Amenities | Unknown |
| Golf Courses | Unknown |
| Run / Bike Trails | Unknown |
| Nearby Retail / Dining | Unknown |
| Major Employers | Unknown |
---
Westgreen Park Schools
| Top Middle Schools | Great Schools Ranking |
| --- | --- |
| Mcmeans Jr High | 9 |
| Top High Schools | Great Schools Ranking |
| --- | --- |
| Taylor High | 7 |
---
Best Houston Real Estate Resources
---