Windsor Park Estates Real Estate Guide
Windsor Park Estates homes for sale & insider real estate guide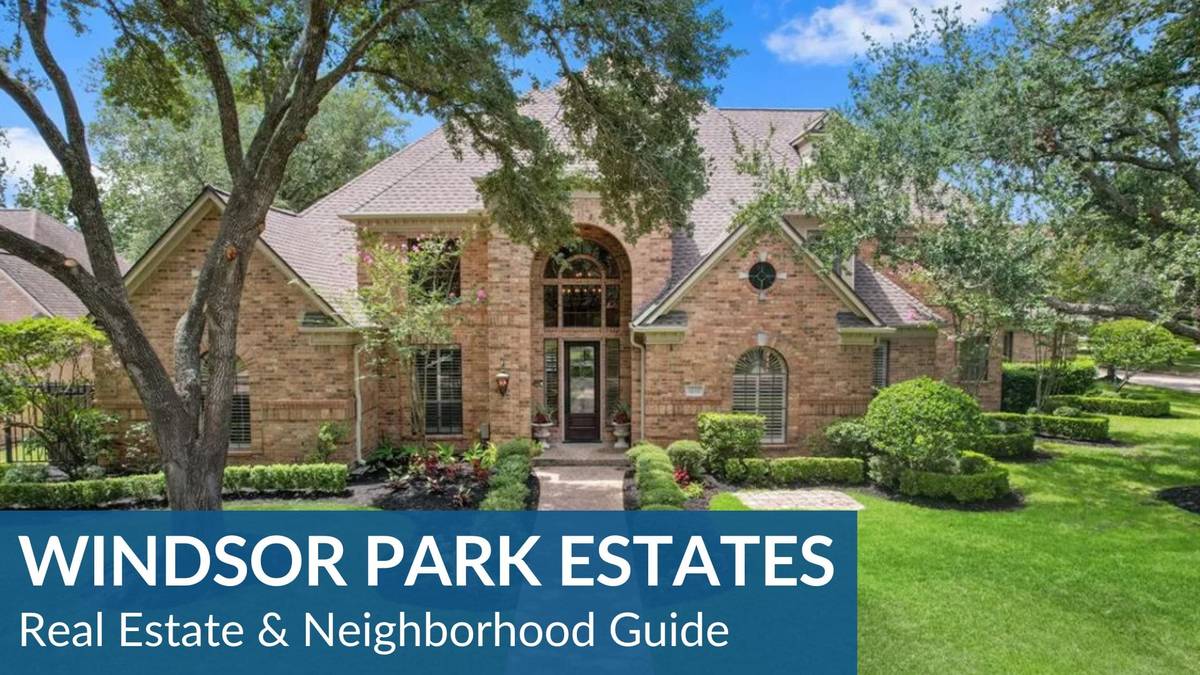 Located within Katy, one of Houston's best suburbs. Windsor Park Estates is a small residential community known for its luxury homes and tree-lined streets. The community is located near several communities and popular green spaces in the area. Windsor Park Estates features distinguished schools, premier homes, and access to business centers.
Windsor Park Estates community is famous for its:
TOP RANKED SCHOOLS: The neighborhood is zoned to the Katy Independent School District (KISD). The Katy ISD is renowned for having some of the Best Schools in the Greater Houston area. Windsor Park Estates features three multi-award-winning schools. Pattison Elementary, McMeans Junior High, and Taylor High School all serve the community's students.

LUSH NEIGHBORHOOD: Built adjacent to George Bush Park, Windsor Park Estates embraces its verdant surroundings. It is known for its tree-lined streets and mature trees. Residents enjoy close access to many green spaces. Windsor Park Estates homes feature green views around the area. Windsor Park Estates homes are close to its very own Windsor Estates Park and the sprawling George Bush Park. Each offers great additional amenities and entertainment.

LUXURY ESTATE-STYLE HOMES: Windsor Park Estates' real estate is some of the most gorgeous in the Greater Katy area. The community's real estate can rival the Most Expensive Homes In Houston. Its estate-style homes offer luxury amenities like swimming pools and landscaped grounds. Other amenities include spacious living areas and sweeping staircases.

BUSINESS AND EMPLOYMENT CENTERS: Windsor Park Estates homes are minutes away from major employment hubs. It is nestled in the area a few miles east of Houston's Energy Corridor. Main roads and freeways like Fry Road, Baker Road, Kingsland Blvd, and Interstate 10 are all minutes away from the neighborhood. Accessible via Baker Rd, Barker Cypress Rd, and I-10 is the Energy Corridor. The district is only 12 mins away. Residents also have convenient access to Downtown Houston.

STRONG REAL ESTATE MARKET: Windsor Park Estates is part of the Greater Katy area. Katy's real estate market has been one of the best-performing suburbs. This is based on its Houston neighborhoods over the past one, five, and ten-year periods.
Due to low inventories and high property values, Windsor Park Estates real estate can be tricky to navigate. The general Katy area is also one of the largest suburban areas in Houston.
To get personal advice on buying or selling a Retreat at Windsor Park Estates home, contact Paige Martin. One of Houston's best realtors and one of the top-ranked Realtors in the United States.
"We worked with the Houston Properties team for a work-relocation in 2nd quarter of 2022. We had a pretty short timeline to find a suitable home, make an offer, and close on the property. Holly and team were fabulous in helping us narrow our search so we could be very efficient with our house-hunting trip. We got an offer accepted on our #1 property with quick close date. Holly and the team were very helpful in managing details associated with the move including intercepting packages that were delivered to the address before we closed on the house. Also provided useful support for months after we moved including helpful references to services that might be needed for general property upkeep and any potential emergency weather-related needs due to the recent freeze. Highly recommend HPT!" - Kelli Wright (Google Review)
---
Table of Contents
---
Windsor Park Estates Home Sale Trends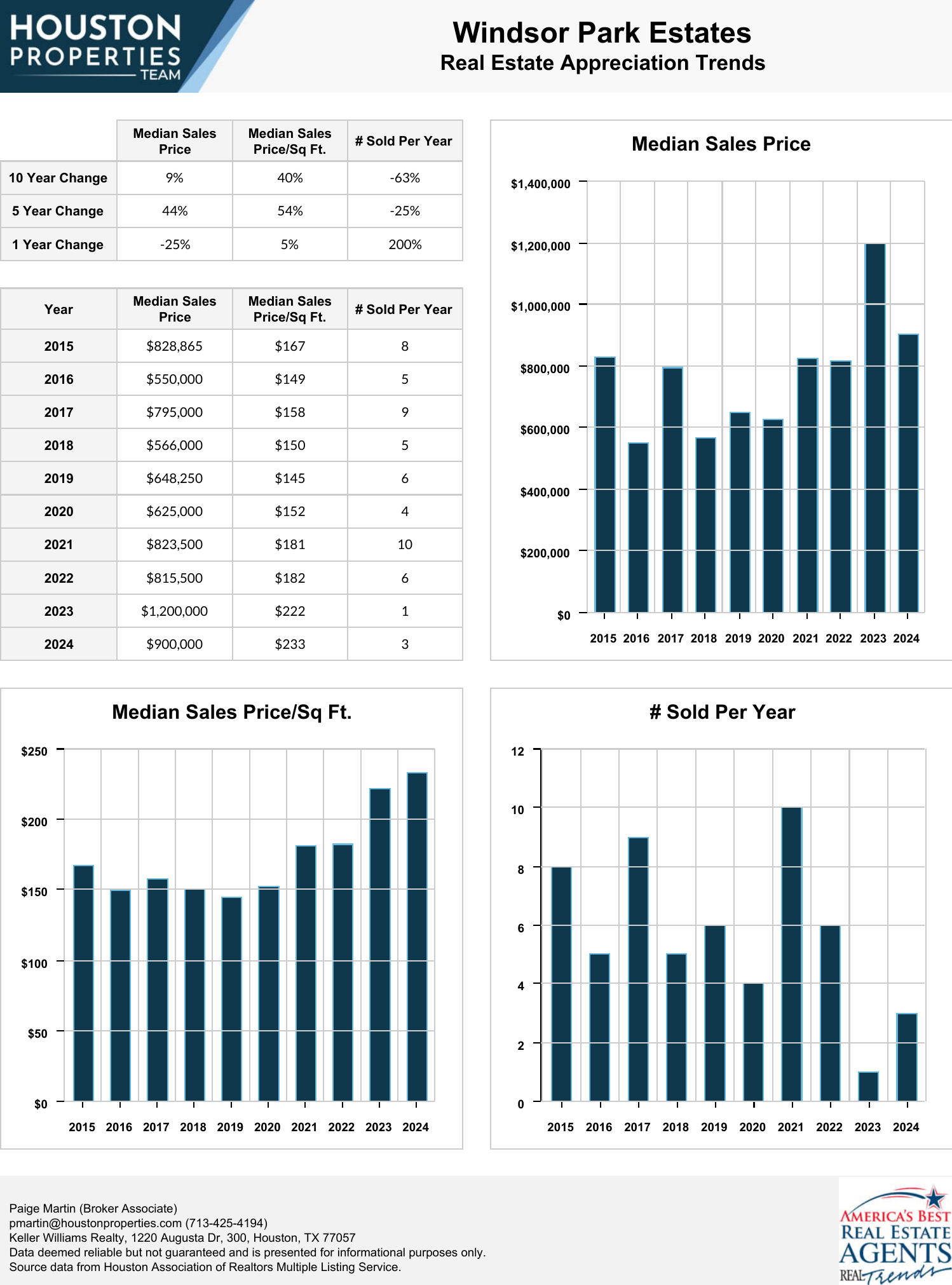 ---
Windsor Park Estates Maps, Location & Zip Code
| Commute Time | Windsor Park Estates |
| --- | --- |
| Downtown (min) | Unknown |
| Med Ctr (min) | Unknown |
| Energy Corridor (min) | Unknown |
| Galleria (min) | Unknown |
| Highlights | Windsor Park Estates |
| --- | --- |
| Amenities | Unknown |
| Golf Courses | Unknown |
| Run / Bike Trails | Unknown |
| Nearby Retail / Dining | Unknown |
| Major Employers | Unknown |
---
Best Houston Real Estate Resources
---