WINDSOR PARK LAKES REAL ESTATE GUIDE
2022 Windsor Park Lakes homes for sale & insider real estate guide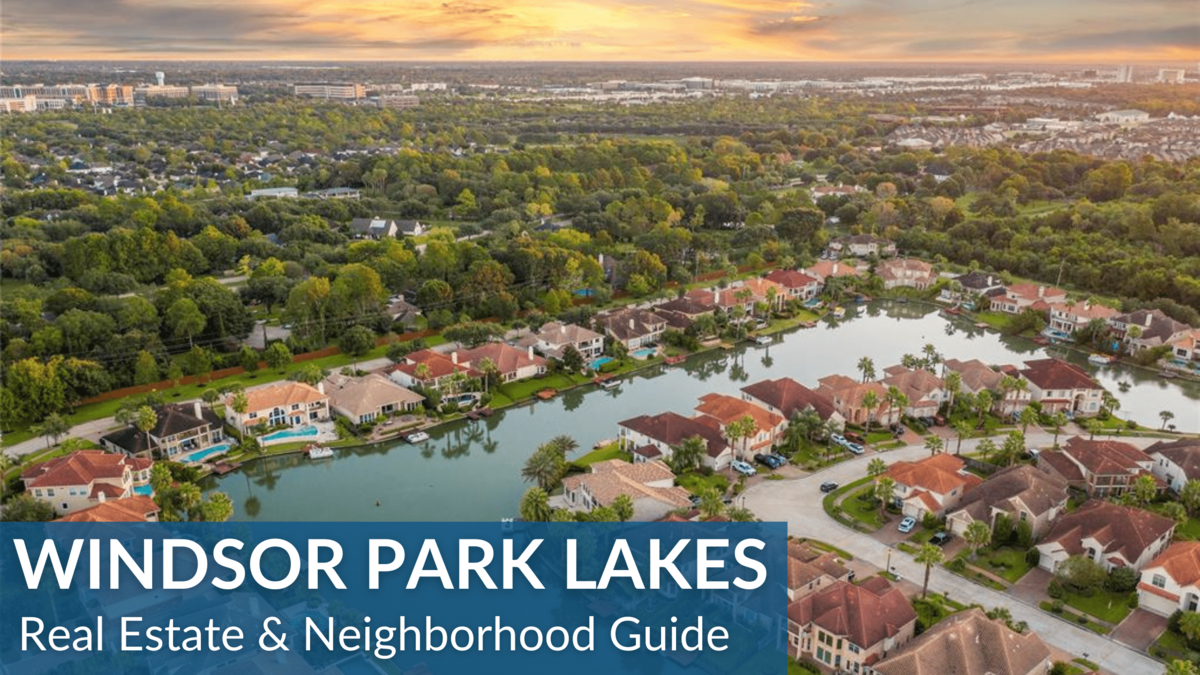 Windsor Park Lakes is an upscale residential enclave in Greater Katy. It is a relatively small residential neighborhood just off Barker Road. The community is located in one of Houston's top-ranked suburbs.
Windsor Park Lakes homes are popular due to their:
CENTRAL LOCATION: Windsor Park Lakes homes are minutes from key districts like the Energy Corridor, Katy, and Cinco Ranch. The neighborhood is located about a mile away from Interstate 10. Key thoroughfares like S Fry Road and Kingsland Boulevard are all easily accessible from Windsor Park Lakes homes. Other key thoroughfares include Westheimer Parkway, Highway 6, and Grand Parkway.

RETAIL AND DINING OPTIONS: Plenty of retail and dining options are available along Interstate 10. These options are also available in Cinco Ranch, Katy, and Houston's Memorial area. Business and employment centers are minutes away, in the Energy Corridor and Westchase districts.

AWARD-WINNING SCHOOLS: Windsor Park Lakes homes are zoned to some of the Katy Independent School District's Best Public Schools. These award-winning KISD schools include McMeans Junior High and Taylor High.

LUXURY REAL ESTATE: Windsor Park Lakes real estate typically features private docks, lake views, and expansive lots. The neighborhood features some of the most expensive Houston homes outside the Loop.

GREAT COMMUNITY AMENITIES: The community features a network of lakes, trails, common area docks, piers, gazebos, and parks. Windsor Park Lakes also has 2 lighted tennis courts, basketball courts, and a swimming pool. Many Windsor Park Lakes homes have direct access to the community's lakes. It is also a gated community with two entrances. The north entrance is manned 24/7, while the south entrance is for residents only.

SMALL COMMUNITY ATMOSPHERE: Windsor Park Lakes has features that rival Houston's Best Suburbs. The community offers great opportunities to paddle out on the lake, fish along the pier, or simply relax in one's backyard.

MEDITERRANEAN ARCHITECTURE: Windsor Park Lakes homes typically feature Mediterranean architecture with brick and stucco exteriors. Two-story 4- to 6-bedroom floor plans are common in the area, with living areas ranging from 3,300 to more than 6,100 square feet. Lot areas range between 7,000 to 15,000 square feet.
The Windsor Park Lakes real estate market can be tricky to navigate due to the number of subdivisions within Katy. Consulting with the best Katy TX realtor can greatly benefit homebuyers.
To get personal advice on buying or selling in the Windsor Park Lakes area, contact Paige Martin, one of Houston's best realtors and one of the top-ranked Realtors in the United States.
"The Houston Properties Team was great to work with. They were always patient and diligent and always represented our best interests throughout the home buying process. We couldn't have asked for a better or more competent représentation. They were super helpful and were always responsive and very proactive. Their knowledge and expertise proved to be a very useful resource." - Abu Bakar Bah (Google Review)
---
Table of Contents
---
Windsor Park Lakes Home Sale Trends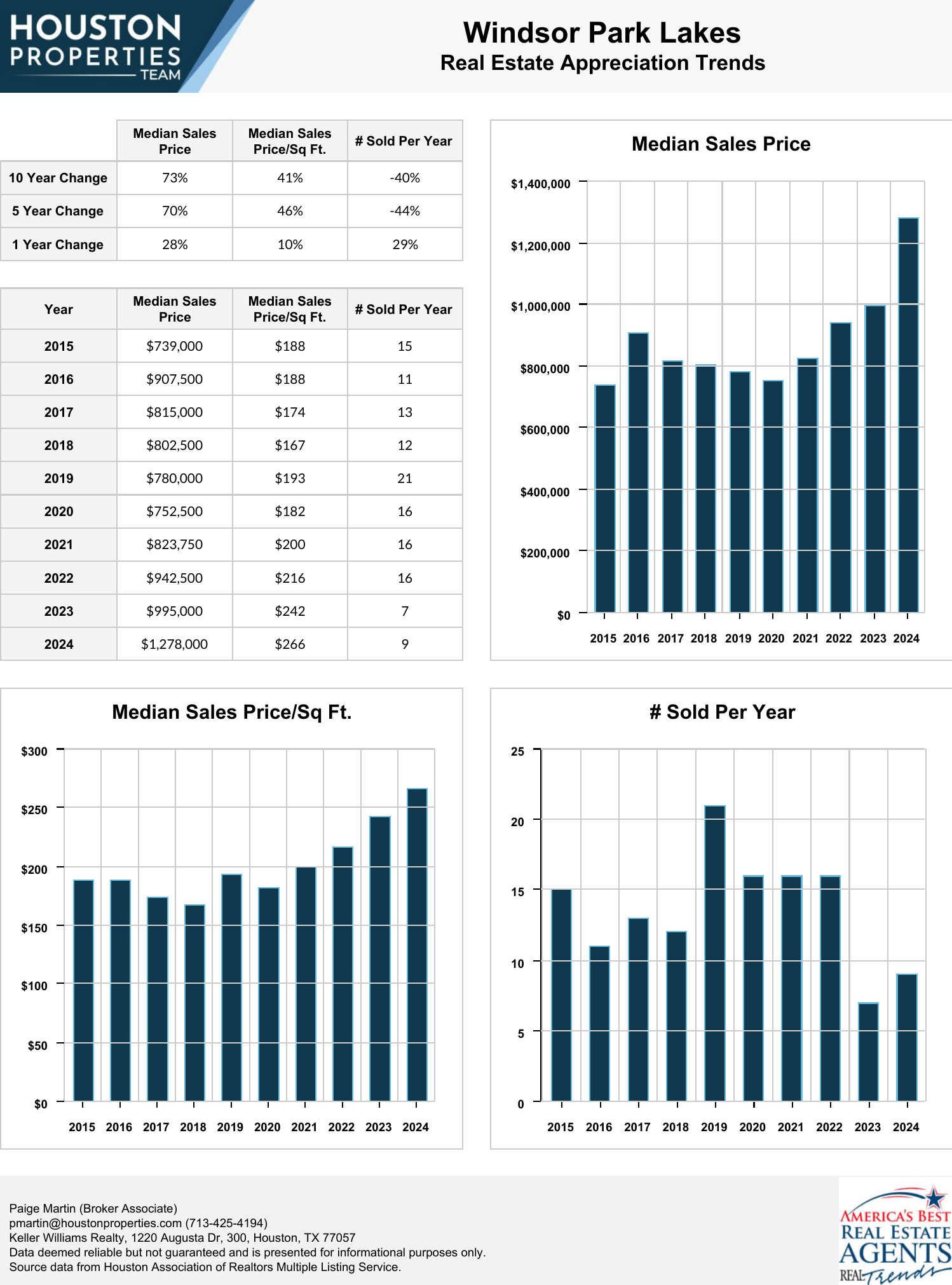 ---
Windsor Park Lakes Maps, Location & Zip Code
| Commute Time | Windsor Park Lakes |
| --- | --- |
| Downtown (min) | Unknown |
| Med Ctr (min) | Unknown |
| Energy Corridor (min) | Unknown |
| Galleria (min) | Unknown |
| Highlights | Windsor Park Lakes |
| --- | --- |
| Amenities | Unknown |
| Golf Courses | Unknown |
| Run / Bike Trails | Unknown |
| Nearby Retail / Dining | Unknown |
| Major Employers | Unknown |
---
Windsor Park Lakes Schools
| Top Elementary Schools | Great Schools Ranking |
| --- | --- |
| Pattison Elem | 9 |
| Top Middle Schools | Great Schools Ranking |
| --- | --- |
| Mcmeans Jr High | 9 |
| Memorial Parkway Jr High | 7 |
| Top High Schools | Great Schools Ranking |
| --- | --- |
| Taylor High | 7 |
---
Best Houston Real Estate Resources
---