KLUGE LAKE REAL ESTATE GUIDE
2022 Kluge Lake homes for sale & insider real estate guide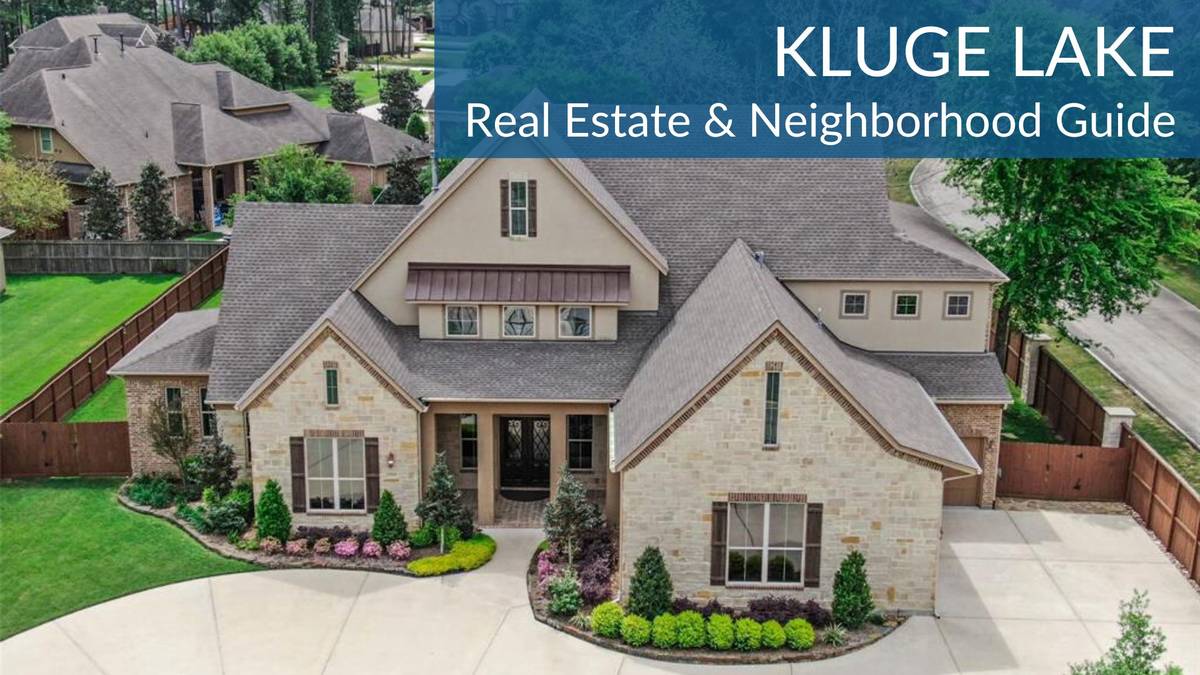 Kluge Lake is a new gated community in northwest Houston. Kluge Lake is located in Cypress, one of the largest and Houston's recognized Suburb. The community is also known for its easy access to retail, notable schools, great amenities & outdoor.
Kluge Lake is well-known for its:
EXCELLENT LOCATION: The new home community is located northeast of US 290 and southwest of US 249. It is just off Kluge Road, northeast of Huffmeister Road, and a few miles northwest of FM 1960. Kluge Lake homes are 40 minutes from Downtown Houston. The community is only 5 miles away from Central Cypress, where there are many retail and shopping centers. Additional retail is available at US 249. Kluge Lake residents also enjoy the accessibility and convenient travels to nearby amenities around the area.

GREAT NEIGHBORHOOD AMENITIES: Kluge Lake is well-known for its expansive homes, sprawling lots, and lush surroundings. A lake, tennis court, and a park with walking/jogging trails are among the community amenities. Kluge Lake homes are close to other amenities from nearby communities. Accessible via Kluge Rd and Huffmeister Rd is the Longwood Golf Club, which is only 3 miles away. The Longwood Trace Park is also located in the area, offering a playground, picnic, and outdoor areas.

TOP NOTCH SCHOOLS: The Cypress-Fairbanks Independent School District serves the homes in Kluge Lake (Cy-Fair ISD). The community is served by Hamilton Elementary School, Hamilton Middle School, and Cy-Fair High School. The community is also served by some of the Top Performing Schools in Houston.

NEW CONSTRUCTION COMMUNITY: Kluge Lake is also known as an "acreage subdivision." Kluge Lake is a small community of about 40 homesites. The community offers serene and lush surroundings.

VARIOUS PREMIER HOMES ON LARGE LOTS: The majority of the homes in the community are custom-built new construction on sprawling lots. Lot sizes range from 21,000 to more than 28,000 square feet. Traditional architectural styles predominate, with homes ranging in size from four to five bedrooms. Kluge Lake luxury homes for sale can include a variety of amenities. Including multi-car garages, island kitchens, hardwood floors, and wooded lots.
Due to its limited inventories, Kluge Lake real estate can be tricky to navigate. Some homes are close to roads and arteries.
To get personal advice on buying or selling a Kluge Lake home, contact Paige Martin. One of Houston's best realtors and one of the top-ranked Realtors in the United States.
"We were moving from Virginia, and Houston Properties kept in touch with us for almost a year until we were ready to relocate. They guided us through the entire process and were very kind, friendly, and knowledgeable. The sellers' market made the home buying process very stressful for us, but they were able to manage that and keep us focused on finding a home we would love. The team was always quick to respond to my numerous emails and texts and sent us daily updates regarding new homes coming on the market. When things could have fallen apart after appraisal, they helped us to negotiate with the seller. Words or the 5-star rating cannot really express the wonderful experience we received from them. We would 100% recommend Houston Properties for your home buying or selling needs!" - Yolanda Hicks (Google Review)
---
Table of Contents
---
Kluge Lake Home Sale Trends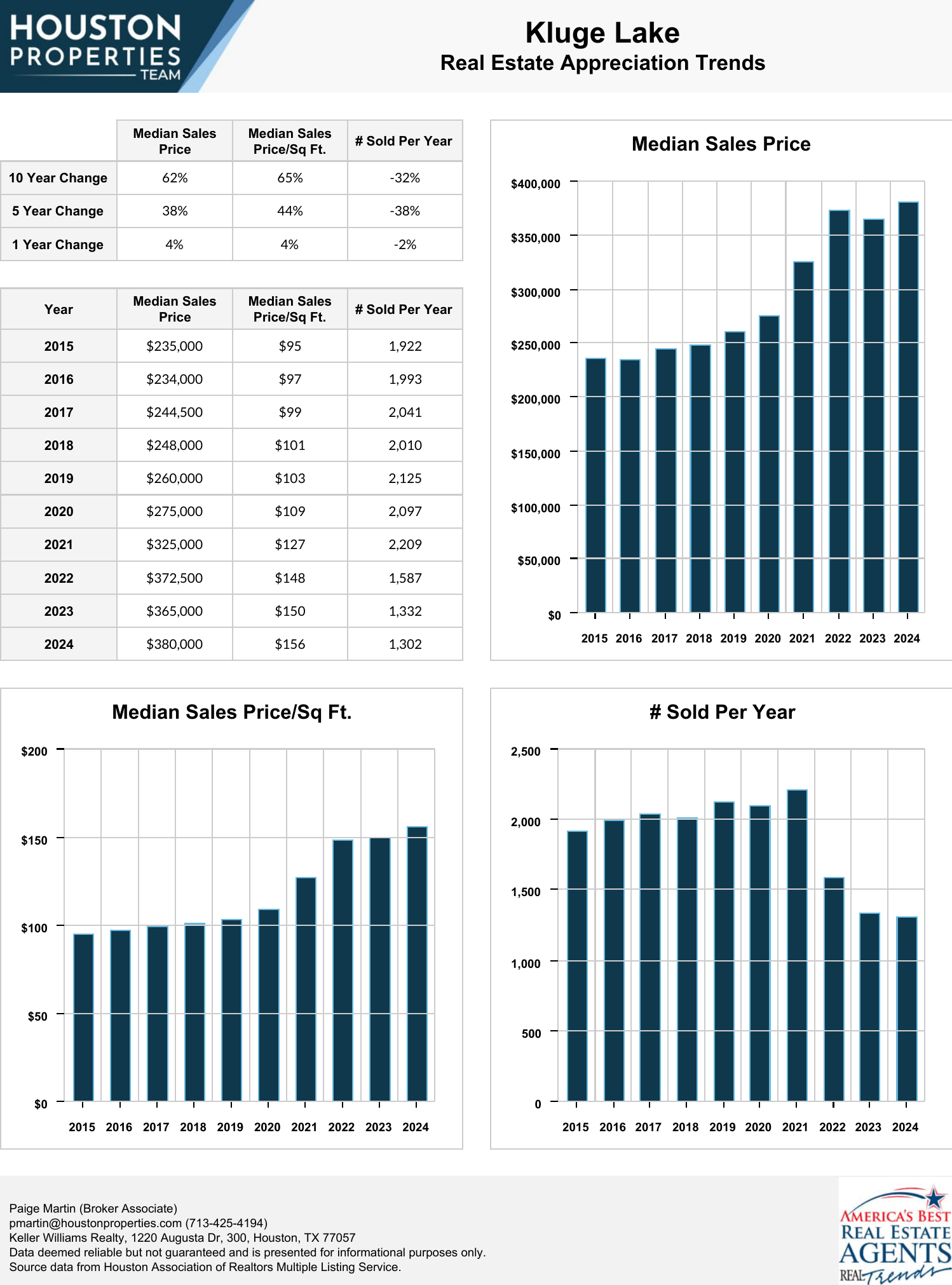 ---
Kluge Lake Maps, Location & Zip Code
| Commute Time | Kluge Lake |
| --- | --- |
| Downtown (min) | Unknown |
| Med Ctr (min) | Unknown |
| Energy Corridor (min) | Unknown |
| Galleria (min) | Unknown |
| Highlights | Kluge Lake |
| --- | --- |
| Amenities | Unknown |
| Golf Courses | Unknown |
| Run / Bike Trails | Unknown |
| Nearby Retail / Dining | Unknown |
| Major Employers | Unknown |
---
Kluge Lake Schools
| Top Elementary Schools | Great Schools Ranking |
| --- | --- |
| Farney Elem | 8 |
| Keith Elem | 8 |
| Sampson Elem | 10 |
| Swenke Elem | 8 |
| Top Middle Schools | Great Schools Ranking |
| --- | --- |
| Arnold Middle | 8 |
| Goodson Middle | 9 |
| Hamilton Middle (Cy-Fair) | 9 |
| Salyards Middle | 9 |
| Spillane Middle | 9 |
| Top High Schools | Great Schools Ranking |
| --- | --- |
| Cy-Fair High | 7 |
| Cypress Woods High | 8 |
---
Best Houston Real Estate Resources
---