Knollwood/Woodside Real Estate Guide
Knollwood/Woodside homes for sale & insider real estate guide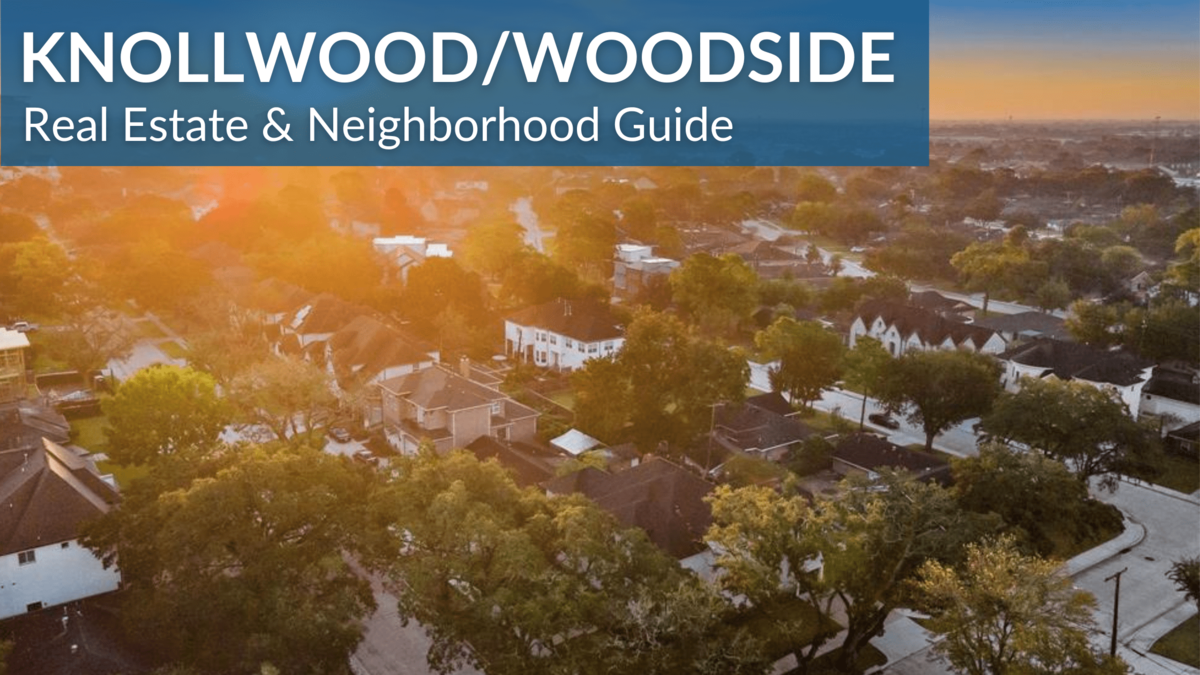 Knollwood/Woodside is a deed-restricted community built in the 1950s. Before that, it was the location of the Houston Main Street Airport. Now, it is one of the most affordable living areas in the Inner Loop.
The Knollwood/Woodside community is well-known for its:
SHORT DISTANCE TO JOB CENTERS: Residents are close to several job centers. These zones include the Galleria and Texas Medical Center zones. These districts have employers with more than a hundred employees. Jobs in retail, shopping, medicine, and amusement are some options.

ACTIVE MANAGERS: Knollwood/Woodside has 11 sections, each with deed restrictions. The Knollwood Village Civic Club manages the community. People in the club enforce deed restrictions and plan social activities. Residents give support to the club through annual donations.

WIDE REAL ESTATE OPTIONS: The neighborhood offers a variety of houses. People choose between single-family homes, townhomes, and apartments. Most houses are two-story, newly-built properties with large floor plans. The older homes have a 1950s ranch style, with brick exteriors and cedar shakes. But there are homes with more modern designs.

DINING AND CULTURE HUBS: East of Knollwood/Woodside is Meyerland. Homes are near shopping areas, fun zones, dining spots, and more. Folks can go to parks and trails nearby. The Bayou Vista Garden, Bill Green Park, and Linkwood Park are among them.

LOW COSTS OF LIVING: The Knollwood/Woodside is a cheap area to live in Inner Loop. Homes start at $160,000, and larger ones exceed $1,000,000. Expensive properties include huge two-story homes with 4-5 bedrooms. These homes are on lots ranging from 6,000 to 10,000 square feet.

QUALITY SCHOOLS: The Houston Independent School District (HISD) is near the area. HISD is one of the best school districts in Texas. Many National Blue Ribbon schools are in this district. Students can attend schools like Red Elementary School and Pin Oak Middle School.

CONVENIENCE: Knollwood/Woodside is one of the most accessible zones in Houston. Residents are near several local freeways. These roads include Main Street, Buffalo Speedway, and Braeswood Boulevard. Riding on these roads leads to Downtown Houston, the Museum District, and West University.
The real estate market in Knollwood/Woodside is tricky to navigate. The neighborhood contains some areas that are in a floodplain. The Tax Day flood and Hurricane Harvey flooded parts of the community. It is better to ask a local real estate expert for the ideal option.
To get personal advice on buying or selling in the Knollwood/Woodside area, contact Paige Martin, one of Houston's best realtors and one of the top-ranked Realtors in the United States.
"Can't recommend Houston Properties and Violet Brooks highly enough! From the outset, the HP team greatly outperformed other realtors with their responsiveness and professionalism. Their commitment and attention to detail made the selling process a breeze. Additionally, they handled finding and securing a rental property, making this one less thing for me to worry about." - Jennifer Marusek (Google Review)
---
Table of Contents
---
Knollwood/Woodside Home Sale Trends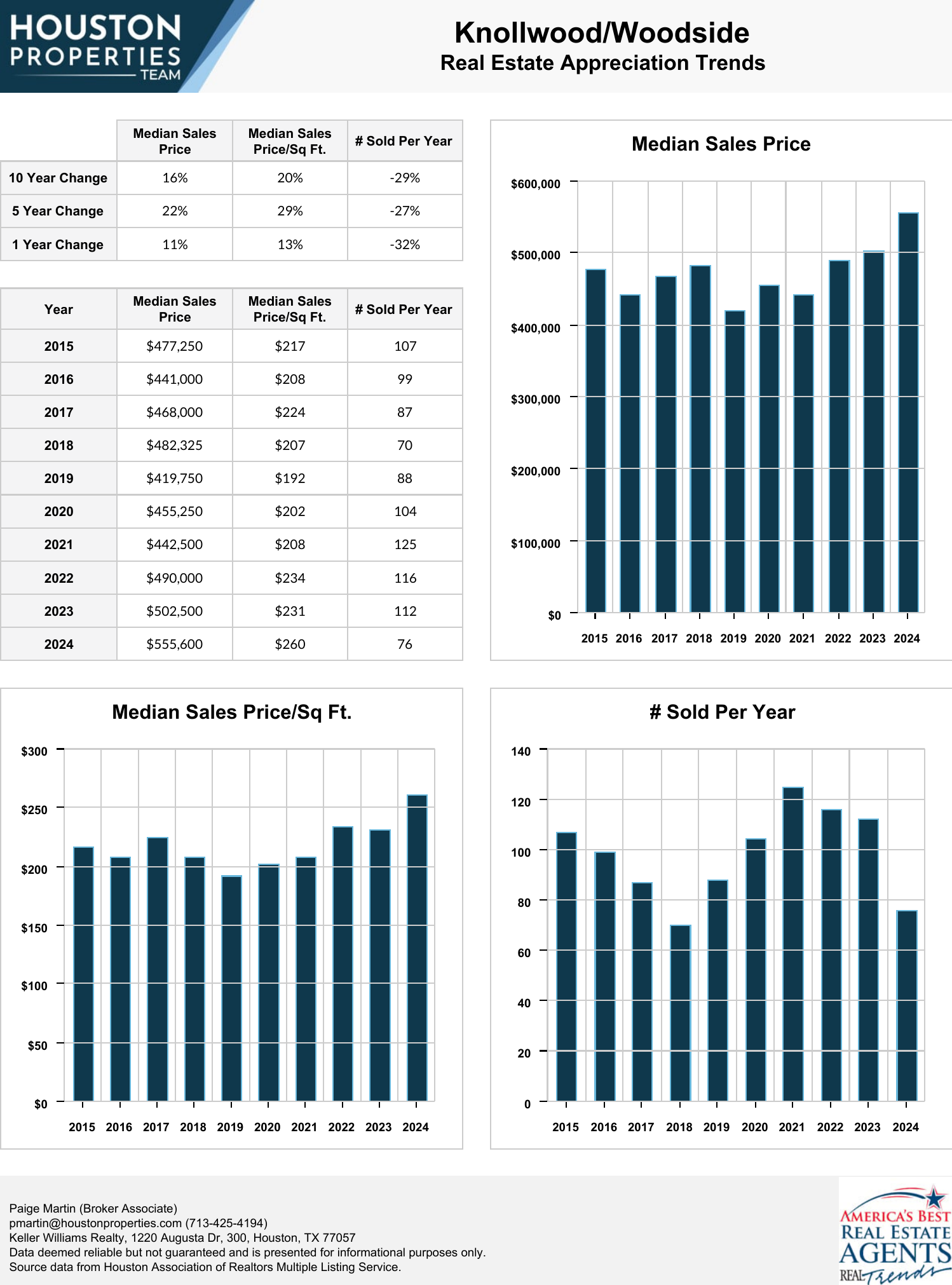 Knollwood / Woodside is a residential area split into 11 deed-restricted sections. The neighborhood is of its tree-lined streets and homes with manicured lawns.
Knollwood / Woodside is popular due to its:
ACCESSIBILITY: It is near main roads like Buffalo Speedway, and Braeswood Boulevard. Major job spots like Texas Medical Center and The Galleria are only a short distance from the area.

ACTIVE CIVIC CLUB: The Knollwood Village Civic Club actively enforces deed restrictions. It manages the neighborhood's security as well.

NEARNESS TO AMENITIES: Moreover, Knollwood / Woodside is close to several retail and dining spots. It is only a few minutes away from Vanderbilt Square and Meyerland.
Homes in Knollwood / Woodside have traditional and ranch-style designs. They also come in big lot sizes, ranging from 6,000 to 10,000 square feet.
---
Knollwood/Woodside Best Realtor Insights
The community of Knollwood Village is deed-restricted. Formerly the location of Houston's Main Street Airport, it has expanded over the past 60 years.
Located inside the Loop, the neighborhood is nestled south of S Braeswood Blvd and west of S Main St.

Minutes from the neighborhood are the Texas Medical Center, Downtown Houston, the Museum District, and the Galleria.

Homes in Knollwood Village are conveniently situated close to schools, parks, restaurants, and shopping centers.

Students in the area may attend schools zoned to the Houston Independent School District, such as Longfellow Elementary School, Pershing Middle School, or Bellaire High School.

Established in the early 1950s, Knollwood Village has a neighborhood split into 11 sections across 108 acres of luscious land.

A well-established civic club oversees deed restrictions, funds security guards, and plans neighborhood activities in Knollwood Village.

The neighborhood has several newly-built single-family homes and renovated ranch-style houses from the 1950s. Older homes often have one-story, three-bedroom floor designs.

Lot sizes in the area range from 6,000 to 10,000 square feet.

Larger two-story homes with four to five bedrooms are the most expensive real estate in Knollwood Village.

Prices for Knollwood Village homes for sale can start at around $160,000. Larger and newer properties are up to $1,000,000.
---
Knollwood/Woodside Maps, Location & Zip Code
| Commute Time | Knollwood/Woodside |
| --- | --- |
| Downtown (min) | 15 |
| Med Ctr (min) | 10 |
| Energy Corridor (min) | 20 |
| Galleria (min) | 10 |
Highlights
Knollwood/Woodside
Amenities
Knollwood/Woodside is close to many shops, restaurants, and entertainment spots. It is even close to NRG Stadium, which holds sporting and music events.

Its proximity to Downtown Houston also makes it closer to a lot of major employers.
Golf Courses
- Hermann Park Golf Course
Run / Bike Trails
- Bill Green Park
- Linkwood Park
- Old Braeswood Park
- Helen's Park
- Marvin Taylor Exercise Trail
- Brays Bayou Park
Nearby Retail / Dining
Dining:

- Little Matt's
- 7Spice
- Hu's Cooking
- Paulie's Poboys
- Clutch City Cluckers
- Pasha Turkish Restaurant
- Tamashi

Retail:

- South Main Shopping Center
- Vanderbilt Square
- Shops at Three Corners
- Rice Village
- Braes Link Shopping Center

Grocery:

- Target Grocery
- Kroger
- Randalls
- H-E-B
- Sprouts Farmers Market
- Central Market
- Dean's Grocerette & Deli


Nightlife/Entertainment:

- The Owl
- Little Woodrow's Rice Village
- The Cellar Bar
- Ovations
- Numbers
Major Employers
- Texas Medical Center
- Texas Children's Hospital
- Rice University
- NRG Energy
- Houston Methodist Hospital
- Chevron
---
Knollwood/Woodside Schools
The Knollwood/Woodside area is zoned to the Houston Independent School District (HISD).
The HISD is the largest independent school district in Texas. It features many National Blue Ribbon and award-winning schools.
Students in the area may attend the following public schools:
---
Middle School
---
Pershing Middle School on 3838 Blue Bonnet. The school serves students in the 6th to 8th grades. Pershing focuses on advanced STEM courses and posts high marks in algebra. The school offers AP classes in Spanish Language and Culture.
---
High School
---
Bellaire High School on 5100 Maple. Bellaire High teaches students in the 9th to 12th grades. The school focuses on science and math subjects. But students can get AP courses in other fields and enroll in music courses.
The neighborhood is also home to the following schools:
Twain Elementary School at 7500 Braes Blvd.

Rice Sch/La Escuela Rice, located at 7550 Seuss Dr.

Horn Elementary School at 4530 Holly St., Bellaire

West University Elementary School at 3756 University Blvd.

Red Elementary School at 4520 Tonawanda Dr.

Pin Oak Middle School at 4601 Glenmont, Bellaire.

Energized For Excellence Academy Inc Middle School at 6107 Bissonnet.

Lanier Middle School at 2600 Woodhead St.

DeBakey HS for Health Prof at 2545 Pressler

Challenge Early College High School at 5601 W Loop S.

South Early College High School at 1930 Airport Blvd.
To find an updated listing of all Knollwood/Woodside real estate zoned to any specific public school, please email Paige Martin at PMartin@HoustonProperties.com with the property preference and budget that you're working with.
Note: For more detailed information on specific schools zoned to different Knollwood/Woodside areas, please refer to our Houston Schools Guide OR email me.
Note: School zoning tends to change from year to year. The information provided above is accurate but not guaranteed. Please double-check by visiting the school's website.
---
Knollwood/Woodside Real Estate Market
Knollwood/Woodside Single-Family Home Sale Trends
---
Many single-family houses can be found in the Knollwood/Woodside neighborhood.
Single-family homes in Knollwood/Woodside are newly built or renovated 1950s ranch-style houses. Most of the older-built houses are one-story with three-bedroom floor plans.
This deed-restricted neighborhood lies within the Inner Loop. It is near major highways such as Main Street and Buffalo Speedway.
Knollwood/Woodside takes pride in its traditional and ranch-style architectural designs. Lot sizes can vary from 6,000 to 10,000 square feet. Market prices start at around $160,000 up to more than $1,000,000.
---
Knollwood/Woodside Townhomes Sale Trends
---
Like single-family homes, townhome options in Knollwood/Woodside are available.
There are traditional and contemporary architectural designs of townhomes in the Knollwood/Woodside.
Most townhomes in the area have a 2-3 bedroom capacity. It has an average size of 2,000 to 3,000 square feet.
---
Knollwood/Woodside Condo Home Sale Trends
---
There are no mid- or high-rise Knollwood/Woodside condos for sale, but plenty of units are available in the surrounding areas.
To see other condos within the Inner Loop, see Inner Loop Houston Condos. To see condos within the nearby Galleria area, see Galleria Houston Condos. To see other condos within Downtown Houston, see Downtown Condos. To see condos within Museum District, see Museum District Condos.
The Houston Properties Team are expert in Knollwood/Woodside real estate. Please contact us if you'd like to see Houston condos or learn more about buildings that could be a fit for you.
---
Knollwood/Woodside TX History
---
Main Street Airport was formerly located on the property that is now Knollwood Village. According to Flori Meeks of the Houston Chronicle, it "at least dates to the early 1930s". In 1952, the airport closed down.
David Fitts, a former Knollwood Village Civic Club (KVCC) president, claims that the first houses were built between 1951 and 1953. Fitts said that the KVCC was founded in 1953 and that the civic club's charter was signed on June 18 of that same year.
The KVCC now governs the 11 deed-restricted sections of Knollwood Village. These are Sections 1-10 and Braes Terrace II.
Due to the neighborhood's continued affordability, people have grown to love it.
Ranch-style homes from the 1950s are the original residences. The majority of them had brick exteriors and cedar shake roofs in 2004. The floors of many of them were made of hardwood.
Starting in 2013, many older homes were being demolished and rebuilt with newer, bigger houses.
---
Fun Things To Do Near Knollwood/Woodside
---
Knollwood/Woodside is a well-known area close to economic and entertainment spots. There are many accessible shops, parks, and restaurants in the neighborhood.
Some of the recommended places to visit are:
Golf course and Trails:
Hermann Park Golf Course
Bill Green Park
Linkwood Park
Old Braeswood Park
Helen's Park
Marvin Taylor Exercise Trail
Brays Bayou Park
Dining:
Little Matt's
7Spice
Hu's Cooking
Paulie's Poboys
Clutch City Cluckers
Pasha Turkish Restaurant
Tamashi
Retail shopping and Grocery:
South Main Shopping Center
Vanderbilt Square
Shops at Three Corners
Rice Village
Braes Link Shopping Center
Target Grocery
Kroger
Randalls
H-E-B
Sprouts Farmers Market
Central Market
Dean's Grocerette & Deli
Nightlife/ Entertainment:
The Owl
Little Woodrow's Rice Village
The Cellar Bar
Ovations
Numbers
---
Best Knollwood/Woodside Realtor – Paige Martin
---
As featured on Fox News in the Morning, Houston Business Journal, and Houston Magazine, Paige Martin, a consistent Top Producing Broker-Associate and head of the Houston Properties Team, is ranked as one of the top residential real estate agents in the world.
---
Best Houston Real Estate Resources
---