Lakeside Estates Houston Homes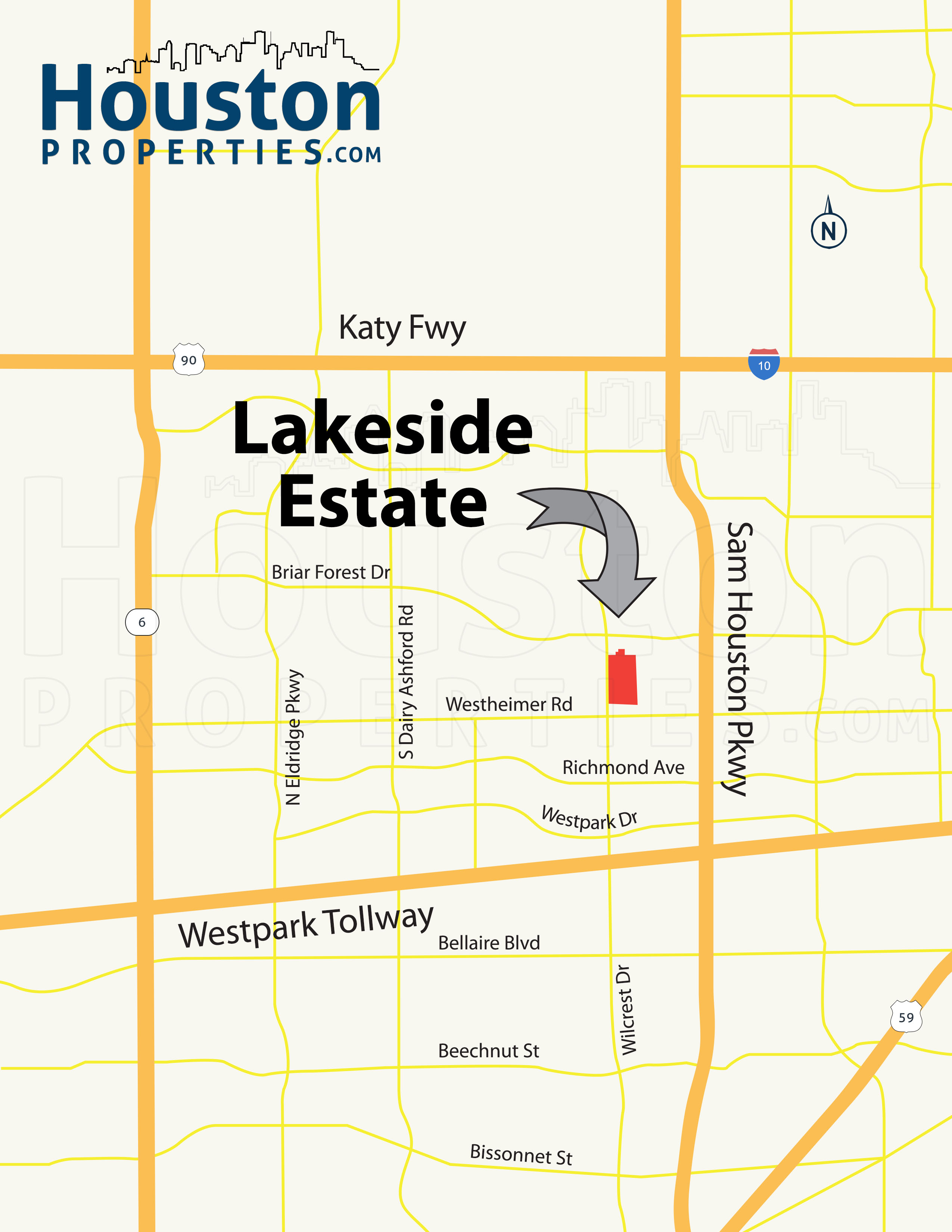 Lakeside Estates is a small residential neighborhood in west Houston, just outside Beltway 8.
Made up of about 270 homes, Lakeside Estates is roughly bordered by Walnut Bend Lane to the east, Wilcrest Drive to the west, Briar Forest Drive to the north, and Westheimer Road to the south.
Lakeside Estates homes are centrally located near schools, parks, shopping centers, restaurants, and other commercial establishments.
The neighborhood's location near Westheimer Road and other major Houston roads including Sam Houston Parkway gives residents excellent accessibility to and from key Houston centers like the Energy Corridor and the Galleria.
Lakeside Estates homes are zoned to the Houston Independent School District. Two schools that serve the area, Walnut Bend Elementary and Reverre Middle School, are located within minutes of the community.
Retail and entertainment centers, including the Westchase Shopping Center, CityCentre, Memorial City Mall, and Town & Country Village, are conveniently located near Lakeside Estates.
Lakeside Estates homes typically feature spacious lots (averaging about 9,000 square feet) and a 4-bedroom floor plan.
Known for its homes built in the 1960s and 70s, Lakeside Estates features both single-family homes and townhomes. Most of the neighborhood's vintage homes have since been updated and renovated.
Lakeside Estates real estate have experienced steady growth over the past few years, with home prices ranging from $250,000 to $600,000.
For more information on available Lakeside Estates Houston homes for sale
and how they compare to nearby Houston neighborhoods
call Paige Martin at 713-425-4194 or email [email protected]
Guide To Lakeside Estates Homes For Sale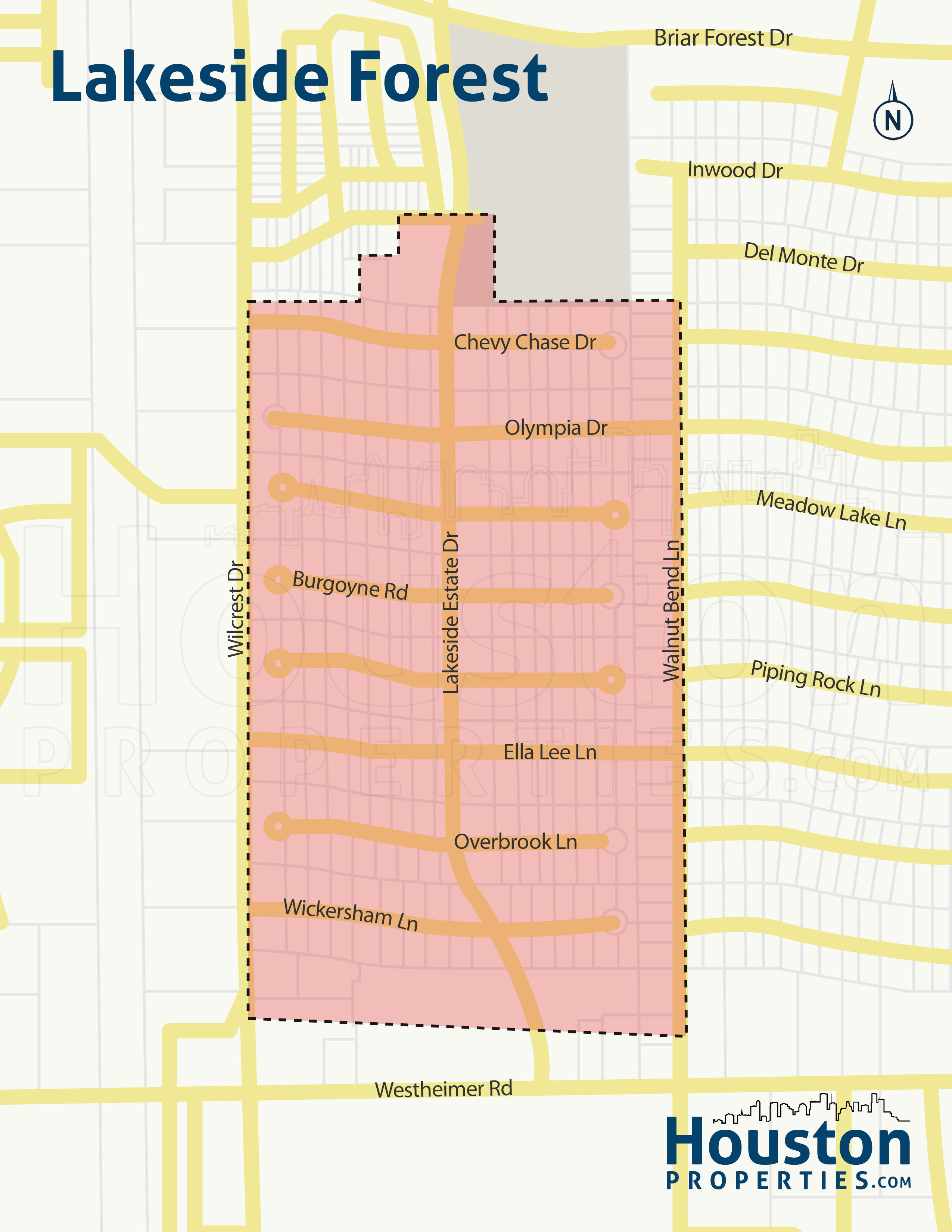 Lakeside Estates Houston is a relatively small community located just outside Beltway 8. A residential enclave of about 270 homes, the neighborhood is east of Wilcrest Drive, north of Westheimer Road, west of Walnut Bend Lane, and south of Briar Forest Drive.
The neighborhood is highly popular for its great location, high accessibility, and peaceful, family-friendly atmosphere.
Credit to the neighborhood's location near Sam Houston Parkway and along Westheimer Road, Lakeside Estates homes are minutes away from schools, retail and entertainment areas, parks, restaurants, cafes, and bars. Business and job centers like the Westchase Business Center and the Energy Corridor are also highly accessible from the neighborhood.
Several key factors contributed to the neighborhood's growth, including the completion of the I-10 expansion (Katy Freeway) and Westpark Tollway, and the increase of jobs in and around the Energy Corridor.
Lakeside Estates is known for its vintage homes from the 1960s and 1970s. Most of these homes have since been updated and renovated. Lot sizes range from 8,000 to more than 10,000 square feet. The average Lakeside Estates home can feature a 4-bedroom floor plan.
Lakeside Estates homes come in a number of architectural styles like contemporary, modern, and Spanish. Traditional-style homes, however, are the most common in the area.
The neighborhood is divided into different sections, and features both single-family homes and townhomes. A number of factors dictate pricing in the area, including size, location, and condition of the home. Lakeside Estate homes for sale can start at $250,000, and go for as much as $600,000.
Lakeside Estates Houston is within the 77040 zip code.
Lakeside Estates Realtor – Paige Martin
As featured on Fox News in the Morning, the Houston Business Journal, Houston Chronicle, and Houston Magazine, Paige Martin – a consistent Top Producing Broker-Associate and head of the Houston Properties Team – is ranked amongst the very top Keller Williams agents in the Houston area.
Paige is ranked as one of the top realtors in Houston, and the state of Texas. Read more about the over 65 awards she's won in the last few years.
Paige works with a tremendous number of buyers and sellers within Lakeside Estates Houston.
For a specific recommendation of neighborhoods, homes or properties based upon your personal style, goals & price point, please contact Paige Martin, head of the Houston Properties Team & Broker Associate at [email protected] or 713-425-4194.