Lakeside Place Real Estate Guide
Lakeside Place homes for sale & insider real estate guide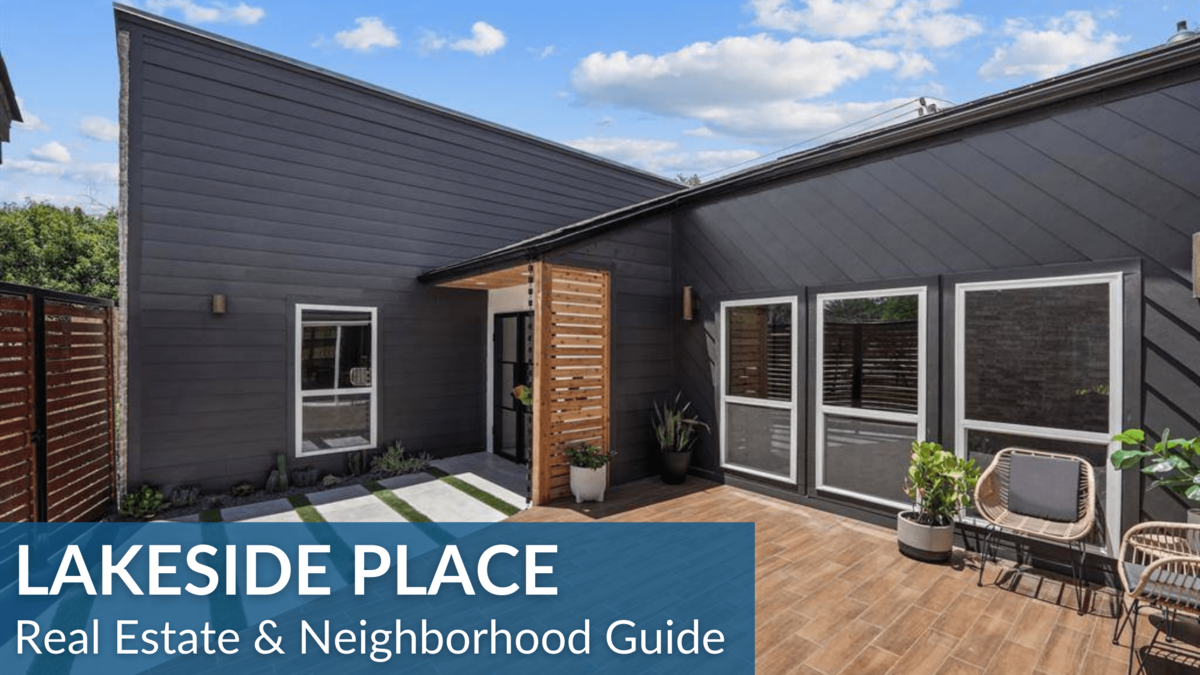 Lakeside Place Houston is a residential neighborhood just outside Beltway 8. Lakeside Place is north of Briar Forest Drive, east of S Kirkwood Road, and west of Wilcrest Drive. It is south of the Lakeside Country Club and the Buffalo Bayou. Divided into sections, Lakeside Plaza has well-maintained single-family homes that date back to the late 1970s.
Lakeside Place is famous due to its:
LAKESIDE PLACE COUNTRY CLUB: Founded in the early 1950s, the Lakeside Country Club is a privately held, members-only club. It features an 18-hole championship golf course. Membership in the 209-acre club is by invitation only. Club amenities include tennis courts, a swimming pool, and fitness facilities. (Read Houston's Best Golf Course Communities)

ACCESSIBILITY: Lakeside Place is accessible to and from key hubs in the Memorial area and Houston. It is due to its proximity to major freeways, including Highway 6, I-10, Beltway 8, and Westpark Tollway.

ACCESS TO BUSINESS DISTRICT: The Galleria and Energy Corridor are a few minutes from the neighborhood. They are two of Houston's major employment centers. Energy Corridor is home to corporate or regional headquarters for firms. Examples are BP, Citgo, Dow Chemical, and ExxonMobil Chemical. The Galleria has more than 23 million square feet of office space – with 2,000+ businesses and 50,000+ employees. Westchase Business Center is accessible from Lakeside Place as well.

PROXIMITY TO RETAIL HUBS: Lakeside Place is near retail hubs, schools, parks, restaurants, and amusement centers. Residents can enjoy plenty of retail, entertainment, and dining options minutes from Lakeside Place. CityCentre Plaza, Memorial City Mall, and Town & Country Village are possible options. Galleria mall is near Lakeside Place as well. It features over 5 million square feet of retail space, with 400+ commercial establishments.

VARIOUS HOME SELECTIONS: Lakeside Place features a collection of single-family homes. Some of which date back to the 1970s. Three- and four-bedroom homes are standard in the area. Home sizes range from 2,000 to 3,200 square feet. Lot sizes are between 7,600 to 9,600 square feet. Prices for Lakeside Place homes for sale can start at $190,000. Bigger properties can sell for more than $500,000.
Lakeside Place real estate can be tricky to navigate. It is due to the proximity to main roads and freeways. It is best to contact the best Lakeside Place realtor, an expert in the community.
To get personal advice on buying or selling homes in Lakeside Place, contact Paige Martin, one of Houston's best realtors and one of the top-ranked Realtors in the United States.
"Brittney was amazing. She helped me find the perfect house and guided me throughout the process to make it as easy as possible. She's professional and smart. Her most important quality is that it was a pleasure to work with her. I highly recommend her." - Brenda Clark (Google Review)
---
Table of Contents
---
Lakeside Place Home Sale Trends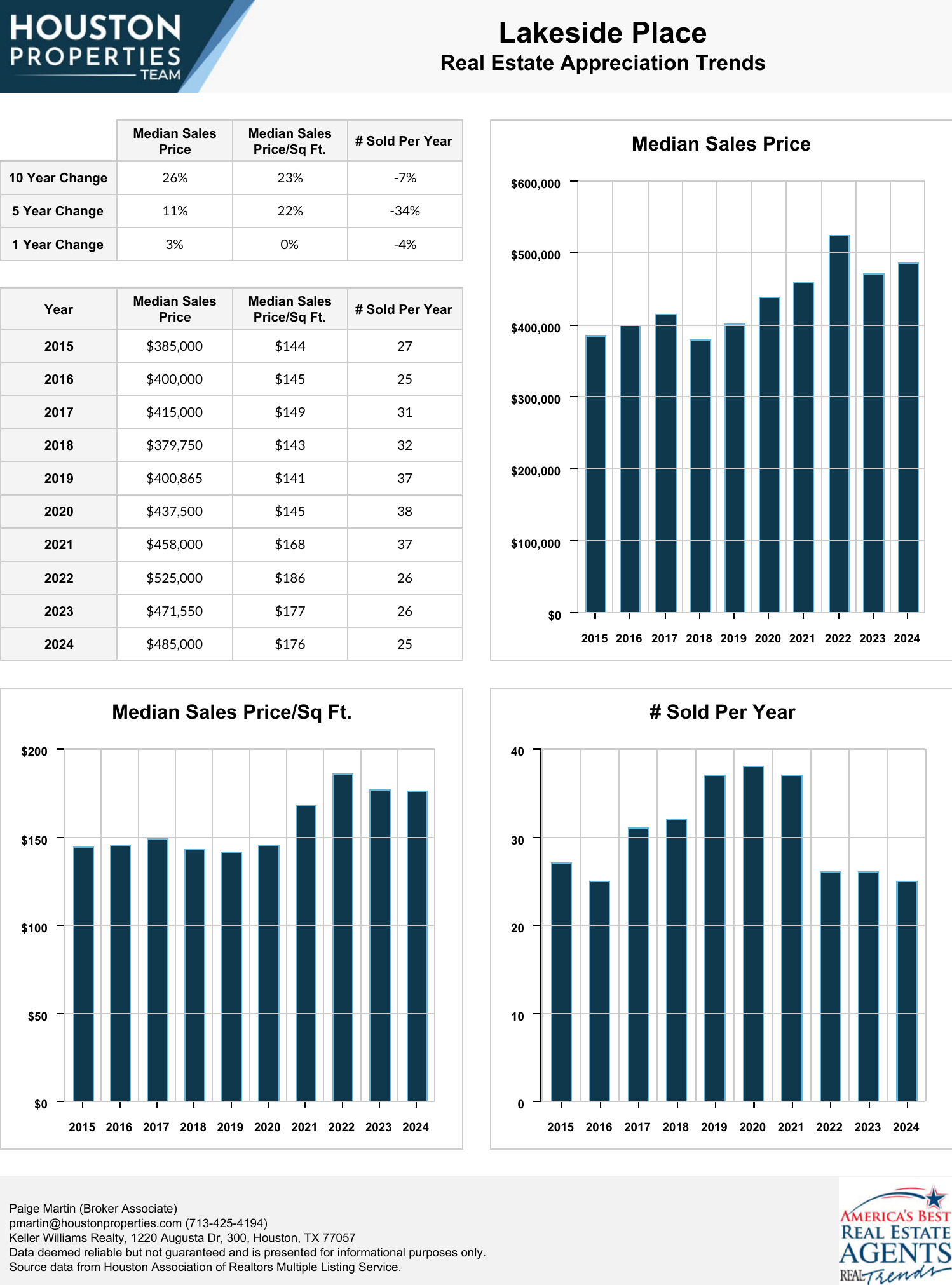 ---
Lakeside Place Maps, Location & Zip Code
| Commute Time | Lakeside Place |
| --- | --- |
| Downtown (min) | Unknown |
| Med Ctr (min) | Unknown |
| Energy Corridor (min) | Unknown |
| Galleria (min) | Unknown |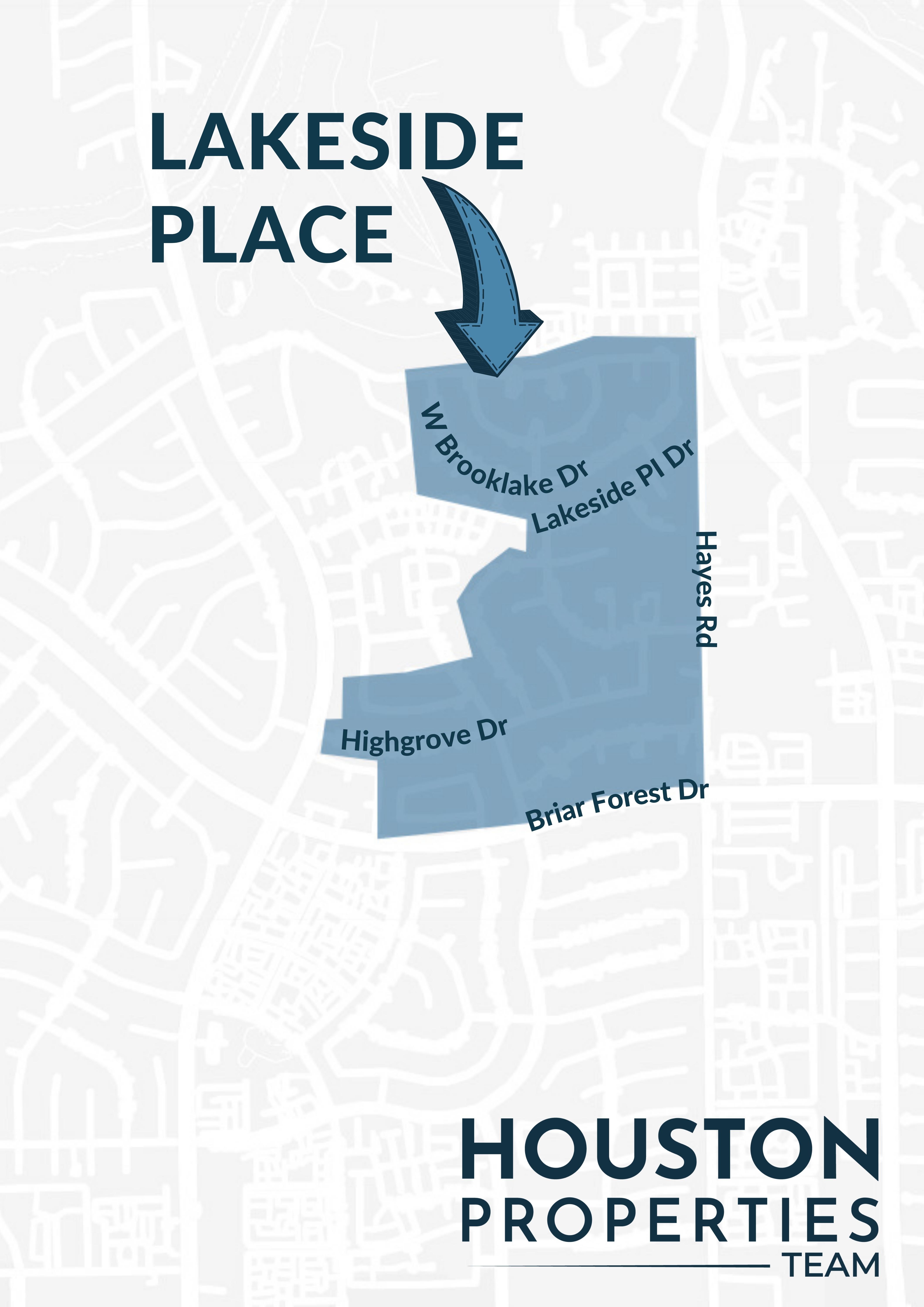 | Highlights | Lakeside Place |
| --- | --- |
| Amenities | Unknown |
| Golf Courses | Unknown |
| Run / Bike Trails | Unknown |
| Nearby Retail / Dining | Unknown |
| Major Employers | Unknown |
---
Best Houston Real Estate Resources
---