Located within Houston's Inner Loop, the Lazybrook Timbergrove neighborhood provides residents with large yards, well-ranked schools, affordable homes and easy access to Downtown Houston.
Lazybrook is bordered by North Loop Freeway on the north, Loop 610 on the east, and Katy Freeway on the south.
About 5-10 minutes away from Downtown Houston, Memorial, and Galleria, Lazybrook is also known for its lush foliage, tree-lined streets, and large lots.
Lazybrook Resources:
Two New Lazybrook / Timbergrove Houston Neighborhood Maps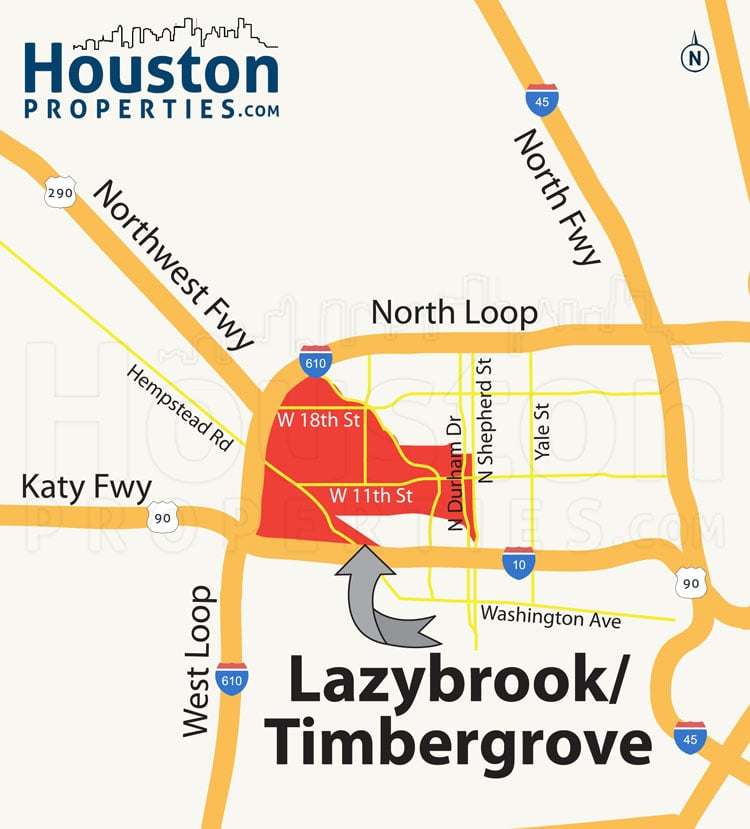 The Lazybrook Timbergrove community is nestled within the wooded boundaries of West 18th Street from Ella to 610, 610 to West T.C. Jester, T.C. Jester to Ella Blvd. and on the South side of West 18th the streets of Willowby, Haverhill, Tannehill and Guese off of Ella Blvd.
Lazybrook is a deed-restricted neighborhood of nearly 700 homes located 7 miles northwest of Downtown Houston. The residential area also lies west of the Houston Heights and along the wooded banks of White Oak Bayou in the near northwest quadrant of the city.
Young professionals and empty nesters often prefer Lazybrook homes because of its Inner Loop location. Aside from nearby Downtown Houston, the Galleria area, Memorial Park, and Museum District are also only about 5-10 minutes away.
Neighborhoods near Lazybrook include: Camp Logan, Memorial Park, Houston Heights, Timbergrove, Oak Forest, Garden Oaks and Tanglewood.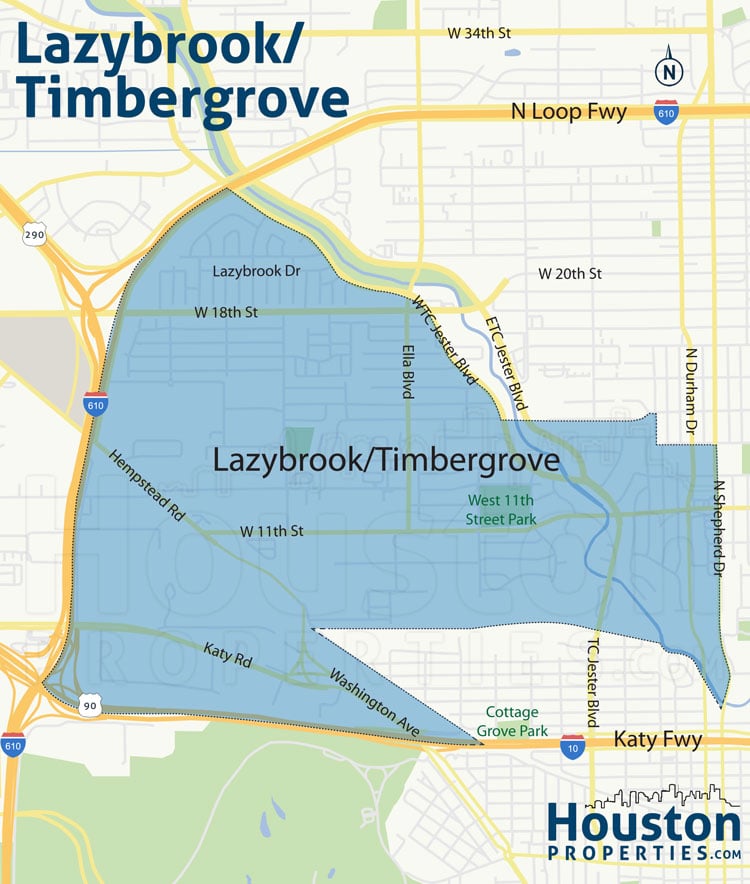 Lazybrook Neighborhood: Lifestyle
The Lazybrook Civic Club divided the neighborhood into 9 sections. The 9 sections map out the neighborhood's deed restrictions, paving the way for a well-developed and carefully master-planned community.
Lazybrook's Inner Loop location and nearness to major freeways make it one of Houston's best neighborhoods.
Commercial hubs Downtown Houston and Galleria are both a few minutes away. One of the country's biggest and "greenest" parks, Memorial Park, is also roughly 5 minutes away from all Lazybrook homes.
Lazybrook is the 36th most walkable neighborhood in Houston. With a "Walkability" rating of 53, Walkscore.com notes that "some errands can be accomplished by foot".
There are over 200 restaurants, bars and coffee shops in Lazy Brook/Timbergrove. On average, Lazybrook residents encounter 0.5 restaurants, bars, and coffee shops for every 5-minute walk.
Some of the most popular include:
Demeris Barbecue at 1702 W Loop N (Barbeque)
Stalla's Deli at 10520 NW Fwy (Greek Deli)
Pizza Inn at 1801 Mangum Rd (Pizza Place)
Live Oak Bar and Grill at 10444 Hempstead Rd (Sports Bar)
Pappa Geno's at 1801 Ella Blvd (American Diner)
Tia Maria's at 4618 Dacoma St (Mexican Food)
Hughie's at 1802 W 18th St (Vietnamese Food)
Lazybrook also has above average "Bikability" ranking. The West White Oak Bayou Trail begins in Timbergrove Manor and runs along the banks of the bayou and through Lazybrook and Oak Forest. The White Oak Bayou Trail provides bicyclists and pedestrians a 7.4-mile (11.9 km) long mostly concrete and asphalt trail.
Parks near Lazybrook homes include:
West 11th Street Park
Timbergrove Manor Park
Jaycee Park
T.C. Jester Parkway