Houston real estate market has seen tremendous property appreciation the last few years. This has made it difficult for homebuyers to find Inner Loop single-family homes under $300,000.
Lazybrook is one of the few Inner Loop Houston neighborhoods with home options in the sub $300,000 range. Bordered by North Loop Freeway on the north, Loop 610 on the east, and Katy Freeway on the south, Lazybrook residents live close to the major city freeways and about 10-15 minutes away from Downtown Houston, Memorial, and Galleria.
Lazybrook also has above average "Walkability" and "Bikability" ratings. The neighborhood is home to many parks and over 200 Yelp.com-rated commercial establishments.
To see all Lazybrook Houston homes for sale under $300,000, please check the list below.
For more information on available Lazybrook homes for sale, call Paige Martin at
713-425-4194 or email [email protected]
Lazybrook Houston Inner Neighborhood Map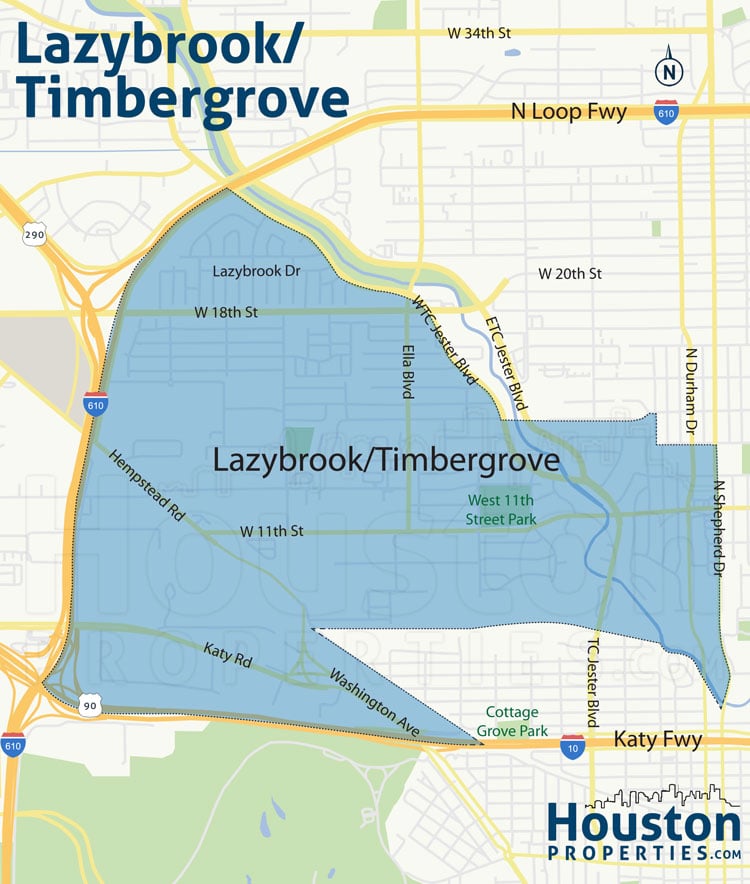 Lazybrook Houston homes for sale are mostly single-family properties with a neighborhood value range of $210,000 to $343,000. The average home size is 1,715 square feet with the average number of bedrooms and baths at 3.10 and 1.83 respectively.
With a median lot size of 7,640 square feet, Lazybrook homes have some of the biggest yards in Houston.
Most of the homes in Lazybrook were built in the 1950s. Much like other neighborhoods near or within Houston's Inner Loop, Lazybrook went through a shift in home architecture during the 1990s to early 2000.
Residents formed The Lazybrook Civic Club in 1960. The organization then divided the neighborhood into 9 sections to better oversee its community development. Strict implementation of deed restrictions helped facilitate the building and renovation of better homes.
Lazybrook Houston Homes For Sale: Schools
The Houston Independent School District (HISD) serves Lazybrook. The public schools associated with homes in Lazybrook include:
Elementary Schools
Named after Thomas Albert Sinclair, founder of the Heights Hospital, Sinclair Elementary is among the top public elementary schools in Houston. It has a "Met Standards" rating by the Texas Education Agency. GreatSchools also gives it a 6 out of 10 score, with its students scoring above the state average in Math and Reading.
Middle School
Frank Black Middle School
Hamilton Middle School
Frank Black Middle School is best known for its Vanguard Magnet program. Vanguard is a program that offers advanced and accelerated academic curriculum for students who have been designated as "Gifted & Talented" using the HISD GT matrix.
Highschool
Waltrip High School is rated 5 out of 10 by Greatschools.org. While it remains average in most subjects, its Grade 11 students got between 91% to 98% test scores in English Language Arts, Math, Science, and Social Studies. Waltrip is also one of the few urban HISD high schools named "Recognized" by the Texas Education Agency.
Lazybrook Private Schools
Notable private schools within a 10-15 minute drive of Lazybrook include:
St Rose Of Lima Catholic School
Lutheran High School
Immanuel Lutheran School
Houston Heights Charter School
To find an updated listing of all Lazybrook real estate zoned to any specific public school, please email Paige Martin at [email protected] with the property type and budget that you're looking for.
*Note: school zoning can change from year to year, information above is deemed accurate, but not guaranteed. Please double check.