Magnolia/1488 East Real Estate Guide
Magnolia/1488 East homes for sale & insider real estate guide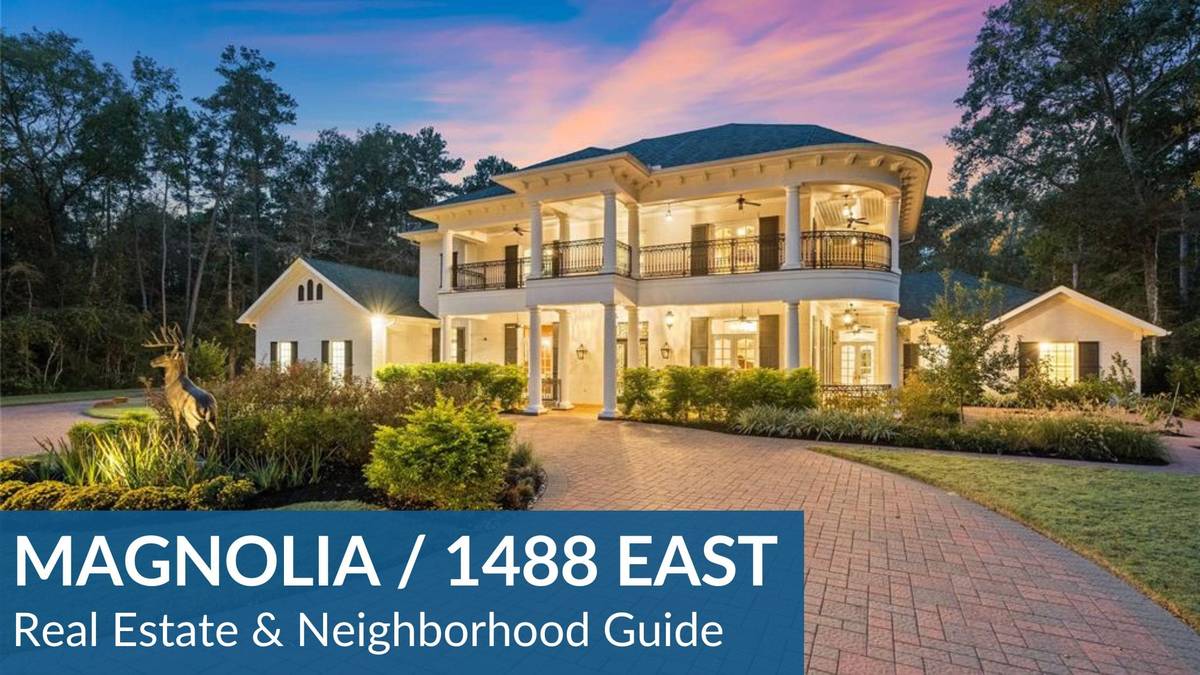 Magnolia/1488 East is next to The Woodlands, one of Houston's Best Suburbs. It is about 20 miles from two main highway systems – Interstate 45 and U.S. Route 290.
Magnolia/1488 East is famous for its:
RECREATIONAL ACTIVITIES: Residents in Magnolia can enjoy camping and hiking. The Village at High Meadow Recreational Center is less than a 30-minute drive. It offers a lap swimming pool, tennis courts, and a playground.

OUTDOOR AMENITIES: Magnolia/1488 East is home to Unity Park. Residents can visit its 7,500-square-foot pavilion and open amphitheater. It also has different bird species, such as the red-shouldered hawk.

ACCESS TO SHOPPING AND BUSINESS CENTERS: It provides easy access to malls and restaurants. Rancho Grande, Tressie's, House Bistro, and Brookshire Brothers are nearby. Magnolia Town Center is the central business district along FM 1488 and FM 1774.

RESIDENTIAL AREAS: Pastures and forests co-exist with businesses and entrepreneurial ventures in Magnolia. Residents may live in conventional subdivisions, farms, ranch, or custom homes. Most residences are single-family homes with ranch or traditional architectural styles.

NEARBY PUBLIC SCHOOLS: Magnolia ISD serves the community. Public schools such as Cedric C. Smith and Magnolia Parkway Elem are accessible. Other schools nearby are Bear Branch Jr High and Bear Branch Elem.

TOP-NOTCH AMENITIES: Private pools, spa/hot tubs, and oversized garages are available. Other residents enjoy recreational facilities and limited access gates. The common features in residential homes are sprinkler systems and covered patios/decks.

GREAT COMMUTE: Residents enjoy an easy commute to the neighboring cities. Lake Conroe and The Woodlands are short distances away. Tomball is less than an hour's drive from the community.
Buying or selling property in Magnolia/1488 East is challenging due to fluctuations. Sellers may need help to sell their homes for the desired price during low demand. Working with an experienced real estate agent can help navigate these challenges.
To get personal advice on buying or selling in the Magnolia East area, contact Paige Martin, one of Houston's best realtors and one of the top-ranked Realtors in the United States.
"I highly recommend Brittney Coyle and the Houston Properties team. Brittney did an amazing job!!! Throughout my home ownership journey she was so professional, patient, and helpful. She definitely went the extra mile, providing resources and vendors for EVERYTHING I needed. I can't say thank you enough, this process definitely would not be the same without Brittney and her team at Houston Properties." - Brittany (Google Review)
---
Table of Contents
---
Magnolia/1488 East Home Sale Trends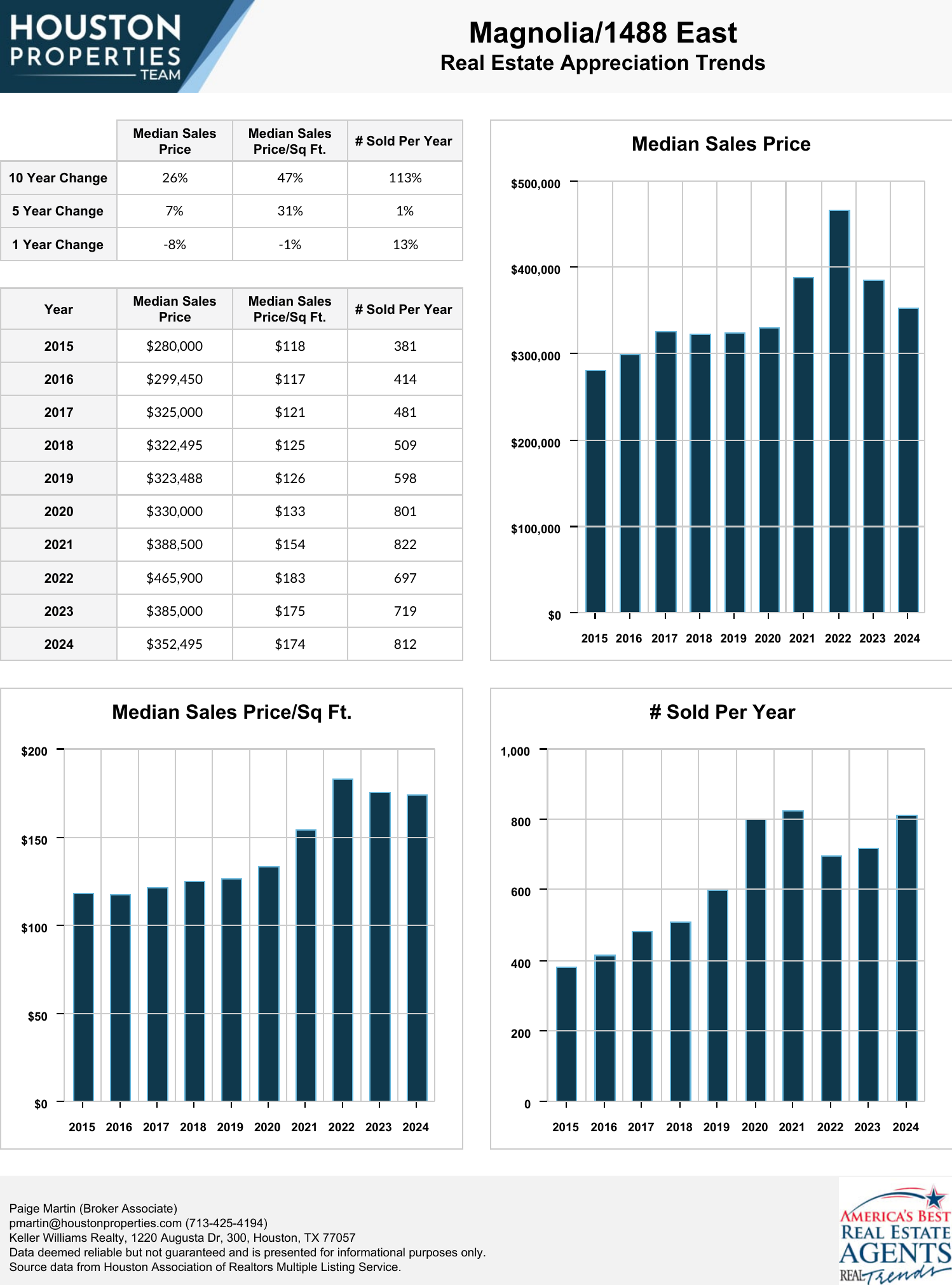 Magnolia is at the intersection of FM 1774 and FM 1488. It is approximately 5 miles northwest of Houston. It is notable for the co-existence of pastures, forests, businesses, and other ventures.
Magnolia is also known for its:
-OUTDOOR ACTIVITIES: Magnolia has a warm climate. It is a likely choice for outdoor activities. These activities include camping, cycling, hiking, and fishing at local ponds or the nearby Lake Conroe.
-OUTDOOR VENUE: Magnolia's Unity Park has 30 natural acres with a 7,500 square foot covered pavilion. The park has sand volleyball courts, a skate park, a protected wetland area, trails, an amphitheater, a playground, and a picnic area.
-ANNUAL EVENTS: Magnolia is home to the largest festival of its kind in the region, the Texas Renaissance Festival. Throughout the year, it has lots of events. These include: Mardi Gras on the Stroll, Dancing Umbrella Parade, Cajun Cook-Off, Depot Day, Bar-B-Q Cook-Off, Corks & Canvas, and Hometown Christmas Parade.
-ACCESSIBILITY: Located along FM 1488 and FM 1774 is the central business district. Magnolia provides easy access to diverse shopping areas and a variety of local restaurants.
Magnolia is adjacent to The Woodlands, one of Houston's big cities and Best Suburbs.
---
Magnolia/1488 East Maps, Location & Zip Code
| Commute Time | Magnolia/1488 East |
| --- | --- |
| Downtown (min) | 45 |
| Med Ctr (min) | 55 |
| Energy Corridor (min) | 40 |
| Galleria (min) | 45 |
Highlights
Magnolia/1488 East
Amenities
Magnolia/1488 East is less than a 30-minute drive to the 30-acre Unity Park. It features a 7,500-square-foot pavilion and wetlands.

The community provides easy access to The Woodlands and Tomball.

The Magnolia ISD serves the community. Students can attend nearby schools like Cedric C. Smith Elem School.
Golf Courses
- Limited Options
Run / Bike Trails
- Limited Options
Nearby Retail / Dining
Retail:

- Ross Dress for Less
- The BLVD
- T.J. Maxx
- Target
- Kid to Kid The Woodlands

Dining:

- Zanti Trattoria - The Woodlands
- The Republic Grille - Magnolia
- Eden Cafe
- Craft Grill
- CAVA
- Uli's Kitchen
- The Treehouse Cafe

Nightlife:

- The Watering Hole
- Shane's Saloon
- Molly's Pub
- B & H Tavern
- Cheers Bar

Groceries:

- Kroger
- Circle's Grocery
- Trackside Grocery LLC
- Trader Joe's
- H-E-B
- ALDI
Major Employers
- Exo
- Kolache Factory
- Billiard Factory
- Woodforest National Bank
---
Best Houston Real Estate Resources
---