Medical Center Area Townhomes Guide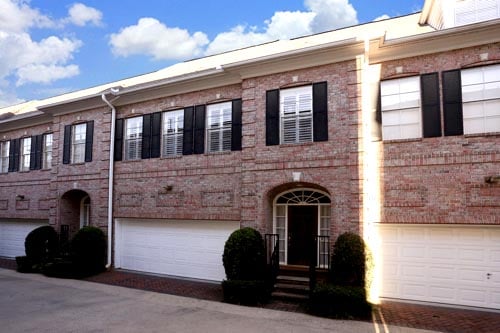 The Texas Medical Center Area is home to some of the most renowned medical institutions in the world.
It is one of Houston's major employment centers, and is minutes away from Downtown Houston.
Also known as the "TMC" and "Med Center", the Texas Medical Center is zoned to the Houston ISD. Lamar High School and Whidby Elementary serve the neighborhood. Higher education institutions like the Baylor College of Medicine, Rice University, and Texas Woman's University Institute of Health Sciences are also located within and around the Medical Center Area.
Located along three major freeways, the Medical Center Area is highly accessible to and from other Inner Loop neighborhoods. The Museum District is adjacent to the Medical Center, while Downtown Houston is a short drive away.
The district's central location within the Loop provides its residents access to Houston's best cultural, entertainment, and retail hotspots. Hermann Park, with its slew of outdoor amenities, and the NRG Stadium, formerly Reliant Stadium, are highly accessible from the Medical Center Area.
Though hospitals, research centers, universities, schools, and organizations are the Medical Center Area's main draw, the district also features a range of housing options. Apartments, luxury townhomes, condos, and single-family homes are available in the area.
Contact Paige Martin, head of the Houston Properties Team & Broker Associate at [email protected] or 713-425-4194 for help buying or selling a Medical Center Area townhome.
Medical Center Area Houston Resources:
For more information on available Medical Center Houston townhomes for sale call Paige Martin at 713-425-4194 or email [email protected].
Medical Center Area Houston Neighborhood Guide
Founded in 1945, the Texas Medical Center spans more than 1,000 acres in Southwest Houston.
Establishment of the district is attributed to one Monroe Dunaway Anderson, a wealthy businessman and founder of the M.D. Anderson Foundation. He left $19 million of his estate to the foundation, and thus partly funded the Texas Medical Center, along with the University of Texas M.D. Anderson Cancer Center.
These two developments helped the surrounding neighborhoods grow. The Medical Center Area of today is a bustling district and is one of Houston's largest employment centers.
Both the name of the organization and the area in which it sits, the TMC is along three major Houston freeways: Loop 610 on the south, Southwest Freeway on the north, and South Freeway on the east.
The Medical Center Area features around 49 member institutions, including the Memorial Hermann-Texas Medical Center, Baylor St. Luke's Medical Center/Texas Heart Institute, the Texas Children's Hospital, the University of Texas M.D. Anderson Cancer Center, and the Michael E. DeBakey Veterans Affairs Medical Center.
The Metro bus service and the MetroRAIL Red Line serves the Medical Center Area.
Neighborhoods near Medical Center Houston include Montrose, Rice University, Museum District, Downtown Houston, Midtown, EaDo, West University Place, and Bellaire.
The Texas Medical Center Area is under the 77030 Harris County zip code.
Medical Center Area Townhomes
Townhomes in the Med Center are usually located within luxury, gated communities. Some Medical Center Area townhomes also feature walk-in closets and high ceilings, plus access to park, pool, and other amenities.
Townhomes in the district are smaller, averaging 1,127 square feet. Standard floor plans feature 2 bedrooms and 1 bath, while bigger units can feature 4 bedrooms and 4.5 baths. Median sales price is at $120,000, while median price per square foot is at $106.10.
The Medical Center Area features townhomes as a main housing option. New construction townhomes tend to sell for much higher, while smaller and older units are comparably cheaper.
Medical Center Area Schools
The Medical Center is zoned to some of the best schools from the Houston Independent School District (HISD).
Elementary
Roberts Elementary School at 6000 Greenbriar Street. Oran M. Roberts Elementary School is both an IB World (International Baccalaureate) School and a Fine Arts Magnet school. It serves students in EE to 5 grade levels. It also offers a Vanguard Program.
Whidby Elementary at 7625 Springhill. Whidby is a magnet school for "Leadership in Health Science." Its academic program aims to prepare its students for a career in the medical field or their career of choice. It serves students from early education to 5.
Middle School
Cullen Middle School at 6900 Scott St. E. W. Cullen Middle School offers Pre-AP, Spanish, and Gifted and Talented academic programs. It also offers a music program as wells as an aquatic program.
High School
DeBakey High School for Health Professions at 3100 Shenandoah. Named after Michael E. DeBakey, a famous heart surgeon, DeBakey is a National Blue Ribbon School (1997-98, and 2003) that offers one of the best academic programs in Houston. It offers PAP classes and 18 AP classes.
Lamar High School at 3325 Westheimer Rd. Lamar is probably best known for its Athletics program. With one of the oldest lacrosse teams in Texas, this high school offers a variety of other sports. It is home to The Lamar Redskins, one of the highest-ranked teams in Greater Houston.
Private
The Medical Center area has a number of early childhood and kindergarten schools. This includes:
Children's Hour Montessori School at 2227 Dorrington Street
Sheridan Montessori School at 2433 Sheridan Street
Diamond-A-Cat-A-Me at 6955 Almeda Road
Creative Minds Development Center at 2479 S Braeswood Blvd.
The neighborhood has a number of private schools that offer primary and secondary education. Here are some of them:
St. Nicholas School at 1920 North Braeswood Boulevard
Beresford School at 2501 W Holcombe Boulevard
Higher academic institutions, mostly in the medical field are within the neighborhood. Among the most prominent are Baylor College of Medicine, the University of Houston, Rice University, and the University of Texas M.D. Anderson Cancer Center.
To find an updated listing of all Medical Center Area real estate zoned to any specific public school, please send an email to Paige Martin at [email protected] with the property preference and budget that you're working with.
*Note: School zoning tends to change from year to year, information provided above are accurate but not guaranteed. Please double check by visiting the school's website.
Medical Center Area Houston Realtor – Paige Martin
As featured on Fox News in the Morning, the Houston Business Journal, Houston Chronicle, and Houston Magazine, Paige Martin – a consistent Top Producing Broker-Associate and head of the Houston Properties Team – is ranked amongst the very top Keller Williams agents in the Houston area.
Paige is ranked as one of the top realtors in Medical Center Area Houston, and the state of Texas. Read more about the over 65 awards she's won in the last few years.
Paige works with a tremendous number of buyers and sellers within the Inner Loop.
For a specific recommendation of neighborhoods, homes or properties based upon your personal style, goals & price point, please contact Paige Martin, head of the Houston Properties Team & Broker Associate at [email protected] or 713-425-4194.