Memorial Real Estate Guide
Memorial homes for sale & insider real estate guide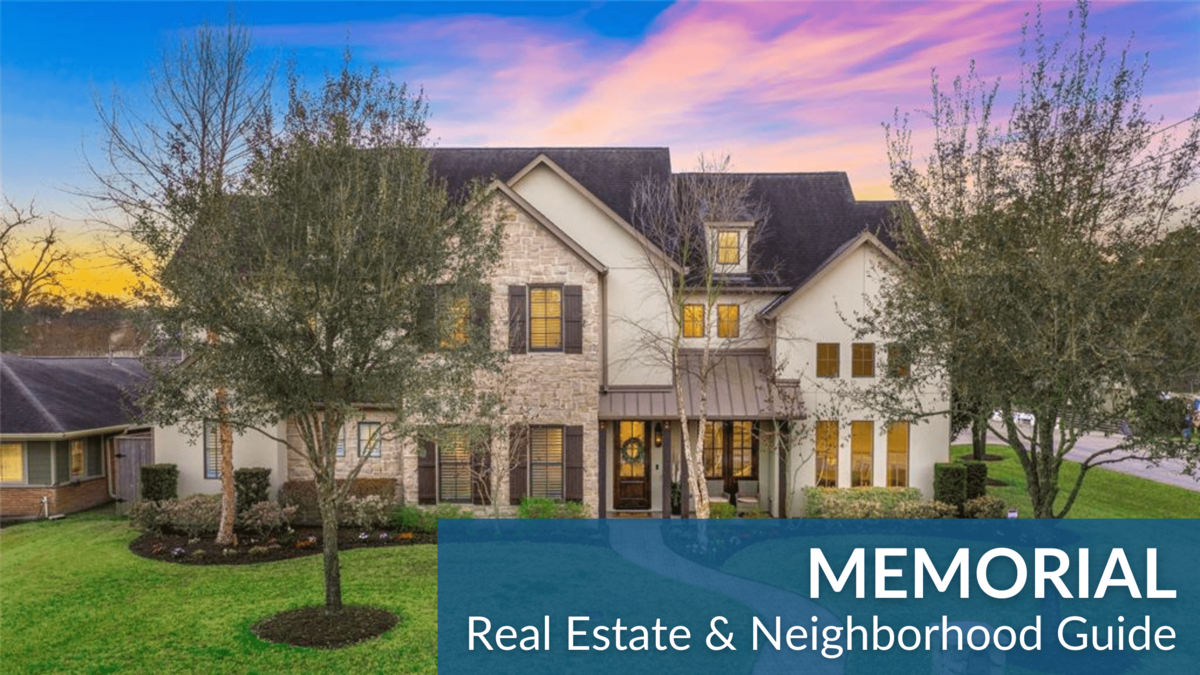 Memorial is a community comprised of independent cities and large to small gated neighborhoods, located south of Interstate 10 (Katy Freeway) and west of Loop 610. The neighborhood offers great accessibility, notable schools, and many housing options.
Memorial is well-known for its:
TOP-RANKED SCHOOLS: Zoned to both Houston ISD and Spring Branch ISD. Frostwood Elementary, Memorial Middle, and Memorial High are among Houston's Highly-Rated Schools that serve the community. Unlike other inner loop neighborhoods, Memorial homes have access to many top-performing school options.

HUGE LOTS: Most Memorial properties for sale are on the large, tree-lined lots ranging in size from 3,000 to over sprawling 20,000 square feet.

CENTRAL LOCATION: Memorial homes are close to multiple stores, dining spaces, entertainment facilities, and several parks. The community is also close to two of Houston's largest employment hubs, the Energy Corridor and the Galleria.

EXCELLENT HOME OPTIONS: The Memorial is vast in area size, whereby the neighborhood features a variety of housing options, from traditional single-family homes, townhouses, and old ranch-style, to grand estates.
The Memorial community houses 20 of the Most Expensive Houston Communities such as the Frostwood, Memorial Forest, and the Memorial Villages among others. Its real estate can be challenging to navigate due to its size, popularity, and accessibility to major thoroughfares.
To get personal advice on buying or selling a Memorial home, contact Paige Martin, one of the Top-Ranked Realtors in the United States.
"My husband and I worked with Lisa, and we had a great experience finding our first time home, which we love. Lisa really took interest in getting to know us as a couple and what we were looking for in a home. She was honest about the pros and cons of each home we toured or had interest in. We even had to put our search on hold as my husband was supposed to relocate out of Houston for work. It took over a year for us to find a home, and during the whole time, Lisa was available for us, patient, and we did not ever feel pressured to buy. Lisa provided us with objective data and her expert opinion during the process. She also helped us with negotiations. It was as stress free as a big purchase could be! Highly recommend the team and Lisa in particular." - Monica Aceves (Google Review)
---
Table of Contents
---
Memorial Home Sale Trends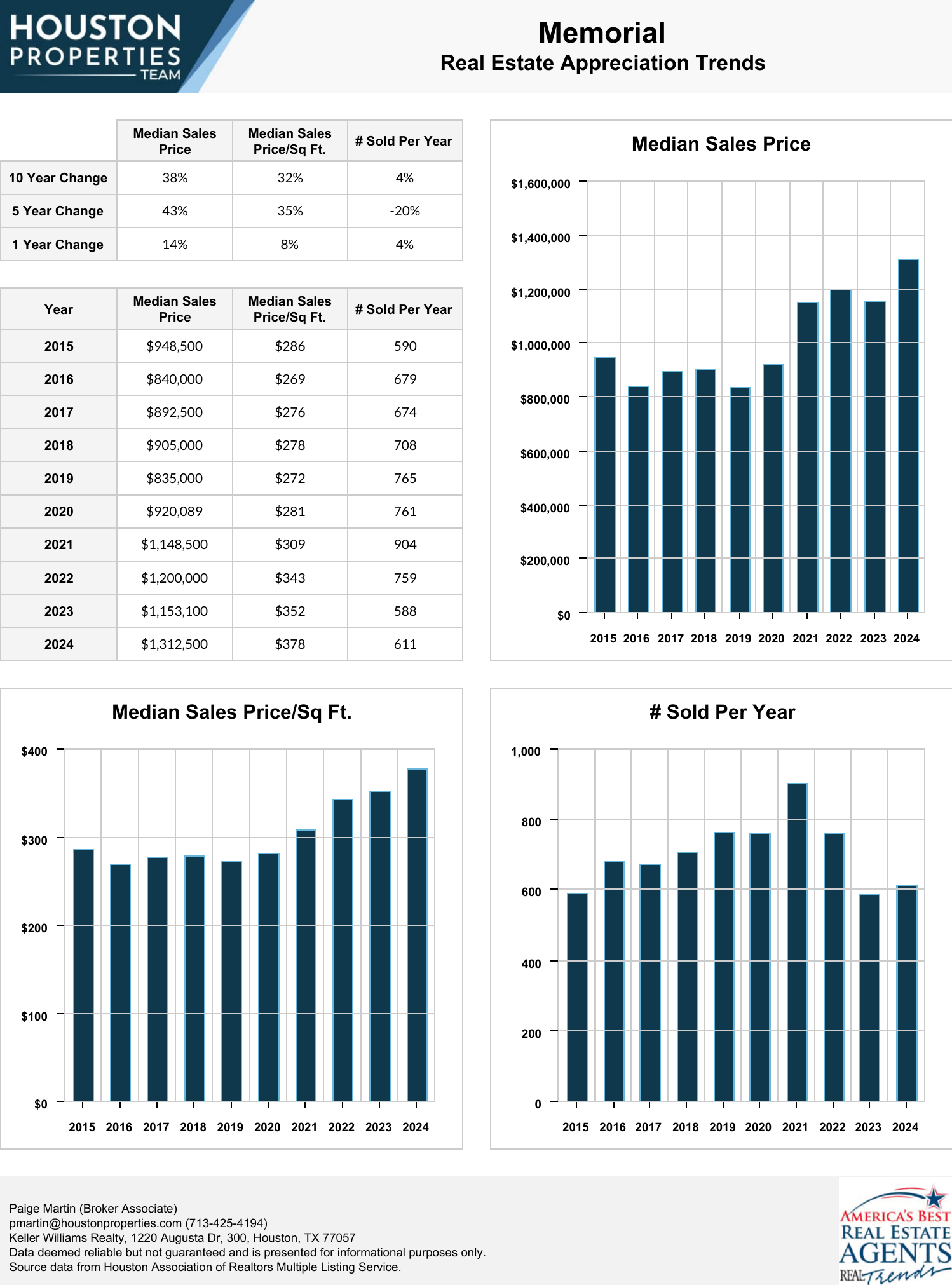 Situated south of Katy Freeway, Memorial is a vast community made up of independent cities, a number of large neighborhoods, and small gated neighborhoods. The community features accessibility, great home options, and notable schools.
Memorial is famous for its:
NOTABLE SCHOOLS: Zoned to both Spring Branch ISD and Houston ISD schools. Top-ranked schools are located within the community, including Wilchester Elementary, Memorial Middle, and Memorial High, one of the Best Houston Schools. Memorial offers excellent options at the elementary, middle, and high school levels.

EXPANSIVE LOTS: Many Memorial homes for sale are situated on large, wooded lots with lot sizes ranging from 3,000 to over 20,000 square feet.

EXCELLENT LOCATION: Numerous stores, restaurants, entertainment centers, and parks are all within walking distance of memorial homes. The Memorial features proximity to two of the largest employment centers in Houston, the Galleria and the Energy Corridor.

GREAT HOME OPTIONS: The community also offers a wide range of housing options, including townhouses, old ranch-style, traditional single-family, and grand estates abodes.
The Memorial is home to 20 Most Expensive Communities in Houston such as the Frostwood, Memorial Villages, and Memorial Forest.
---
Memorial Best Realtor Insights
The vast Memorial Houston area is made up of several neighborhoods, independent cities, and smaller gated communities.
Memorial real estate is among the most highly desirable and most expensive in Houston.

Most of the Memorial sits south of Katy Freeway (I-10), west of Loop 610, east of SH 6, and north of the Buffalo Bayou.

The median sales price of Memorial Houston homes has continued to appreciate over the past ten years, posting a 92% positive change. The average price per square foot has increased by more than half (56%) over the same period.

Due to the area's size, it will be best to look at individual neighborhoods to get a better view of homes in Memorial.

Some of Memorial's neighborhoods, villages, and communities have homeowners associations and deed restrictions.

Older homes in the area have since been replaced with newer homes. Some gated communities and new construction homes have also cropped up in Memorial.

Prices for Memorial homes for sale can start at around $150,000 and can go up to more than $2,500,000.

The area features a wide variety of home options, from townhomes to old ranch-style homes, and from traditional single-family homes to grand estates. Memorial homes typically sit on large, wooded lots, with sizes ranging from 3,000 to more than 20,000 square feet.

Memorial Houston homes enjoy easy access to schools, stores, restaurants, entertainment centers, and parks. The Galleria/Uptown area and the Energy Corridor, two of Houston's main employment centers, are easily accessible from neighborhoods in the Memorial.

Several retail centers are within the area's borders, including the Memorial City Mall and Town & Country Village, among others. Plenty of outdoor activity and entertainment venues are also available in the Memorial.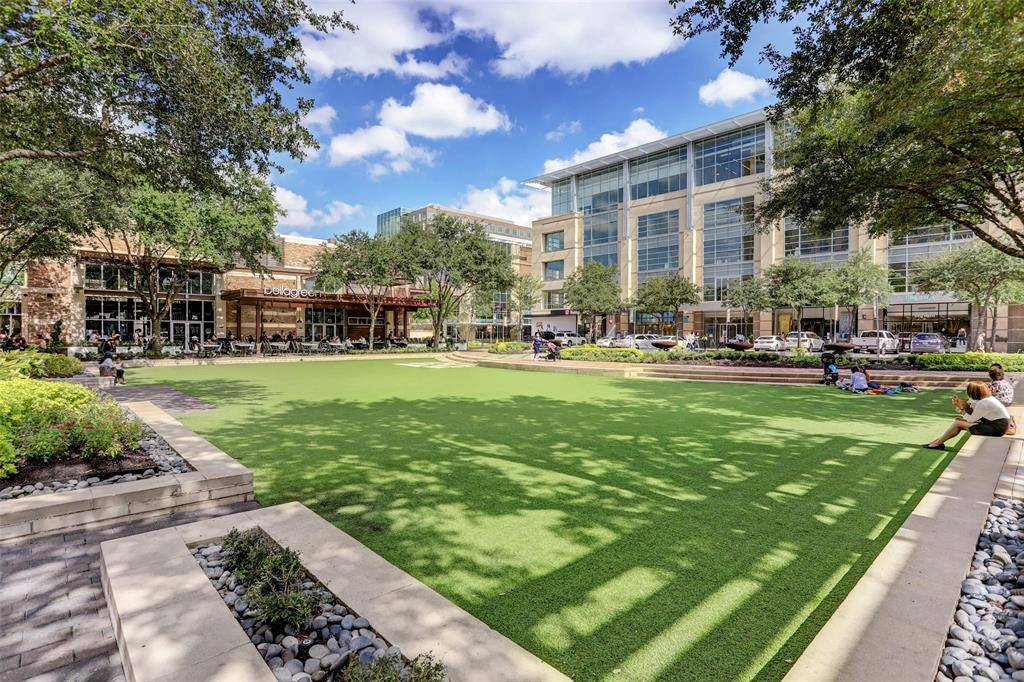 ---
Memorial Maps, Location & Zip Code
| Commute Time | Memorial |
| --- | --- |
| Downtown (min) | 20 |
| Med Ctr (min) | 20 |
| Energy Corridor (min) | 10 |
| Galleria (min) | 10 |
Highlights
Memorial
Amenities
The neighborhood has a number of amenities and is close to Nottingham Park and Hedwig Park.

Community/outdoor pools are also located in the area including:
- Wilchester Swimming Club
- Thornwood Sharks Swim Team and Pool
- Thornwood Turkey Creek Pool
Golf Courses
The community is also home to Nottingham Park Disc Golf Course and is also a short drive away to:
- Lakeside Country Club
- Houston Country Club
Run / Bike Trails
Several run/bike/hike trails are found and scattered in the Memorial neighborhood that residents might enjoy such as the:
- Terry Hershey Park
- Terry Hershey Hike Trail
- Terry Hershey Park Hike & Bike Trail - The Anthills
- Terry Hershey Trail Parking Lot - Robin Trail
- Trail Endd - Bridge Out
- Terry Hershey Hike & Bike Trail
- Nottingham Park
Nearby Retail / Dining
Memorial residents have easy access and close proximity to nearby retail and shopping, dining establishments, and entertainment in the area, including:

RETAIL
- White House Black Market
- Retail Inventory Services Inc

DINING
- Salata
- Hungry's
- Hibachi Grill & Buffet
- Bellagreen
- Taste of Texas
- Island Grill - Bunker Hill Rd. - Houston
- Fadi's
- Federal American Grill
- Saltgrass Steak House
- Twin Peak's I-10 & Kirkwood
- Raising Cane's Chicken Fingers

GROCERY
- Randalls
- Kroger
- Target
- Richard's Grocery Store
- Macy's
- Memorial City Mall (mall)
- City Centre (mall)
- Town & Country Village (mall)

ENTERTAINMENT/NIGHT LIFE
- Bowlero Houston
- Watson's House of Ales
- Nikki's Irish Pub
Major Employers
- Chevron
- ExxonMobil
- Home Depot
- Shell Oil
- Houston Dow Center
- Less than 30 minutes away from Texas Children's Hospital
---
Memorial Schools
| Top Elementary Schools | Great Schools Ranking |
| --- | --- |
| Frostwood Elem | 10 |
| Memorial Drive Elem | 9 |
| Memorial Elem | 8 |
| Rummel Creek Elem | 10 |
| Valley Oaks Elem | 8 |
| Wilchester Elem | 10 |
| Top Middle Schools | Great Schools Ranking |
| --- | --- |
| Grady Middle | 7 |
| Memorial Middle | 9 |
The majority of Memorial Houston students are zoned to the highly-acclaimed Spring Branch Independent School District (SBISD) while the rest attend Houston Independent School District (HISD) schools.
Many of Houston's notable private schools are also within Memorial.
*Note: Due to the number of schools serving Memorial homes, we opted to list them and highlight those that have been named National Blue Ribbon Schools. For a full list of schools in the area, please check our Best Houston Schools guide.
---
Elementary Schools
---
Bunker Hill Elementary School at 11950 Taylorcrest. Bunker Hill ES is a TEA Gold Performance School and a consistent Texas Exemplary School. It has a GreatSchools.org rating of 9/10.

Frostwood Elementary School at 12214 Memorial Dr. Frostwood ES has been a National Blue Ribbon School for many years. It has a GreatSchools.org rating of 10/10.

Memorial Drive Elementary School at 11202 Smithdale. Once a National Blue Ribbon School, Memorial Drive ES serves sections of Piney Point Village, Hedwig Village, Hunters Creek Village, and Bunker Hill Village. It has a GreatSchools.org rating of 10/10.

Memorial Elementary School at 6401 Arnot St. Memorial ES serves students grades PK -6 and has a GreatSchools.org rating of 6/10.

Rummel Creek Elementary at 625 Brittmoore. Opened its doors in the fall of 1962. Known for having outstanding test scores from its learners, programs offered are after-school programs, athletic and sports groups, camping, and volunteering.

Valley Oaks Elementary School at 8390 Westview Dr. This recently rebuilt school has a GreatSchools.org rating of 7/10.

Wilchester Elementary at 13618 St Marys Ln. The school is dedicated to delivering quality learning through transformative goals where every learner will remember that they can achieve more than they think possible.
---
Middle Schools
---
Grady Middle School at 5215 San Felipe Rd. Grady Middle School is a TEA-recognized school with a 6/10 rating from GreatSchools.org.

Memorial Middle School at 12550 Vindon Dr. Memorial MS serves students in grades 6-8. It has a GreatSchools.org rating of 10/10.

Spring Oaks Middle School at 2150 Shadowdale Dr. Spring Oaks MS was a former recipient of the National Blue Ribbon Award and serves residents of Shadow Oaks, Westwood, Pine Shadows, and Sherwood.
---
High Schools
---
High School for Law Enforcement and Criminal Justice at 4701 Dickson. LE/CJ is an all-magnet school for law enforcement and criminal justice. It has a GreatSchools.org rating of 8/10.

Lamar High School at 3325 Westheimer Rd. Lamar High School has a great Athletics program. They have one of the oldest lacrosse programs in the state. Their football team, The Lamar Redskins, is one of the highest-ranking teams within the Greater Houston area. It has a GreatSchools.org rating of 7/10.

Lee High School at 6529 Beverly Hill Ln. Lee HS ranked #151 out of over 16,000 schools nationwide in a Newsweek Magazine article in 2010 on "America's Best High Schools".

Memorial High School at 935 Echo Ln. Memorial High School was named the 10th most posh public school in the country in 2011. It is also the oldest operating school under the Spring Branch ISD. The school serves students in the Memorial Villages, Spring Branch regions, and a portion of Memorial City. It has a GreatSchools.org rating of 8/10.

Stratford High School at 14555 Fern Dr. Known for its great athletics and academic programs, Stratford has been named a Gold Medal School and a National Blue Ribbon School (1983-84). It has also received an Exemplary TEA rating, the College Readiness Award, and the Gold Performance Award.

Westside High School at 14201 Briar Forest Dr. Westside HS is a Magnet School for Integrated Technology. It has a GreatSchools.org rating of 7/10.
---
Memorial Houston Private Schools
---
Other notable private schools in the area include:
Memorial Private High School at 14333 Fern Dr.

Depelchin-Elkins Campus at 4950 Memorial Dr.

St. Theresa Catholic School at 6623 Rodrigo St.

St. Thomas High School at 4500 Memorial Dr.

Center for Hearing and Speech at 3636 W Dallas St.

School of the Woods at 1321 Wirt Rd.

St. Cecilia Catholic School at 11720 Joan of Arc Dr.

The Kinkaid School at 201 Kinkaid School Dr.

St. Francis Episcopal Day School at 335 Piney Point Rd.

Duchesne Academy of the Sacred Heart at 10202 Memorial Dr.

The Monarch School at 2815 Rosefield Dr.

The Parish School at 11001 Hammerly Blvd.
To find an updated listing of all Memorial real estate zoned to any specific public school, please send an email to Paige Martin at PMartin@HoustonProperties.com with the property preference and budget that you're working with.
*Note: School zoning tends to change from year to year, the information provided above is accurate but not guaranteed. Please double-check by visiting the school's website.
---
Memorial Real Estate Market
Memorial Single-Family Home Sale Trends
---
The Memorial is mostly made up of single-family homes on mid-to-large-size lots. There are a lot of home styles, sizes, and floor plans from which to choose.
Some of the area's original ranch-style and traditional homes offer smaller living spaces. Home sizes vary, ranging from 1,400 to more than 6,000 square feet.
Memorial homes for sale offer spacious lots, with sizes ranging from 3,000 to more than 20,000 square feet.
---
Memorial Townhome Sales Trends
---
Some of the area's townhomes date back to the early 70s and 80s. These properties are smaller, with lot sizes ranging from 1,000 to more than 2,500 square feet. 2-3 bedroom floor plans for two- to three-story townhomes are common.
Living spaces range between 1,000 to 2,500 square feet.
Memorial Houston townhomes are between $100,000 to over $1 million. Luxury townhomes in the area are bigger and newer. It also tends to sell for higher prices.
Some townhome communities in Memorial Houston include:
Village on Memorial
Brittwood Townhome
London Townhomes
Memorial Club Townhouses
Somerset Place
West Bayou Oaks
---
Memorial Condo Sale Trends
---
Despite the number of developments, there aren't a lot of Memorial Houston condos for sale. But, there are several condo units available in the surrounding areas.
Condos in the area include:
To see other condos within the Inner Loop, see Inner Loop Houston Condos. To see condos within the Galleria area, see Galleria Houston Condos.
The Houston Properties Team are experts in Memorial real estate. Kindly contact us if you'd like to see Houston condos or learn more about properties that could fit you.
---
Memorial TX History
---
During the 1930s, the area had stables and timber mills. There were ranch-style homes on sprawling lots.
Houston expanded beyond the Loop during a housing boom in the 1950s and 1960s. Developers looked to the west, building upper-middle-class subdivisions along the Buffalo Bayou.
Residential and commercial development in the Memorial continued over the next four decades. The area is home to deed-restricted neighborhoods, communities, and independent cities.
Today, the Memorial offers a wide array of architectural-styled homes.
---
Fun Things To Do Near The Memorial
---
Thanks to the Memorial's vast area, residents have plenty of outdoor recreation and retail options.
Memorial neighborhoods are minutes away from different parks. Communities near the Loop have easy access to Memorial Park.
Memorial Park is one of the most popular places in the city. It houses courts, skating rinks, a pool, bike trails, and playing fields.
Memorial Park Golf Course is one of the country's top municipal golf courses. It is within Memorial Park.
The area offers plenty of dining, retail, and entertainment options. The Galleria/Uptown area is a short drive away from Memorial Houston homes.
Dining
LA Crawfish
Izakaya Wa
KUU Restaurant
Straits
Sushi Jin
Ginza
Bibijo Express
Sweet Tomatoes
Ruggles Green
Bistro Alex
Dish Society
Yard House
The Union Kitchen
Parks
Memorial Park
Hedwig Park
George Bush Park
Molly Pryor Memorial Orchard
Terry Hershey Park
Nottingham Park
Houston Audubon Society
Bendwood Park
Edith L. Moore Nature Sanctuary
Nightlife
Shakespeare Pub
Watson's House of Ales
G Bar
NextDoor Bar and Lounge
Burlap Barrel
Shopping
Memorial City Mall
Affection Boutique
Georgia's Farm to Market
A Moveable Feast
Leibman's Wine & Foods
Town & Country Mall
Cafes
Orange Lunch Box
Tous Les Jours
Pappy's Cafe
Corner Bakery Cafe
Sweet Paris Creperie
---
Best Memorial Realtor – Paige Martin
---
As featured on Fox News in the Morning, Houston Business Journal, and Houston Magazine, Paige Martin, a consistent Top Producing Broker-Associate and head of the Houston Properties Team, is ranked as one of the top residential real estate agents in the world.
---
Best Houston Real Estate Resources
---