Memorial Villages Real Estate Guide
Memorial Villages homes for sale & insider real estate guide
Some of Houston's Most Expensive Neighborhoods are within Memorial Villages. The area is a collection of six independent cities. These are Hunters Creek, Piney Point, Hedwig, Bunker Hill, Spring Valley, and Hilshire. The mix of urban and suburban living is what makes Memorial Villages different.
Aside from that, its elegant homes and upscale estates are well-known due to its:
TOP RANKINGS: The neighborhood is at the top spot in the list of several publications. In particular, Bunker Hill was included in the list of the "Top Places to live Well" by Forbes. Fortune and The Wall Street Journal also featured the area. It is a part of the "Best Places To Live" and "The (Multi) Millionaire's Haven."

EXCLUSIVITY: Each of the six villages have deed restrictions. Along with it, they also elect different sets of mayors and city council members. Not only that, but the Memorial Villages area also has a water authority of its own. Homes in the neighborhood are also under the 77024 zip code. This particular zip code is on the Forbes list of the most expensive zip codes in the US.

EXCELLENT SCHOOLS: Memorial Village is zoned to Spring Branch ISD. Some of the top-ranked public schools in the country serve the area. This includes Frostwood Elementary and Memorial Middle. These schools and others that serve the community are among Houston's Best Schools.

SECURITY: The peace and security of the neighborhood are overseen by their police force. It is separate from Houston's Police Department. The Memorial Villages Police Force holds one of the best crime safety rates in the Houston metropolis. Furthermore, the community also has its own Fire Department.

STRONG REAL ESTATE APPRECIATION: Memorial Villages is among the top-performing neighborhoods in Houston. This is based on Land Value Appreciation and Real Estate Appreciation reports.

GREAT ACCESSIBILITY: Getting to major employment hubs like Downtown and Galleria is no problem. Although it is mostly residential, the area is also close to major roads that lead to retail hubs. The Energy Corridor is just a short drive. Moreover, plenty of dining and entertainment spots are around the area.
With prices starting at 2 million dollars, Memorial Villages' homes are expensive. Not to mention that each of the six villages enforce its own set of deed restrictions. These factors make Memorial Villages real estate hard to navigate. Reaching out to an expert realtor in the Memorial Villages area is beneficial.
To get personal advice on buying or selling in the Memorial Villages area, contact Paige Martin, one of Houston's best realtors and one of the top-ranked Realtors in the United States.
"Brad and the Houston Properties Team are the real deal! Brad's attention to detail and organizational skills set him apart from other real estate agents I have worked with in the past. He was always available to answer our questions and provided timely updates throughout the home-buying process. As if that's not even enough, he also offers his clients tickets to this Astros game! I highly recommend Brad to anyone looking for a knowledgeable, professional, and dedicated real estate agent." - Brittany (Google Review)
---
Table of Contents
---
Memorial Villages Home Sale Trends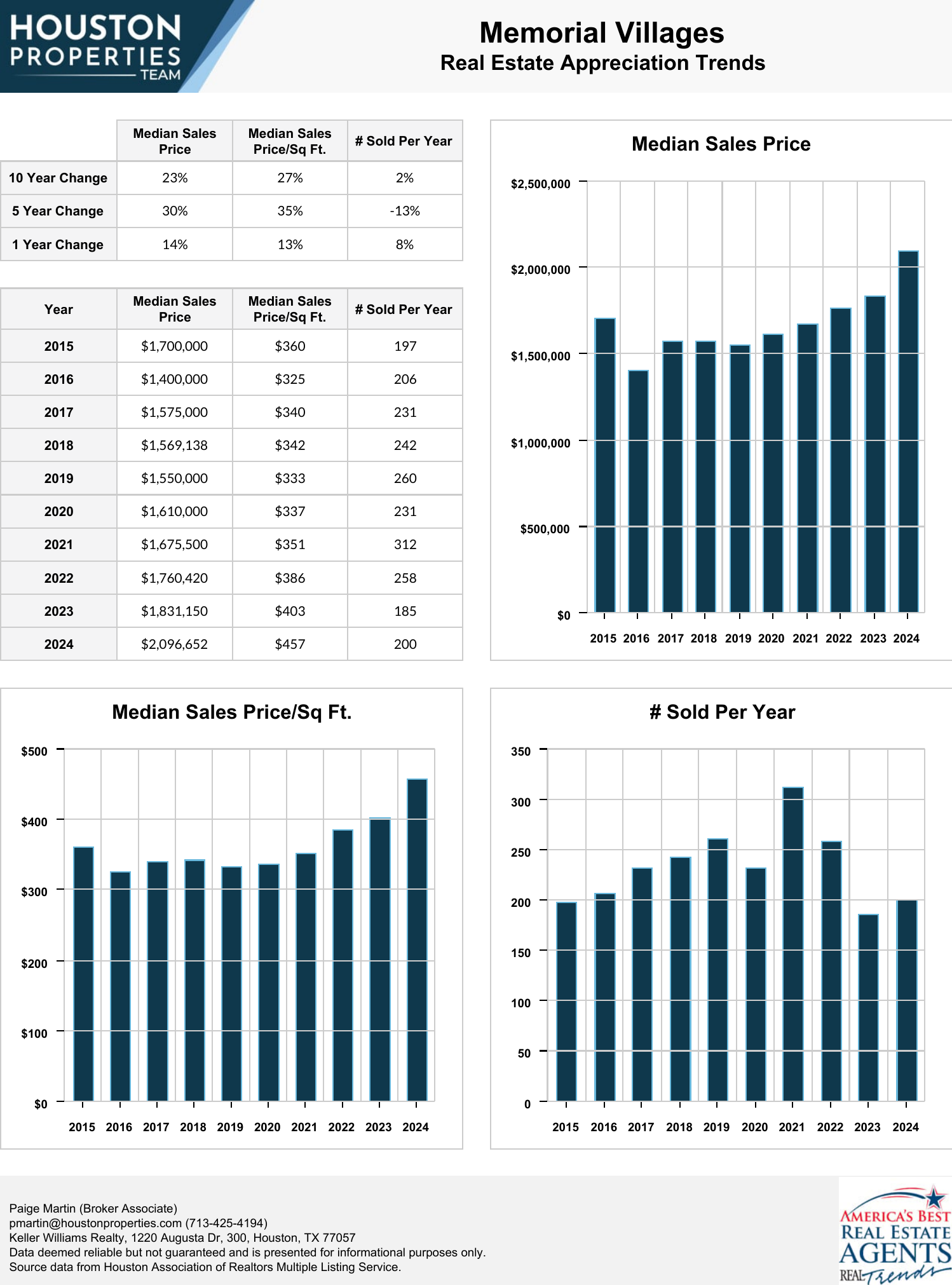 The Memorial Villages is made up of six distinct villages: Hunters Creek, Piney Point, Hedwig, Bunker Hill, Spring Valley, and Hilshire.
Homes in the Villages remain popular because of the area's:
EXCLUSIVITY: With a median home price of nearly $2M (and estates $10M+), Memorial Villages feature some of Houston's Most Expensive Neighborhoods.

EXCELLENT SCHOOLS: Memorial Villages is zoned to the Spring Branch ISD. Homes in the area are served by some of the Best Schools in Houston)

INDEPENDENT CITIES: The six Villages are independent cities and maintain their own police and fire departments.
Memorial Villages is one of the most affluent areas in the Greater Houston area. The area features a mix of contemporary custom-built homes, beautifully updated vintage homes, and sprawling estates.
---
Memorial Villages Best Realtor Insights
Made up of six distinct and independent cities, the Memorial Villages is one of the most affluent areas in Greater Houston.
Memorial Villages residents enjoy easy access to major roads leading to Downtown and Medical Center.

Memorial Villages homes are zoned to the Spring Branch ISD. National Blue Ribbon Schools, including Memorial High School and Stratford High School, serve the Villages.

Memorial Villages maintains privacy and peace with police forces that are independent of the Houston Police Department.

The Galleria is within minutes of Memorial Villages homes. The CityCentre and the Memorial City Mall also offer great retail and dining options.

Memorial Villages real estate is some of the most expensive in the Houston area.

A number of the area's original homes still stand. Although some have since been replaced by bigger, custom-built homes.

Memorial Villages' homes sit on large lots. Sizes range from 10,000 to more than 100,000 square feet.

Architectural styles vary, though traditional designs are common in the area.

An average home in the area can feature a 4-bedroom floor plan. The most expensive Memorial Villages homes can feature as many as 6 to 8 bedrooms.

Prices of Memorial Villages homes can start at around $500,000 up to more than $12,000,000.
---
Memorial Villages Maps, Location & Zip Code
| Commute Time | Memorial Villages |
| --- | --- |
| Downtown (min) | 20 |
| Med Ctr (min) | 30 |
| Energy Corridor (min) | 15 |
| Galleria (min) | 20 |
| Exxon Campus (min) | 45 |
Highlights
Memorial Villages
Amenities
Located along I-10, the Memorial Villages offers a blend of privacy and convenience. Homes are located within deed restricted neighborhood that are close to shopping and dining spots.

Furthermore, many parks and trails also surrounds the area. Just a short drive is the Memorial Park, it is the biggest urban park in Houston.
Golf Courses
- Houston Country Club
Run / Bike Trails
- Spring Valley Village City Park
- Emnora Lane Hike & Bike Trail
- Jimmy's Place Park
- Memorial District Park
- Hedwig Park
- Briarbend Park
- Texas Heritage Park
- Bendwood Park
Nearby Retail / Dining
Retail:

- Hedwig Village Shopping Center
- Memorial City Mall
- Woodlake Square
- Westheimer Crossing
- Tanglewilde Center
- CityCentre
- Long Point Square Shopping Center

Grocery
- Kroger
- Trader Joe's
- Target
- Wholefoods
- Randalls
- Cuisinery Food Market
- ALDI
- Almadina International Supermarket
- 99 Ranch Market

Dining:

- LongHorn Steakhouse
- Lupe Tortilla Mexican
- Saltgrass Steakhouse
- Federal American Grill
- Ciro's
- Cafe Adel

Entertainment:

- Ron's Pub
- The Hideaway On Dunvale
- Muldoon's the Patio
- Memorial Wine Cellar
- O2 Lounge
- Spotlight Karaoke
Major Employers
- JP Morgan & Chase
- Memorial Hermann Health System
- S&B Engineers and Constructors
- ConocoPhillips
- McDermott International
- BP America
- Shell
- Dow Chemical Company
---
Memorial Villages Schools
| Top Elementary Schools | Great Schools Ranking |
| --- | --- |
| Frostwood Elem | 10 |
| Memorial Drive Elem | 9 |
| Valley Oaks Elem | 8 |
| Top Middle Schools | Great Schools Ranking |
| --- | --- |
| Grady Middle | 7 |
| Memorial Middle | 9 |
Memorial Villages is known for its exemplary schools. The majority of students in Memorial Villages attend schools in the Spring Branch Independent School District (SBISD).
The SBISD has a 5-year plan known as a T-2-4 that aims to prepare its students for college or post-secondary training. The school district has several award-winning schools, with many recognized as National Blue Ribbon Schools.
---
Elementary Schools
---
Wildcat Way School at 12754 Kimberley Ln. Completed in 2002, Wildcat Way provides quality early education for Memorial Villages area students.

Bunker Hill Elementary School at 11950 Taylorcrest. Located in Bunker Hill Village, this school was honored as a National Blue Ribbon School. It is also a TEA Exemplary and Gold Performance School that serves students in grades K to 5.

Frostwood Elementary School at 12214 Memorial Dr. Another National Blue Ribbon School, Frostwood Elementary serves grades K to 5. It has a GreatSchools.org rating of 10 out of 10.

Memorial Drive Elementary School at 11202 Smithdale Rd. Located in Piney Point Village, Memorial Drive received the National Blue Ribbon award. It serves grades PK to 5 and regularly hosts City Council meetings. It has a GreatSchools.org rating of 9/10

Hunters Creek Elementary at 10650 Beinhorn Rd. Also known as HCE, Hunters Creek is another National Blue Ribbon School located in Memorial Villages.

Bendwood Campus Elementary School at 12750 Kimberly Ln. Bendwood is a special needs school that offers a Preschool Program for Children with Disabilities (PPCD) and a Gifted and Talented (GT) program.

Valley Oaks Elementary School at 8390 Westview Dr. Valley Oaks is one of the most well-established schools in SBISD. Aside from its excellent academic record, it also hosts after-school extracurricular activities. Valley Oaks received an 8/10 rating from GreatSchools.org.
---
Middle Schools
---
Memorial Middle School at 12550 Vindon Dr. A National Blue Ribbon School, MMS provides great academics and athletics programs for students in grades 6 to 8.

Spring Forest Middle School at 14240 Memorial Dr. Spring Forest offers several academic, sports, and fine arts programs. The school offers Pre-AP and GT classes, with high school credits in several subjects. It was also a National Blue Ribbon School.

Spring Branch Middle School at 1000 Piney Point Dr. Located in Hedwig Village, Spring Branch offers electives in Family and Consumer Science, Foreign Language, and Technology Education. The school has a special education program as well. It was a National Blue Ribbon School.

Grady Middle School at 5215 San Felipe St. This Vanguard Magnet School was named after Henry W. Grady. It provides enrichment classes in several subjects, including Technology, Spanish, and Music. Pre-AP classes are also offered to its gifted and talented students.
---
High Schools
---
Memorial High School at 935 Echo Ln. Memorial High is located in Hedwig Village. It has received numerous awards and recognitions, including the TAKS Gold Performance and College Readiness awards. It was also named a National Blue Ribbon School, an Honor Roll School, and one of the Top 10 Best High Schools in the Area.

Stratford High School at 14555 Fern. Stratford High School has great athletics programs in several sports, including basketball, baseball, football, and diving. Like Memorial, Stratford has also received several awards (Gold Medal School, Gold Performance Award, and College Readiness Award) and honors (National Blue Ribbon School). It had an Exemplary TEA rating.

Westchester Academy for International Studies at 901 Yorkchester. WAIS is a Spring Branch ISD charter magnet school, an International Baccalaureate World School, and a National Blue Ribbon School.
---
Memorial Villages Houston Private Schools
---
Memorial Villages also has several private schools within its borders. Here are some of them:
Chapelwood Pre-School at 11140 Greenbay St.

St. Cecilia Catholic School at 11740 Joan of Arc

Montessori Morning Glory School at 737 Bunker Hill Rd.

Campbell Learning Center at 1440 Campbell Rd.

The Kincaid School at 201 Kincaid School Dr.

Duchesne Academy of the Sacred Heart at 10202 Memorial Dr.
To find an updated listing of all Memorial Villages real estate zoned to any specific public school, please email Paige Martin at PMartin@HoustonProperties.com with the property preference and budget that you're working with.
Note: For more detailed information on specific schools zoned to different Memorial Villages areas, please refer to our Houston Schools Guide OR email me.
Note: School zoning tends to change from year to year. The information provided above is accurate but not guaranteed. Please double-check by visiting the school's website.
---
Memorial Villages Real Estate Market
Memorial Villages Single-Family Home Sale Trends
---
The Memorial Villages' primary housing draw is single-family homes. The Memorial Villages features a wide variety of homes, ranging from patio homes to grand estate-style homes.
Memorial Villages homes feature larger lot sizes, an average of 4 bedrooms, and 4 and a half bathrooms.
Various architectural styles, such as traditional, French, and Georgian, are featured in these homes.
The size and location of these homes affect the prices. Larger lots in prime locations cost more. Restored and updated houses as well as those that are newly built tend to be more expensive too.
---
Memorial Villages Townhomes Sale Trends
---
Only a few townhomes are in the Memorial Villages area. Some have survived the teardown trend, most of which date back to the 1980s. Memorial Villages townhomes for sale can feature 3 bedrooms, 2 and a half baths, and 2-car garages.
Older and smaller properties have lower prices starting as low as $120,000. Others, particularly those in gated communities, are more expensive, costing up to $500,000.
---
Memorial Villages Condo Sale Trends
---
There are no high-rise or mid-rise condos in the Memorial Villages. There are, however, some units available in older complexes.
Some of the notable condo buildings in the Memorial area include:
To see other condos within the Inner Loop, see Inner Loop Houston Condos. To see condos within the Galleria area, see Galleria Houston Condos. To see other condos within Downtown Houston, see Downtown Condos. To see condos within Museum District, see Museum District Condos.
The Houston Properties Team are experts in Memorial Villages real estate. Please contact us if you'd like to see Houston condos or learn more about buildings that could be a fit for you.
---
Memorial Villages TX History
---
During the 1930s, the Memorial Villages were a group of large farms and country estates west of Houston. In the 1950s and 1960s, suburbs grew rapidly in Houston. Then, it began expanding its boundaries beyond the Inner Loop (Interstate 610).
The six separate villages banded together to avoid being annexed by the city of Houston. Hunters Creek, Piney Point, Hedwig, Bunker Hill, Spring Valley, and Hilshire became the Memorial Villages.
Interest in the area increased after Interstate 10 was built there in 1968. The construction of upper-middle-class subdivisions along the Buffalo Bayou began in earnest during this time in the late 1950s.
Main roads, particularly Memorial Drive, flourished with commercial establishments. Government facilities, including schools and fire and police services, followed suit.
The Memorial Villages continued to prosper, and the area saw more upscale developments. More people moved to the Memorial Villages during the 1980s.
The uneven pace of local development has led to a variety of housing types in Memorial Villages. Single-family homes come in diverse styles, from small cottages and bungalows to Georgian-style homes.
Memorial Villages is currently among the priciest and most opulent neighborhoods in Texas. Gated subdivisions and upscale homes replaced the old farms that once occupied the area.
---
Fun Things To Do In Memorial Villages
---
Surrounding Memorial Villages are plenty of green spaces. Just beside Wildcat Way and Bendwood School is Bendwood Park. It has two children's playgrounds and large tennis courts.
To the east of Memorial Villages is the 1,466-acre Memorial Park. It features the Houston Arboretum and Nature Center and several nature trails.
Memorial Villages also has Houston Country Club, a members-only country club.
Furthermore, Memorial Villages presents plenty of shopping options like Memorial City Mall. Dillard's, Macy's, JCPenney, Sears, and Target are a few of the anchor stores in the area.
The CityCentre is another pedestrian-friendly mall close to Memorial Villages which features some great restaurants.
Here are some notable places within and nearby Memorial Villages:
Dining
LongHorn Steakhouse
Lupe Tortilla Mexican
Saltgrass Steakhouse
Federal American Grill
Ciro's
Cafe Ade
Parks
Spring Valley Village City Park
Emnora Lane Hike & Bike Trail
Jimmy's Place Park
Memorial District Park
Hedwig Park
Briarbend Park
Texas Heritage Park
Bendwood Park
Entertainment
Ron's Pub
The Hideaway On Dunvale
Muldoon's the Patio
Memorial Wine Cellar
O2 Lounge
Spotlight Karaoke
Shopping
Hedwig Village Shopping Center
Memorial City Mall
Woodlake Square
Westheimer Crossing
Tanglewilde Center
CityCentre
Long Point Square Shopping Center
Grocery
Kroger
Trader Joe's
Target
Wholefoods
Randalls
Cuisinery Food Market
ALDI
Almadina International Supermarket
99 Ranch Market
Golf
---
Memorial Villages Houston Realtor – Paige Martin
---
As featured on Fox News in the Morning, Houston Business Journal, and Houston Magazine, Paige Martin, a consistent Top Producing Broker-Associate and head of the Houston Properties Team, is ranked as one of the top residential real estate agents in the world.
---
Best Houston Real Estate Resources
---