Guide To Hedwig Village Homes For Sale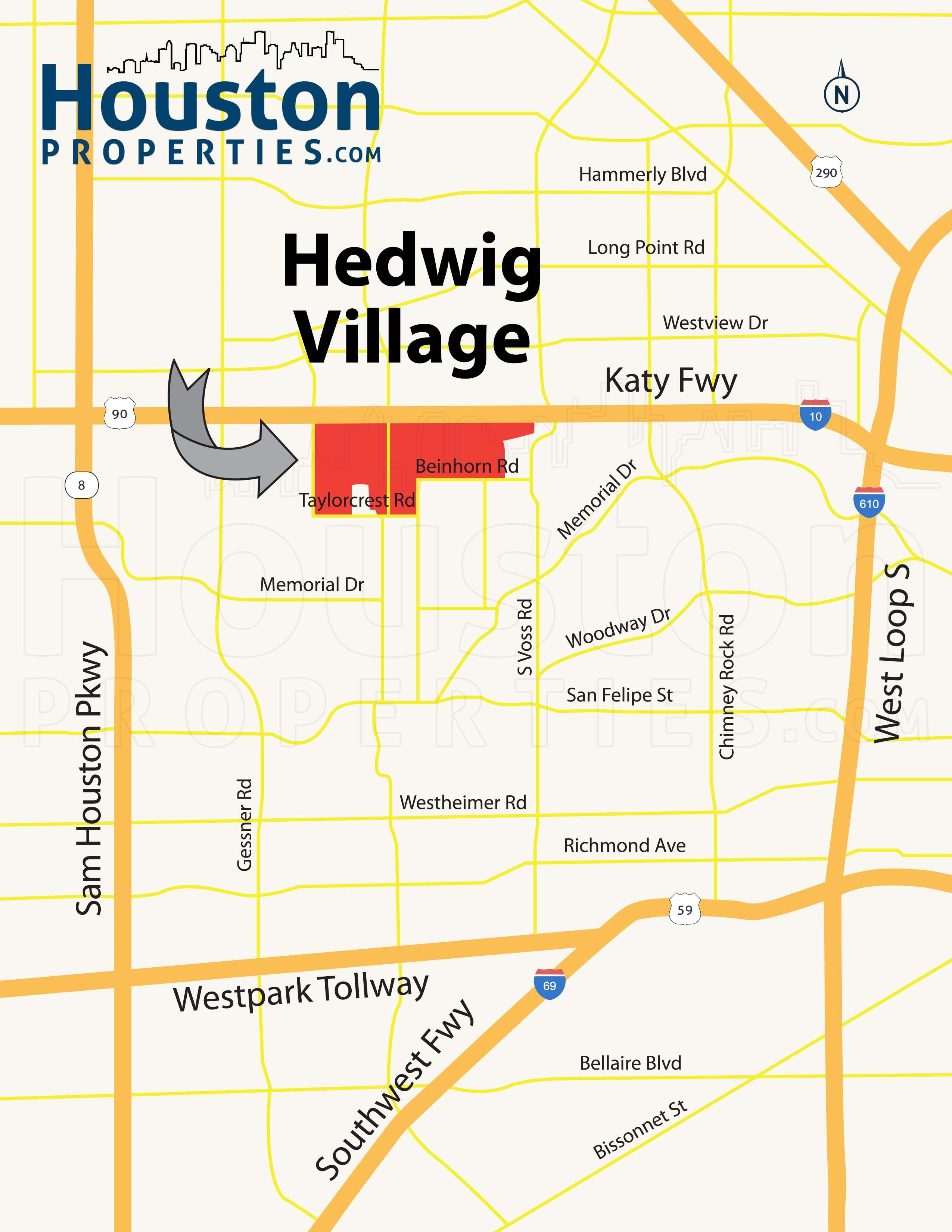 Hedwig Village is an affluent enclave located along the Katy Freeway, just a few miles west of Downtown Houston.
It is the second smallest among the independent cities that make up the Memorial Villages and is the only one that has a commercial sector. There is a high demand for Hedwig homes for sale due to the following:
Great location: Nestled west of Hunters Creek and north of Piney Point and Bunker Hill, Hedwig Village is located along Katy Fwy. With easy access to key Inner Loop neighborhoods and the Energy Corridor, residents have business, shopping, entertainment, and cultural hubs within minutes away.
Access to award-winning schools: Two National Blue Ribbon Schools are located within Hedwig Village – Spring Branch Middle School and Memorial High School. Other highly-rated schools from the Spring Branch ISD serve the city's residents.
Luxury homes: Single-family homes are Hedwig's main housing attraction and there are a wide variety in which to choose. Architectural styles vary, and home options can range from ranch-style homes to newer custom-built homes.
Access to shopping and dining options: Hedwig Village is unique among the Villages in that it allows for businesses within its borders. Residents, therefore, have a variety of shopping and dining options within minutes of their homes.
Hedwig homes are among the most expensive real estate west of Houston. Low inventories and high demand makes this a very challenging market to navigate, and homebuyers will greatly benefit from the help of the best Houston realtor.
Contact Paige Martin, a top-ranked Houston realtor and head of the Houston Properties Team for questions and advice about Hedwig homes for sale.
Hedwig Village TX Resources:
NOTE: Hedwig homes are among the fastest selling real estate in Houston. Some of the properties are off-market (not publicly listed). For more information on available Hedwig homes for sale call Paige Martin at 713-425-4194 or email [email protected]
Hedwig Village TX Neighborhood Guide
Located along Katy Freeway, Hedwig Village is north of Piney Point and Bunker Hill, and west of Hunters Creek. Hilshire and Spring Valley are just across the freeway from Hedwig.
Like most of the Memorial Villages, Hedwig Village was once populated with with farms and a smattering of homes. The city's history can be traced back to the area's early German immigrants.
Henry Schroeder, a son of one of the area's earliest immigrants, met and married Hedwig Jankowski, who had emigrated to Texas to help her sister. The area in which Hedwig Village now sits used to be the farm in which the couple lived. They famously donated a part of their land to be used as a road, thereby named Hedwig Road.
During the 1950s and 60s, the development of Katy Freeway and Houston's suburban boom contributed to increased interest in the area. Upper-middle-class subdivisions were developed along the Buffalo Bayou, while neighborhood stores and commercial establishments bloomed along the freeway.
In 1954, Hedwig Village filed a petition for incorporation, along with 5 other municipalities. Now a part of the collective known as the Memorial Villages, the city of Hedwig Village has a city council type of government.
It operates its own police department, while the Village Fire Department and the Memorial Villages Water Authority provide fire and water services.
Unlike its fellow Villages, Hedwig doesn't enforce deed restrictions, but it does have a zoning ordinance. It is the only city in the Villages that has a commercial sector within its borders.
Today, mini-mansions and elegant manors have replaced the ranch-style homes that used to be popular in Hedwig Village. Despite this, however, Hedwig still has some of its old country-living charm with its tree-lined streets and quiet, tranquil atmosphere.
Hedwig Village is zoned to the Spring Branch Independent School District (SBISD) and is under the 77024 zip code in Harris County.
Zip codes near Hedwig Village include: 77055, 77008, 77007, 77019, 77027, 77056, and 77057. (View Houston zip code map.)
Neighborhoods near Hedwig homes for sale include Spring Valley Village, Hilshire Village, Piney Point Village, Bunker Hill Village, Hunters Creek Village, the Energy Corridor, Timbergrove, The Galleria, Camp Logan, and Memorial Park.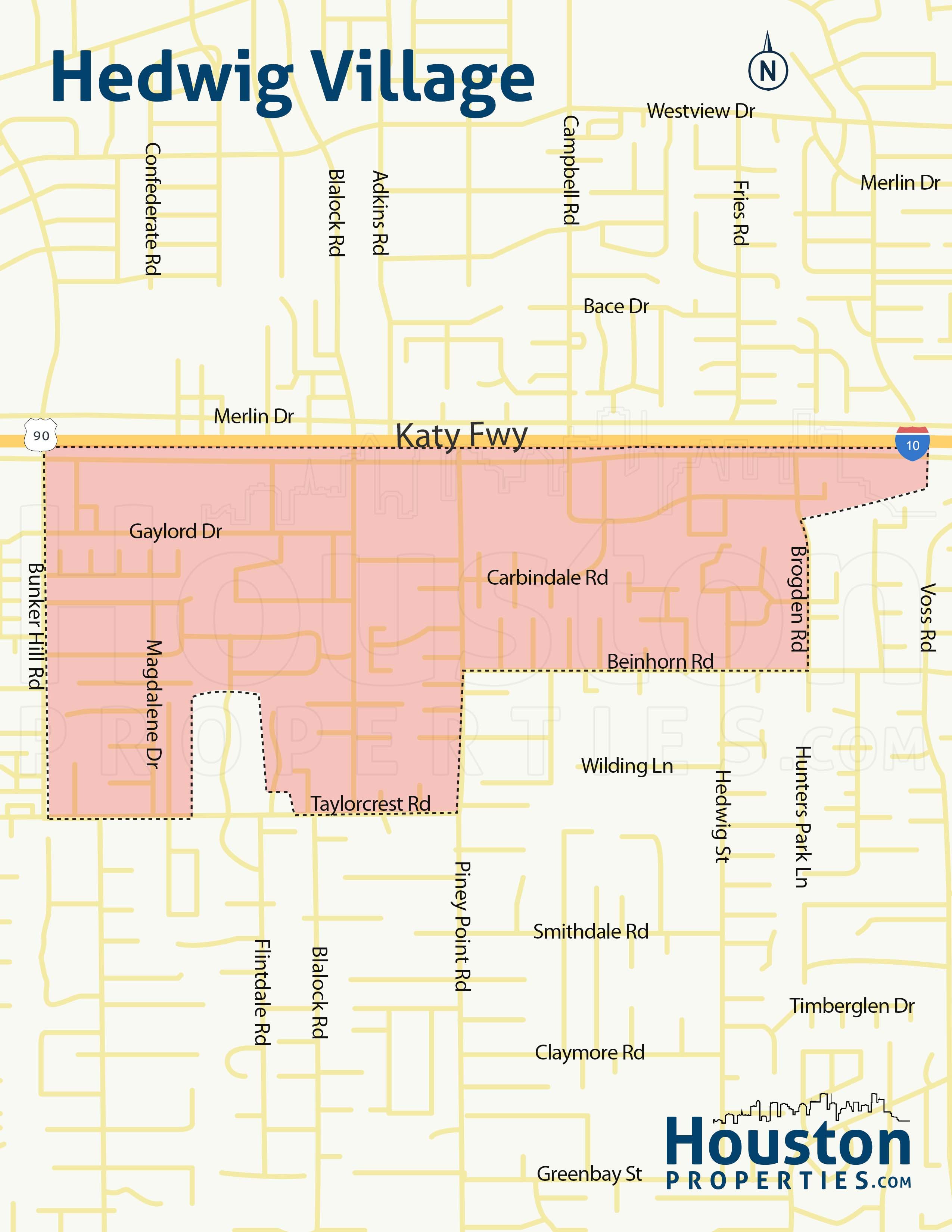 Hedwig Schools
Hedwig Village is zoned to the Spring Branch Independent School District (SBISD). The city has a number of schools within its borders, including top-ranked Memorial High School and Spring Branch Middle School. Two private schools, St. Cecilia School and Duchesne Academy, are also located in Hedwig.
Public Schools:
Preschool and Elementary
Wildcat Way School at 12754 Kimberley Ln. Like most of the Memorial Villages, all students in Hedwig Village are zoned to Wildcat Way for preschool.
Memorial Drive Elementary School ay 11202 Smithdale Rd. One of Spring Branch ISD's award-winning schools, MDE was recognized as a National Blue Ribbon School (1996-97). The school is located in nearby Piney Point and has a GreatSchools.org rating of 10 out of 10.
Bunker Hill Elementary School at 11950 Taylorcrest. Located in Bunker Hill Village, this school was also recognized as a National Blue Ribbon School (1991-92). Along with that distinction, Bunker Hill Elementary is also a Gold Performance School and has an Exemplary TEA rating. The school serves K to 5 students and has a GreatSchools.org rating of 9 out of 10.
Middle School
Spring Branch Middle School at 1000 Piney Point Dr. Located within Hedwig Village, SBMS was recognized as a National Blue Ribbon School in 1997-98. It offers several electives in Foreign Language, Technology Education, and Family and Consumer Science. It also has a special education program.
High School
Memorial High School at 935 Echo Ln. Memorial High School is also located within the city of Hedwig Village. It was listed as one of the Top 10 Best High Schools in the Area, and has been named as a National Blue Ribbon School (1988-89) as well as an Honor Roll School. A recipient of the TAKS Gold Performance and College Readiness awards, MHS also has an excellent athletics program.
Private Schools:
St. Cecilia School at 11740 Joan of Arc Dr. This coeducational and non-profit school is within the Roman Catholic Archdiocese of Galveston-Houston. Located within Hedwig Village, SCS (or SCCS) serves grades Pre-K to 8 and offers a curriculum that focuses on six core subjects: Theology, Mathematics, Sciences, Social Sciences, Literature, and English).
Duchesne Academy of the Sacred Heart at 10202 Memorial Dr. Located near Hunters Creek Village, Duchesne Academy serves students from grades K to 12. This all-girls Catholic school is part of both the Archdiocese of Galveston-Houston and the Independent School Association of the Southwest.
The Kinkaid School at 201 Kinkaid School Dr. Located in Piney Point Village, Kinkaid is one of the most prestigious private schools in the area. Founded in 1906, The Kinkaid School offers excellent academics and athletics programs.
The Parish School at 11001 Hammerly Boulevard. A part of the Houston Area Independent Schools, The Parish School is a non-profit private school that offers students with language, communication, or learning deficiencies with alternative learning programs and therapy.
To find an updated listing of all Hedwig real estate zoned to any specific public school, please send an email to Paige Martin at [email protected] with the property preference and budget that you're working with.
*Note: School zoning tends to change from year to year, information provided above are accurate but not guaranteed. Please double check by visiting the school's website.
Hedwig TX Realtor – Paige Martin
As featured on Fox News in the Morning, the Houston Business Journal, Houston Chronicle, and Houston Magazine, Paige Martin – a consistent Top Producing Broker-Associate and head of the Houston Properties Team – is ranked amongst the very top Keller Williams agents in the Houston area.
Paige is ranked as one of the top realtors in Hedwig TX, and the state of Texas. Read more about the over 65 awards she's won in the last few years.
Paige works with a tremendous number of buyers and sellers in Hedwig Village, earning praises such "Paige Martin is the best Hedwig Village realtor" along the way. You can check more client feedback about Paige as well as her list of awards and client ratings here: Client Testimonials.
For a specific recommendation of neighborhoods, homes or properties based upon your personal style, goals & price point, please contact Paige Martin, head of the Houston Properties Team & Broker Associate at [email protected] or 713-425-4194.