HILSHIRE VILLAGE REAL ESTATE GUIDE
2022 Hilshire Village homes for sale & insider real estate guide
Known for its country living atmosphere and vintage ranch-style homes, Hilshire Village is one of the six independent Memorial Villages. Located north of the Katy Freeway, Hilshire Village is a tranquil residential enclave about 10 miles west of Downtown Houston.
Hilshire homes are in high demand due to their:
EXCLUSIVITY: The smallest among the Memorial Villages, Hilshire Village is the 10th wealthiest area in Texas by per capita income. On average, homes in the city tend to fetch price tags of over $1,000,000.

PRIME MEMORIAL VILLAGES LOCATION: The Memorial Villages collectively are among Houston's best neighborhoods in terms of real estate market growth. Also, for their most expensive real estate, known for its large wooded lots and sprawling luxury properties.

MAYOR-COUNCIL TYPE OF GOVERNMENT: The independent city of Hilshire Village was established in 1955, and operates with a mayor-city council type of government. The city has its own civic club and shares police and fire departments with the other six villages.

PROXIMITY TO MEMORIAL CITY AND UPTOWN HOUSTON: Two of Houston's busiest districts, Memorial City and Uptown are within minutes of Hilshire Village. Memorial City is home to medical complexes, multi-family homes, and retail and office space. While Galleria/Uptown, offers more than 23 million square feet of office space, with thousands of businesses and workers.

ACCESSIBILITY TO MEMORIAL CITY MALL: A shopping destination since the 1960s, the Memorial City Mall features over 1.7 million square feet of retail space. It also features 140+ stores, restaurants, and entertainment hubs.

COUNTRY LIVING ATMOSPHERE: Hilshire Village offers a tranquil atmosphere just a few miles away from the hustle and bustle of Bayou City. It offers both comforts of a country living vibe and the convenience of being minutes away from the city's main districts.

SBISD ZONING: Two of Spring Branch ISD's multi-award-winning schools, Spring Branch Middle School and Memorial High School serve the community. Both are National Blue Ribbon Schools and are regarded as two of the Best Schools in Houston.
There are very few Hilshire homes put on the market every year, and the market can be very challenging. The city's deed restrictions and old homes (some may need extensive renovations) can also pose challenges. Homebuyers can benefit from the assistance of a top Houston realtor familiar with the Hilshire Village area.
To get personal advice on buying or selling in the Hilshire Village area, contact Paige Martin, one of Houston's best realtors and one of the top-ranked Realtors in the United States.
"Selling your home is an emotional process. For that, it is important to work with the best real estate agency out there. From the moment we decided to sell, Houston Properties Team was there for us. They took their time to get to know us, what our needs were and when it would be the right time to sell, and for what price. We received a detailed timeline so we knew exactly where we were in the process at all times. They were very knowledgeable and went above and beyond for us. They were very patient, answered every question we had big or small promptly, and always provided us with the information we needed. I highly recommend working with the Houston Properties Team. Thanks to them, we had a very smooth sale and found the perfect new owners for our house." - Olivia Simoen-Deman (Google Review)
---
Table of Contents
---
Hilshire Village Home Sale Trends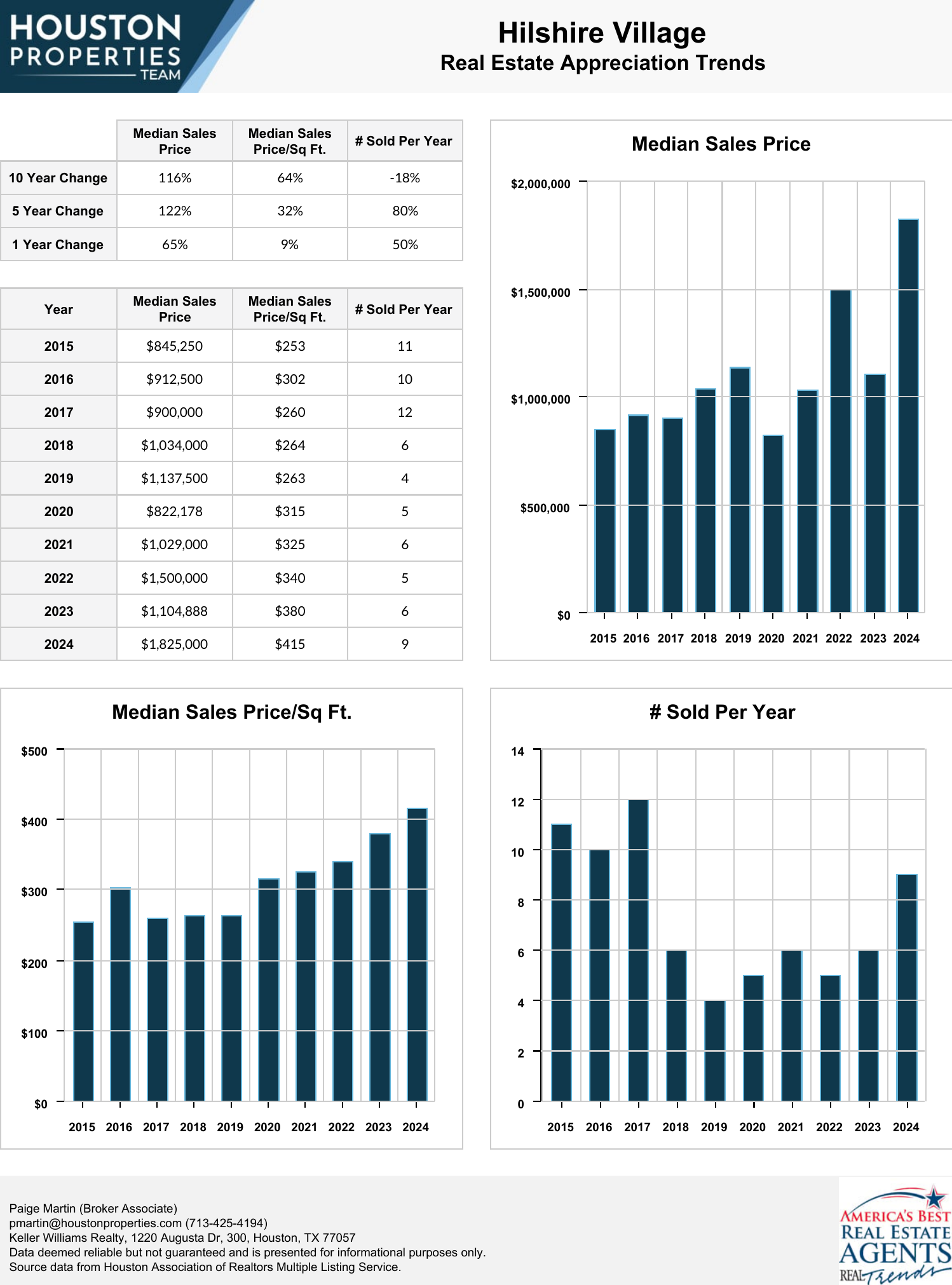 ---
Hilshire Village Maps, Location & Zip Code
| Commute Time | Hilshire Village |
| --- | --- |
| Downtown (min) | Unknown |
| Med Ctr (min) | Unknown |
| Energy Corridor (min) | Unknown |
| Galleria (min) | Unknown |
| Highlights | Hilshire Village |
| --- | --- |
| Amenities | Unknown |
| Golf Courses | Unknown |
| Run / Bike Trails | Unknown |
| Nearby Retail / Dining | Unknown |
| Major Employers | Unknown |
---
Hilshire Village Schools
| Top Elementary Schools | Great Schools Ranking |
| --- | --- |
| Valley Oaks Elem | 8 |
---