Guide To ALL Hilshire Village Homes For Sale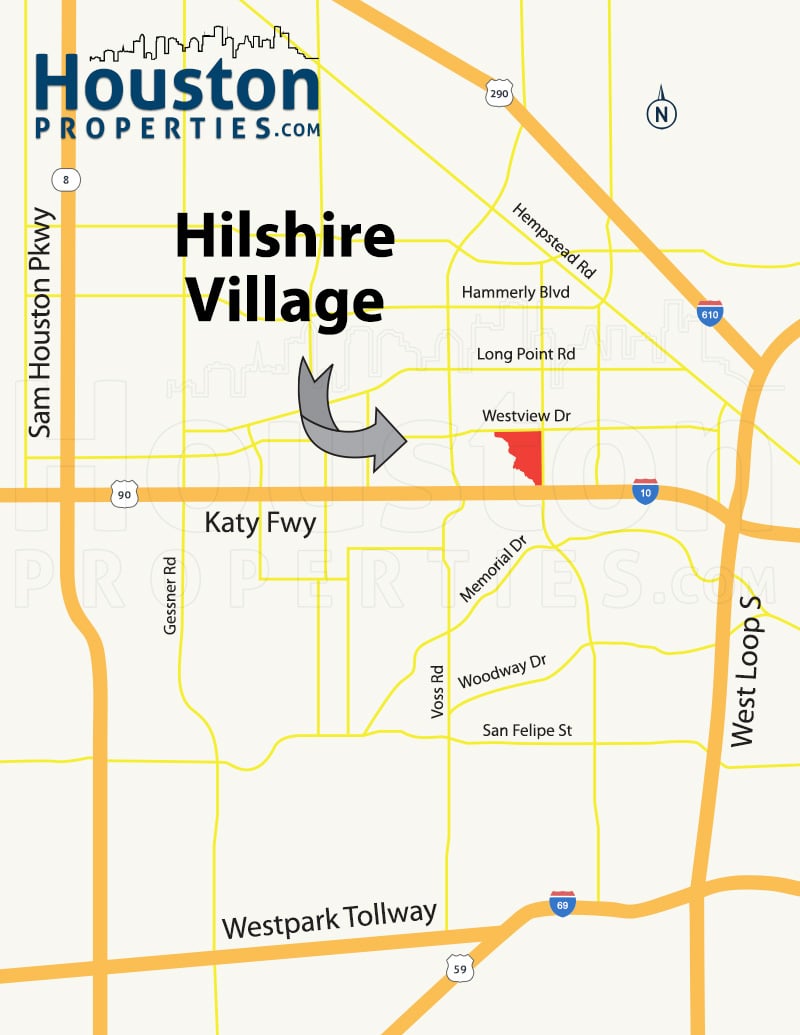 Hilshire Village is the smallest among the Memorial Villages. Despite its diminutive size, the neighborhood is the 10th wealthiest place in Texas by per capita income, behind fellow Villages Piney Point, Hunters Creek, and Bunker Hill.
Located in a tranquil and lush neighborhood, Hilshire homes are highly desirable for their central location, great schools, and serene country-living charm.
Central location: About 10 miles west of Downtown Houston, Hilshire Village is located north of the Katy Freeway, adjacent to Spring Valley Village and the Houston neighborhood of Spring Branch.
High accessibility: Thanks to its central location north of the Katy Freeway (I-10), Hilshire homes have easy access to major roads that lead to key Houston areas like Downtown, Medical Center, and the Energy Corridor.
Excellent schools: Hilshire Village is zoned to the Spring Branch ISD's highly-rated Memorial High School and Spring Branch Middle School.
Country-living vibe: Like all the Memorial Villages, Hilshire presents this unique quality – a peaceful neighborhood in the midst of a city as busy as Houston.
Hilshire Village homes for sale offer the best of both worlds: the charm of living in a restful enclave and the convenience of having big city comforts within driving distance.
Contact Paige Martin, a top-ranked Houston realtor and head of the Houston Properties Team for questions and advice about Hilshire homes for sale.
Hilshire Village TX Resources:
Hilshire Village Homes Under $1M
NOTE: Hilshire homes are among the fastest selling real estate in Houston. Some of the properties are off-market (not publicly listed). For more information on available Hilshire homes for sale call Paige Martin at 713-425-4194 or email [email protected]
Neighborhood Guide: Hilshire Village TX
One of the two Memorial Villages sitting north of the interstate, Hilshire Village is an affluent residential enclave.
It is roughly bordered by Katy Freeway to the south, Wirt Road to the east, and Westheimer Drive to the north. Hilshire Village follows the contours of Spring Branch, a minor bayou that feeds into the Buffalo Bayou.
Hilshire is adjacent to Spring Valley to the west and Spring Branch to the north and west. Hunters Creek is just beyond the freeway to the south of the neighborhood.
One man was responsible for the neighborhood's name, and the neighborhood itself. In the 1940s, Missouri native Frank Bruess saw Houston's potential and bought a 30-acre property some distance away from Loop 610. Bruess called his development Hilshire Village, after reading about a country estate in England named Hillshire.
In 1955, the neighborhood was incorporated with a mayor-council council type of government.
Today, very little has changed in Hilshire. City services and roads have been improved over the years, but the neighborhood's overall charm and look has stayed the same.
Like most of the Memorial Villages, Hilshire Village has a zoning ordinance that helps in preserving its charm and peaceful atmosphere. The neighborhood also features other traits typical of the Memorial Villages, including large wooded lots, elegant homes, and the trend of replacing old bungalows with custom-built homes.
Hilshire homes vary in architectural styles, though traditional and ranch-style are two of the most predominant in the area. Lot sizes range from 10,000 to more than 35,000 square feet.
Older Hilshire homes for sale tend to sell for cheaper, with some selling as is or as lots. These, however, can still sell for over $600,000 depending on size. Newer custom-built homes, on the other hand, can start at over $1,000,000.
Hilshire Village is under the 77055 Harris County zip code. Zip codes near Hilshire include: 77024, 77080, 77092, 77043, 77007, 77008, and 77049. (View Houston zip code map.)
Neighborhoods near Hilshire Village include: Hunters Creek Village, Hedwig Village, Spring Valley Village, Bunker Hill Village, Piney Point Village, Energy Corridor, The Galleria, and Timbergrove.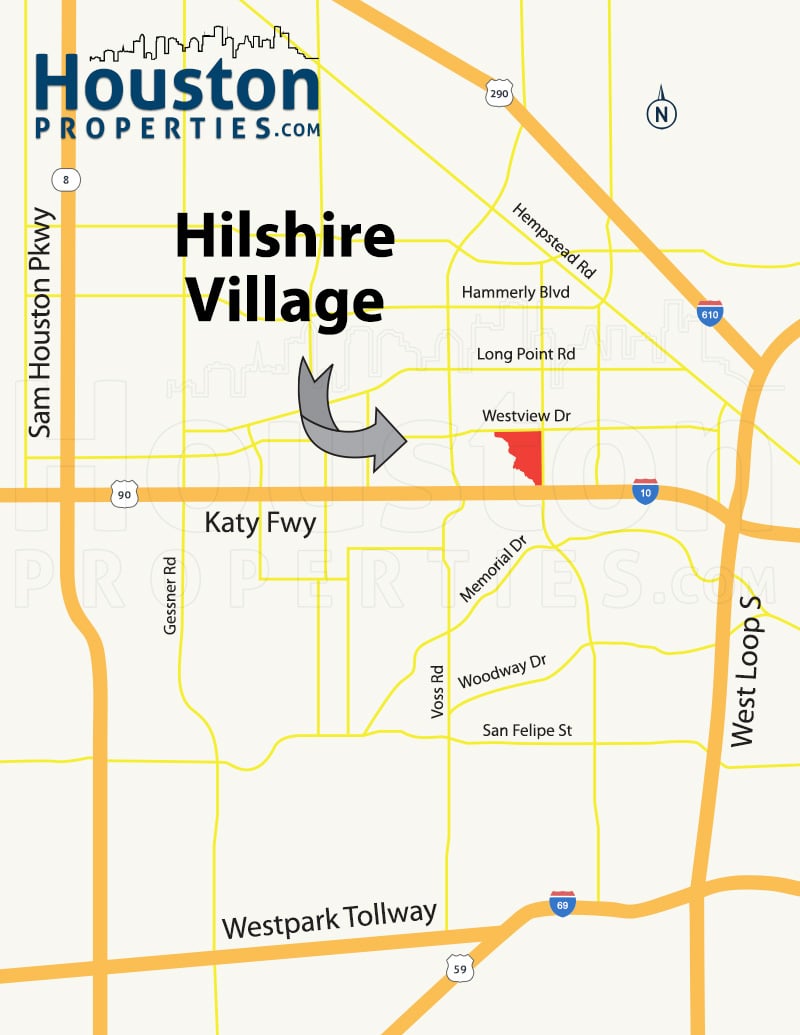 Hilshire Village Schools
Hilshire Village is zoned to the highly-regarded Spring Branch Independent School District (SBISD).
Public
Pre-K and Elementary
Valley Oaks Elementary School at 8655 Emnora Ln. Located in Spring Branch, Valley Oaks serves students in grades Pre-K to 5. It offers several academics programs including Bilingual/ESL and Gifted and Talented programs, as well as a well-rounded curriculum that includes art, music, health and fitness, and special education.
The Bear Boulevard School at 8860 Westview Dr. Located in Spring Valley Village, Bear Boulevard is one of the Spring Branch ISD's early learning centers. BBS boasts of a specialized curriculum for four-year old children.
Middle School
Spring Branch Middle School at 1000 Piney Point Dr. SBMS, located in Hedwig Village, was recognized as a National Blue Ribbon School in 1997-98. It offers great academic programs and elective in various subjects like Foreign Language and Technology Education.
Cornerstone Academy at 9016 Dr. Charter school Cornerstone is located within Spring Valley Village. Like SBMS, it offers electives in Foreign Languages, as well as CESIT (Career Explorations, Special Interests and Talents). In 2008, it was recognized as National Charter School of the Year.
High School
Memorial High School at 935 Echo Ln. Memorial High School is a multi-award winning school located in Hedwig Village. It was named a National Blue Ribbon School in 1988-89, and has appeared in Newsweek's list of top high schools multiple times. Along with its great academic programs, MHS also offers an excellent athletics program.
Academy of Choice at 9016 Westview Dr. The Academy of Choice is an alternative school located in Spring Valley Village. It is also known as the Spring Branch School of Choice (SBSOC) and houses another alternative learning center called the Spring Branch ISD Virtual High School.
Private
There are several private schools located in and around Hilshire Village. Listed below are some of them.
Campbell Learning Center at 1440 Campbell Rd.
Spring Branch Presbyterian Learning Center at 1215 Campbell Rd.
Paratus Classical Academy at 1440 Campbell Rd.
St. Mark Lutheran School at Hillendahl Blvd.
School of the Woods Montessori at 1321 Wirt Rd.
Big Little School at 1203 Wirt Rd.
Duchesne Academy of the Sacred Heart at 10202 Memorial Dr.
St. Cecilia School at 11740 Joan of Arc Dr.
The Parish School at 11001 Hammerly Boulevard.
The Kinkaid School at 201 Kinkaid School Dr.
To find an updated listing of all Hilshire real estate zoned to any specific public school, please send an email to Paige Martin at [email protected] with the property preference and budget that you're working with.
*Note: School zoning tends to change from year to year, information provided above are accurate but not guaranteed. Please double check by visiting the school's website.
Hilshire TX Realtor – Paige Martin
As featured on Fox News in the Morning, the Houston Business Journal, Houston Chronicle, and Houston Magazine, Paige Martin – a consistent Top Producing Broker-Associate and head of the Houston Properties Team – is ranked amongst the very top Keller Williams agents in the Houston area.
Paige is ranked as one of the top realtors in Hilshire Village, Houston, and the state of Texas. Read more about the over 65 awards she's won in the last few years.
Paige works with a tremendous number of buyers and sellers within the Memorial area, earning praises like
For a specific recommendation of neighborhoods, homes or properties based upon your personal style, goals & price point, please contact Paige Martin, head of the Houston Properties Team & Broker Associate at [email protected] or 713-425-4194.