Memorial Villages Homes For Sale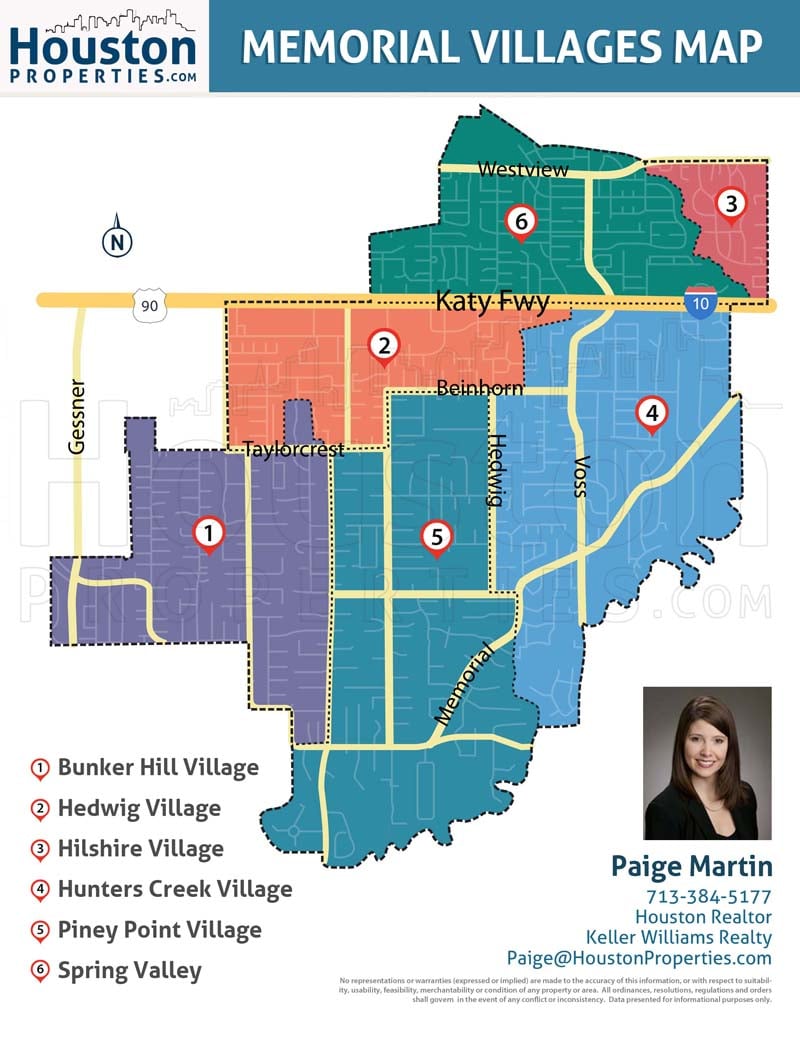 10 miles west of Downtown Houston, Memorial Villages is one of the most desirable places to live in Texas. Also known as the Villages, the area is a collection of six independent villages: Hunters Creek, Piney Point, Hedwig, Bunker Hill, Spring Valley, and Hilshire.
Quiet, tranquil and private, Memorial Villages homes for sale are among Houston's most expensive real estate. The neigborhood features:
Beautiful location: The Memorial Villages straddle the Buffalo Bayou. Just a few miles away from the Inner Loop, homes in the area are blessed with gorgeous views and towering native pines.
Great accessibility: Located along Katy Fwy (Interstate 10), Memorial Villages residents have easy access to Houston's business, cultural, and entertainment hubs like Energy Corridor, Downtown Houston, Medical Center, and the Museum District.
Country-living ambience: Memorial Villages is known as a quiet enclave of private homes and estates away from Houston's hustle and bustle. Vast lots and gated communities both add to Memorial Villages homes' privacy.
Access to excellent schools: The area is zoned to some of the best schools in the state. Spring Branch ISD's award-winning schools, Memorial High School and Stratford High School, serve Memorial Villages.
Numerous shopping and entertainment options: With the Memorial City Mall and the CityCentre just within Memorial Villages' borders, residents have several retail and dining options available. The Galleria is a short drive away.
Memorial Villages is one of the most fashionable addresses in Texas. It features a wide range of luxury homes, from restored country estates to upscale new construction homes.
Contact Paige Martin, a top-ranked Houston realtor and head of the Houston Properties Team for questions and advice about Memorial Villages homes for sale.
Memorial Villages TX Resources:
NOTE: Memorial Villages homes are among the fastest selling real estate in Houston. Some of the properties are off-market (not publicly listed). For more information on available Memorial Villages homes for sale call Paige Martin at 713-425-4194 or email [email protected]
Memorial Villages Real Estate Trends
Property values in the Memorial Villages area has been on the rise for the last 10 years. In 2004, the median sales price and land price per square foot was at $826,002 and $24, respectively.
Last year, median sales price jumped to $1,408,815, an impressive 71% positive appreciation. Land price increased by 47% to $36 per square foot.
Development in Memorial Villages is uneven – and thus, homes come in great variety and in different architectural sensibilities. Homes come in Georgian, French, Traditional, Contemporary, Mediterranean, and Spanish architectural styles, among others.
Typically priced upwards of $1M, homes in Memorial Villages feature luxurious amenities including swimming pools, verandas, 3 to 4-car garages, high ceilings, and huge front and backyards. Floor plans can include 4 bedrooms and 4 and a half baths.
Lot sizes are larger in Memorial Villages, ranging from 8,000 to more than 100,000 square feet.
Prices vary from property to property, and are reliant on the age of the home, location, and size.
Memorial Villages TX Neighborhood Guide
Located along Katy Freeway (I-10), Memorial Villages is made up of six independent villages: Hunters Creek, Piney Point, Hedwig, Bunker Hill, Spring Valley, and Hilshire Village.
The Buffalo Bayou defines the Memorial Villages' south border. Four of the six villages are located south of the Katy Fwy, while the rest, Spring Valley and Hilshire are across the freeway.
Some of the six villages are within the city of Houston, but operate independently. Memorial Villages has its own police and fire departments, along with a joint water authority.
Memorial Villages homes for sale are typically large estates, restored country homes, and luxury homes. Private homes on oversized lots, with expansive lawns and tree-lined drives define the area's upscale character.
In the mid-1950s, residents living in the Villages filed petitions for incorporation, both to preserve residential zoning in the area and to prevent annexation. Hunters Creek filed in 1954, and three others soon followed: Piney Point, Bunker Hill, and Hedwig Village. A year later, two more were incorporated, Spring Valley and Hilshire.
With deed restrictions banning commercialism and billboards, the six independent villages have maintained the area's private and exclusive atmosphere. Commercial establishments are consigned along the Villages' borders.
77024 is one of the most expensive zip codes in Houston. Often compared to Houston's upscale neighborhood, River Oaks, Memorial Villages has one of the highest median sales price and highest average household income in the Texas.
Neighborhoods near Memorial Villages homes for sale include Energy Corridor, The Galleria, Afton Oaks, Crestwood, Cottage Grove, Timbergrove, and River Oaks.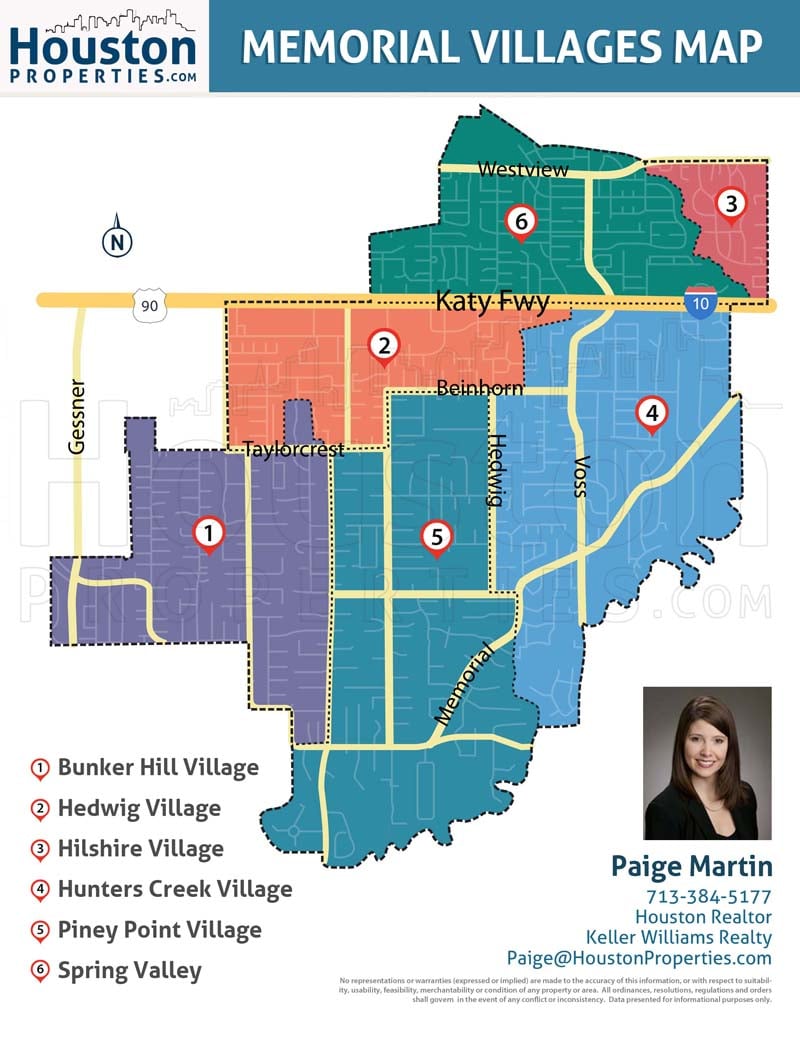 Memorial Villages Schools
Memorial Villages is known for its exemplary schools. The majority of students in Memorial Villages attend schools from the Spring Branch Independent School District (SBISD).
The SBISD has a 5-year plan known as a T-2-4 that aims to prepare its students for college or post secondary training. The school district has several award-winning schools, with many recognized as National Blue Ribbon Schools.
Public Schools:
Pre-K and Elementary
Wildcat Way School at 12754 Kimberley Ln. Completed in 2002, Wildcat Way provides quality early education for Memorial Villages area students.
Bunker Hill Elementary School at 11950 Taylorcrest. Located in Bunker Hill Village, this school was honored as a National Blue Ribbon School in 1991-92. It is also a TEA Exemplary and Gold Performance School that serves students in grades K to 5. It has a GreatSchools.org rating of 9 out of 10.
Frostwood Elementary School at 12214 Memorial Dr. Another National Blue Ribbon School (1989-90, 2005), Frostwood Elementary serves grades K to 5. It has a GreatSchools.org rating of 10 out of 10.
Memorial Drive Elementary School at 11202 Smithdale Rd. Located in Piney Point Village, Memorial Drive is a National Blue Ribbon School in 1996-97. It serves grades PK to 5 and regularly hosts City Council meetings. It has a GreatSchools.org rating of 10/10.
Hunters Creek Elementary at 10650 Beinhorn Rd. Also known as HCE, Hunters Creek is another National Blue Ribbon School (1993-94) located in Memorial Villages. It has a GreatSchools.org rating of 8/10.
Bendwood Campus Elementary School at 12750 Kimberly Ln. Bendwood is a a special needs school that offers a Preschool Program for Children with Disabilities (PPCD) and a Gifted and Talented (GT) program.
Middle School
Memorial Middle School at 12550 Vindon Dr. A National Blue Ribbon School (1988-89), MMS provides great academics and athletics programs for students in grades 6 to 8. It has a GreatSchools.org rating of 10/10.
Spring Forest Middle School at 14240 Memorial Dr. Spring Forest offers several academic, sports, and fine arts programs. The school offers Pre-AP and GT classes, with high school credits in several subjects. It was also a National Blue Ribbon School (1994-96).
Spring Branch Middle School at 1000 Piney Point Dr. Located in Hedwig Village, Spring Branch offers electives in Family and Consumer Science, Foreign Language, and Technology Education. The school has a special education program as well. It was a National Blue Ribbon School (1997-98).
High School
Memorial High School at 935 Echo Ln. Memorial High is located in Hedwig Village. It has received numerous awards and recognitions, including the TAKS Gold Performance Award and College Readiness Award. It was also named a National Blue Ribbon School (1988-89), an Honor Roll School, and as one of the Top 10 Best High Schools in the Area.
Stratford High School at 14555 Fern. Stratford High School has great athletics programs in several sports including basketball, baseball, football, and diving. Like Memorial, Stratford has also received several awards (Gold Medal School, Gold Performance Award, and College Readiness Award) and honors (National Blue Ribbon School, 1983-84). It had an Exemplary TEA rating in 2002.
Westchester Academy for International Studies at 901 Yorkchester. WAIS is a Spring Branch ISD charter magnet school, an International Baccalaureate World School, and a National Blue Ribbon School (2011-2012).
Private Schools:
Memorial Villages also has several private schools within its borders. Here are some of them:
Chapelwood Pre-School at 11140 Greenbay St.
St. Cecilia Catholic School at 11740 Joan of Arc
Montessori Morning Glory School at 737 Bunker Hill Rd.
Campbell Learning Center at 1440 Campbell Rd.
The Kincaid School at 201 Kincaid School Dr.
Duchesne Academy of the Sacred Heart at 10202 Memorial Dr.
To find an updated listing of all Memorial Villages real estate zoned to any specific public school, please send an email to Paige Martin at [email protected] with the property preference and budget that you're working with.
*Note: School zoning tends to change from year to year, information provided above are accurate but not guaranteed. Please double check by visiting the school's website.