Memorial Villages Homes For Sale Under $600K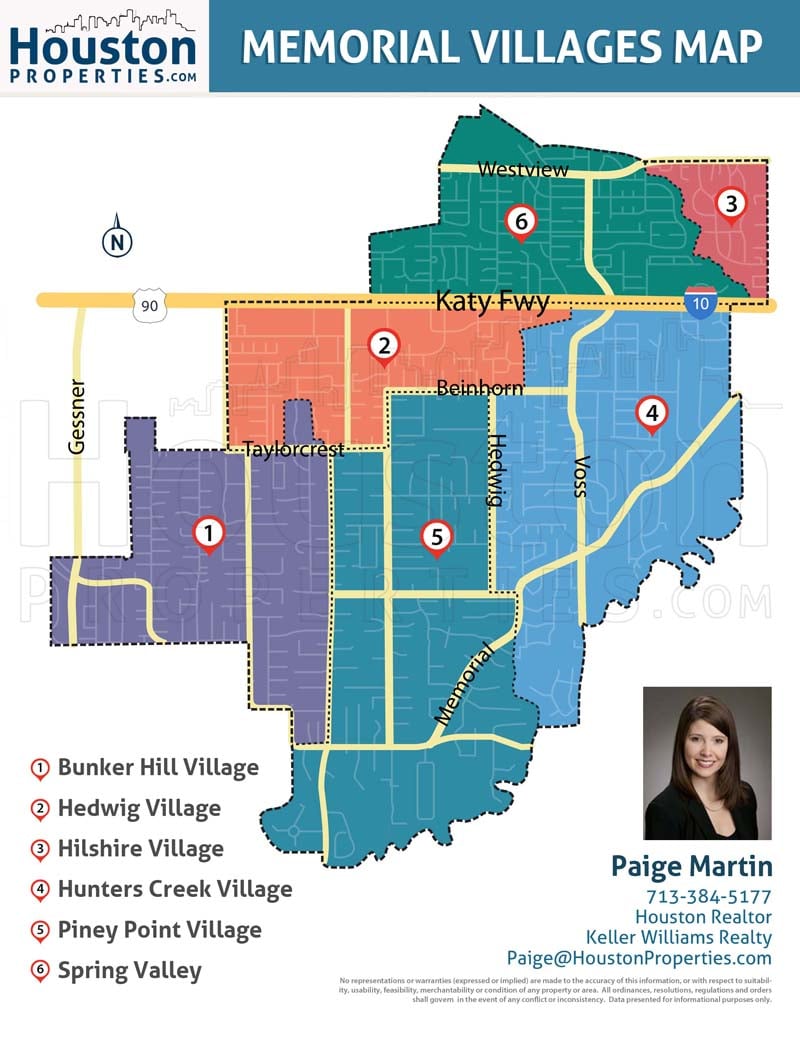 Memorial Villages is a collection of six independent villages. Each village is unique, though the tranquil, country-living character is a common trait among all of them.
Located just west of Houston, it is one of the wealthiest areas in Texas. Memorial Villages homes for sale are very desirable due to the following:
Great accessibility: Located along Katy Freeway between Houston and the Energy Corridor, residents have a fairly easy commute to and from business, cultural, and retail hotspots. Downtown Houston is just 10 miles away. The Galleria, Museum District, and Texas Medical Center are just as easily accessible.
Excellent schools: Memorial Villages is zoned to the Spring Branch ISD, a school district known for its award-winning and top-ranked schools. Memorial High School and Stratford High School both serve the Villages.
Tranquil and private communities: Memorial Villages has deed restrictions that ban commercial establishments and billboards within its borders. This has resulted in a strictly residential area and has preserved its country-living charm.
Beautiful choice of homes: The Memorial Villages boasts of luxurious estates and grand mansions. Some patio homes and bungalows left over from the original developments in the 1950s and 60s tend to be more affordable.
Memorial Villages homes are prized for having access to the best schools, great location, and a serene atmosphere.
Contact Paige Martin, head of the Houston Properties Team & Broker Associate at [email protected] or 713-425-4194 for advice or questions about buying or selling a Memorial Villages home.
Memorial Villages TX Resources:
NOTE: Memorial Villages homes are among the fastest selling real estate in Houston. Some of the properties are off-market (not publicly listed). For more information on available Memorial Villages homes for sale call Paige Martin at 713-425-4194 or email [email protected]
Memorial Villages TX Neighborhood Guide
Memorial Villages consists of six independent villages. Bunker Hill, Hedwig, Hunters Creek, and Piney Point are sandwiched between the Buffalo Bayou to the south and Katy Freeway (I-10) to the north. Spring Valley and Hilshire straddle the I-10.
Located west of Houston, Memorial Villages TX has easy access to key Houston centers like Downtown Houston, the Medical Center, and the Museum District. Another important job center, the Energy Corridor is a short drive east of the Villages.
During the 1930s, the Memorial Villages was a sparsely populated area. It only had stately mansions, a few homes, and mostly empty land. The development in the area made headway alongside Houston's suburban boom in the 1950s and 60s. During this period, the Katy Freeway was under construction, adding to interest in the area.
In the mid-1950s, Hunters Creek Village filed for a petition for incorporation. Piney Point, Bunker Hill, and Hedwig Village followed during the same year. A year later, Spring Valley and Hilshire were also incorporated.
The six villages operate independently, each with its own government. Memorial Villages also has joint police and fire departments and a water authority.
Memorial Villages thus kept its residential zoning. Commercialism and billboards are against the area's deed restrictions. Commercial establishments are consigned to the Villages' borders.
Homes in Memorial Villages typically sit on large lots. Older homes with smaller lots tend to be more affordable than new construction homes. Home styles also tend to vary from property to property.
Memorial Villages features some of the most expensive homes in Houston. Forbes lists the area's 77024 as one of the wealthiest and priciest zip codes in the country.
Neighborhoods near Memorial Villages TX includes the Energy Corridor, Afton Oaks, River Oaks, The Galleria, Camp Logan, and Timbergrove.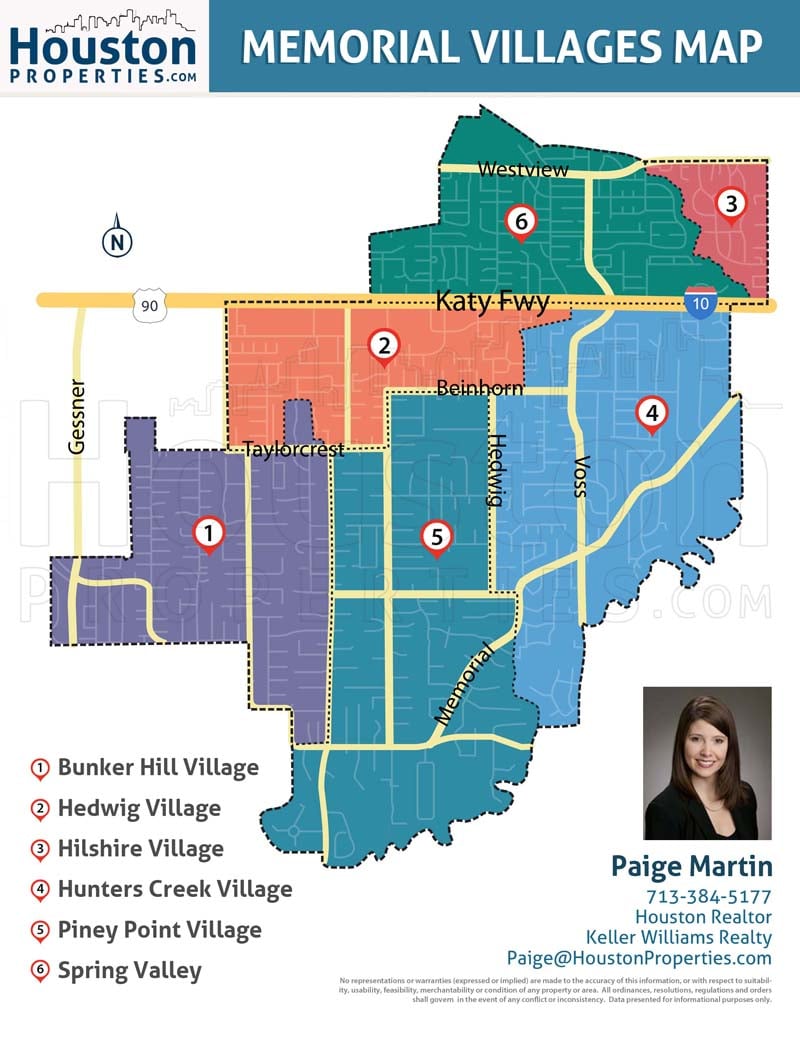 Memorial Villages Schools
Memorial Villages is known for its exemplary schools. The majority of students in Memorial Villages attend schools from the Spring Branch Independent School District (SBISD).
The SBISD has a 5-year plan known as a T-2-4 that aims to prepare its students for college or post secondary training. The school district has several award-winning schools, with many recognized as National Blue Ribbon Schools.
Public Schools:
Pre-K and Elementary
Wildcat Way School at 12754 Kimberley Ln. Completed in 2002, Wildcat Way provides quality early education for Memorial Villages area students.
Bunker Hill Elementary School at 11950 Taylorcrest. Located in Bunker Hill Village, this school was honored as a National Blue Ribbon School in 1991-92. It is also a TEA Exemplary and Gold Performance School that serves students in grades K to 5. It has a GreatSchools.org rating of 9 out of 10.
Frostwood Elementary School at 12214 Memorial Dr. Another National Blue Ribbon School (1989-90, 2005), Frostwood Elementary serves grades K to 5. It has a GreatSchools.org rating of 10 out of 10.
Memorial Drive Elementary School at 11202 Smithdale Rd. Located in Piney Point Village, Memorial Drive is a National Blue Ribbon School in 1996-97. It serves grades PK to 5 and regularly hosts City Council meetings. It has a GreatSchools.org rating of 10/10.
Hunters Creek Elementary at 10650 Beinhorn Rd. Also known as HCE, Hunters Creek is another National Blue Ribbon School (1993-94) located in Memorial Villages. It has a GreatSchools.org rating of 8/10.
Bendwood Campus Elementary School at 12750 Kimberly Ln. Bendwood is a a special needs school that offers a Preschool Program for Children with Disabilities (PPCD) and a Gifted and Talented (GT) program.
Middle School
Memorial Middle School at 12550 Vindon Dr. A National Blue Ribbon School (1988-89), MMS provides great academics and athletics programs for students in grades 6 to 8. It has a GreatSchools.org rating of 10/10.
Spring Forest Middle School at 14240 Memorial Dr. Spring Forest offers several academic, sports, and fine arts programs. The school offers Pre-AP and GT classes, with high school credits in several subjects. It was also a National Blue Ribbon School (1994-96).
Spring Branch Middle School at 1000 Piney Point Dr. Located in Hedwig Village, Spring Branch offers electives in Family and Consumer Science, Foreign Language, and Technology Education. The school has a special education program as well. It was a National Blue Ribbon School (1997-98).
High School
Memorial High School at 935 Echo Ln. Memorial High is located in Hedwig Village. It has received numerous awards and recognitions, including the TAKS Gold Performance Award, College Readiness Award, and the Just 4 The Kids High Performing School Award. It was also named a National Blue Ribbon School (1988-89), an Honor Roll School, and as one of the Top 10 Best High School in the Area. It has a very successful football team, the Mustangs, and a great tennis team.
Stratford High School at 14555 Fern. Stratford High School has great athletics programs in several sports including basketball, baseball, football, and diving, among others. The school's Spartans baseball team is considered as one of the best in the state. It has a long-standing rivalry with Memorial High School. Like Memorial, Stratford has also received several awards (Gold Medal School, Gold Performance Award, and College Readiness Award) and honors (National Blue Ribbon School, 1983-84). It had an Exemplary TEA rating in 2002.
Westchester Academy for International Studies at 901 Yorkchester. WAIS is a Spring Branch ISD charter magnet school, an International Baccalaureate World School, and a National Blue Ribbon School (2011-2012).
Private Schools:
Memorial Villages also has several private schools within its borders. Here are some of them:
Chapelwood Pre-School at 11140 Greenbay St.
St. Cecilia Catholic School at 11740 Joan of Arc
Montessori Morning Glory School at 737 Bunker Hill Rd.
Campbell Learning Center at 1440 Campbell Rd.
The Kincaid School at 201 Kincaid School Dr.
Duchesne Academy of the Sacred Heart at 10202 Memorial Dr.
To find an updated listing of all Memorial Villages real estate zoned to any specific public school, please send an email to Paige Martin at [email protected] with the property preference and budget that you're working with.
*Note: School zoning tends to change from year to year, information provided above are accurate but not guaranteed. Please double check by visiting the school's website.
Memorial Villages TX Realtor – Paige Martin
As featured on Fox News in the Morning, the Houston Business Journal, Houston Chronicle, and Houston Magazine, Paige Martin – a consistent Top Producing Broker-Associate and head of the Houston Properties Team – is ranked amongst the very top Keller Williams agents in the Houston area.
Paige is ranked as one of the top realtors in Memorial Villages Houston, and the state of Texas. Read more about the over 65 awards she's won in the last few years.
Paige works with a tremendous number of buyers and sellers within the Memorial area.
For a specific recommendation of neighborhoods, homes or properties based upon your personal style, goals & price point, please contact Paige Martin, head of the Houston Properties Team & Broker Associate at [email protected] or 713-425-4194.