Guide To Hunters Creek Homes For Sale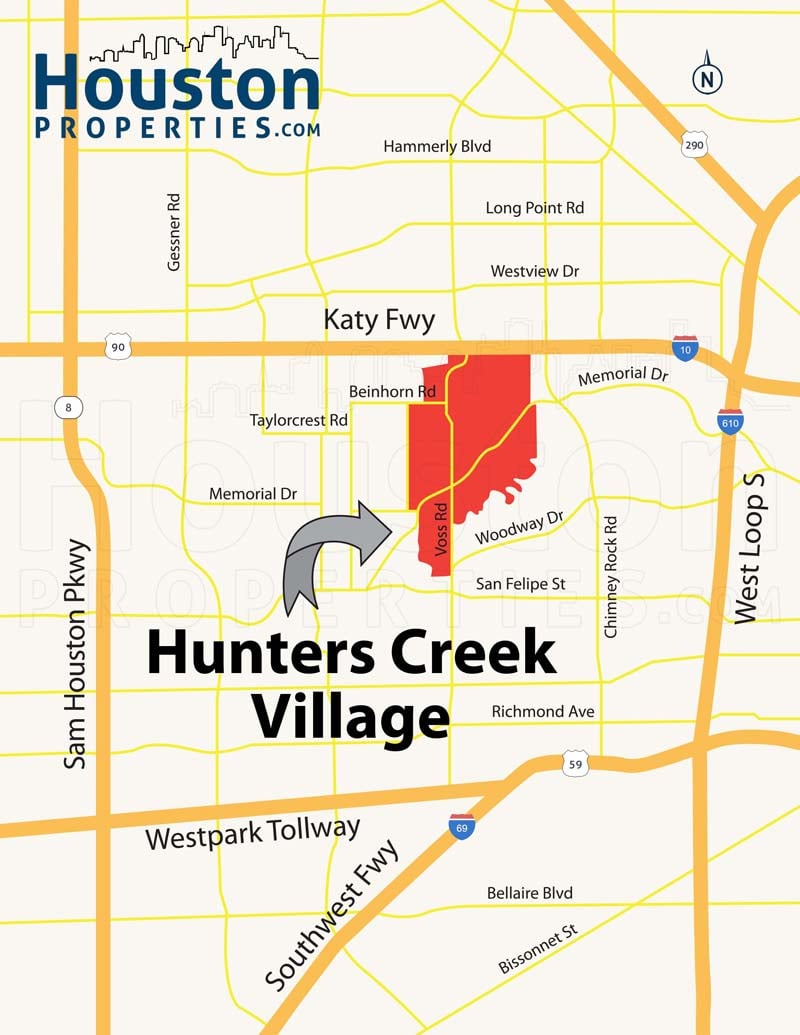 Hunters Creek Village is a tranquil, independent city located west of Houston. One of the six Memorial Villages, it features upscale homes and luxury estates.
Like most of the Memorial Villages, Hunters Creek homes for sale are highly coveted for their luxury, as well as their prime location. Access to great schools, a variety of entertainment options, and excellent city services make Hunters Creek an ideal neighborhood.
Located adjacent to the Katy Fwy, Hunters Creek provides great accessibility to and from job centers, entertainment hubs, and cultural hotspots. The Energy Corridor and Downtown Houston are easily accessible via the freeway, while The Galleria is a few minutes from the area.
Hunters Creek homes are zoned to both the Spring Branch ISD and the Houston ISD. Top-rated, award-winning schools serve the community, including Memorial High School and Memorial Drive Elementary School.
Hunters Creek offers an atmosphere of quiet luxury – long driveways, sprawling lots, and tree-lined streets. New construction custom-built homes and updated ranch-style homes are popular in the area.
Being one of the most expensive suburbs in Texas, Hunters Creek real estate can be tricky to navigate.
Contact Paige Martin, a top-ranked Houston realtor and head of the Houston Properties Team for questions and advice about Hunters Creek homes for sale.
Hunters Creek Village TX Resources:
Most Expensive Hunters Creek Homes For Sale
NOTE: Hunters Creek homes are among the fastest selling real estate in Houston. Some of the properties are off-market (not publicly listed). For more information on available Hunters Creek homes for sale call Paige Martin at 713-425-4194 or email [email protected]
Hunters Creek TX Neighborhood Guide
Hunters Creek is among the six cities that make up the Memorial Villages, along with Hedwig, Bunker Hill, Piney Point, Spring Valley, and Hilshire. It is nestled between the Katy Freeway to the north and the Buffalo Bayou to the south. A small portion of the neighborhood sits south of the Bayou.
Like the other independent cities of Memorial Villages, Hunters Creek started out as a sleepy collection of homes and farms. In 1936, a sawmill and a few homes had taken up residence in the area.
During Houston's suburban boom in the 1950s and 60s, property developers built several upper-middle-class subdivisions along the Buffalo Bayou.
At the time, Houston was looking to extend its borders to include unincorporated areas within the vicinity. Hunters Creek, along with the other Villages, aimed to prevent annexation and preserve their way of life. As such, the villages petitioned for incorporation. Hunters Creek was incorporated in 1954.
Hunters Creek Village elects its own mayor and city council members.
Hunters Creek operates the Memorial Villages Police Department together with Piney Point and Bunker Hill. The Village Fire Department and the water authority serves all the villages.
Zoning ordinances and deed restrictions preserve the area's general atmosphere – peaceful, quiet, and residential.
Hunters Creek is home to upscale homes and old ranch-style homes. In 2008, Forbes listed it as one of the "Top Suburbs to Live Well." It was also mentioned in a BusinessWeek study, as one of the most expensive suburbs in Texas.
Hunters Creek Village has a 77024 Harris County zip code. The area south of the Bayou is under the 77063 zip code.
Zip codes near Hunters Creek Village include: 77055, 77008, 77007, 77019, 77027, 77056, and 77057.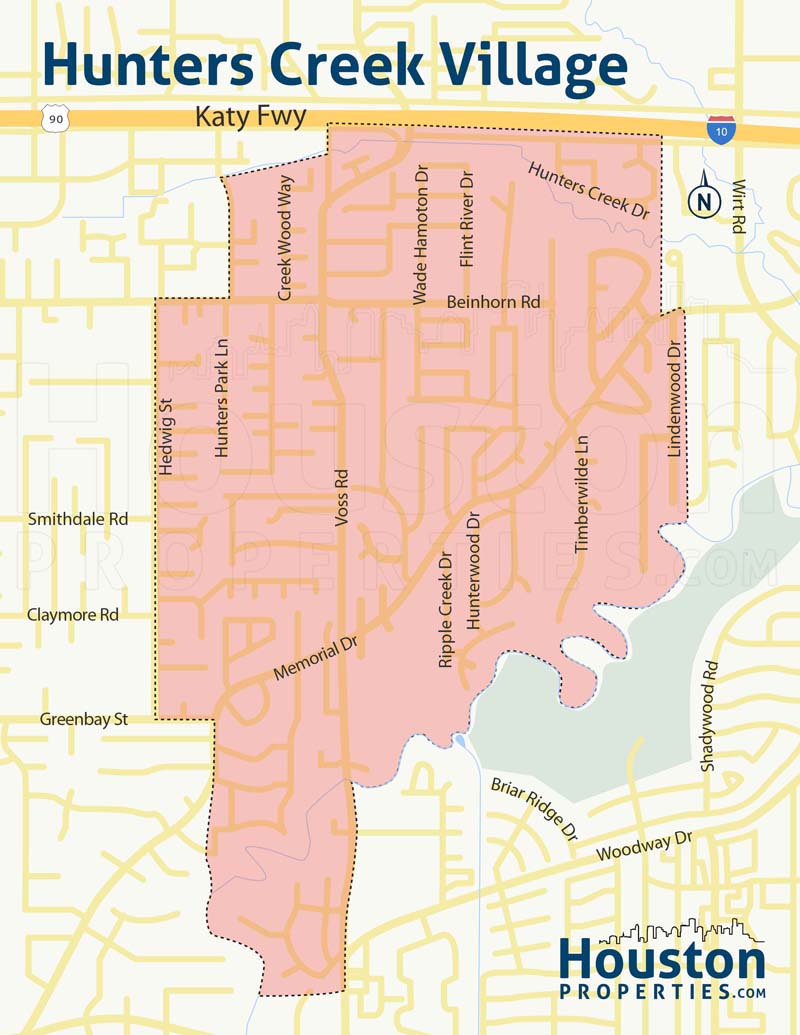 Hunters Creek Real Estate Trends
Hunters Creek real estate have been appreciating over the past decade. From $1,150,000 in 2005, median sales price has jumped to $1,899,650 in 2014. This 65% increase can be attributed to a teardown trend that has been spreading in the Villages for some time.
Homeowners are tearing down old ranch-style homes and replacing those with custom-built modern homes. These new construction Hunters Creek homes for sale tend to be more expensive than their older counterparts.
Land prices are also on the rise, marking a 34% increase from $32 in 2005 to $43 per square foot in 2014.
Hunters Creek Village features a variety of homes, though traditional style homes are more popular in the area. Larger lot sizes are common in Hunters Creek, with sizes ranging from 20,000 to more than 40,000 square feet.
Homes in the neighborhood have floor plans that include 4 bedrooms and 4 and a half baths. Due to deed restrictions and building ordinances, homes are built to specific standards.
Hunters Creek Schools
Hunters Creek Village is zoned to both the Spring Branch ISD and the Houston ISD. Homes north of the Buffalo Bayou are under SBISD, while the southern portion is served by HISD.
All pre-schoolers are sent to Wildcat Way School. Hunters Creek Elementary is located within the city boundaries. Some residents are zoned to Memorial Drive Elementary located in Piney Point Village. Spring Branch Middle School and Memorial High School, both in Hedwig Village, serve students in Hunters Creek.
Residents south of the Buffalo Bayou are zoned to the HISD's Briargrove Elementary School, Grady Middle School, and Lee High School. Students may opt to attend Lamar High School or Westside High School.
Public:
PK and Elementary
Wildcat Way School at 12754 Kimberley Ln. Located beside Bendwood Park, this school is under the Spring Branch Independent School District. It serves early education for nearly all Memorial Villages area students.
Hunters Creek Elementary School at 10650 Beinhorn Rd. This school is located within the borders of Hunters Creek Village. HCE was recognized as a National Blue Ribbon School in 1993-94. It has an 8 out of 10 rating at GreatSchools.org.
Memorial Drive Elementary School at 11202 Smithdale Rd. Located in Piney Point Village, MDE is also a National Blue Ribbon School (1996-97). Serving students in grades PK to 5, it has a GreatSchools.org rating of 10 out of 10.
Briargrove Elementary School at 6145 San Felipe St. Accepted as a candidate in the International Baccalaureate (IB) Programme in 2013, Briargrove is looking to be authorized as an IB World School. It has an excellent academic program and offers afterschool programs as well.
Briarmeadow Charter School at 3601 Dunvale Rd. Like Briargrove, Briarmeadow is an International Baccalaureate Candidate School. It is an alternative charter school with Pre-AP, after school, and gifted programs. It has a GreatSchool.org rating of 9 out of 10.
Middle School
Spring Branch Middle School at 1000 Piney Point Dr. Another National Blue Ribbon School (1997-98) from the SBISD, SBM was a TEA Recognized Campus (2008 to 2010) and a TBEC Honor Roll School in 2008.
Grady Middle School at 5215 San Felipe St. Henry W. Grady Middle School is a TEA Recognized, International Baccalarreate World School (Middle Years Programme). It features excellent academic and athletics programs.
High School
Memorial High School at 935 Echo Ln. Located in Hedwig Village, Memorial High School has received a number of awards. Like Spring Branch Middle School, it is an Honor Roll School and a National Blue Ribbon School (1988-89). The school's excellence also extends to its athletics programs. The Memorial tennis was in the state finals from 2010 to 2012, while its football team is considered one of the best in the area.
Lee High School at 6529 Beverly Hill St. Houston ISD's Lee High offers an AP/Magnet program and its courses include Macroeconomcs, Calculus, Chemistry, and World History, among others. It houses a number of clubs, as well as a full complement of girls and boys varsity teams.
Lamar High School at 3325 Westheimer Rd. Located in Upper Kirby, Lamar High offers AP and neighborhood programs, as well as an International Baccalaureate Diploma Programme. Its great academics programs is complemented by the school's athletics programs. The Lamar Texans football team, formerly known as Redskins, is considered as one of the best teams in the Greater Houston area. Lamar also has one of the oldest lacrosse teams in Texas.
Westside High School at 14201 Briar Forest Dr. As HISD's Magnet School for Integrated Technology, Westside's academic program is divided into 5 strands: Fine Arts, Media Relations, Business, Applied Science/Health Science, and Computing Sciences. It also offers a 3-year entrepreneurial program.
Private:
A number of private schools are located in and around Hunters Creek Village. The following are a few of them:
Duchesne Academy of the Sacred Heart at 10202 Memorial Dr.
Chapelwood Pre-School at 11140 Greenbay St.
St. Cecilia Catholic School at 11740 Joan of Arc
Montessori Morning Glory School at 737 Bunker Hill Rd.
Campbell Learning Center at 1440 Campbell Rd.
The Kincaid School at 201 Kincaid School Dr.
Second Baptist School at 6410 Woodway.
School of the Woods at 1321 Wirt Rd.
To find an updated listing of all Hunters Creek real estate zoned to any specific public school, please send an email to Paige Martin at [email protected] with the property preference and budget that you're working with.
*Note: School zoning tends to change from year to year, information provided above are accurate but not guaranteed. Please double check by visiting the school's website.
Hunters Creek Village TX Realtor – Paige Martin
As featured on Fox News in the Morning, the Houston Business Journal, Houston Chronicle, and Houston Magazine, Paige Martin – a consistent Top Producing Broker-Associate and head of the Houston Properties Team – is ranked amongst the very top Keller Williams agents in the Houston area.
Paige is ranked as one of the best realtors in Memorial, Houston, and the state of Texas.
Paige was named the #1 Ranked Individual Agent in the Keller Williams Memorial Office for the last four years. She has been a consistent top producing agent, winning awards every year since 2007. Read more about the over 65 awards she's won in the last few years.
Paige works with a tremendous number of buyers and sellers in Memorial.
For a specific recommendation of neighborhoods, homes or properties based upon your personal style, goals & price point, please contact Paige Martin, head of the Houston Properties Team & Broker Associate at[email protected] or 713-425-4194.