Hunters Creek Village Luxury Real Estate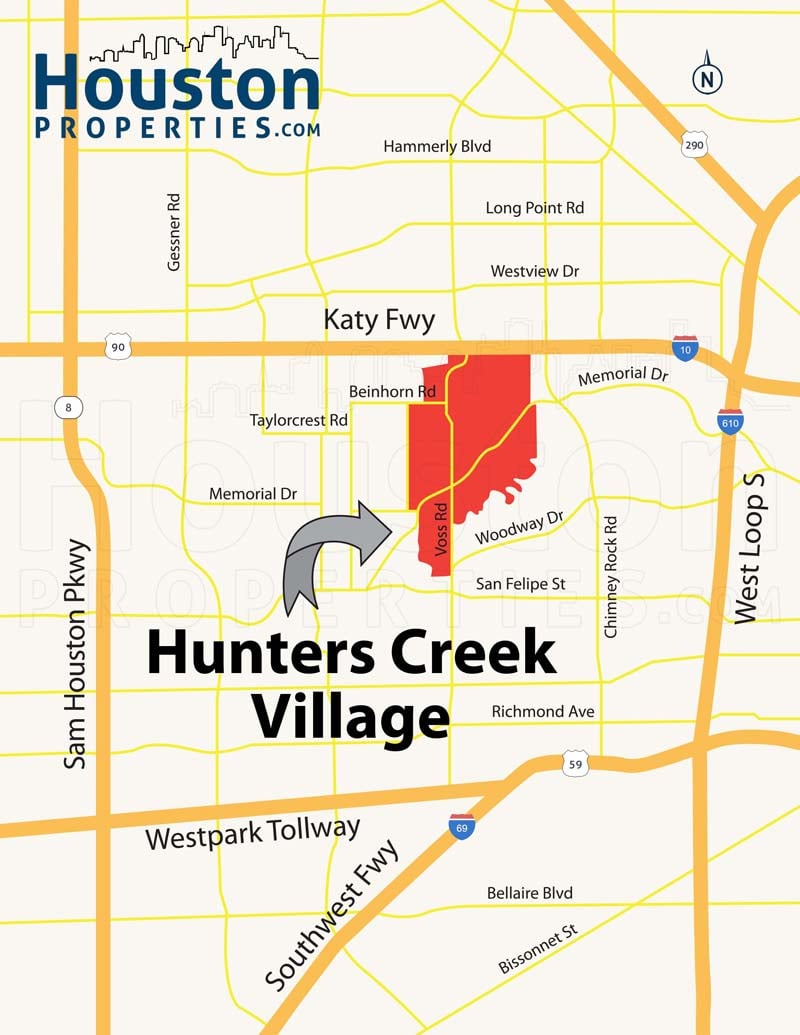 Private and serene, Hunters Creek is one of the six independent villages that make up the Memorial Villages. Located a few miles west of Downtown Houston, it is one of the most expensive suburbs in Texas.
Hunters Creek Village homes for sale feature an ideal blend of tranquil and luxurious urban living. Homes in the neighborhood offer:
Prime location: Nestled between the I-10 and the Buffalo Bayou, Hunters Creek Village features lush surroundings and a peaceful, country-living atmosphere.
High accessibility: Hunters Creek is easily accessible to and from key Inner Loop neighborhoods like The Galleria and the Downtown Houston. The Energy Corridor is a short drive east from the village.
Proximity to excellent schools: Zoned to both the Spring Branch ISD and the Houston ISD, Hunters Creek luxury homes are served by award-winning schools like Memorial High School and Memorial Drive Elementary School.
Great retail and entertainment options: Shopping hotspots like the Memorial City Mall, CityCentre, and The Galleria are minutes away from Hunters Creek Village.
Excellent city services: Hunters Creek jointly operates the Memorial Village Police Department with two other villages. The Village Fire Department and the joint water authority serve Hunters Creek along with the rest of Memorial Villages.
Gorgeous luxury real estate: Hunters Creek Village features an array of grand estates and upscale homes in different architectural styles. Homebuyers can choose from beautifully updated ranch-style homes and modern custom-built homes.
Hunters Creek luxury real estate mixes a country-living vibe while having Houston right next door. Homes in the area also enjoy proximity to excellent schools and are highly accessible to entertainment, retail, and cultural hubs.
The market can be challenging, and homebuyers will want the help of the best Houston realtor for advice and recommendations.
Contact Paige Martin, head of the Houston Properties Team & Broker Associate at [email protected]perties.com or 713-425-4194 for more information about Hunters Creek Village luxury real estate.
Hunters Creek Village TX Resources:
For more information on available Hunters Creek luxury real estate call Paige Martin at 713-425-4194 or email [email protected].
Hunters Creek Village TX Neighborhood Guide
Hunters Creek Village is a part of the Memorial Villages, along with Hedwig, Bunker Hill, Piney Point, Hilshire, and Spring Valley. Like most of the Villages, Hunters Creek is a private residential enclave lined with sprawling estates and upscale homes.
Hunters Creek Village homes for sale are among the most expensive in west Houston. A prime advantage is location: Key Houston centers are within driving distance, including the Medical Center, Downtown, the Museum District, and The Galleria. Another important business hub, the Energy Corridor, is a few miles east of Hunters Creek.
The city's borders are defined by Hedwig Village and Piney Point on the west, Katy Fwy to the north, the Buffalo Bayou to the south, and Houston to the east. Most of Hunters Creek is located north of the Bayou, though a small part sits south of it.
During the 1930s, German farmers settled in the area now known as Hunters Creek. At the time, there were only a few homes in the area. The post-WWII housing boom in Houston helped spur development in Hunters Creek, with some upper-middle-class subdivisions taking root along the Buffalo Bayou.
Houston was growing at a fast pace, and looked to extend its borders. In an effort to prevent annexation, Hunters Creek and the 5 Villages filed for incorporation.
In 1954, Hunters Creek was successfully incorporated. The move preserved the neighborhood's residential zoning and its way of life.
Today, zoning ordinances and deed restrictions maintain the area's atmosphere of luxury, serenity, and privacy. Commercial establishments and billboards are not allowed within the village's borders.
The Memorial Villages each elect their own mayor and city council members. The Memorial Villages Police Department, the Village Fire Department, and the Memorial Villages Water Authority serve Hunters Creek Village.
Homes in Hunters Creek typically feature sprawling half-acre lots. Some properties have bigger lots and more living spaces. Architectural sensibilities vary with some homes featuring Contemporary, Mediterranean, French, and Spanish styles, though most favor Traditional.
On average, Hunters Creek luxury real estate can sell from $1M to more than $12M. These properties feature upscale hallmarks like multi-car garages, pools, verandas, landscaped grounds, en suite baths, and tree-lined drives.
Prices depend on factors including lot and building size, age of the property, and location.
Forbes listed Hunters Creek as one of the "Top Suburbs to Live Well" in 2008, while a BusinesWeek study proclaimed the area as one of the most expensive suburbs in Texas.
Hunters Creek Village has a 77024 Harris County zip code. The area south of the Bayou is under the 77063 zip code.
Zip codes near Hunters Creek Village include: 77055, 77008, 77007, 77019, 77027, 77056, and 77057.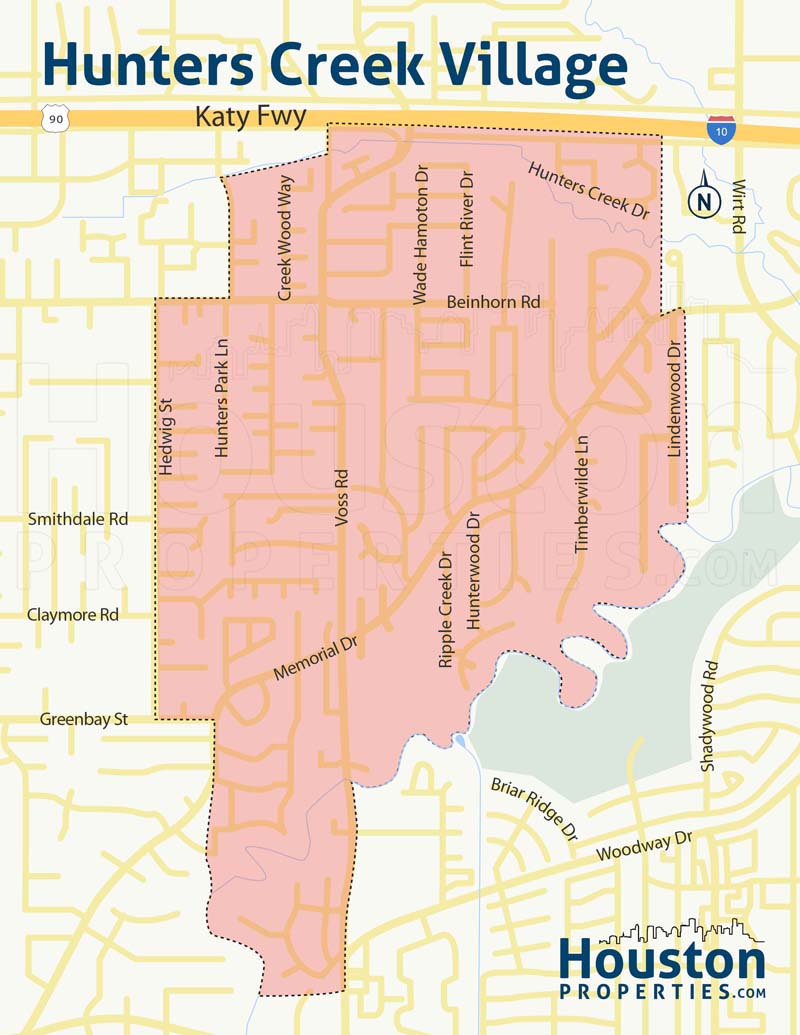 Fun Things To Do Near Hunters Creek Village TX
Like most of Memorial Villages, Hunters Creek has deed restrictions in place that forbid commercial establishments in the general area of the neighborhood. Stores, shopping centers, and restaurants are relegated to the fringes of the city.
Residents, nevertheless, have plenty of entertainment, shopping, and outdoor activity options.
Located in Hunters Creek, the Houston Racquet Club is a historic landmark, especially for tennis fans. It is cited as the birthplace of the modern WTA Tour. It still offers tennis and fitness facilities at its grounds at 10709 Memorial Drive. Courtside Cafe and The Grill cater to members of the club. The club went into a reciprocal relationship with the Westwood Golf Club, located at 8888 Country Creek Drive. It features an 18-hole golf course and practice facilities (driving range and short game area).
Located in 1 Potomac Drive, the Houston Country Club is located just south of the Hunters Creek, across the Buffalo Bayou. Lakeside Country Club, another members only club, is located in 100 Wilcrest Drive.
Memorial Park Golf Course is just a short drive away from Hunters Creek. This 18-hole golf course is a top-rated municipal golf course. It has a 122 slope rating and a 73 course rating.
The Galleria, a major Houston shopping destination, is a few minutes from Hunters Creek. Other shopping hubs like the Memorial City Mall and the CityCentre are equally accessible from the neighborhood.
Hunters Creek residents also have access to entertainment, retail, and cultural hubs in Houston, including the Museum District and Downtown Houston.
Here are some of the must-visit places in and around Hunters Creek Village:
Sports and Outdoor Recreation
Houston Racquet Club
Houston Country Club Golf Driving Range
Lakeside Country Club
Memorial Park Golf Course
Forest Club
Westwood Golf Club
Restaurants
Vietnam Poblano
Masraff's
Thai Gourmet
Muscle Maker Grill
Orange Lunch Box
Cafe Mezza & Grille
Muiishi Makirritos
Zabak's Mediterranean Cafe
Buffalo Grille
Carrabba's
Escalante's
Sylvia's Enchilada Kitchen
Saltgrass Steak House
Goode Company Barbeque
Sweet Tomatoes
Cafes
French Riviera Bakery & Cafe
Barnaby's Cafe
Argentina Cafe
Collina's Italian Cafe
La Madeleine Country French Cafe
Cafe Express
Shopping
Katy Reed Shopping Center
Memorial Antiques & Interiors
Trader Joe's
The Galleria
Memorial City Mall
CityCentre
Parks
Hunters Creek Village Park
Memorial Park
Terry Hershey Park
Bendwood Park
Hunters Creek Village Houston Realtor – Paige Martin
As featured on Fox News in the Morning, the Houston Business Journal, Houston Chronicle, and Houston Magazine, Paige Martin – a consistent Top Producing Broker-Associate and head of the Houston Properties Team – is ranked amongst the very top Keller Williams agents in the Houston area.
Paige is ranked as one of the top realtors in Hunters Creek Village Houston, and the state of Texas. Read more about the over 65 awards she's won in the last few years.
Paige works with a tremendous number of buyers and sellers within the Inner Loop.
For a specific recommendation of neighborhoods, homes or properties based upon your personal style, goals & price point, please contact Paige Martin, head of the Houston Properties Team & Broker Associate at [email protected] or 713-425-4194.