Guide To Piney Point Village Luxury Real Estate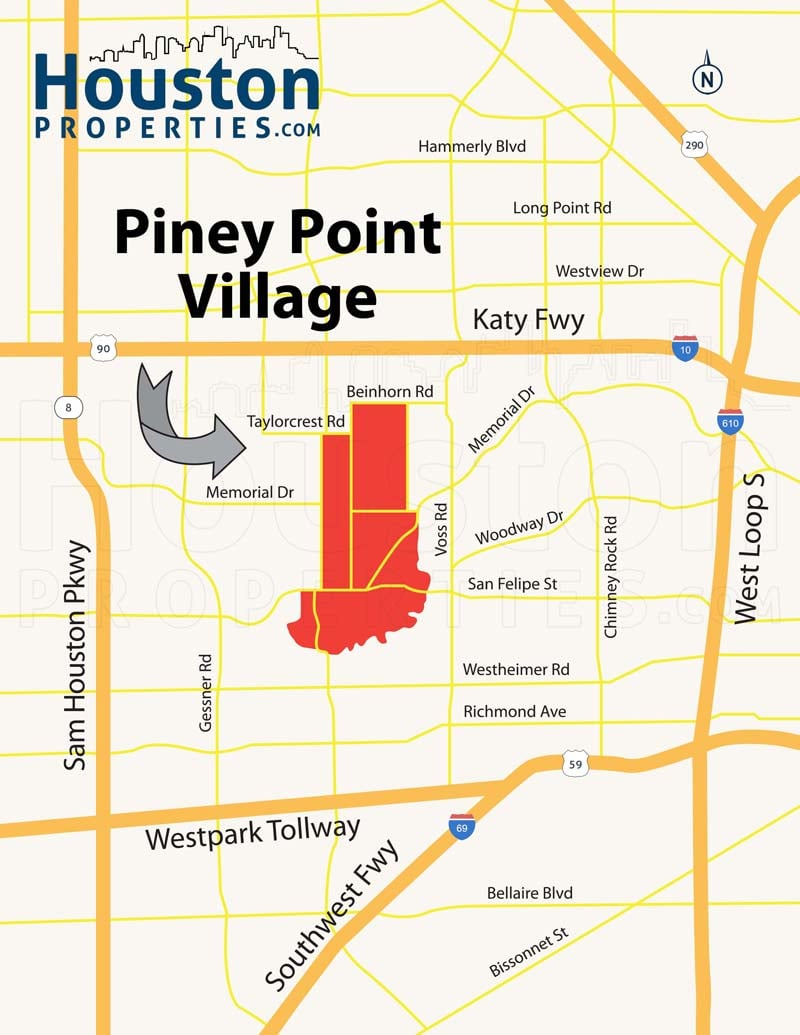 About 10 miles east of Downtown Houston, Piney Point Village is the wealthiest place in Texas by average annual income. It is a statistic that shows in the city's elegant homes and stately manors.
Piney Point luxury real estate feature glamour and affluence, with scenic grounds, long tree-lined driveways, and picturesque homes. The city's homes are among the most expensive in the state and are highly prized due to the following:
Prime location: Straddling the Buffalo Bayou, Piney Point Village is a residential enclave a few miles away from Downtown Houston. It features some of the most expensive real estate in the state.
Easy accessibility: Located centrally within the Memorial Villages, Piney Point has easy access to and from Inner Loop neighborhoods and the Energy Corridor via four major freeways: I-10, Loop 610, Beltway 8, and Westpark Tollway.
Affluent and serene atmosphere: Piney Point is known for its country-living ambience, with homes on expansive and wooded lots. Lush grounds also provides an air of luxury and affluence.
Access to award-winning schools: Zoned to both the Spring Branch ISD and the Houston ISD, Piney Point Village has access to the best schools in the area. Award-winning schools like Memorial High School and Memorial Drive Elementary serve the city. The Kinkaid School is located within Piney Point.
Luxury housing options: Piney Point homes for sale can range from old country estates to new construction custom-built homes.
Piney Point Village provides a great combination of an idyllic country-living vibe and the comforts of living next to the city.
The Piney Point real estate market can be challenging to navigate, especially with its low inventory. Homebuyers will need the help of a great Houston realtor for updated listings, information, and recommendations.
Contact Paige Martin, head of the Houston Properties Team & Broker Associate at [email protected] or 713-425-4194 for more information about Piney Point luxury real estate.
Piney Point Village TX Resources:
For more information on available Piney Point luxury real estate call Paige Martin at 713-425-4194 or email [email protected].
Neighborhood Guide: Piney Point Village TX
Nestled within the south-central portion of the Memorial Villages, Piney Point Village is a 2.1-square mile independent city.
Piney Point has Bunker Hill to the west, Hedwig to the north, Hunters Creek to the east, and Houston to the south. Its borders follow the contours of the Buffalo Bayou, and though most of the city sits north of the Bayou, a small portion is south of it.
The city's name derives from its early history. In 1824, Stephen F. Austin granted John D. Taylor a league of land – more than 4,600 acres. This league was centered on an area called "pine point," located at the southernmost turn of the Buffalo Bayou. Taylor's house came to be known as Piney Point.
A few decades later, in 1885, Piney Point was a station on the Texas Western Railroad. Like most of the Memorial Villages and areas surrounding Houston, Piney Point was populated with farms and sawmills during these early periods.
By the 1950s and 60s, Houston's suburban boom pushed development in nearby neighborhoods – Piney Point included. Upper-middle-class subdivisions took root along the Buffalo Bayou. In the midst of these developments, Houston was extending its borders outside the confines of Loop 610.
To preserve its residential zoning, Piney Point filed for a petition of incorporation, along with 5 other villages: Hilshire, Hunters Creek, Bunker Hill, Hedwig, and Spring Valley. By 1955, Piney Point Village was a city with an alderman type of government.
In addition to becoming part of the collective known as the Memorial Villages, Piney Point elects its own mayor and city council.
The city jointly operates the Memorial Police Department alongside Bunker Hill and Hunters Creek. The Village Fire Department serves all six villages. All six are also under the Memorial Villages Water Authority.
Still a largely residential community, Piney Point Village has deed restrictions that ban any form of business inside the city. This, and building ordinances, have helped keep the tranquil ambience around Piney Point. A village arborist assists homeowners in keeping their verdant grounds healthy and thriving.
Piney Point Village is the wealthiest area in Texas by per capita income and its homes reinforce this title.
The majority of the Piney Point Village is under the 77024 zip code, while the area that sits south of the Buffalo Bayou has the 77063 Harris County zip code.
Zip codes near Piney Point Village TX include: 77055, 77008, 77007, 77019, 77027, 77056, and 77057.
Neighborhoods near Piney Point include: Stablewood, Bayou Woods, Sandalwood, Energy Corridor, The Galleria, River Oaks, Camp Logan, and Timbergrove.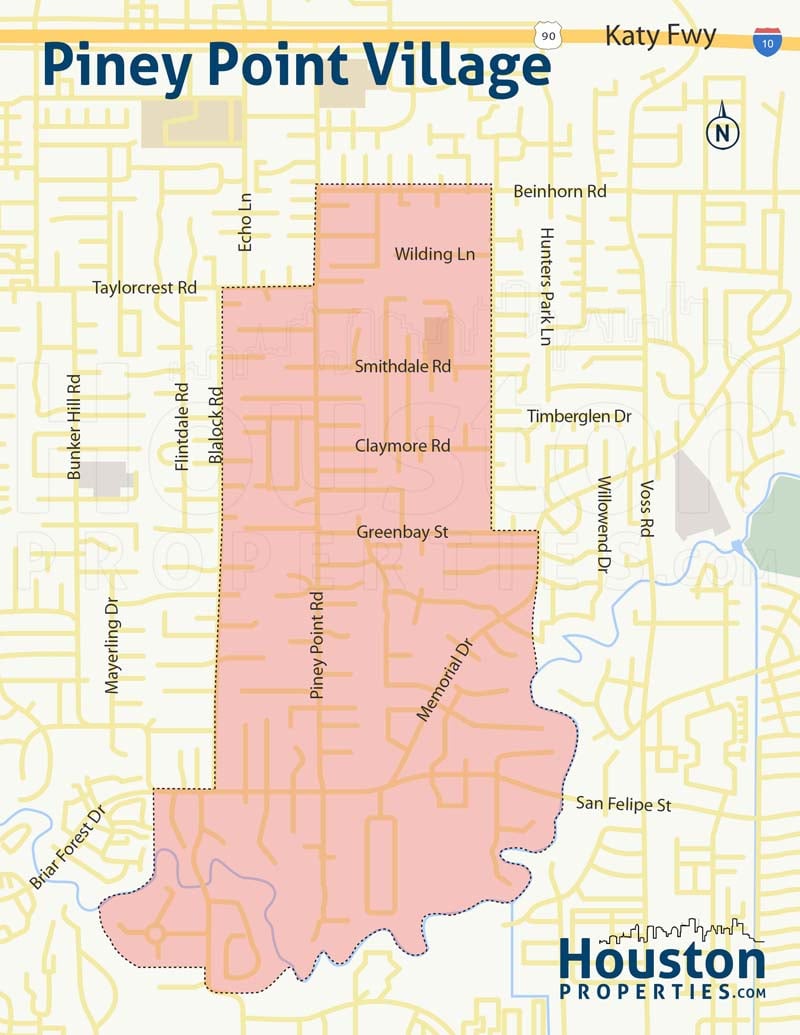 Fun Things To Do Near Piney Point
Like most of the Memorial Villages, Piney Point Village has deed restrictions against all kinds of commercial establishments. Stores, shopping centers, and restaurants are notably located along the borders of the Memorial Villages. Though this may be the case, there are several dining, retail, and entertainment centers nearby.
The Memorial City Mall is mere minutes away. A large shopping mall located along the I-10, Memorial City Mall has been serving Piney Point and surrounding neighborhood since it opened its door in 1962. Anchor stores in this mall include Macy's, JCPenney, Sears, Target, and Dillard's.
Another retail hotspot, the CityCentre is a short drive from Piney Point. Located in the corner where the I-10 and Beltway 8 meet, it is a pedestrian-friendly mall that features a number of restaurants.
Piney Point Village is also highly accessible to several members-only country clubs, including Lakeside Country Club and the Houston Country Club.
The Houston Racquet Club is located in neighboring Hunters Creek Village. Along with tennis facilities, the club also has the Courtside Cafe and The Grill which cater to its members. The club also fosters a relationship with the Westwood Golf Club, which has an 18-hole course with several practice facilities.
A public 18-hole golf course, the Memorial Park Golf Course, is easily accessible from the neighborhood via the I-10. It has a course rating of 73 and a slope rating of 122.
Houston's cultural, entertainment, and retail hotspots – the Museum District, Downtown Houston, and The Galleria – are also within reach.
Here are some of the must-visit places around Piney Point Village:
Outdoor Recreation
Lakeside Country Club
Houston Country Club
Houston Racquet Club
Memorial Park Golf Course
Forest Club
Westwood Golf Club
Shopping
Memorial City Mall
CityCentre
Marge Entertainment Center
The Galleria
Hedwig Village Shopping Center
Katy Reed Shopping Center
Restaurants
Vietnam Poblano
Thai Gourmet
Kasra Persian Grill
Muiishi Makirritos
The Original Marini's Empanada House
Muscle Maker Grill
Orange Lunch Box
The Afgan Village
Izakaya Wa
Masraff's
Fogo de Chão Brazilian Steakhouse
Straits Restaurant
Fleming's Prime Steakhouse & Wine Bar
Nightlife
Winetopia
Stereo Live
Caps Piano Bar
El Patio Restaurant and Club
Pinot's Palette
Richmond Arms Pub
Parks
Edith L. Moore Nature Sanctuary
Memorial Park
Terry Hershey Park
Bendwood Park
Arthur Storey Park
Briarbend Park
Piney Point Houston Realtor – Paige Martin
As featured on Fox News in the Morning, the Houston Business Journal, Houston Chronicle, and Houston Magazine, Paige Martin – a consistent Top Producing Broker-Associate and head of the Houston Properties Team – is ranked amongst the very top Keller Williams agents in the Houston area.
Paige is ranked as one of the top realtors in Piney Point Houston, and the state of Texas. Read more about the over 65 awards she's won in the last few years.
Paige works with a tremendous number of buyers and sellers within Memorial Villages, earning praises like "Paige Martin is the best Piney Point realtor I know".
For a specific recommendation of neighborhoods, homes or properties based upon your personal style, goals & price point, please contact Paige Martin, head of the Houston Properties Team & Broker Associate at [email protected] or 713-425-4194.