Guide To ALL Spring Valley Homes For Sale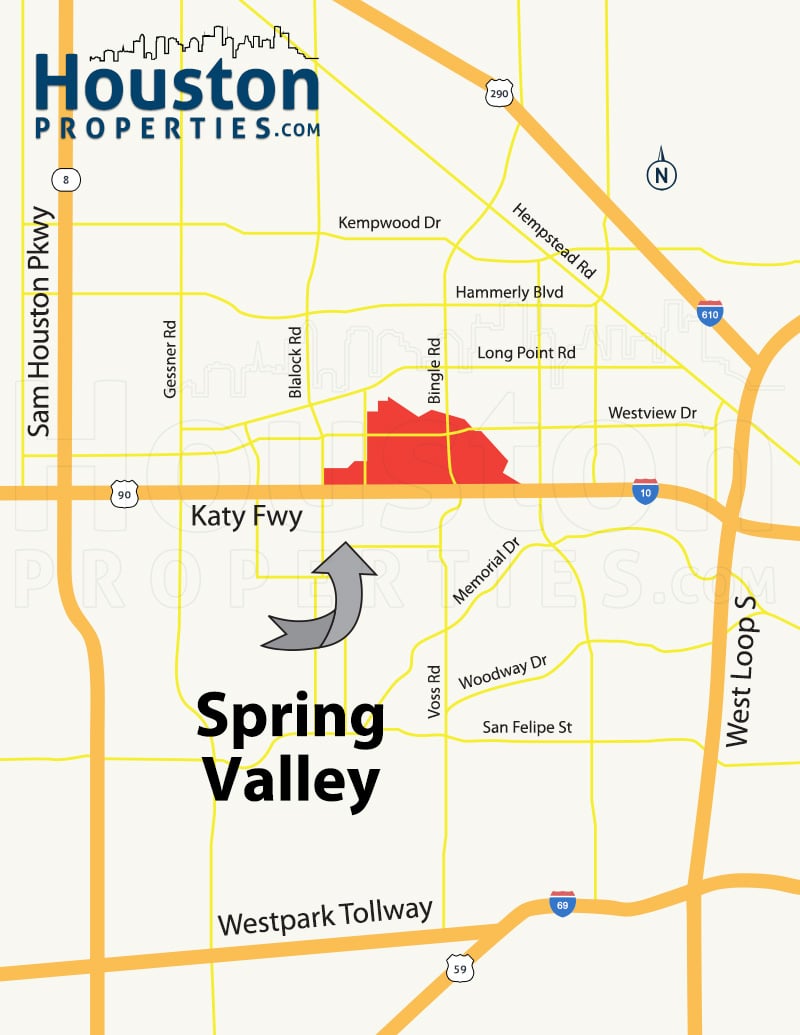 A serene residential enclave west of Downtown Houston, Spring Valley Village is one of the six neighborhoods that make up the Memorial Villages.
Located along Katy Freeway (I-10), the neighborhood has convenient access to the major job centers of Downtown Houston and the Energy Corridor. Other important Inner Loop hubs like the Medical Center and The Galleria are minutes away from Spring Valley Village.
Though largely residential, some commercial establishments line the Spring Valley's borders. Retail and entertainment centers in nearby Hedwig and Houston neighborhoods are also within driving distance.
Spring Valley homes for sale are zoned to the Spring Branch ISD and thus have access to multi-award winning schools, including Memorial High School and Spring Branch Middle School.
Like its fellow Villages, Spring Valley possesses a unique country-living charm – a rarity for a neighborhood within a big city like Houston.
Homes in the area range from ranch-style homes that date back to the 1950s to newer, custom-built homes with luxury fittings and amenities.
Contact Paige Martin, a top-ranked Houston realtor and head of the Houston Properties Team for questions and advice about Spring Valley homes for sale.
Spring Valley Village TX Resources:
Most Expensive Spring Valley Homes For Sale
Spring Valley Homes Under $1M
NOTE: Spring Valley homes are among the fastest selling real estate in Houston. Some of the properties are off-market (not publicly listed). For more information on available Spring Valley homes for sale call Paige Martin at 713-425-4194 or email [email protected]
Neighborhood Guide: Spring Valley Village TX
One of the two Memorial Villages located north of the interstate, Spring Valley is adjacent to Hilshire and Spring Branch to the east and north. Hedwig and Hunters Creek are just across the Katy Freeway, south of the neighborhood.
Like the other Memorial Villages, the affluent 1.6-square mile neighborhood started out as a collection of farms, sawmills, and a few homes.
By the 1950s, Spring Valley Village had grown to a tight-knit community – and Houston had its eye on annexing unincorporated areas beyond its borders. Concerned about zoning and taxation, residents filed for a petition for incorporation.
Today, the City of Spring Valley Village has a mayor-city council type of government and operates its own police department. It shares a fire department and water authority with the other five Villages.
After its incorporation in 1955, the newly minted independent municipality enacted an ordinance that regulates the issuance of building permits, as well as one that governs subdivisions.
Under the said zoning ordinance, Spring Valley Village limited homes to a one-story floor plan and a 10,000-square foot minimum lot area. Later on in the 1980s, the zoning ordinance was amended to allow the construction of two-story homes.
The effects of the old ordinance is still quite apparent in Spring Valley – ranch-style homes and bungalows are a common sight, with a few new construction custom-built homes.
Spring Valley Village has a 77055 Harris County zip code.
Zip codes near Spring Valley Village TX include: 77024, 77080, 77092, 77043, 77007, 77008, and 77049. (View Houston zip code map.)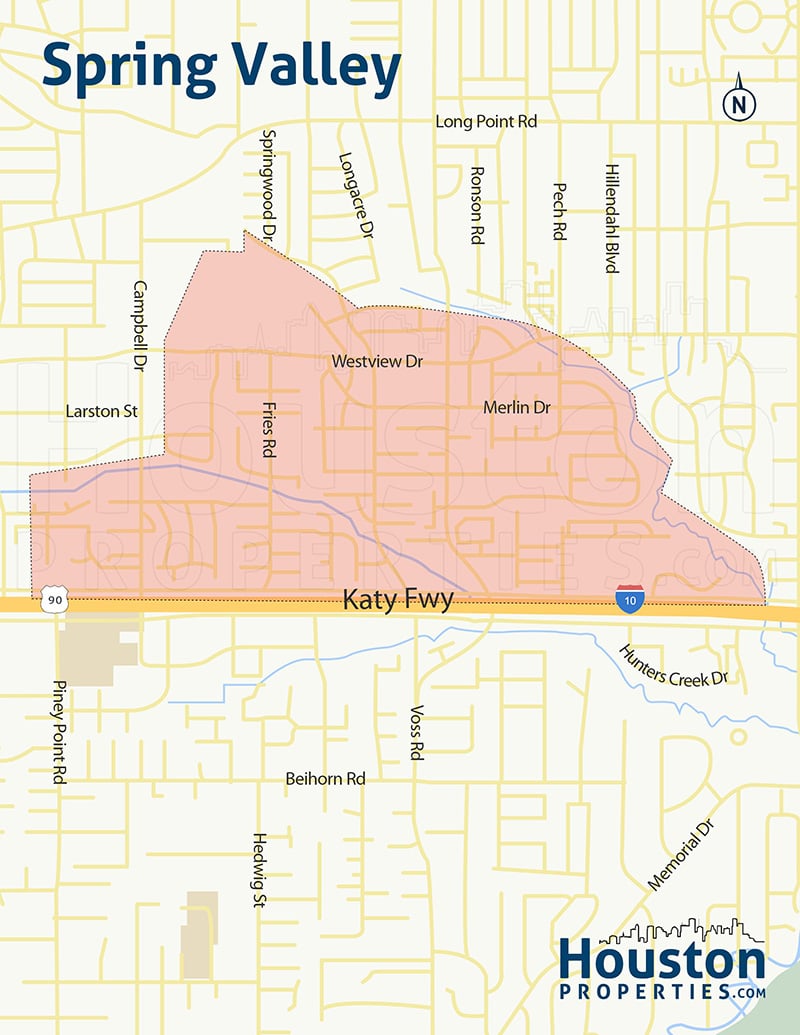 Spring Valley Village Schools
Spring Valley Village is zoned to the Spring Branch Independent School District (SBISD).
Pre-K and Elementary
The Bear Boulevard School at 8860 Westview Dr. One of the SBISD's 5 early learning centers, Bear Boulevard features a full-day educational program for young children. Bear Blvd is located in Spring Valley Village.
Valley Oaks Elementary School at 8655 Emnora Ln. Serving Pre-K to 5 students, VOE has been around since 1956. It offers several programs including Gifted and Talented and Bilingual/ESL. Valley Oaks has a GreatSchools.org rating of 8 out of 10.
Middle School
Spring Branch Middle School at 1000 Piney Point Dr. Located in nearby Hedwig Village, SBMS offers a special education program, along with several electives in Foreign Language, Technology Education, and Family and Consumer Science. It was recognized as a National Blue Ribbon School in 1997-98.
Cornerstone Academy at 9016 Westview Dr. Cornerstone Academy is a charter school located within Spring Valley Village. It has been named National Charter School of the Year in 2008 and is recognized as one of the top middle schools in Texas (Texas Business and Education Coalition & Just For The Kids). Cornerstone offers electives in CESIT (Career Explorations, Special Interests and Talents) and Foreign Language (French and Spanish).
High School
Memorial High School at 935 Echo Ln. Like Spring Branch Middle School, MHS is also located in Hedwig Village. It has been named a National Blue Ribbon School in 1988-89 and has been named one of Newsweek's top high schools in the United States for several years. It has also been given the College Readiness Award, the Just 4 The Kids High Performing School award, and the TAKS Gold Performance Award. Memorial High also has a great athletics program and has a rivalry with Stratford High School.
Academy of Choice at 9016 Westview Dr. Also known as the Spring Branch School of Choice (SBSOC), this alternative school is located in Spring Valley. True to its name, AOC offers a number of program options for students in grades 9 to 12. The school also houses the Spring Branch ISD Virtual High School.
Private Schools
Listed below are some private schools in and around Spring Valley Village:
Campbell Learning Center at 1440 Campbell Rd.
Spring Branch Presbyterian Learning Center at 1215 Campbell Rd.
Paratus Classical Academy at 1440 Campbell Rd.
St. Mark Lutheran School at Hillendahl Blvd.
School of the Woods at 1321 Wirt Rd.
Duchesne Academy of the Sacred Heart at 10202 Memorial Dr.
St. Cecilia School at 11740 Joan of Arc Dr.
The Parish School at 11001 Hammerly Boulevard.
The Kinkaid School at 201 Kinkaid School Dr.
To find an updated listing of all Spring Valley real estate zoned to any specific public school, please send an email to Paige Martin at [email protected] with the property preference and budget that you're working with.
*Note: School zoning tends to change from year to year, information provided above are accurate but not guaranteed. Please double check by visiting the school's website.
Spring Valley TX Realtor – Paige Martin
As featured on Fox News in the Morning, the Houston Business Journal, Houston Chronicle, and Houston Magazine, Paige Martin – a consistent Top Producing Broker-Associate and head of the Houston Properties Team – is ranked amongst the very top Keller Williams agents in the Houston area.
Paige is ranked as one of the top realtors in Spring Valley Village, Houston, and the state of Texas.
Paige works with a tremendous number of buyers and sellers within the Memorial area, earning praises like "Paige Martin is the best Spring Valley realtor I know". Read more about the over 65 awards she's won in the last few years.
For a specific recommendation of neighborhoods, homes or properties based upon your personal style, goals & price point, please contact Paige Martin, head of the Houston Properties Team & Broker Associate at [email protected] or 713-425-4194.