FROSTWOOD REAL ESTATE GUIDE
2022 Frostwood homes for sale & insider real estate guide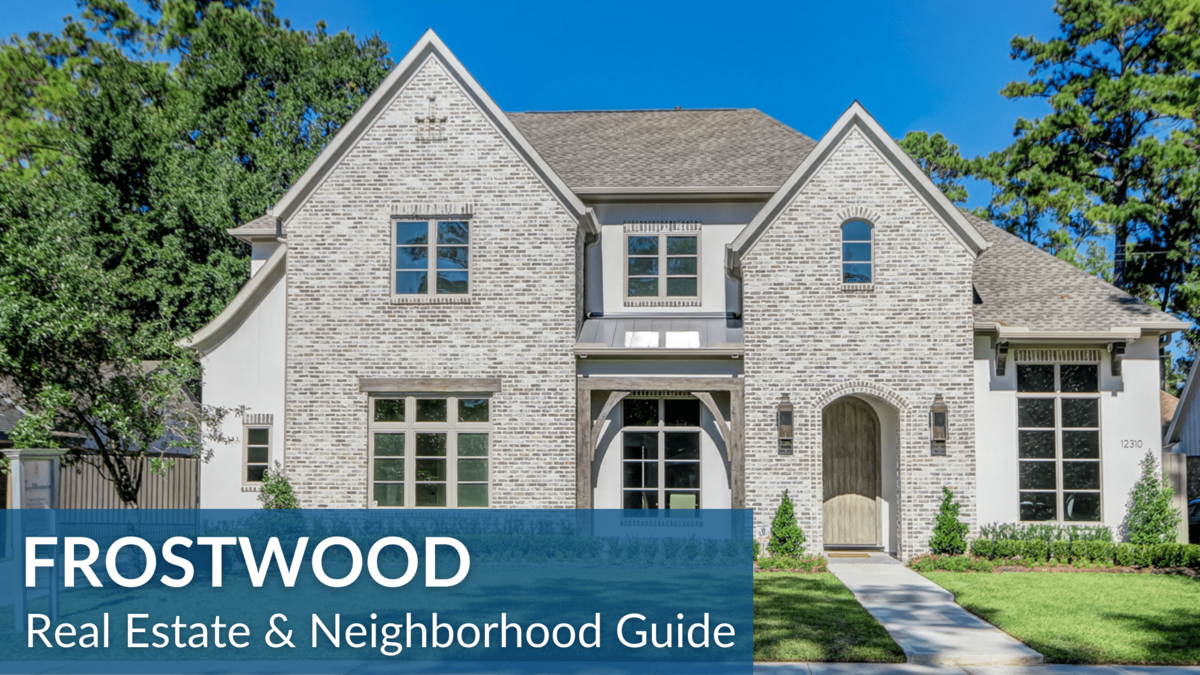 A small residential enclave of over 300 luxury homes, Frostwood is a private community with large wooded lots. The community feature multi-award-winning schools and a central location within the Memorial area.
Frostwood residents enjoy:
EXCLUSIVITY: The median sales price of Frostwood homes is over $900,000. The community's strong property values make it one of the Most Expensive Neighborhoods in Houston. (See also The Salary Requirements Needed to Live Comfortably in Houston's Best Neighborhoods.)

PROXIMITY TO EMPLOYMENT CENTERS: The community is around 3 miles away from the Westchase District. The community is about 5 miles away from the Energy Corridor and Galleria. Memorial City's medical complex is located just a few blocks away from Frostwood homes. Also known as Memorial Hermann Memorial City Medical Center.

MULTI-AWARD WINNING SCHOOLS: Three National Blue Ribbon Schools serve the community. Among those are the Memorial High School, Memorial Middle School, and Frostwood Elementary. The highly regarded Spring Branch Independent School District (SBISD) has some of the best schools in the Greater Houston area.

FANTASTIC ACCESS: Nestled near where Katy Freeway (I-10) and Sam Houston Parkway (Beltway 8) meet. Frostwood homes have excellent access to some of the area's main arteries, including Gessner Road and Memorial Drive. The neighborhood has Bunker Hill to the east, Memorial City to the north, and Memorial Green to the south. Frostwood homes are conveniently located near Beltway 8 (Sam Houston Parkway) and Interstate 10. (Katy Freeway).

NEAR RETAIL AND ENTERTAINMENT: Frostwood's proximity to Memorial City gives residents easy access to Memorial City Mall. The Memorial City Mall is a shopping center with more than 140 retail shops and restaurants. Anchor stores include JCPenney, Dillard's, Macy's, Sears, and Target. Other options aren't too far away. The CityCentre and Town & Country Village are both a short drive away.

LARGE WOODED LOTS: Homes in Frostwood typically sit on spacious wooded lots (by Houston standards). Size range from 9,000 to more than 13,000 square feet. Like most homes in the Memorial area, the community's homes have ample setbacks and are deed-restricted.

ACTIVE HOMEOWNERS ASSOCIATION: The Frostwood Community Improvement Association handles the community's deed restrictions. They also handle the building guidelines, helping keep the neighborhood's overall look and atmosphere.
Frostwood real estate can be tricky to navigate. Busy main roads (like Memorial Drive and Gessner Road) can affect resale values. Some homes can sell at a premium, while others sell at slightly lower prices.
To get personal advice on buying or selling a Frostwood home, contact Paige Martin. One of Houston's best realtors and one of the top-ranked Realtors in the United States.
"The Houston Properties Team helped make the purchase of our first home so much less stressful, especially in this market. They kept in constant communication and helped us navigate the process from beginning to end." - Meagan Joacim (Google Review)
---
Table of Contents
---
Frostwood Home Sale Trends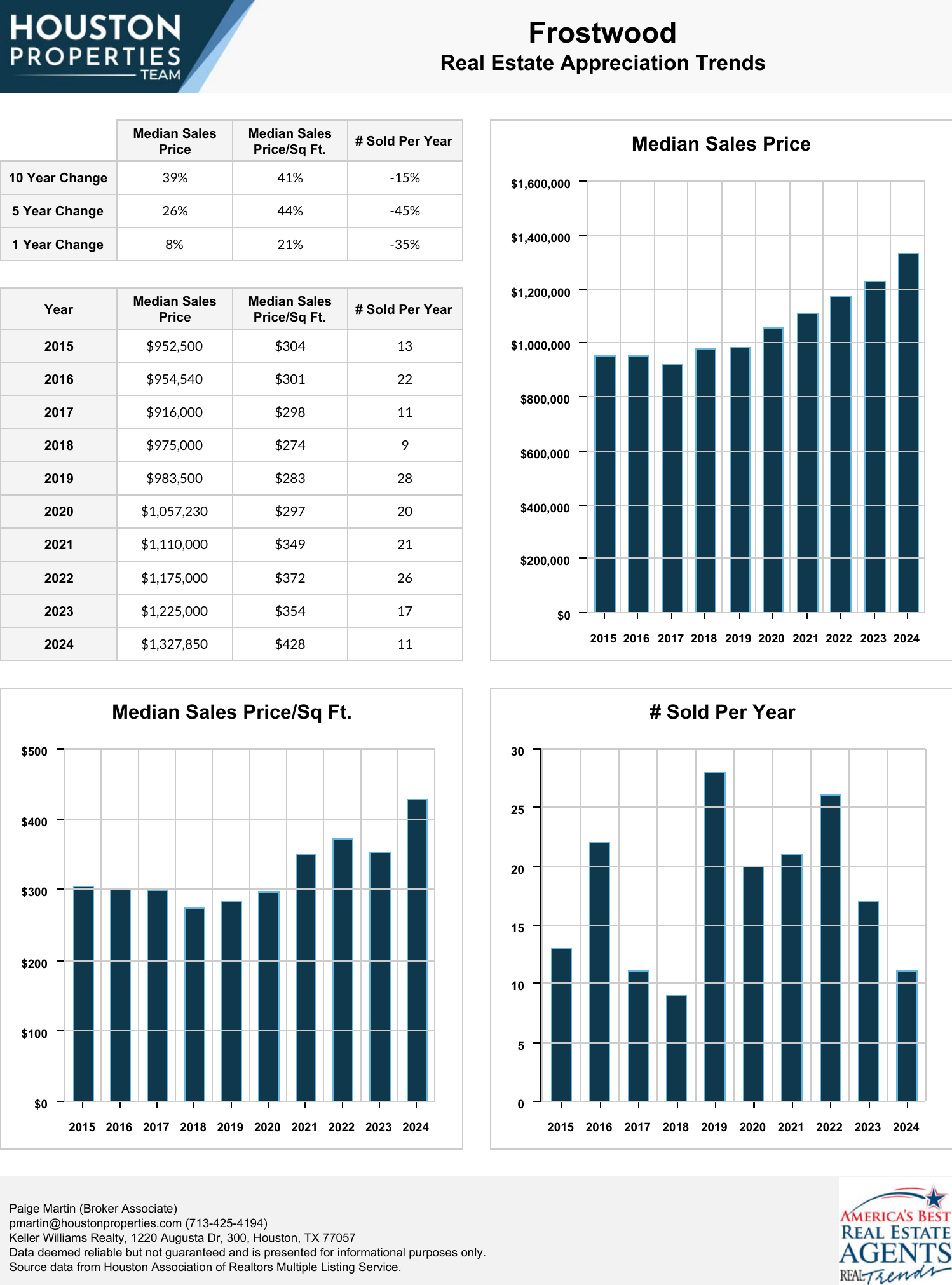 Frostwood is a small residential enclave of over 300 luxury homes. It is a private community notable for its central location within the Memorial area.
Frostwood is known for its:
Exclusivity: Frostwood homes have a median price of over $900,000. It is considered one of the most expensive neighborhoods in Houston.
Accessibility: Residents enjoy close proximity from the Westchase District, Energy Corridor, and Galleria. The Memorial Hermann Memorial City Medical Center is only a few blocks away from the residential areas.
Excellent Schools: Students may attend three National Blue Ribbon Schools: Frostwood Elementary, Memorial Middle School, and Memorial High School.
Large Wooded Lots: Frostwood homes are typically nestled in spacious wooded lots, from 9,000 to 13,000 or more square feet. The community is deed-restricted.
Due to the diligence of the Frostwood Community Improvement Association, Frostwood homes enjoy a consistent and timeless overall look and atmosphere. Single-family ranch-style homes from the 1960s are constantly updated and maintained for an old, country-living atmosphere.
---
Frostwood Maps, Location & Zip Code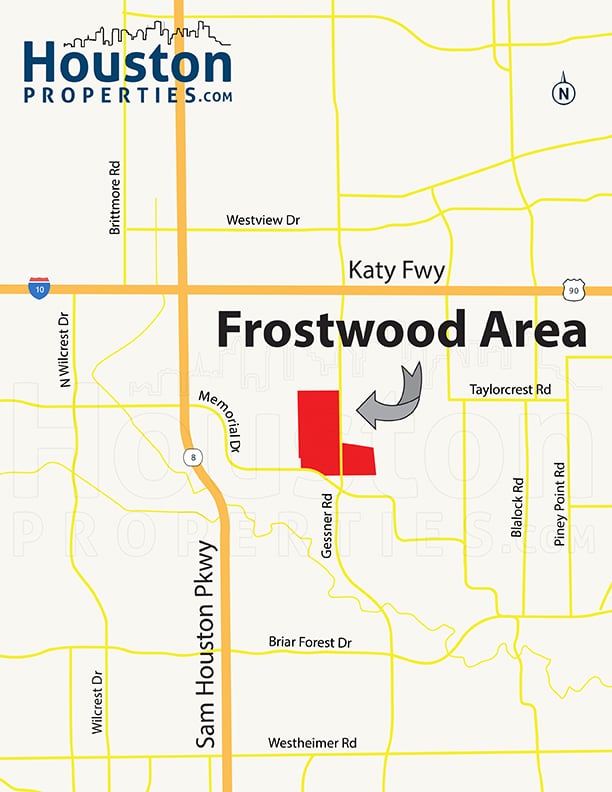 | Commute Time | Frostwood |
| --- | --- |
| Downtown (min) | Unknown |
| Med Ctr (min) | Unknown |
| Energy Corridor (min) | Unknown |
| Galleria (min) | Unknown |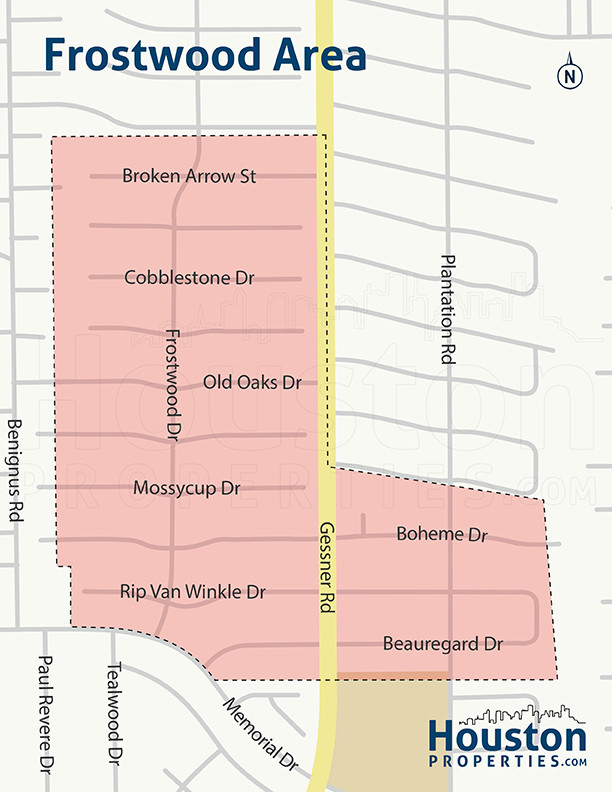 | Highlights | Frostwood |
| --- | --- |
| Amenities | Unknown |
| Golf Courses | Unknown |
| Run / Bike Trails | Unknown |
| Nearby Retail / Dining | Unknown |
| Major Employers | Unknown |
---
Frostwood Schools
| Top Elementary Schools | Great Schools Ranking |
| --- | --- |
| Frostwood Elem | 10 |
| Top Middle Schools | Great Schools Ranking |
| --- | --- |
| Memorial Middle | 9 |
---
Best Houston Real Estate Resources
---