Memorial Houston Neighborhood Maps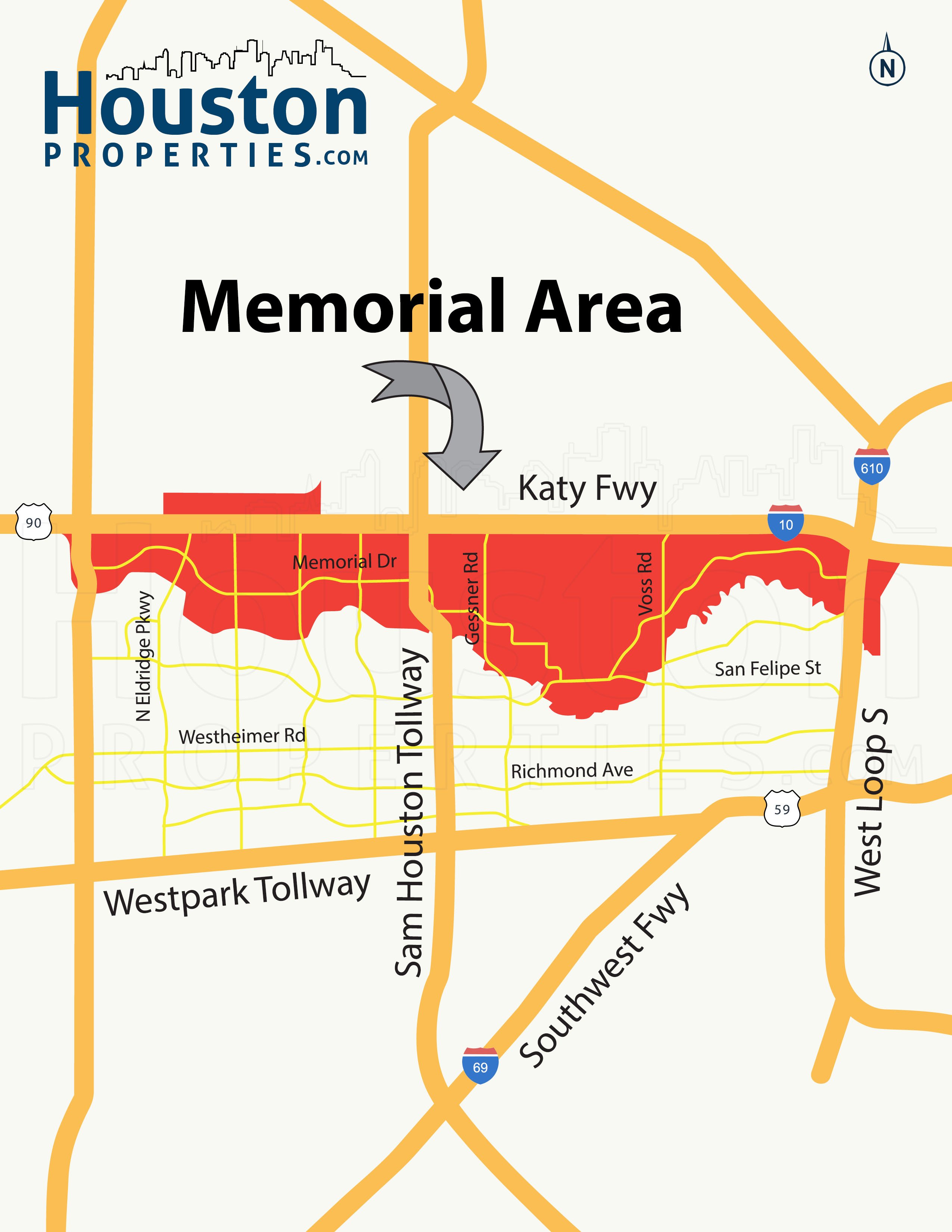 The Memorial area spans over 80 miles of gorgeous homes with spacious lots and sprawling trees. It is also home to Memorial Forest, Memorial Villages, and Frostwood, three of Houston's 20 most expensive neighborhoods.
As one of the largest neighborhoods in Houston by size, Memorial is composed of four regions (Memorial Villages, Memorial West, Memorial Close In and Memorial Park), over thirty smaller communities, and six independent municipalities.
Memorial  is located on the West side of Houston and is primarily south of Katy Freeway, mostly between West Loop 610 North and West Beltway 8, and the southern border runs along Buffalo Bayou to the south.
Memorial residents enjoy easy commute to Downtown Houston, The Galleria, and Energy Corridor – three of the largest business districts in Houston (and the state of Texas).
Memorial Houston Related Resources:
Two New Memorial Houston Maps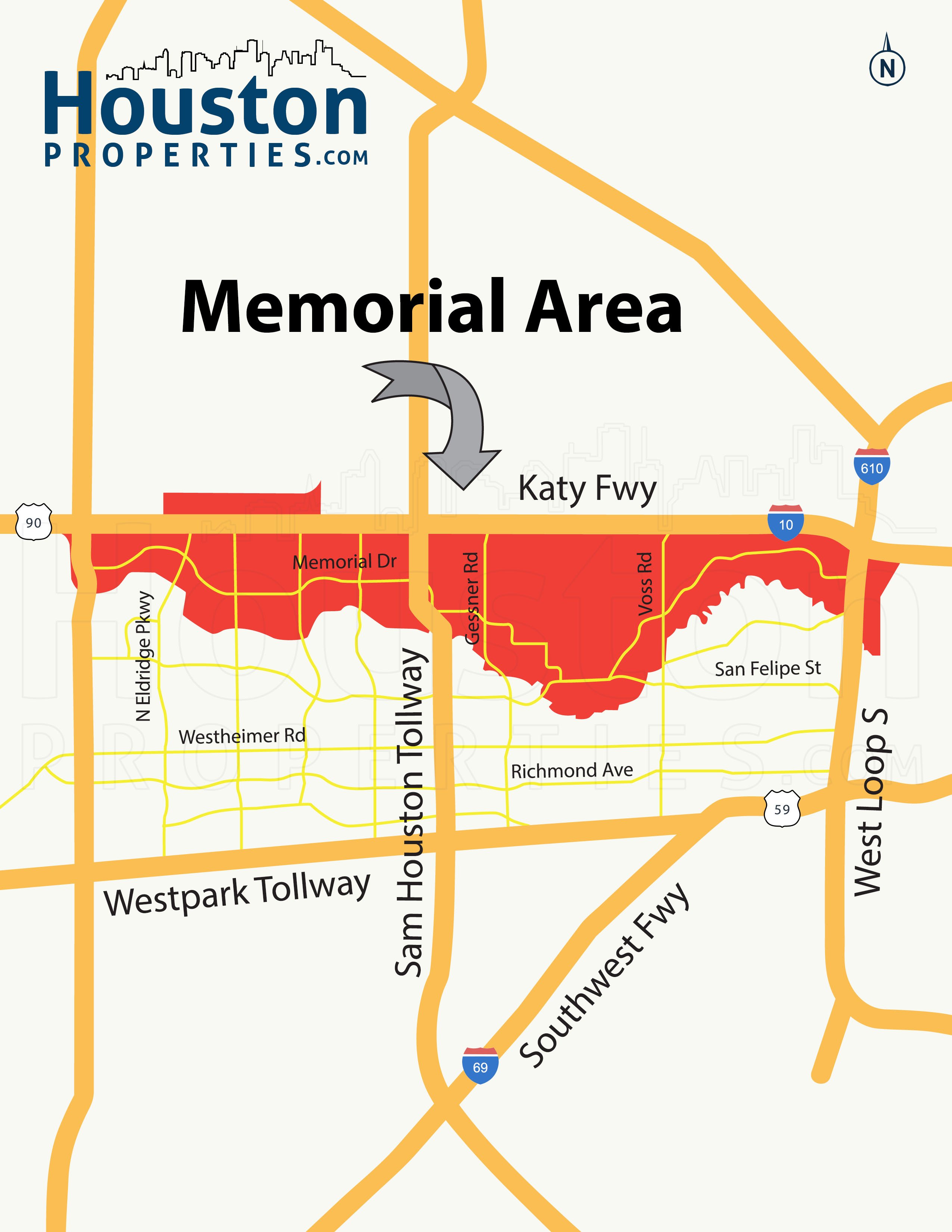 Memorial Houston Maps: Neighborhood
Memorial Houston used to be an area full of homes with large stables in the 1930's. Through the years, real estate developers replaced these stables with homes that feature expansive lots.
The first Memorial Houston homes for sale were mostly built along Buffalo Bayou. Development increased after the construction of I-610.
The influence of Buffalo Bayou in the development of Memorial Houston is evident in the direction of Memorial Drive, the main street that runs through the area.
It is anchored to the east by the Gulf Freeway and Downtown Houston, and curves through the neighborhoods of Montrose, Rice Military, River Oaks, and Galleria. This scenic drive offers views of the Buffalo Bayou and the Memorial Park.
It also offers easy access to the most important and exciting districts in the city.
You will find the Memorial Villages past Tanglewood and the Houston Country Club. This part of the neighborhood is made up mostly of homes, with restaurants and shops increasing as you get to Gessner Road.
Driving north along Gessner Road will lead to Memorial City Mall, which has regained much of its popularity after its renovation in 2001. It now houses stores of Target, Macy's, Sears, JC Penney, and Dillard's. It is also home to Ice Skate USA, Houston's premiere ice skating rink, and Cinemark Memorial City.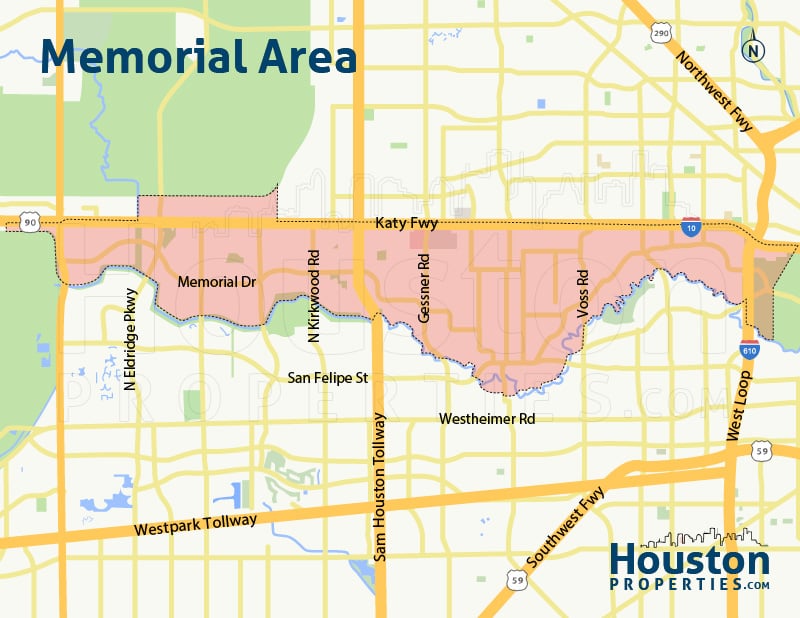 Memorial Houston Neighborhood Guide
The Memorial Hermann Memorial City Medical Center is right across the Memorial City Mall. It is home to Houston's first dedicated women's and children's facility outside of the Texas Medical Center.
On the other side of Katy Freeway is the Memorial City. The area is composed mostly of retail, office, medical establishments, and a few apartment complexes.
Turning to Sam Houston Parkway and back to Memorial Drive, you'll find the Edith L. Moore Nature Sanctuary. It houses the administrative offices of the Houston Audubon Society, and is used as a nature preserve for birds.
Memorial Drive continues west to the Energy Corridor, where it is anchored by the Addicks-Howell Road.
The Memorial area is made up mostly of single-family homes, and a few townhomes and condos. Memorial homes for sale price ranges vary per neighborhood, but generally get more expensive in the areas closer to Downtown.
Neighborhoods and subdivisions in Memorial Houston fall under the 77007, 77079, 77055, 77056, and 77024 zip codes of Harris County.
Nearby neighborhoods include: Spring Branch, Galleria, Afton Oaks, Camp Logan, Sandalwood, Tealwood, Rice Military, Timbergrove, River Oaks, Tanglewood, Energy Corridor, and Briargrove Park.