Memorial Forest Real Estate Guide
Memorial Forest homes for sale & insider real estate guide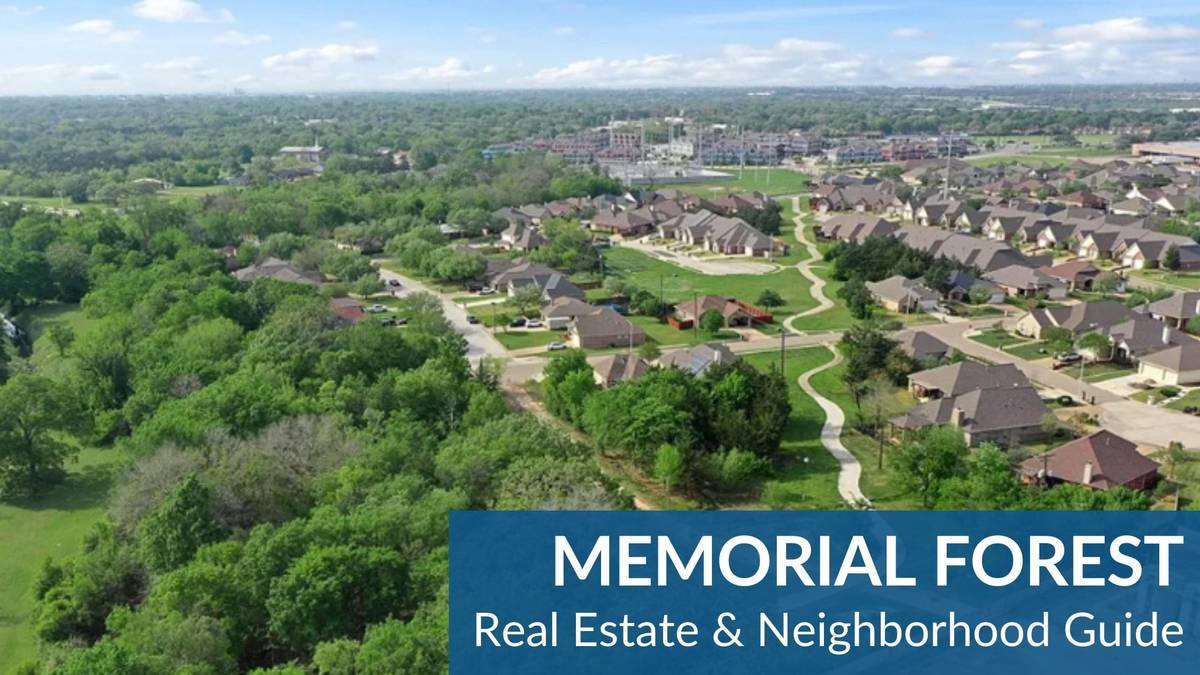 Memorial Forest is a small residential neighborhood directly west of Bunker Hill Village. Like its affluent neighbor, the community is known for its luxury homes on large lots. Memorial Forest features premier living, expansive lots, and a number of retail options.
Memorial Forest residents enjoy:
EXCLUSIVITY: Memorial Forest features some of Houston's most expensive real estate. Property prices are steadily increasing. The community homes' median sales price peaked at over $1,000,000.

LARGE LOTS: Memorial Forest offers large lots most adorned with great landscaping and mature trees. Like most Memorial area neighborhoods like Frostwood and Bunker Hill. Home sizes range from 8,000 to around 12,000 square feet.

PLENTY OF RETAIL AND ENTERTAINMENT: Memorial Forest homes are nestled just south of Memorial Hermann Medical Center and Memorial City Mall. The neighborhood has easy access to retail spaces and entertainment centers. The Memorial City area features more than 1,000 Yelp-rated restaurants, stores, and other commercial establishments. The area includes Memorial City Mall, the CityCentre Plaza, and Town & Country Village. The Memorial City area houses many excellent retail and shopping centers available.

PROXIMITY TO BUSINESS CENTERS: Memorial Forest homes are around 5 miles away from two of Houston's major employment centers. Major business districts like the Galleria/Uptown area and the Energy Corridor. Westchase is a 2,700-acre district with more than 1,500 businesses and 16.3 million square feet of office space. Westchase is around 3 miles away south of the neighborhood.

GREAT SCHOOLS: The neighborhood is zoned to the highly regarded Spring Branch Independent School District (SBISD). Award-winning schools like Frostwood Elementary and Bunker Hill Elementary are located in the area. Some of Houston's best schools, like Memorial Middle School and Memorial High School, serve the community's students.

ACTIVE CIVIC CLUB: The Memorial Forest Civic Club enforces the community's deed restrictions. The civic club also maintains common areas and organizes events for Memorial Forest residents. Community amenities include a constable's security patrol and the members-only Memorial Forest Club, among others.
Low inventories make the Memorial Forest real estate market tricky to navigate. Very few homes are put up on the market. There have been fewer than 20 public home sales in 2015. Older homes in the area may also need extensive renovations.
To get personal advice on buying or selling a Memorial Forest home, contact Paige Martin. One of Houston's best realtors and one of the top-ranked Realtors in the United States.
"Lisa Iglesias is THE go-to realtor in Houston. She and the Houston Properties team went way beyond the call of duty in helping us buy a new home in Houston. She gave us unbiased advice from the start, took care of all the process details, and saved us a fortune during negotiations. Despite the added challenges of COVID, she and her team were able to navigate the situation and make a difficult process easy to handle. Lisa is a real estate whiz, her market expertise is top-notch. She and the Houston Properties Team will be selling this house one day, purchasing my next house, selling that house, purchasing the next one, ad infinitum! "" - steven escaler (Google Review)
---
Table of Contents
---
Memorial Forest Home Sale Trends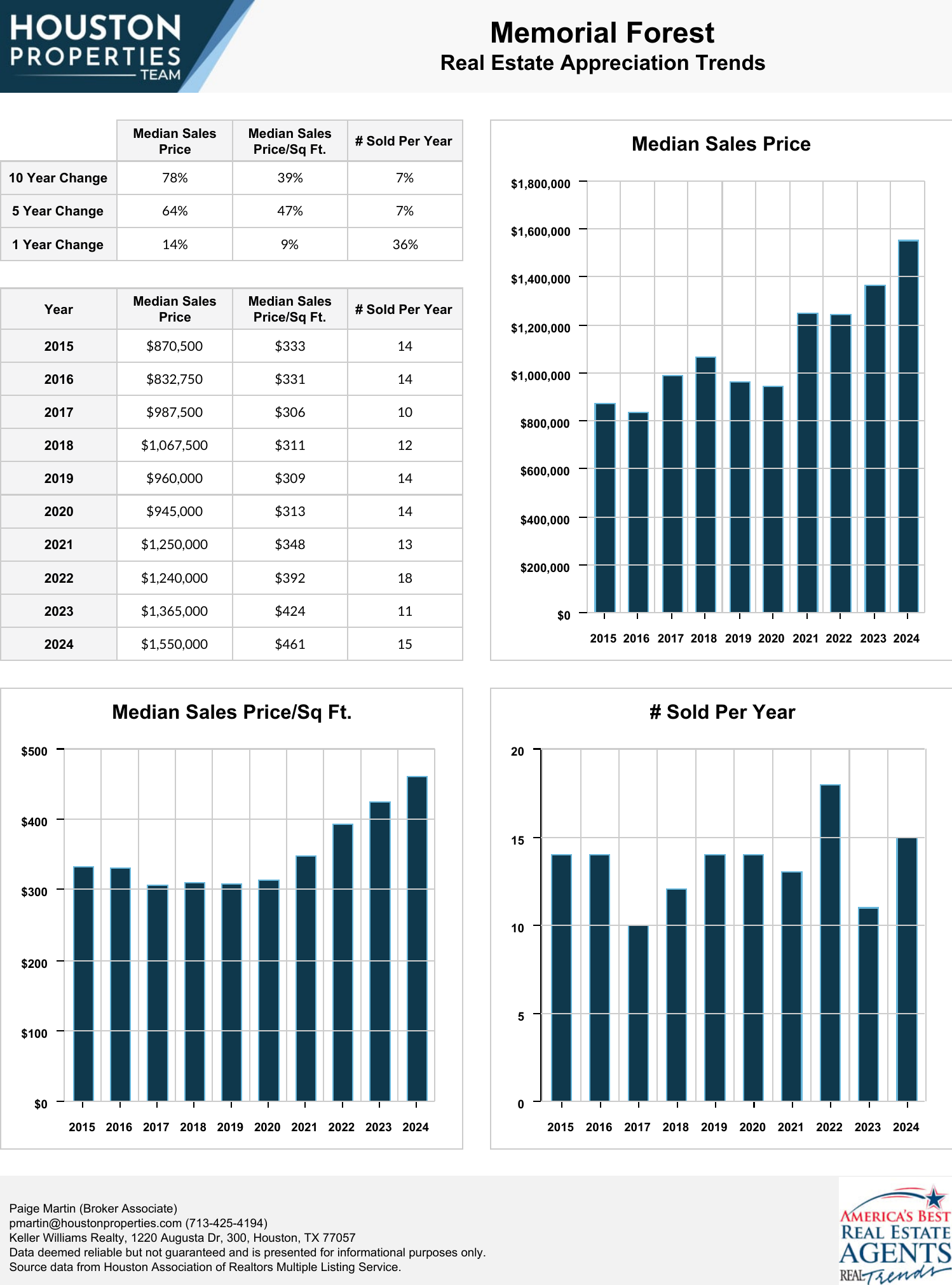 Memorial Forest is a small residential neighborhood notable for its luxury homes on large lots. It is directly west of Bunker Hill Village.
Memorial Forest is known for its:
Exclusivity: Homes in the area are well over $1M and have recorded strong historical appreciation. Some of Houston's most expensive real estate can be found in this area.

Accessibility: This neighborhood has convenient access to business and retail centers. Memorial Forest homes are near Westchase, the Galleria/Uptown area, and the Energy Corridor area.

Large Yards: The Memorial Forest area has approximately 280 homes, with a median of 10,000 square feet in lot sizes. Some of the largest yards in Houston can be found here.

Excellent Schools: Memorial Forest is zoned to the Spring Branch Independent School District. Bunker Hill Elementary, Memorial Middle School, and Memorial High School are also located within the area.
Due to the low inventory of homes, few are put up in the market yearly. These make Memorial Forest homes highly in demand.
---
Memorial Forest Maps, Location & Zip Code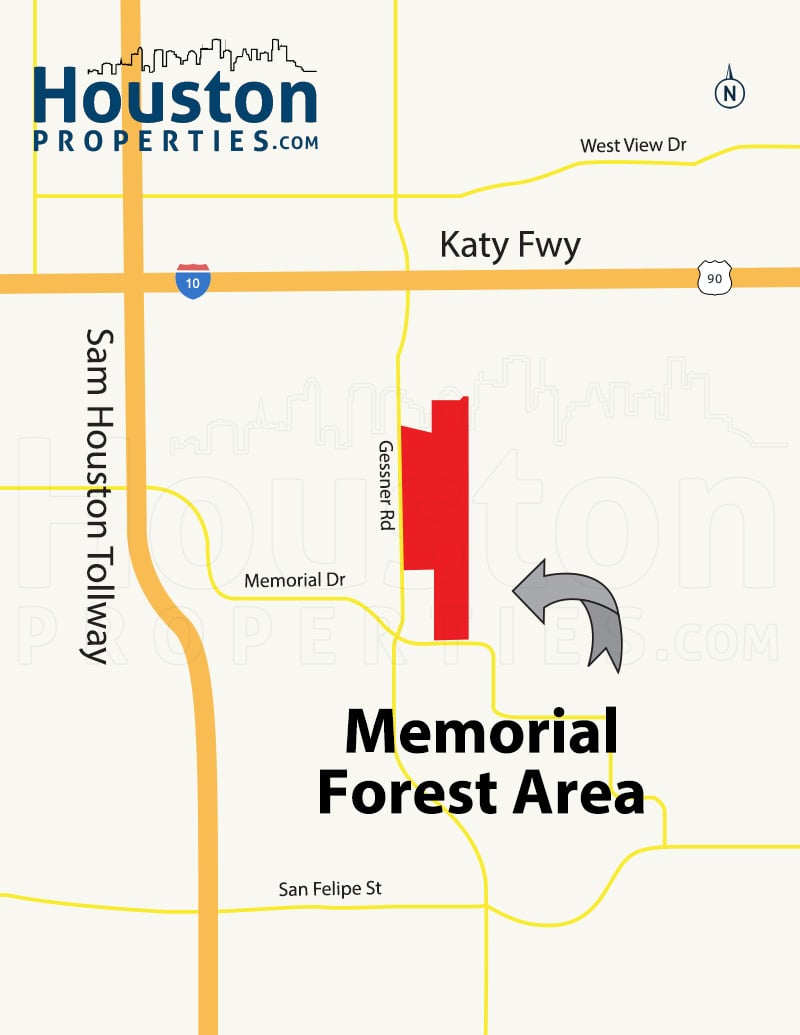 | Commute Time | Memorial Forest |
| --- | --- |
| Downtown (min) | Unknown |
| Med Ctr (min) | Unknown |
| Energy Corridor (min) | Unknown |
| Galleria (min) | Unknown |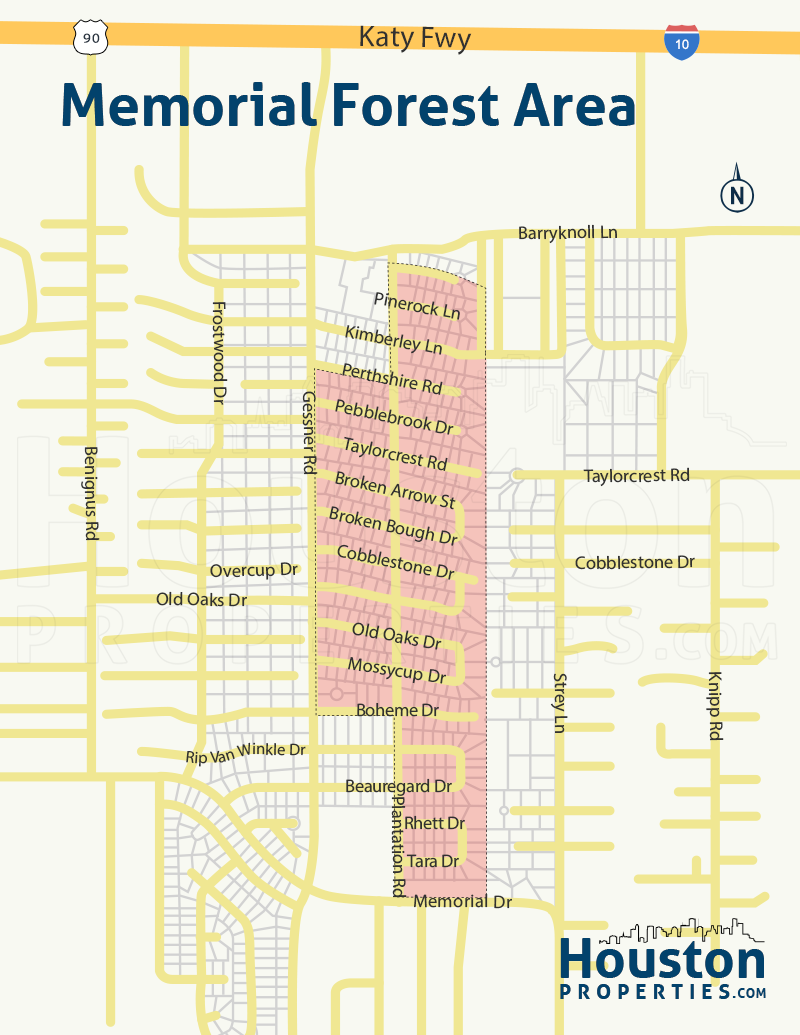 | Highlights | Memorial Forest |
| --- | --- |
| Amenities | Unknown |
| Golf Courses | Unknown |
| Run / Bike Trails | Unknown |
| Nearby Retail / Dining | Unknown |
| Major Employers | Unknown |
---
Memorial Forest Schools
| Top Elementary Schools | Great Schools Ranking |
| --- | --- |
| Frostwood Elem | 10 |
| Top Middle Schools | Great Schools Ranking |
| --- | --- |
| Memorial Middle | 9 |
---
Best Houston Real Estate Resources
---