Memorial Forest Houston Neighborhood Maps
Memorial Forest is one of the 20 most expensive neighborhoods in Houston.
Popular for its beautiful natural topography, upscale homes, and great access to major city freeways, Memorial Forest homes also have larger yards than many neighborhoods in Houston.
Memorial Forest homes for sale are among the most desirable properties outside of Inner Loop Houston.
Located approximately 20 minutes west of Downtown Houston and the Galleria area, Memorial Forest is part of Memorial Houston, just south of Katy Freeway and north of Interstate 610.
Memorial Forest Houston Related Resources:
Two Fantastic Memorial Forest Houston Maps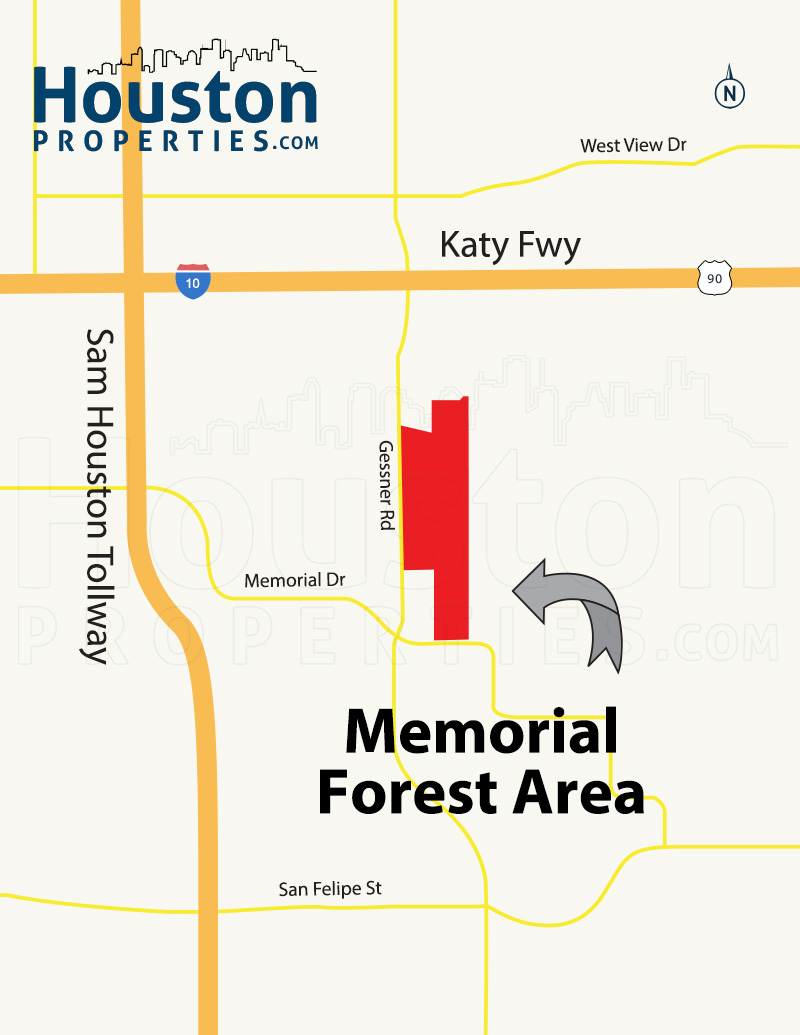 Memorial Forest Houston Maps: Neighborhood
Memorial Forest Houston is roughly bordered by Gessner Road, Kimberley Lane, and Barryknoll Lane. The neighborhood is also in close proximity to main Houston thoroughfares Katy Freeway and Sam Houston Tollway.
Memorial Forest is composed of nearly 280 homes with a median lot size of over 10,000 square feet. Memorial Forest homes for sale have some of the largest yards in Houston.
Most of the homes were built in the 1950s and have an average of around 4 bedrooms and 2.5 bathrooms. Home prices range from $550,000 to well over $1 million.
Most homes in Memorial Forest are accessible through Memorial Drive, where you will find the Memorial Forest Club. The Memorial Forest Club offers day camps, swimming programs, and tennis clinics to its members.
Driving north along Gessner Road will lead to Memorial City Mall, which has regained much of its popularity after its renovation in 2001. It now houses stores of Target, Macy's, Sears, JC Penney, and Dillard's. It is also home to Ice Skate USA, Houston's premiere ice skating rink, and Cinemark Memorial City.
The Memorial Hermann Memorial City Medical Center is right across the Memorial City Mall. It is home to Houston's first dedicated women's and children's facility outside of the Texas Medical Center.
Memorial Forest is within the 77024 zip code of Harris County.
Nearby neighborhoods include: Memorial Park, Stablewood, Bayou Woods, Sherwood Forest, Pinewood Estates, Sandalwood, Whispering Oaks, Frostwood, Tealwood, Fonn Villas, Memorial Pines, Memorial Bend, Gaywood, Yorkchester, Yorkshire, Wilchester, Nottingham, Nottingham Forest, Westchester, Memorial Thicket, Thornwood, Barker's Landing, Fleetwood, and Marywood.