Houston METRO Rail Map: Neighborhoods Near METRORail
Houston METRORail Map: Houston Neighborhoods With Easy Access To The METRORail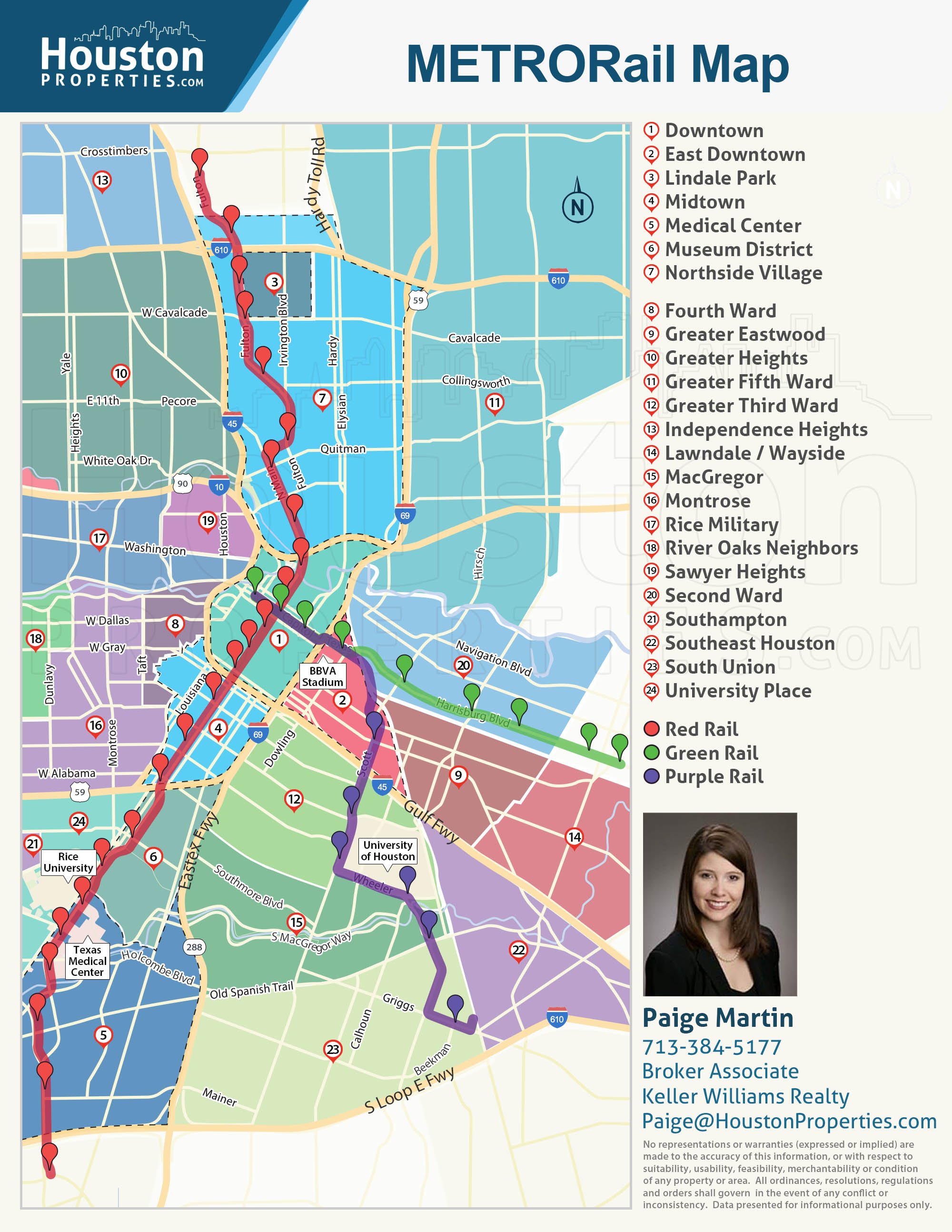 According to the National Association of Realtors' 2014 Profile of Home Buyers and Sellers, accessibility is one of the most influential factors when choosing a neighborhood. (See the 10 best Houston neighborhoods for accessibility.)
The Houston METRORail, a 22.7-mile light rail system, adds further accessibility to some of the Bayou City's neighborhoods. With more than 11.3 million riders annually, the METRORail is the second most-traveled light rail in the Southern United States.
Houston neighborhoods near the Metro Rail benefit from this "new accessibility." Over 25,000 existing homes have convenient access to stations, providing easy commutes to and from major Houston retail, entertainment, cultural, and employment centers. (See Houston condos near the METRORail.)
Homes near existing and planned Metro Rail lines can also enjoy long term benefits – including increasing property values.
As shown on the Houston METRORail map above, the 12.8-mile North/Red Line runs north to south, connecting several key Houston neighborhoods. The Green (East) and Purple (Southeast) lines are recent additions, adding 3.3 and 6.6 miles of diverging tracks to the system. Planned expansions like the University/Blue Line and the Uptown/Gold Line will connect to west and southwest neighborhoods.
Listed below are 7 of the best Houston neighborhoods near the Metro Rail.
Downtown is one of Houston's main employment hubs, housing over 3,500 companies and 200,000 employees.
In addition to having convenient access to the Metro bus lines and the city's main thoroughfares, Downtown has several METRORail stations, including UH-Downtown, Preston, Main Street Square, Bell, and the Downtown Transit Center.
Central Station, which is on the Red, Green, and Purple lines, is located in Downtown.
Thanks to its great location near some of Houston's major employment centers, East Downtown (or simply, EaDo) is one of the most accessible neighborhoods in the Inner Loop. Dubbed the "Art and Soul of Houston," redevelopment efforts have also made EaDo one of Houston's fastest growing neighborhoods.
The Green and Purple lines share the EaDo Stadium station, located north of the BBVA Compass Stadium.
3. Lindale Park
Nestled north of Northside Village, Lindale Park sits near the intersection of Loop 610 and I-45. The neighborhood boasts of a small neighborhood atmosphere, located some 4 miles north of Houston's Central Business District.
Residents can easily commute to Downtown and Texas Medical Center via the neighborhood's Lindale Park station. As seen on the Houston METRORail map above, nearby Cavalcade station is just outside the neighborhood's southern borders.
Located between Downtown and the Museum District, Midtown is a mixed-use neighborhood featuring a lively street scene and relatively affordable homes.
Midtown not only has immediate access to the Southwest, South, and Gulf freeways, the neighborhood also has three Red Line stations within its borders (Wheeler, Ensemble/HCC, and McGowen).
The Texas Medical Center features 54 institutions in the medical field, with over a 100,000 employees.
Located south of Hermann Park, the Medical Center area has several Houston Metro Rail stations: Memorial Hermann/Houston Zoo, Dryden/TMC, Texas Medical Center TC, Smith Lands, Reliant Park, and Fannin South.
The Museum District features the largest number of museums in a contiguous area, second only to Manhattan, NY.
Houston's main cultural hotspot is also one of its most accessible neighborhoods, having immediate access to the South and Southwest freeways. The neighborhood has two MetroRail stations: Museum District and Hermann Park/Rice U.
Located a few minutes north of Downtown, Northside Village is nestled in the area south of Loop 610, east of I-45, west of I-69, and north of I-10.
One of Houston's neighborhoods undergoing redevelopment, Northside features 4 stations: Quitman Near Northside, Fulton North Central, Moody Park, and Cavalcade. Burnett TC Casa De Amigos is just outside the neighborhood's borders.