Guide To Meyerland Homes For Sale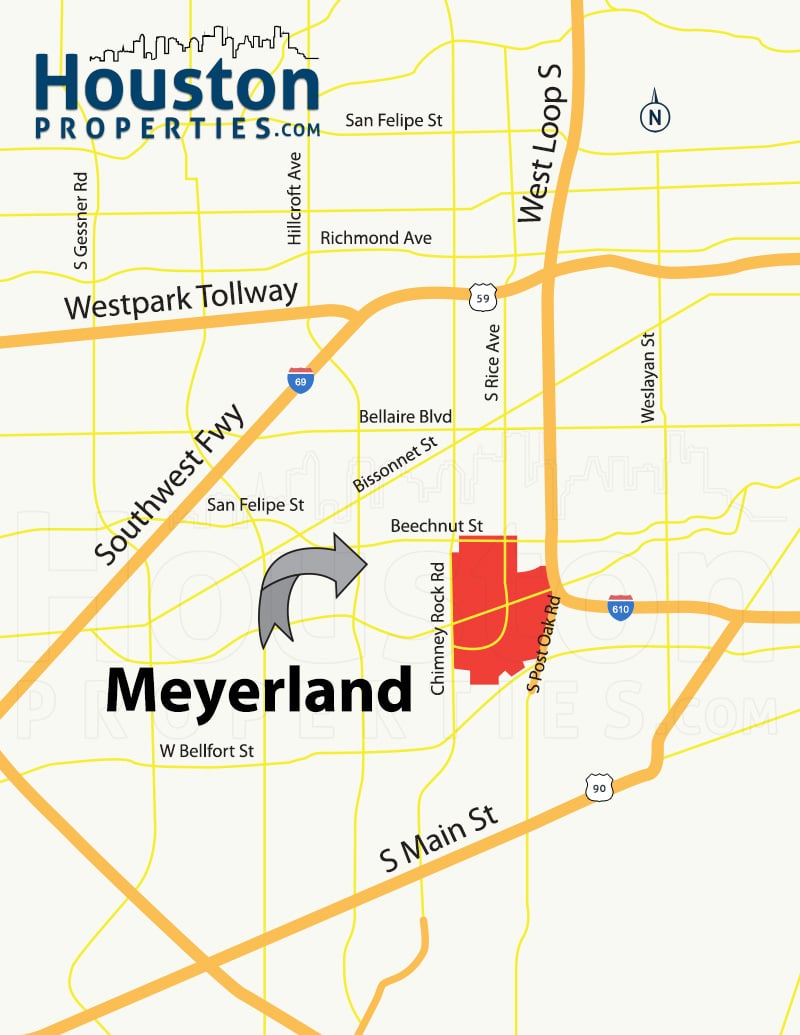 One of Houston's first master-planned neighborhoods, Meyerland is a 9-square mile community located just outside the Inner Loop.
Meyerland homes for sale are a popular option due to the neighborhood's:
Great location: Meyerland enjoys a central location in southwest Houston and has easy access to key centers like Downtown, the Galleria, and the Medical Center.
Convenient access: With two major Houston freeways within minutes of the neighborhood, Meyerland residents have a fairly easy commute to job centers, cultural hubs, and entertainment hotspots.
Highly rated schools: Meyerland homes are zoned to some of the Houston ISD's best schools, including Bellaire High School and Johnston Middle School. The neighborhood is also home to three excellent elementary schools, namely Herod, Lovett, and Kolter.
Strong sense of community: Family-friendly Meyerland has a very active homeowners' association (MCIA) that maintains the neighborhood's infrastructure and security.
Affordable, quality homes: Deed-restricted and subdivided into different sections, Meyerland offers comparably more affordable homes that its neighbors, Bellaire and West University.
Contact Paige Martin, a top-ranked Houston realtor and head of the Houston Properties Team for questions and advice about Meyerland homes for sale.
Meyerland Houston Resources:
NOTE: Meyerland homes are among the fastest selling real estate in Texas. Some of the properties are off-market (not publicly listed). For more information on available Meyerland Houston homes for sale call Paige Martin at 713-425-4194 or email [email protected]
Meyerland Houston Real Estate and Neighborhood Guide
Like neighboring Bellaire, Meyerland exudes a family-friendly, small-town vibe. Old trees, traditional homes, and wide streets accentuate the neighborhood's character and add to its overall appeal.
Meyerland is located just west of Loop 610, with Bellaire to the north, Linkwood/Woodside to the east, and Braes Oaks and Sharpstown to the west. West University is further east of the community, just across the freeway. The Braes Bayou runs through the middle of the neighborhood.
Meyerland's location adjacent to Loop 610 gives it excellent access to key Houston business, cultural, and entertainment centers, including Downtown, the Texas Medical Center, the Museum District, and the Galleria.
Built on former rice fields, Meyerland owes much – and not just its name – to the Meyer family. Three generations of the family were key players to the neighborhood's development and eventual growth.
The Meyerland Community Improvement Association (MCIA) is another key factor that contributed to helping the neighborhood flourish. The association hires additional security patrols and organizes community events, among other things.
The neighborhood was developed in sections and each section has its own set of deed restrictions.
Meyerland features old homes from the 50s and 60s, as well as newer construction single-family homes. The neighborhood is often compared to Bellaire because both are zoned to the same schools, though price-wise, Meyerland real estate tend to be more afforable.
Architectural styles vary, though Traditional is more prevalent than others. Mid-Century Modern, a style developed from 1933 to 1965, is also quite popular in Meyerland homes for sale. A number of older homes have been updated – though owners tend to stay true to the style.
Neighborhoods near Meyerland includes the Galleria, Bellaire, Gulfton, Braes Oaks, Sharpstown, West University, River Oaks, and Linkswood.
Meyerland Houston is under the 77096 Harris County zip code.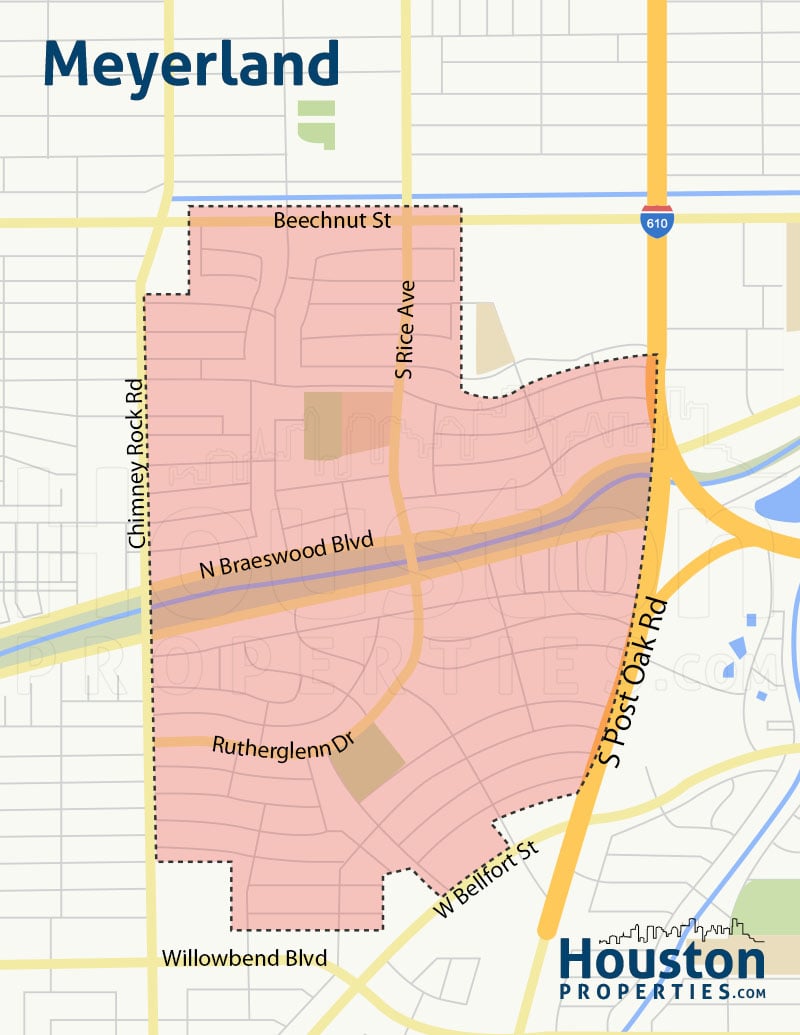 Fun Things To Do In And Around Meyerland
Meyerland's proximity to Loop 610 gives it excellent access to Houston's cultural, entertainment and retail centers like the Museum District, Downtown Houston, and the Galleria.
The Meyerland Plaza Shopping Center is nestled within the community. Since opening its doors back in 1957, it has offered a slew of dining and retail options. Its anchor stores include J. C. Penney, Target, Marshalls, Old Navy, and Best Buy, among others.
There are plenty of kid-friendly parks near and within Meyerland that offer facilities for indoor and outdoor sports, and other recreational activities. Apart from the Meyerland Neighborhood Park located in 5151 Jason, Godwin Park is also a popular choice amongst residents. Within the park's oak-shaded area is the Godwin Community Center, equipped with an outdoor pavilion, baseball and soccer fields, playgrounds, and a covered basketball court.
Godwin Park also serves as the venue for Meyerland's Annual Afternoon in the Park Festival where residents can enjoy a day of family fun and good food with friends and neighbors.
Running through the center of the neighborhood, Brays Bayou is another popular spot. It offers trails for joggers, walkers, and bikers.
The Evelyn Rubenstein Jewish Community Center of Houston, fondly called the J by locals, offers Meyerland residents of all ages with a wide array of activities ranging from gymnastics, kids' day camps, tennis, fitness, and arts and culture activities, among others. An annual Jewish Book and Arts Fair, an event that features films, concerts, a family day, and Q&A sessions with prominent and rising authors, is also held at the J.
The Meyer Neighborhood Library is operated by the Houston Public Library and serves the Meyerland Community.
Other places of interest in and around Meyerland include:
Dining
Mark's American Cuisine
Café Rabelais
Fadi's Mediterranean Grill
Russo's New York Pizzeria
Fainmous BBQ
Fioza
Local Foods
Mambo Seafood
168 Beijing Restaurant
Egg & I
JJ Gardens
Masraff's
Tony's
Houston's Restaurant
Chama Gaúcha Brazilian Steakhouse
Escalante's Mexican Grille
Gugliani's
Pappas Bros Steakhouse
The Capital Grille
Nightlife
Hunter's Pub
Cozy Corner
Red River Ice House
Kaif Hookah Lounge
Emmit's Place
Azul Lounge
Grocery Stores
Kroger
Randall's
Belden's
Golden Grain
Foodarama
Walgreens
Parks
Meyerland Neighborhood Park
Godwin Park
Russ Pitman Park
Helen's Park
Shopping
Galleria
Braeswood Square
Meyerland Plaza
Meyerland Schools Information
Zoned to the Houston Independent School District (HISD), Meyerland has long had the reputation of having some of the best schools in Houston.
Public
Elementary
Lovett Elementary School at 8814 South Rice Ave. Lovett Elementary School serves PK to 5 students. The school features a Fine Arts Magnet Program where students receive specialized instruction in strings, band, choral music, handbells, and art, among others. Lovett is located within Meyerland and has a GreatSchools.org rating of 9 out 10.
Kolter Elementary School at 9710 Runnymeade Dr. Kolter Elementary School serves PK to 5 students and is known for its foreign language and cultures program. It has a GreatSchools.org rating of 9 out of 10.
Herod Elementary School at 5627 Jason. Herod Elementary School is a PK to 5 school that features a Vanguard magnet program. The school also offers a Dual Language Program and an after-school enrichment program.
Middle
Johnston Middle School at 10410 Manhattan Dr. Johnston Middle School serves students in grades 6 to 8. Rated Recognized by the TEA, the school has a Magnet program and a strong Athletics program.
Pershing Middle School at 3838 Bluebonnet. Pershing Middle School offers a wide range of academic programs such as a Vanguard and Fine Arts Magnet program, pre-AP, gifted and talented, and high school credits to name a few.
Pin Oak Middle School at 4601 Glenmont Dr. Located in Bellaire, Pin Oak Middle School was recognized as a National Blue Ribbon School in 2008. It offers a Foreign Languages magnet program (Spanish, German, French, Italian, Chinese, and Hebrew) and has an Exemplary TEA rating. Its GreatSchools.org rating is 10 out of 10.
Fondren Middle School at 6333 South Braeswood Blvd. Fondren Middle School is an International Baccalaureate (IB) World School and features an IB Design and Technology curriculum. The school received a Gold Performance Acknowledgement Commended on Social Studies.
High School
Bellaire High School at 5100 Maple St. Bellaire High School is known for its great academics and athletics programs. It is one of the best secondary schools in the area and has produced professional athletes and other accomplished graduates with notable achievements in various fields.
Private
A number of private schools are located in and around Meyerland. Listed below are some of them:
St. Thomas' Episcopal School at 4900 Jackwood St. The school is the reigning champion and recipient of the 2014 Henderson Cup after garnering the highest points in 24 Texas Association of Private and Parochial Schools (TAPPS) championships.
Beth Yeshurun Day School at 4525 Beechnut St.
Robert M. Beren Academy at 11333 Cliffwood Dr.
Episcopal High School at 4650 Bissonnet St.
Corpus Christi Catholic School at 4005 Cheena Dr.
Westbury Christian School at 10420 Hillcroft St.
Emery/Weiner School at 9825 Stella Link Rd.
To find an updated listing of all Meyerland real estate zoned to any specific public school, please send an email to Paige Martin at [email protected] with the property preference and budget that you're working with.
*Note: School zoning tends to change from year to year, information provided above are accurate but not guaranteed. Please double check by visiting the school's website.
Meyerland Houston Realtor – Paige Martin
As featured on Fox News in the Morning, the Houston Business Journal, Houston Chronicle, and Houston Magazine, Paige Martin – a consistent Top Producing Broker-Associate and head of the Houston Properties Team – is ranked amongst the very top Keller Williams agents in the Houston area.
Paige is ranked as one of the top realtors in Meyerland, Houston, and the state of Texas. Read more about the over 65 awards she's won in the last few years.
Paige works with a tremendous number of buyers and sellers within Meyerland, earning praises like "Paige Martin is the best Meyerland Houston I know".  See more client testimonials.
For a specific recommendation of neighborhoods, homes or properties based upon your personal style, goals & price point, please contact Paige Martin, head of the Houston Properties Team & Broker Associate at [email protected] or 713-425-4194.