Guide To Most Expensive Meyerland Houston Homes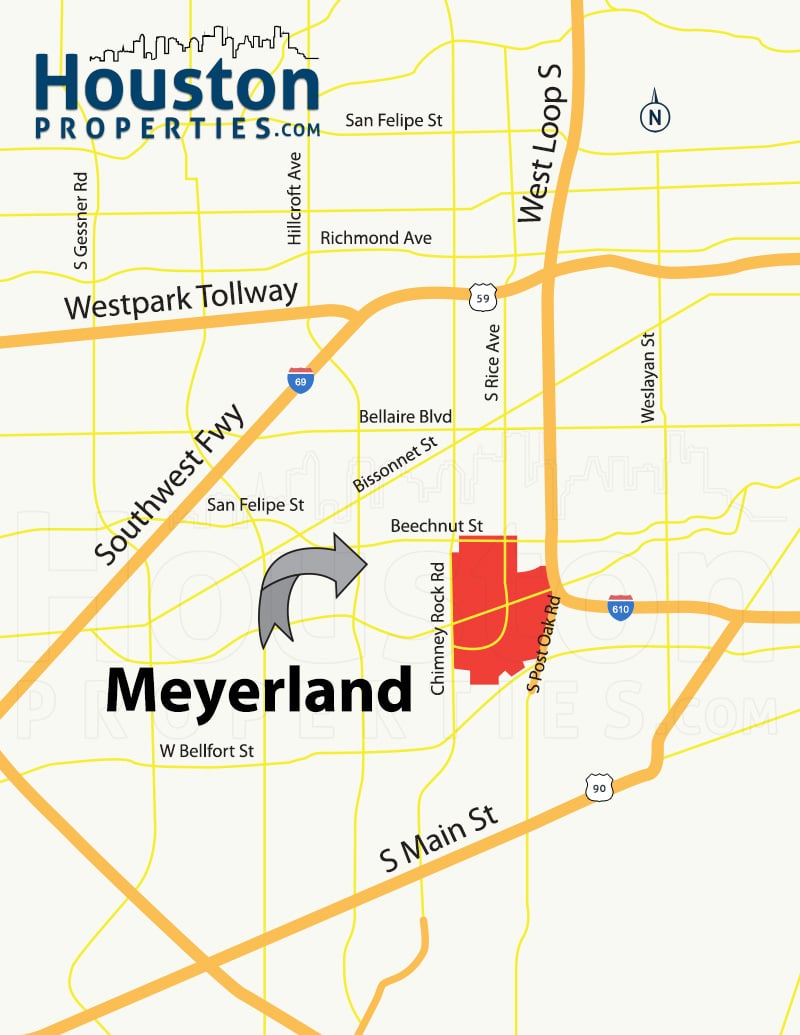 Strategically located along the southwest bend of Loop 610, Meyerland is 9-square mile, deed-restricted neighborhood.
The neighborhood's cozy atmosphere, great schools, and central location make it a popular choice among homebuyers.
Meyerland is also near Beltway 8 and the Southwest Freeway. Meyerland residents have convenient access to Houston's business, entertainment, and cultural hubs like Downtown, the Galleria, Medical Center, and Museum District.
There are plenty of retail and entertainment options within minutes of the community, including the Meyerland Plaza Shopping Center and the Evelyn Rubenstein Jewish Community Center.
Meyerland luxury real estate come in French, Contemporary, and Ranch, among other architectural styles. Traditional and Mid-Century Modern homes, however, are more prevalent in the neighborhood.
Meyerland is zoned to some of the best Houston ISD schools, including Bellaire High School, Johnston Middle School, and Lovett Elementary School.
Contact Paige Martin, one of the best Realtors in Houston, head of the Houston Properties Team, and Broker Associate at [email protected] or 713-425-4194 for more information about Meyerland luxury real estate.
Meyerland Houston Resources:
For more information on available Meyerland luxury real estate call Paige Martin at 713-425-4194 or email [email protected].
Meyerland Luxury Real Estate and Neighborhood Guide
Meyerland is located just outside the Inner Loop. It is one of Houston's master-planned neighborhoods and has a very active homeowner's association.
Divided into 11 sections, Meyerland sits directly south of Bellaire. It has West University and Braes Height to the west, across Loop 610. Other nearby Houston neighborhoods include: River Oaks, Galleria, Upper Kirby, Gulfton, Sharpstown, and Brays Oaks.
The neighborhood is bisected by the Brays Bayou, with sections 1, 2, 3, 4, 5, 6, and 10 located north, while sections 7, 8N, 8W, and 8S are located south of the bayou.
Meyerland luxury homes for sale are typically of recent construction and custom-built. These properties also tend to sit on large lots ranging from 9,000 to more than 11,000 square feet.
The most expensive Meyerland homes can feature 5/4/2 floor plans and luxury amenities like old trees, manicured lawns, high ceilings, multi-car garages, and pools.
Different architectural styles – including French, Mediterranean, and Modern/Contemporary – are avaibable in the area, though Traditional and Mid-Century Modern homes are more common.
Meyerland Houston luxury real estate have a 77096 Harris County zip code.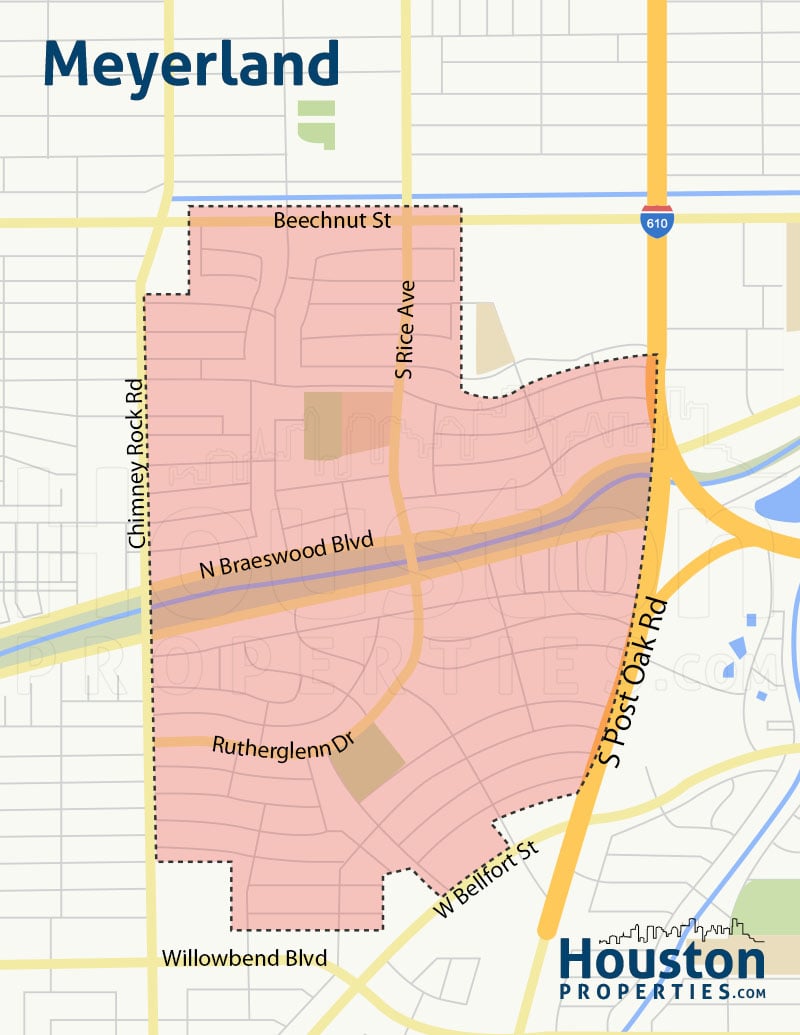 Meyerland Houston: Fun Things To Do In The Neighborhood
Meyerland's proximity to Loop 610 gives it excellent access to Houston's cultural, entertainment and retail centers like the Museum District, Downtown Houston, and the Galleria.
The Meyerland Plaza Shopping Center is nestled within the community. Since opening its doors back in 1957, it has offered a slew of dining and retail options. Its anchor stores include J. C. Penney, Target, Marshalls, Old Navy, and Best Buy, among others.
There are plenty of kid-friendly parks near and within Meyerland that offer facilities for indoor and outdoor sports, and other recreational activities. Apart from the Meyerland Neighborhood Park located in 5151 Jason, Godwin Park is also a popular choice amongst residents. Within the park's oak-shaded area is the Godwin Community Center, equipped with an outdoor pavilion, baseball and soccer fields, playgrounds, and a covered basketball court.
Godwin Park also serves as the venue for Meyerland's Annual Afternoon in the Park Festival where residents can enjoy a day of family fun and good food with friends and neighbors.
Running through the center of the neighborhood, Brays Bayou is another popular spot. It offers trails for joggers, walkers, and bikers.
The Evelyn Rubenstein Jewish Community Center of Houston, fondly called the J by locals, offers Meyerland residents of all ages with a wide array of activities ranging from gymnastics, kids' day camps, tennis, fitness, and arts and culture activities, among others. An annual Jewish Book and Arts Fair, an event that features films, concerts, a family day, and Q&A sessions with prominent and rising authors, is also held at the J.
The Meyer Neighborhood Library is operated by the Houston Public Library and serves the Meyerland Community.
Other places of interest in and around Meyerland include:
Dining
Mark's American Cuisine
Café Rabelais
Fadi's Mediterranean Grill
Russo's New York Pizzeria
Fainmous BBQ
Fioza
Local Foods
Mambo Seafood
168 Beijing Restaurant
Egg & I
JJ Gardens
Masraff's
Tony's
Houston's Restaurant
Chama Gaúcha Brazilian Steakhouse
Escalante's Mexican Grille
Gugliani's
Pappas Bros Steakhouse
The Capital Grille
Nightlife
Hunter's Pub
Cozy Corner
Red River Ice House
Kaif Hookah Lounge
Emmit's Place
Azul Lounge
Grocery Stores
Kroger
Randall's
Belden's
Golden Grain
Foodarama
Walgreens
Parks
Meyerland Neighborhood Park
Godwin Park
Russ Pitman Park
Helen's Park
Shopping
Galleria
Braeswood Square
Meyerland Plaza
Meyerland Houston Realtor – Paige Martin
As featured on Fox News in the Morning, the Houston Business Journal, Houston Chronicle, and Houston Magazine, Paige Martin – a consistent Top Producing Broker-Associate and head of the Houston Properties Team – is ranked amongst the very top Keller Williams agents in the Houston area.
Paige is ranked as one of the top realtors in Meyerland Houston, and the state of Texas. Read more about the over 65 awards she's won in the last few years.
Paige works with a tremendous number of buyers and sellers within Meyerland.
For a specific recommendation of neighborhoods, homes or properties based upon your personal style, goals & price point, please contact Paige Martin, head of the Houston Properties Team & Broker Associate at [email protected] or 713-425-4194.