Midtown Houston Real Estate Guide
Midtown Houston homes for sale & insider real estate guide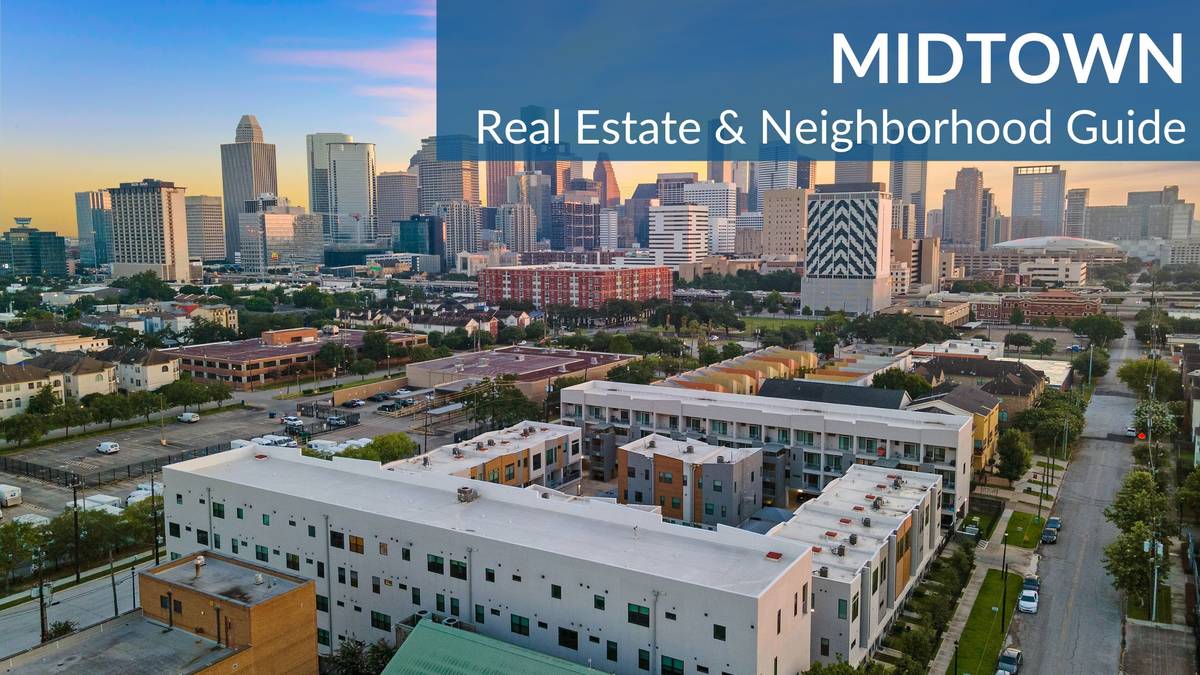 Midtown is a re-emerging, mixed-use neighborhood south of Downtown. It resides near Houston's best retail, entertainment, business, and employment hotspots.
Midtown real estate is in high demand thanks to:
GREAT ACCESSIBILITY: Midtown is one of Houston's Most Accessible Neighborhoods. It sits along major freeways (Gulf and Southwest). It is also near major roads (Main Street, Alabama Street, and Fannin Street). The Red Line runs through the neighborhood. This provides Midtown with easy METRORail access to key neighborhoods.

PROXIMITY TO JOB CENTERS: Downtown Houston has more than 150,000 workers employed by 3,500+ businesses. Texas Medical Center is the largest medical center in the world. It has over 8 million patients and 100,000+ employees. Midtown residents can reach either with a 5-minute ride via MetroRail, Uber, or a bike.

EXCITING ESTABLISHMENTS: Midtown is home to over 340 Yelp-rated establishments. This includes top-ranked restaurants, gyms, bars, diners, and shops.

UPSCALE CONDOS AND LOFTS: Luxury loft living is a popular option within Midtown. The Edge, Rise Lofts, Midtown Vistas, and 2016 Main are all located within the neighborhood. Building amenities often include rooftop decks with views of the Downtown skyline. Several have swimming pools, fitness centers, and reserved parking for residents. (Guide to All Houston Condos Along The MetroRail.)

AFFORDABILITY: Midtown is one of the most affordable areas of Houston's Inner Loop. View the Salary Requirements to Live Comfortably In Top-Ranked Houston Neighborhoods.
Buying or selling a home in Midtown can be tricky. Be cautious of buying a Midtown home that is too close to a freeway. It might hurt resale.
A home on a major thoroughfare can have an issue with noise or street parking. There are also areas that serve as the "parking area" for one of the hip nightclubs.
It's also important to know there's no zoning. Some homes are built backing a bar/restaurant. Several new construction builders have been sued for quality concerns.
Condos in Midtown can also present unique challenges. Some have lower resale values and quality concerns.
For help in navigating this challenging market, contact Paige Martin, one of Houston's Best Realtors. She's one of Midtown's most active real estate agents.
"We had a great experience working with Aaron Dailey. He was very professional and extremely organized. He constantly kept us informed of everything going on which was very appreciated. He did an excellent job with the photos of our home. We would definitely recommend hin to anyone selling a home." - Jean Smith (Google Review)
---
Table of Contents
---
Midtown Houston Home Sale Trends
One of Houston's Most Accessible Neighborhoods, Midtown claims to be "right in the middle of it all". It sits along Houston's major freeways (Southwest and Gulf) and major thoroughfares (Main Street, Fannin Street, and Alabama Street).
Midtown is in demand, thanks to its:
ACCESSIBILITY: The METRORail Red Line cuts through the neighborhood, offering easy access to key neighborhoods. Residents are also in close proximity to Downtown Houston and Texas Medical Center, which are accessible via a 5-minute METRORail ride, bike, or Uber.

VIBRANT LOCAL SCENE: Around 340 Yelp-rated establishments consider Midtown their home. Residents are minutes away from bars, coffee shops, retail stores, restaurants, lounges, and boutiques.

AFFORDABILITY:The neighborhood features a variety of affordable residential options, including condos, townhomes, and single-family dwellings. Townhomes are the most common residential option in the neighborhood. They typically come with 2- to 4-story floor plans with options for 3 or 4 bedrooms.
Midtown homes are zoned to the Houston ISD. Students in the area are served by the Baylor College of Medicine Academy, a top-rated school in Houston.
---
Midtown Houston Best Realtor Insights
Nestled adjacent to Houston's central business district, Midtown is one of the city's most accessible neighborhoods.
The neighborhood is minutes away from key Houston districts like the Galleria/Uptown area and the Museum District.

Midtown lies along major freeways, including Gulf and Southwest Freeways. Major arteries like Main Street and Alabama Street run through the neighborhood.

Located a stone's throw away from Houston's central business district, Midtown homes have excellent access to major employment centers, like the Texas Medical Center and Downtown.

Midtown features a wide assortment of affordable home options, including townhomes, condos and lofts, patio homes, and single-family dwellings.

Thanks to the neighborhood's vibrant street scene, Midtown homes are mere minutes away from restaurants, bars, lounges, coffee shops, boutiques, and retail stores.

Midtown is still in the midst of redevelopment. The neighborhood saw a decline in the 1980s and 90s. However, an injection of funds from the Midtown TIRZ has made renovation efforts possible.

Townhomes are the main housing option in the neighborhood. Midtown townhomes typically feature 2- to 4-story floor plans with 3 to 4-bedroom options. Homes in the area typically sit on small lots, with sizes ranging from 1,000 to more than 3,000 square feet. Home sizes can range from 1,500 to more than 3,000 square feet.

Midtown condos have also become a popular housing option. Residential buildings in the area include Rise Lofts, 2016 Main, The Edge, and Midtown Vistas.

Some condo buildings in the neighborhood feature private balconies with downtown skyline views, fitness centers, rooftop decks with swimming pools, and reserved parking for residents.

Prices for Midtown homes for sale can range from $100,000 to more than $900,000.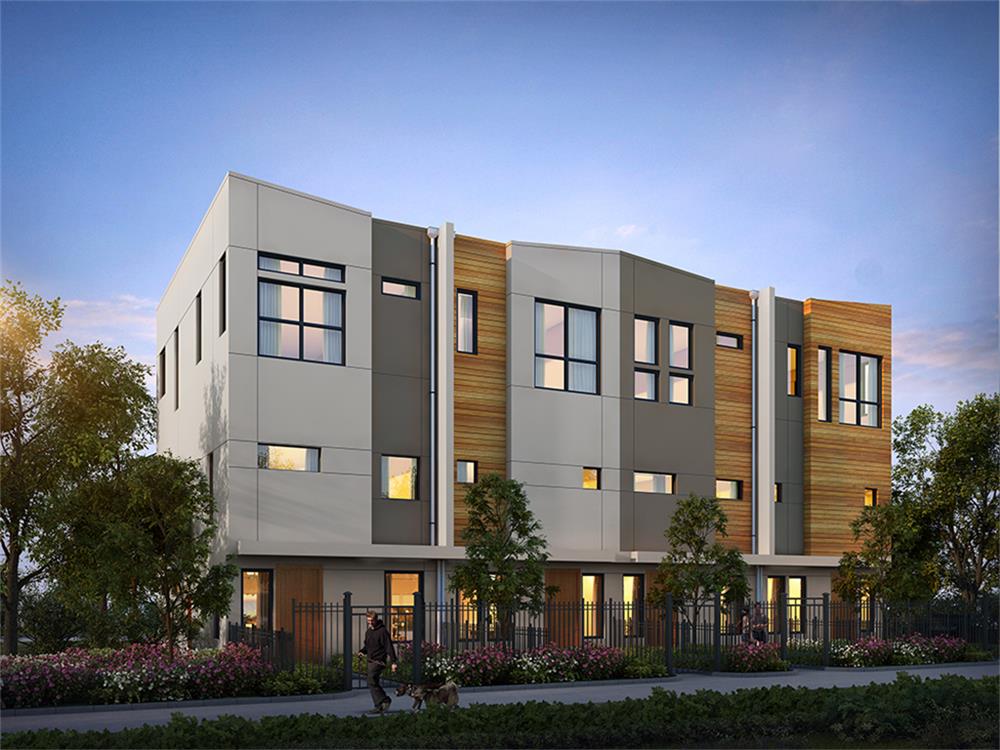 ---
Midtown Houston Maps, Location & Zip Code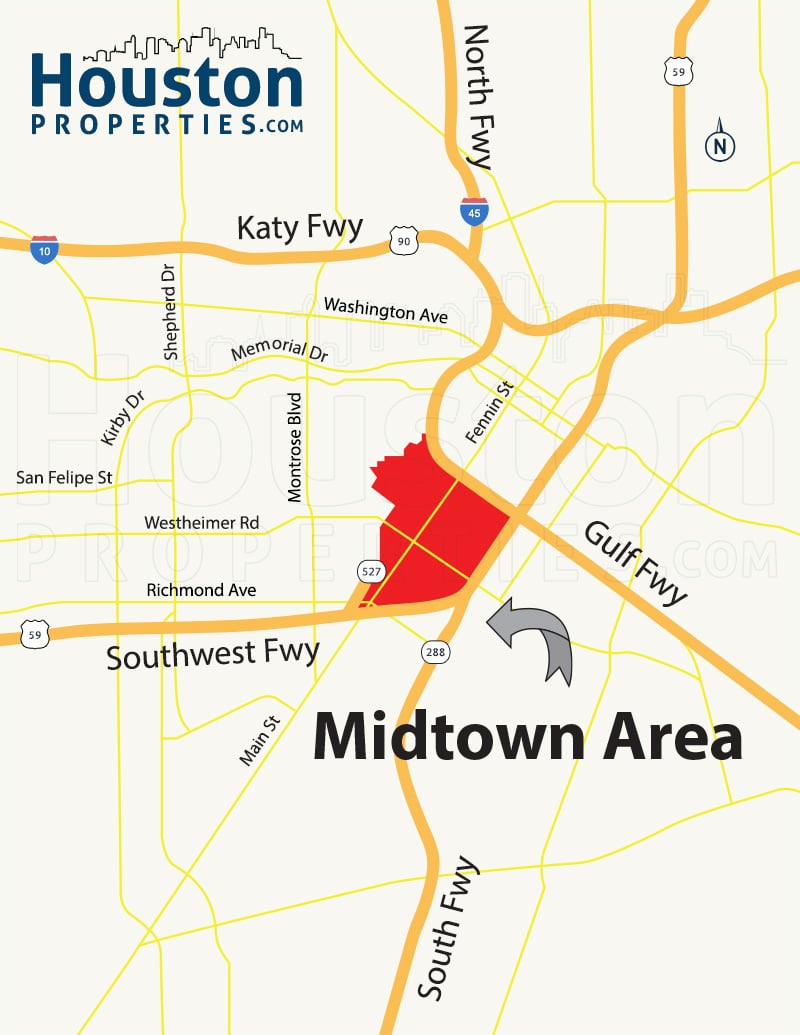 | Commute Time | Midtown Houston |
| --- | --- |
| Downtown (min) | 10 |
| Med Ctr (min) | 15 |
| Energy Corridor (min) | 30 |
| Galleria (min) | 15 |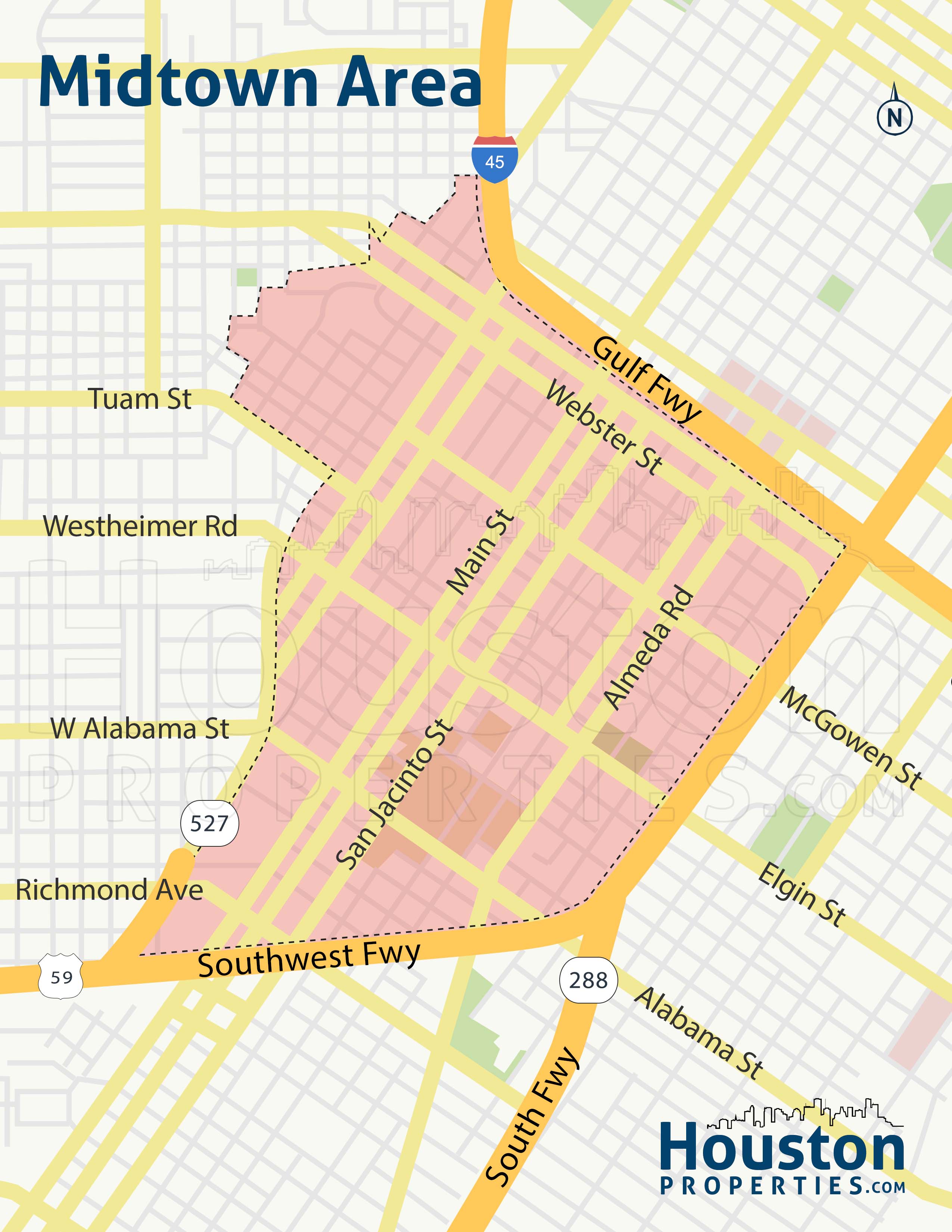 Highlights
Midtown Houston
Amenities
Midtown offers access to 340+ Yelp-rated dining, retail, and entertainment venues.

Several golf courses and trails are also accessible from Midtown homes.

The neighborhood is a short drive from Houston's central business district. Residents enjoy an easy commute to major employers in Houston.
Golf Courses
There are no golf courses within Midtown Houston. Golf courses within a short drive from Midtown include:

- Hermann Park Golf Course
- River Oaks Country Club
- Memorial Park Golf Course
Run / Bike Trails
- Elizabeth Baldwin Park
- Bagby Park
- Midtown Park
- Peggy's Point Plaza Park
- Buffalo Bayou Park
Nearby Retail / Dining
Retail & Grocery:

- The Plaza's at Midtown
- Midtown Centre
- Mekong Center
- Randalls
- Midtown Food Store
- Wholefoods Market
- Walgreens
- CVS

Dining:

- The Gypsy Poet
- Wanna Bao
- Harry's
- Pho Saigon
- Brennan's
- Gen Korean BBQ House
- The Breakfast Klub
- Gloria's Latin Cuisine

Entertainment:

- The Ensemble Theatre
- Buffalo Soldiers National Museum
Major Employers
Downtown is a short drive from Midtown. It is home to corporate offices of:

- EOG Resources
- Kinder Morgan
- CenterPoint Energy
- Cheniere Energy
- Targa Resource
---
Midtown Houston Schools
Midtown homes are zoned to the Houston Independent School District (HISD).
Established in the 1920s, Houston ISD is the largest school district in the state (with 283 schools). The Texas Education Agency (TEA) gave the district a "Met Standard" rating. HISD features several International Baccalaureate (IB) World schools, including Lamar High School.
Students in the area may attend the following public schools:
---
Elementary Schools
---
Henry F. MacGregor Elementary School at 4801 La Branch St. Serving PK to 5 students, MacGregor offers several magnet programs in music and science. It also offers an Extended Day Program.
---
Middle Schools
---
Gregory-Lincoln Education Center at 1101 Taft St. GLEC is a combined elementary and middle school serving K-8 students. The school has a diverse student body and requires students to wear uniforms.

Young Scholars Academy for Excellence at 1809 Louisiana St. Young Scholars is a public charter school that serves PK to 8 students. It offers programs that are family-centered and focused on children's holistic development.
---
High Schools
---
Lamar High School at 3325 Westheimer Rd. Home to the Lamar Texans, this high school offers one of the best athletics programs in the city. Lamar also has one of the oldest lacrosse programs in Texas. Apart from its athletics, Lamar also offers excellent academic programs. It is an International Baccalaureate World School with a Diploma Programme and a business administration magnet school.

John H. Reagan High School at 413 E 13th St. Located in Houston Heights, JH Reagan offers both great sports and academic programs. Each student is brought to a specific "academy": Business, Engineering & Architectural Design, Freshman, Health Science, and Magnet Academy for Technology.

Houston Academy for International Studies at 1810 Stuart St. This alternative secondary (magnet early college) school was awarded the National Blue Ribbon School of Excellence in 2014. It offers academic programs like Advanced Placement and Early College/Dual Credit.

Young Women's College Preparatory Academy at 1906 Cleburne St. A result of a partnership of the Houston ISD and the Young Women's Preparatory Network, YWCPA offers Pre-AP and AP courses for grade 6 to 12 students.
---
Midtown Houston Private Schools
---
The following are some of the more notable private schools near Midtown.
Imagination Campus Midtown at 2000 Crawford St. This private early education school caters to infants, toddlers, and early- and pre-school students. Imagination offers unique programs in child development including Sparks I and II.

LaBranch Child Development Center at 2320 LaBranch. Located at the LaBranch Federal Building, this center also offers child care and early education programs.

Precious Jewels Alpha Learning Center, LLC at 2301 Main St.Precious Jewels is a private school serving PK-6 students. It offers extracurricular activities in fine arts, including music and creative movement.

The School For Young Children at 810 Sul Ross St. This school is under the Special Schools Coalition of Greater Houston and serves grades 1-6 special needs children. They specialize in providing elementary education to children with language-based learning difficulties.

The Harris School at 900 Lovett Blvd. This school offers a specialized curriculum for students in grades PK to 8. The curriculum centers on academic and therapeutic programs.

Incarnate Word Academy at 609 Crawford St. The Incarnate Word Academy is a "Catholic college preparatory for young women." IWA offers both academics and athletics programs.

St. Stephen's Episcopal School at 1800 Sul Ross St. A part of the Episcopal Diocese of Texas, St. Stephen's is a diverse, coeducational school. It serves grades 6 through 12.
To find an updated listing of all Midtown real estate zoned to any specific public school, please send an email to Paige Martin at PMartin@HoustonProperties.com with the property preference and budget that you're working with.
*Note: School zoning tends to change from year to year, the information provided above is accurate but not guaranteed. Please double-check by visiting the school's website.
---
Midtown Houston Real Estate Market
Midtown Single-Family Home Sale Trends
---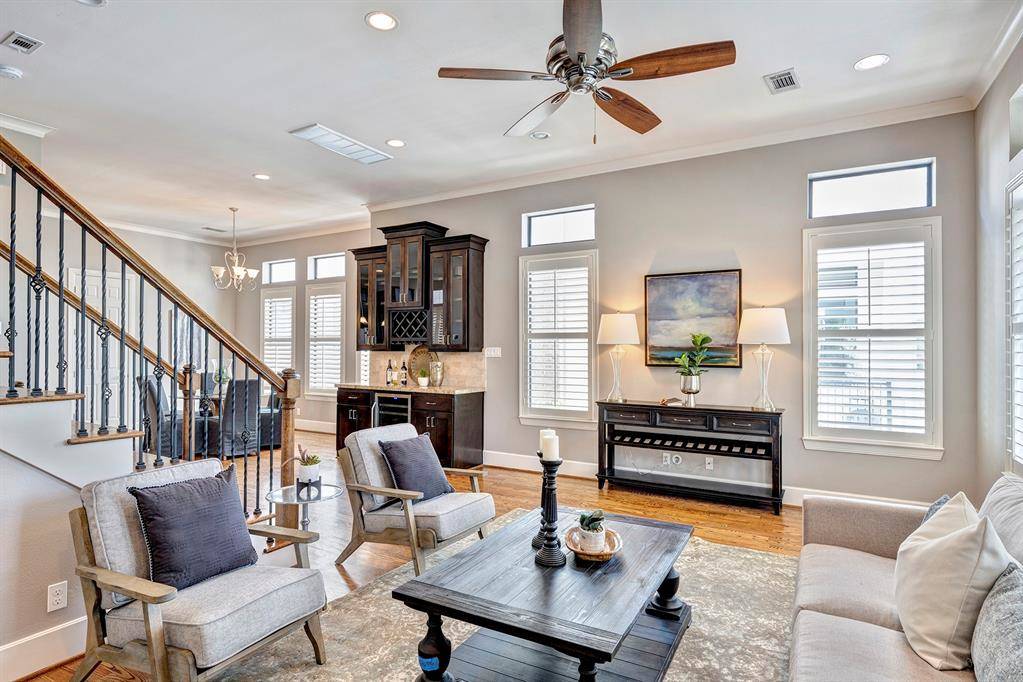 Following a trend of new construction townhomes, the number of Midtown single-family homes for sale has decreased. Many of Midtown's older homes have been replaced with patio homes. These usually sit on small lots with 3-bedroom, two- to three-story floor plans.
Home sizes can range from 2,000 to more than 4,000 square feet. Midtown homes feature lots ranging from 1,000 to about 3,000 square feet in size.
Some of the most expensive Midtown real estate properties are mostly new construction homes featuring as many as 4 bedrooms.
---
Midtown Houston Townhomes Sale Trends
---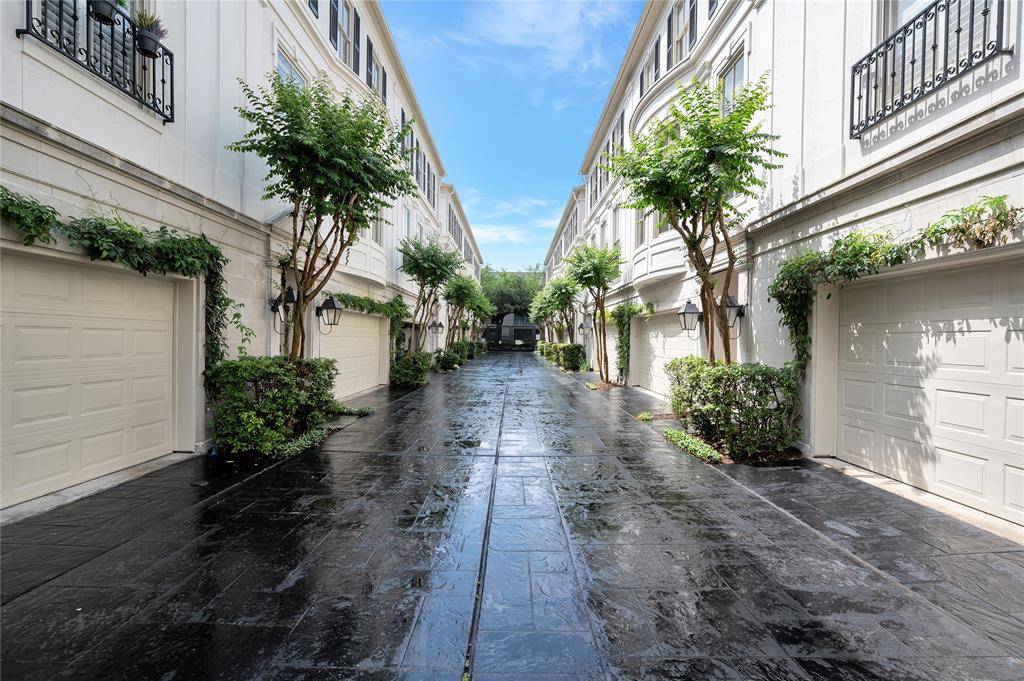 Townhomes have revitalized the Midtown real estate market. Having replaced most of the area's older homes, new construction townhomes are the main housing attraction in the neighborhood.
Midtown townhomes for sale typically have 2- to 3-story, 3-bedroom floor plans. Second- to third-floor living, 3 bedrooms, 3 and a half baths, and 2-car garages come standard.
Most townhomes in the area are located within small gated communities. Amenities within these communities can include 24-hour security and controlled access.
Midtown townhomes typically feature 2,000 to more than 3,000 square feet of living space. Lot sizes can range from 1,500 to about 3,000 square feet.
Pricing for Midtown homes for sale can start at around $300,000 to upwards of $800,000.
---
Midtown Condo Sale Trends
---
Loft living is popuSeveraldistrict. A number of Midtown luxury lofts, like the Rise Lofts on 2000 Bagby Street, offer views of the Downtown Houston skyline, open floor plans, and great accessibility.
Midtown condos typically offer 1- to 2-bedroom floor plans. Many features 1,500 to 2,000 square feet of living space with 2 parking spaces and access to great amenities like lounges, pools, and garden terraces.
Some Midtown lofts and condo buildings include:
Camden Midtown Apartments

Chenevert Condos

Ellie Lofts

Park Loft Condominiums

Travis Lofts
Pricing for Midtown condos for sale typically starts at $130,000. Some units in the area's luxury condos can sell for more than $900,000.
Condos near Midtown include those in the Downtown Houston and the Museum District areas:
Downtown Houston Condos:
Museum District Area Condos:
To see other condos within the Inner Loop, see Inner Loop Houston Condos. To see condos within the Museum District area, see Museum District Houston Condos.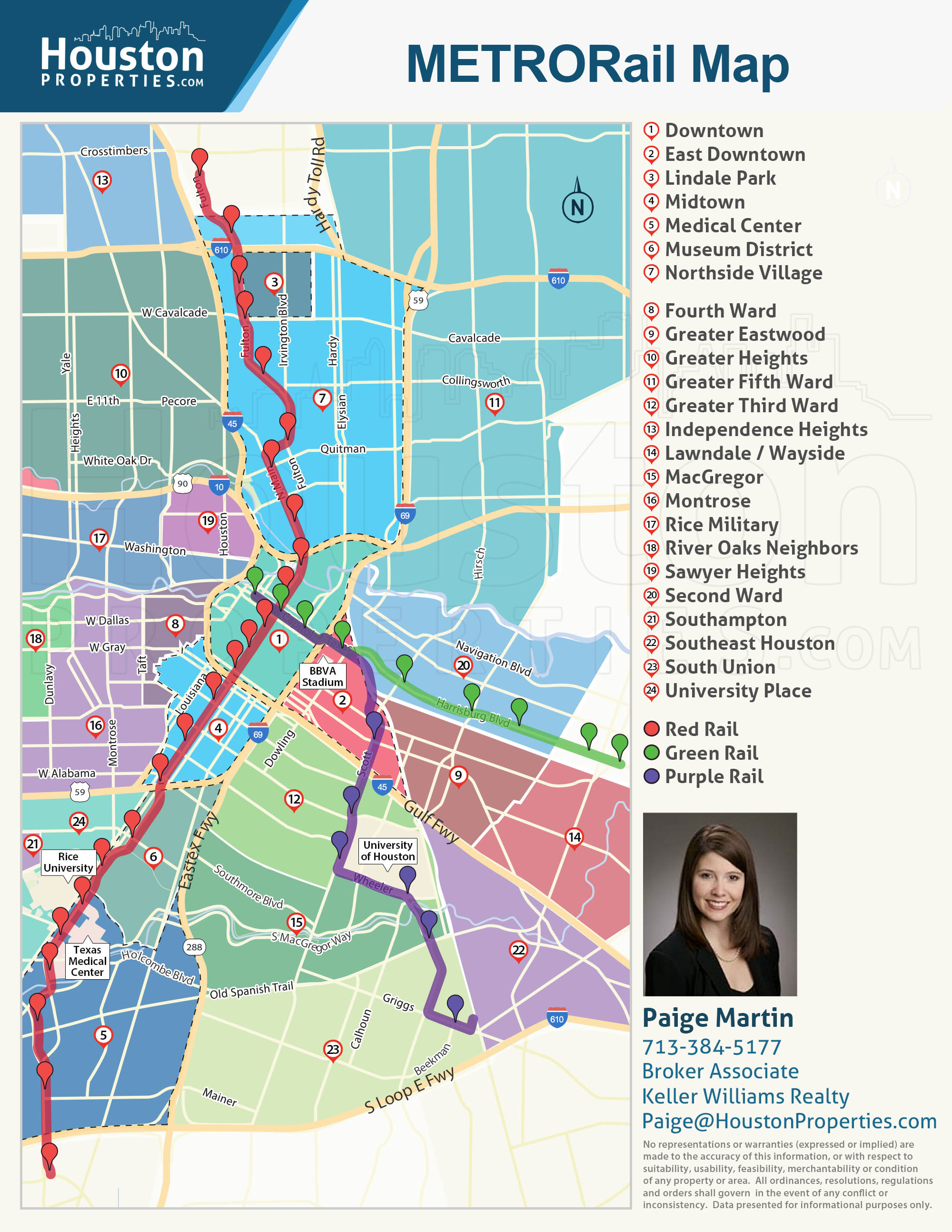 ---
Midtown TX History
---
Back in the 1940s, Midtown was one of Houston's most popular residential districts.
The neighborhood flourished due to the Humble Oil and Refining Company, though the surge of commercial establishments in the district led to some residents moving to less busy Houston neighborhoods.
In the 1970s, Vietnamese immigrants and Vietnamese Americans established Little Saigon on Travis, Milam, Webster, and San Jacinto streets.
The oil production decline during the 80s and 90s hit Midtown hard. The neighborhood saw a decrease in population and an economic slowdown. Boarded-up buildings and graffiti lined the district's streets.
In 1995, Houston established the Midtown Tax Increment Reinvestment Zone (TIRZ). Four years later, the Midtown Management District was born.
Redevelopment initiatives effectively increased Midtown's population, along with condos, apartments, townhouses, restaurants, bars, and retail stores in the area.
Today, the neighborhood has distinct street signs, landscaping, lights, and paved sidewalks. Midtown's resurgence, however, is not over yet. With more and more people moving to the trendy and highly accessible district, more improvements are expected to follow.
---
Fun Things To Do Near Midtown Houston
---
Thanks to the neighborhood's active street scene, residents have great options right by their doorsteps.
True to its new "trendy" reseveralidtown houses a number of bars and lounges, including a dog-friendly bar called Saint Dane's Bar and Grille. Double Cross Lounge is quite popular for serving craft beers and cocktails. The Nouveau Antique Art Bar, on the other hand, serves cocktails alongside eclectic art choices.
Owing to its history as Little Saigon, Midtown is also home to several banh mi and pho restaurants like Kim Tai and Thien An Sandwiches.
Retail options are equally eclectic. Though there is a curious lack of big-box retail stores in Midtown, the district does offer a large variety of smaller stores.
There's Adkins Architectural Antiques, a store that sells vintage home decor and also does restorations. The Tinderbox Craft Collective sells art and craft items from local artists and provides craft workshops for interested patrons.
![Fun Things Midtown Houston
](https://media.houstonproperties.com/topic/midtown/Midtown_Russos_Stock_0manytown also has a number of parks within and around the district. Elizabeth Baldwin Park, a 4.88-acre area between Crawford and Chenevert streets, has a Vietnamese Heritage Plaza.
Peggy's Point Plaza Park is also located in the district, while Discovery Green in Downtown Houston is just minutes away from Midtown.
Due to the neighborhood's central location, Midtown homes are also minutes away from Houston's best retail, dining, and entertainment centers.
Here are just some of the must-visit places in and around Midtown:
Dining
Kim Tai
Natachee's Supper 'n Punch
Majorca
Thien An Sandwiches
Les Givral's Sandwich & Cafe
Brennan's of Houston
The Breakfast Klub
Tacos a Go-Go
Artisans Restaurant
The Pass
Provisions
Ibiza
Reef
Sparrow Bar + Kitchen
Retail
My Flaming Heart
The Tinderbox Craft Collective
High Fashion Home
Texas Junk Company
Adkins Architectural Antiques
Al's Handmade Boots
Art Supply
Nightlife
Shoeshine Charley's Big Top Lounge
Saint Dane's Bar and Grille
Double Cross Lounge
Nouveau Antique Art Bar
Community Bar
Leon's Bar
Bar Munich
Mongoose vs. Cobra
3rd Floor Bar
Alley Kat Bar & Lounge
13 Celsius
Groceries
Midtown Food Store
Randalls Food & Pharmacy
Mid-Town Market
HEB
Fiesta Mart
Lankford Grocery & Market
Parks
Midtown Park
Bethel Park
Peggy's Point Plaza Park
West Webster Street Park
Elizabeth Baldwin Park
Discovery Green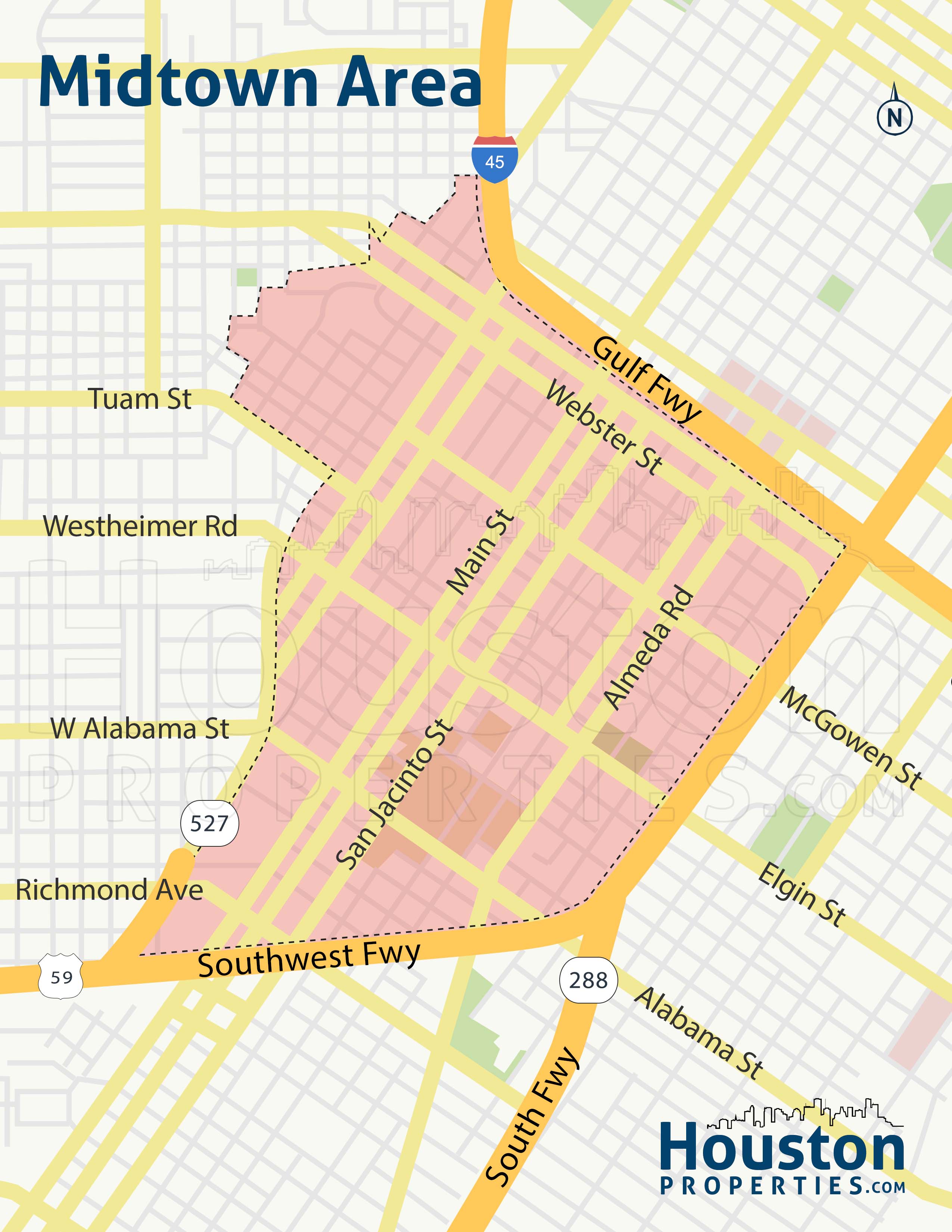 ---
Midtown Houston Realtor -- Paige Martin
---
As featured on Fox News in the Morning, Houston Business Journal and Houston Magazine, Paige Martin, a consistent Top Producing Broker-Associate and head of the Houston Properties Team, is ranked as one of the top residential real estate agents in the world.
---
Best Houston Real Estate Resources
---