Guide To Midtown Houston Luxury Real Estate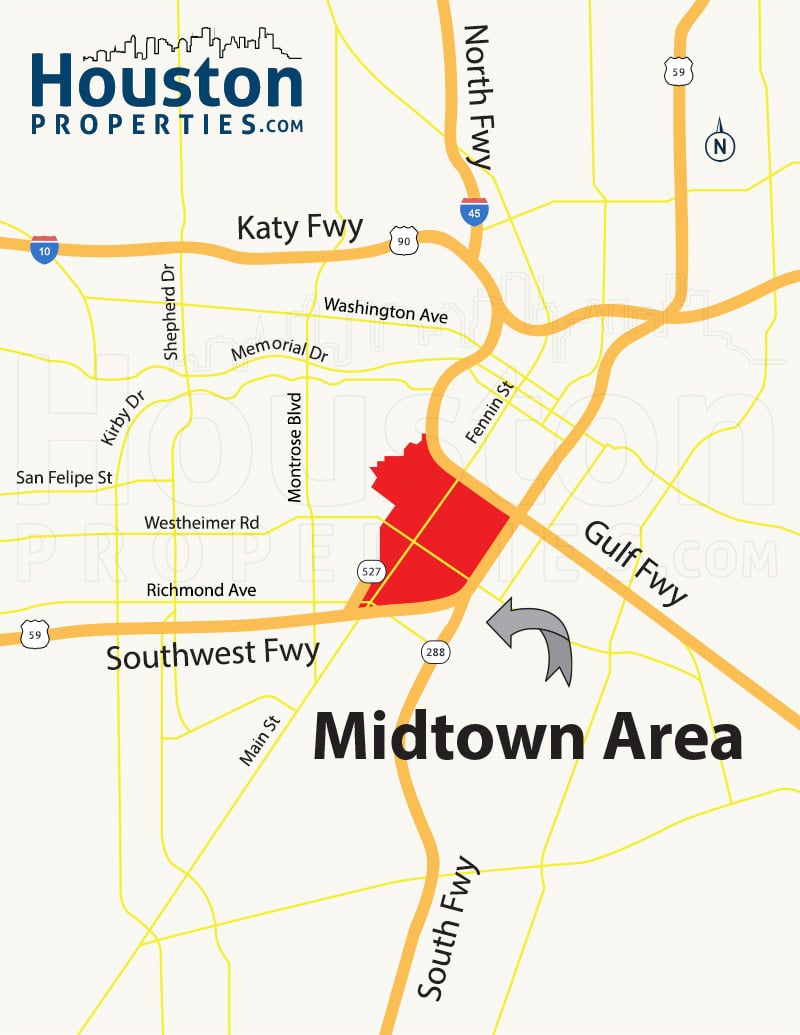 Midtown is fast becoming one of the trendiest neighborhoods within Houston's Inner Loop.
The district is centrally located adjacent to Montrose, southwest of Downtown and northeast of the Museum District. The Medical Center, a major Houston employment hub, is within minutes of Midtown.
Apart from its great location, Midtown luxury homes for sale are in constant demand due to its:
Great accessibility: Midtown is situated between two main Inner Loop districts – Downtown and Medical Center. It is also one of the 10 Most Accessible Houston Neighborhoods.
Vibrant nightlife and street scene: Midtown is home to over 180 restaurants, bars, and coffee shops. There is also an abundance of retail stores, lounges, and art galleries in the district.
Lively mixed-use neighborhood: Midtown homes, townhomes, and mid-rise condos offer the convenience of having entertainment and retail right next door.
Investment opportunities: Midtown property values have been on a steady rise, marking a 34% real estate appreciation over the last 5 years. Despite this, Midtown still features some of the lowest prices per square foot near Downtown Houston.
Midtown luxury real estate are ideal options for homebuyers looking to live near workplaces, entertainment options, and great schools.
With a reliable Midtown realtor, homebuyers can get advice, as well as updated school information and real estate trends.
Contact Paige Martin, head of the Houston Properties Team & Broker Associate at [email protected] or 713-425-4194 for more information about Midtown luxury real estate.
Midtown Houston Resources:
For more information on available Midtown luxury real estate call Paige Martin at 713-425-4194 or email [email protected].
Midtown Houston Neighborhood Guide
Midtown is in the middle of reinventing itself into a trendy district, and with redevelopment underway, it is on the right track in reaching that goal.
The district is between two important Houston districts, the Central Business District and the Medical Center. Midtown sits along three major freeways, Gulf, South and Southwest, making the district very accessible to and from other Inner Loop neighborhoods like Montrose, EaDo, and the Museum District.
Midtown was one of Houston's most popular residential districts in the 1940s, due to the Humble Oil and Refining Company. This initial boom, however, led to more commercial establishments in the area, which drove away some residents looking for quieter neighborhoods.
Vietnamese immigrants and Vietnamese Americans revitalized Midtown, establishing a Little Saigon on a number of streets in the district.
In the 1980s through the 90s, Midtown experienced a slump because of the oil glut. The district's population fell dramatically during this period.
Despite the neighborhood's ups and downs, the future looks bright for Midtown. The city of Houston's establishment of the Midtown Tax Increment Reinvestment Zone (TIRZ) and Midtown Management District has led to the district's steady growth.
Recent development has led to Midtown's resurgence. More commercial establishments, including bars, retail stores, lounges, and art galleries, have attracted more people to the district. More demand led to new construction apartment complexes, mid-rise condos, and townhomes.
Midtown Houston has 77002, 77004, and 77006 Harris County zip codes.
Nearby zip codes include: 77003, 77006, 77011, 77010, 77019, and 77054. (View Houston zip code map)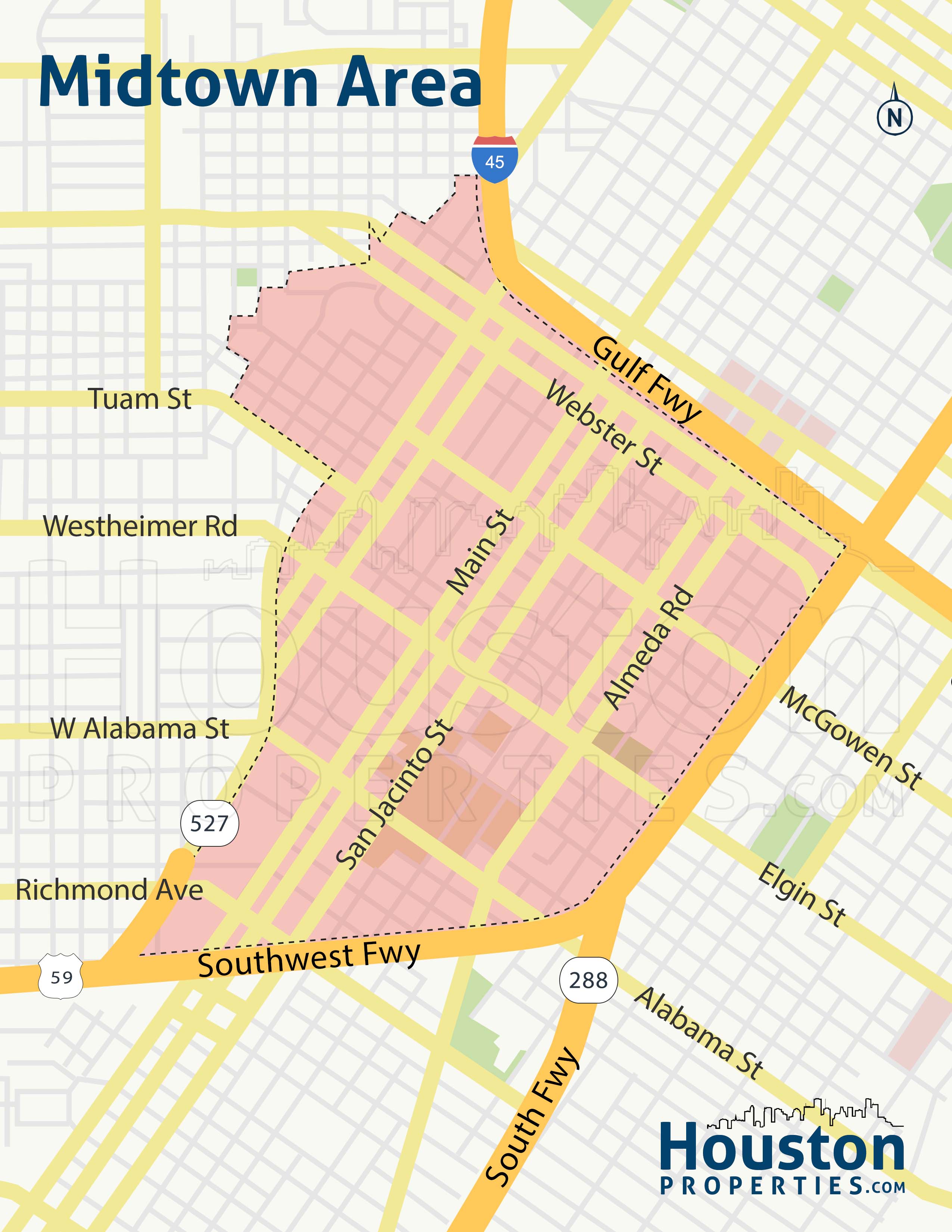 Neighborhoods Near Midtown
Neighborhoods near Midtown include:
Second Ward
Third Ward
East End
Fifth Ward
Northside Village
Fun Things To Do In And Around Midtown
The neighborhood's mixed-use urban planning provides its residents with great options right by their doorsteps. It has a lively street scene with a variety of dining, shopping, and nightlife options.
True to its new "trendy" reputation, Midtown houses a number of bars and lounges, including a dog-friendly bar called Saint Dane's Bar and Grille. Double Cross Lounge is quite popular for serving craft beers and cocktails. The Nouveau Antique Art Bar, on the other hand, serves cocktails alongside eclectic art choices.
Owing to its history as Little Saigon, Midtown is also home to several banh mi and pho restaurants like Kim Tai and Thien An Sandwiches.
Retail options are equally eclectic. Though there is a curious lack of big box retail stores in Midtown, the district does offer a large variety of smaller stores.
There's Adkins Architectural Antiques, a store that sells vintage home decor and also does restorations. The Tinderbox Craft Collective sells art and craft items from local artists and provides craft workshops for interested patrons.
Midtown also has a number of parks within and around the district. Elizabeth Baldwin Park, a 4.88-acre area between Crawford and Chenevert streets, has a Vietnamese Heritage Plaza.
Peggy's Point Plaza Park is also located in the district, while Discovery Green in Downtown Houston is just minutes away from Midtown.
Here are just some of the must-visit places in and around Midtown:
Nightlife
Shoeshine Charley's Big Top Lounge
Saint Dane's Bar and Grille
Double Cross Lounge
Nouveau Antique Art Bar
Community Bar
Leon's Bar
Bar Munich
Mongoose vs. Cobra
3rd Floor Bar
Alley Kat Bar & Lounge
13 Celsius
Dining
Kim Tai
Natachee's Supper 'n Punch
Majorca
Thien An Sandwiches
Les Givral's Sandwich & Cafe
Brennan's of Houston
The Breakfast Klub
Tacos a Go-Go
Artisans Restaurant
The Pass
Provisions
Ibiza
Reef
Sparrow Bar + Kitchen
Shopping
My Flaming Heart
The Tinderbox Craft Collective
High Fashion Home
Texas Junk Company
Adkins Architectural Antiques
Al's Handmade Boots
Art Supply
Entertainment
Howl at the Moon
Painting Above the Bar
Numbers Night Club
Mainstage
Pinot's Pallete
Capitol Bar
Arts and Museums
Buffalo Soldier National Museum & Heritage Center
Station Museum of Contemporary Art
Houston Fire Museum
Houston Museum of African American Culture
The Ensemble Theatre
Bryan Miller Gallery
Art Palace
Mixed Emotions Fine Art Inc
Parks
Midtown Park
Bethel Park
Peggy's Point Plaza Park
West Webster Street Park
Elizabeth Baldwin Park
Discovery Green
Midtown Houston Realtor – Paige Martin
As featured on Fox News in the Morning, the Houston Business Journal, Houston Chronicle, and Houston Magazine, Paige Martin – a consistent Top Producing Broker-Associate and head of the Houston Properties Team – is ranked amongst the very top Keller Williams agents in the Houston area.
Paige is ranked as one of the top realtors in Midtown Houston, and the state of Texas. Read more about the over 65 awards she's won in the last few years.
Paige works with a tremendous number of buyers and sellers within the Inner Loop.
For a specific recommendation of neighborhoods, homes or properties based upon your personal style, goals & price point, please contact Paige Martin, head of the Houston Properties Team & Broker Associate at [email protected] or 713-425-4194.