Midtown Homes For Sale Under $400K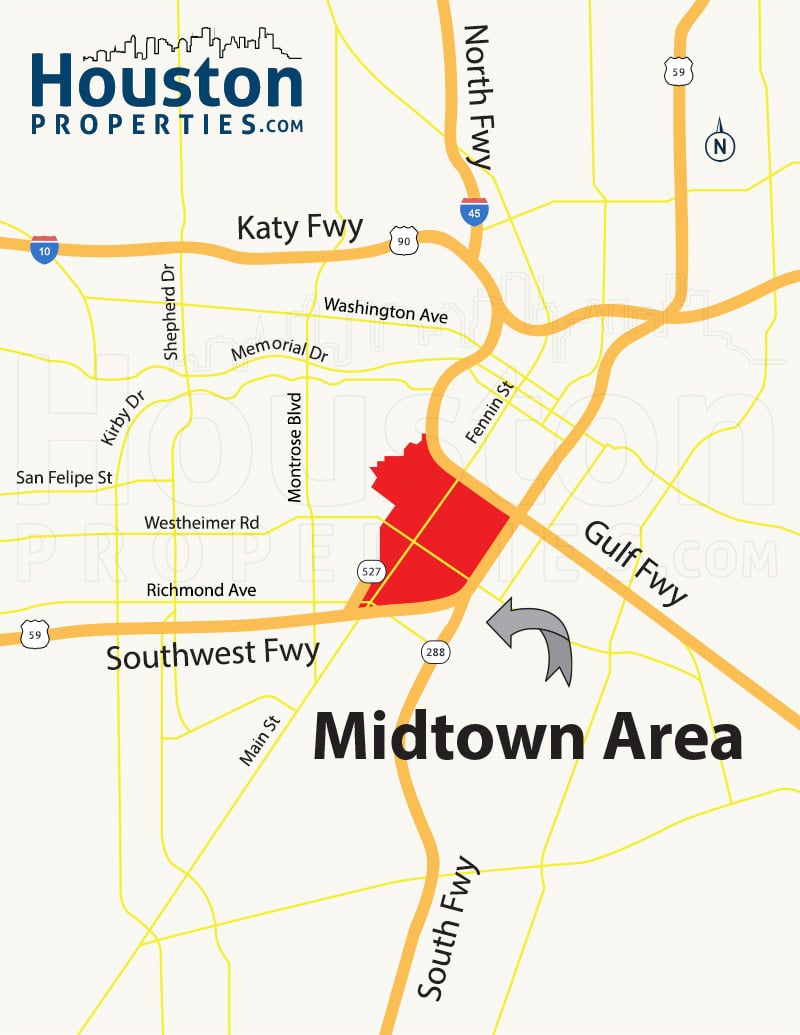 Located between Downtown and Medical Center, Midtown is one of the most accessible neighborhoods in Houston.
The 617-acre district features mixed-use urban planning, and is centrally located southwest of Downtown Houston, northeast of the Museum District, and east of Montrose.
Having direct access to major freeways and the MetroRAIL Red Line, commuting to and from Midtown is fairly easy.
As a district in the midst of a redevelopment, Midtown has numerous new construction single-family homes, apartment complexes, mid-rise condos, and multi-level townhomes.
Midtown also features more than 180 restaurants, bars, and coffee shops within its borders.
It is zoned several great schools from the Houston Independent School District (HISD) and is near universities and other educational institutions.
Property values are on the rise, a trend spurred by new residential and commercial developments in the district. Midtown homes for sale rose by 49% in median sales price over the past 10 years.
Contact Paige Martin, head of the Houston Properties Team & Broker Associate at [email protected] or 713-425-4194 for advice or questions about buying or selling a Midtown home.
Midtown Houston Resources:
NOTE: Midtown homes are among the fastest selling real estate in Houston. Some of the properties are off-market (not publicly listed). For more information on available Midtown homes for sale call Paige Martin at 713-425-4194 or email [email protected]
Midtown Houston Neighborhood Guide
Strategically located near Downtown, Midtown is one of the most popular neighborhoods in Houston.
This reputation goes way back. In the 1940s, Midtown is one of Houston's main residential neighborhoods, a boom that's greatly attributed to the Humble Oil and Refining Company. A surge in commercial developments followed, which caused some residents to move to less busy parts of the city.
In the 1980s and 1990s, Midtown experienced a decline due to the oil glut. The economic downturn caused a decrease in the district's population and its reputation took a massive hit.
In the mid-90s, Houston established the Midtown Tax Increment Reinvestment Zone and the Midtown Management District some years later, paving the way to the district's reinvention.
Today, Midtown is a vibrant and trendy neighborhood. Its redevelopment is still ongoing. With its proximity to Downtown and other major Inner Loop neighborhoods, Midtown is now one of the most sought-after addresses in Houston.
Midtown Houston has 77002, 77004, and 77006 Harris County zip codes.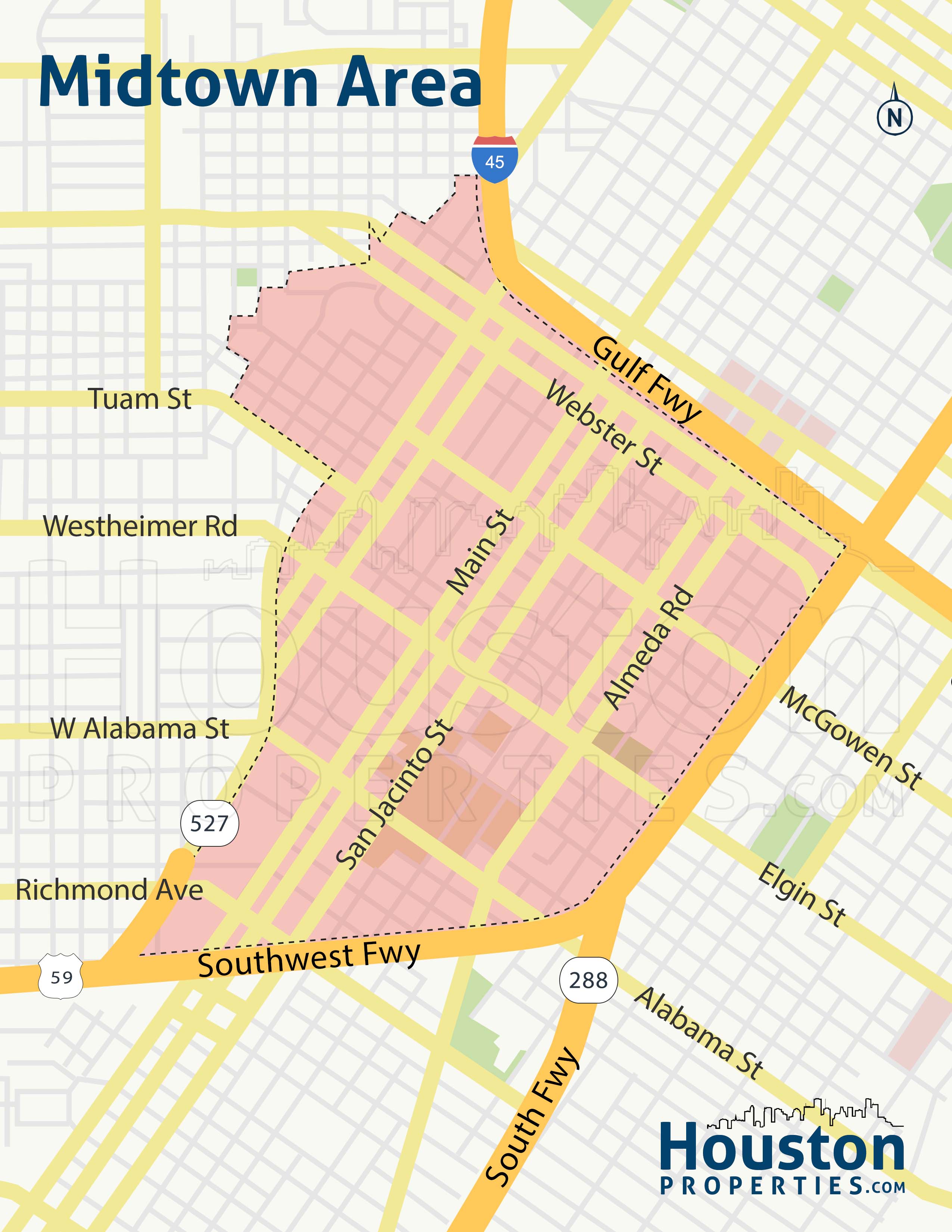 Midtown Schools Information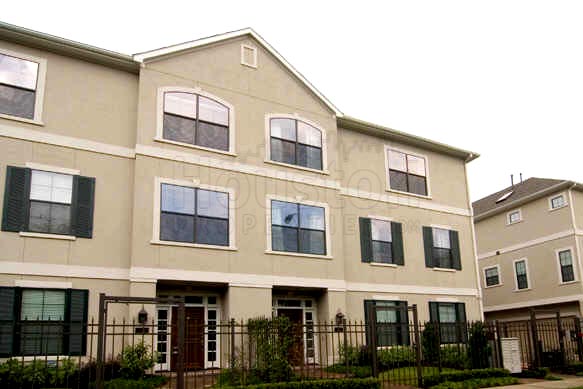 Midtown is home to the Houston Community College System's Central Campus. The district is zoned to the Houston Independent School District (HISD).
Public Schools:
Elementary
Edward Blackshear Elementary School at 2900 Holman. Blackshear serves students in grades PK to 5. It offers after school programs, along with extracurricular activities like cheerleading and drumline.
Henry F. MacGregor Elementary School at 4801 La Branch St. Serving PK to 5 students, MacGregor offers several magnet programs in music and science. It also offers an Extended Day Program.
Middle School
Gregory-Lincoln Education Center at 1101 Taft St. GLEC is a combined elementary and middle school serving K-8 students. The school has a diverse student body and requires students to wear uniforms. It has a GreatSchools.org rating of 3 out of 10.
Young Scholars Academy for Excellence at 1809 Louisiana. Young Scholars is a public charter school that serves PK to 8 students. It offers programs that are family-centered and focused on the development of the whole child.
High School
Lamar High School at 3325 Westheimer. Home to the Lamar Redskins, this high school offers one of the best Athletics programs in the city. Lamar also has one of the oldest lacrosse programs in Texas. It has a GreatSchools.org rating of 7 out of 10.
John H. Reagan High School at 413 E 13th St. JH Reagan offers both sports and academic programs. Each student is brought to a specific "academy": Business, Engineering & Architectural Design, Freshman, Health Science, and Magnet Academy for Technology.
Houston Academy for International Studies at 1810 Stuart St. This alternative secondary (magnet early college) school was named a National Blue Ribbon School of Excellence in 2014. It offers academic programs like Advanced Placement and Early College/Dual Credit. HAIS has a GreatSchools.org rating of 9/10.
Young Women's College Preparatory Academy at 1906 Cleburne St. A result of a partnership of the Houston ISD and the Young Women's Preparatory Network, YWCPA offers Pre-AP and AP courses for grade 6 to 12 students. It has a GreatSchools.org rating of 9/10.
Private Schools:
There are a number of private schools and higher learning institutions within and around the district. Here are some of them:
Early Childhood
Imagination Campus Midtown at 2000 Crawford St. This private early education school caters to infants, toddlers, early- and pre-school students. Imagination offers unique programs in child development including Sparks I and II.
LaBranch Child Development Center at 2320 Labranch. Located at the LaBranch Federal Building, this center also offers child care and early education programs.
Other early childhood centers in Midtown include Erinns Heart Early Learning Academy, Crayon Club, and Genesis Learning Center.
Elementary
Precious Jewels Alpha Learning Center, LLC at 2301 Main St. Precious Jewels is a private school serving PK-6 students. It offers extracurricular activities in fine arts including music and creative movement.
The School For Young Children at 810 Sul Ross St. This school is under the Special Schools Coalition of Greater Houston and serves grades 1-6 special needs children. They specialize in providing elementary education to children with language-based learning difficulties.
Middle School
The Harris School at 900 Lovett Blvd. This school offers a specialized curriculum for students in grades PK to 8. The curriculum centers on academic and therapeutic programs.
High School
Incarnate Word Academy at 609 Crawford St. The Incarnate Word Academy is a "Catholic college preparatory for young women." IWA offers both academics and athletics programs.
St. Stephen's Episcopal School at 1800 Sul Ross St. A part of the Episcopal Diocese of Texas, St. Stephen's is a diverse, coeducational school. It serves grades 6 through 12.
Higher Education
UH Small Business Development Center
Houston Community College
Houston Graduate School of Theology
Houston Technology Center
To find an updated listing of all Midtown real estate zoned to any specific public school, please send an email to Paige Martin at [email protected] with the property preference and budget that you're working with.
*Note: School zoning tends to change from year to year, information provided above are accurate but not guaranteed. Please double check by visiting the school's website.
Midtown Houston Realtor – Paige Martin
As featured on Fox News in the Morning, the Houston Business Journal, Houston Chronicle, and Houston Magazine, Paige Martin – a consistent Top Producing Broker-Associate and head of the Houston Properties Team – is ranked amongst the very top Keller Williams agents in the Houston area.
Paige is ranked as one of the top realtors in Midtown Houston, and the state of Texas. Read more about the over 65 awards she's won in the last few years.
Paige works with a tremendous number of buyers and sellers within the Inner Loop.
For a specific recommendation of neighborhoods, homes or properties based upon your personal style, goals & price point, please contact Paige Martin, head of the Houston Properties Team & Broker Associate at [email protected] or 713-425-4194.