Midtown Houston Neighborhood Maps
Situated between Downtown Houston and Medical Center, Midtown residents enjoy easy access (including the MetroRail) to two of the city's biggest commercial districts.
Midtown is also one of Houston's 10 most accessible neighborhoods. Midtown is nestled at the corner where the Southwest and Gulf Freeways meet, permitting residents comfortable access to the city's main commercial and business hubs.
Midtown is bordered by the Southwest Freeway (US Highway 59), South Freeway, Gulf Freeway (Interstate 45), and curves through the streets of Cleveland, Baldwin, Pierce, Helena, Valentine, West Webster, Cook, Sutton, Albany to Tuam.
Midtown Houston Related Resources:
Two New Midtown Houston Neighborhood Maps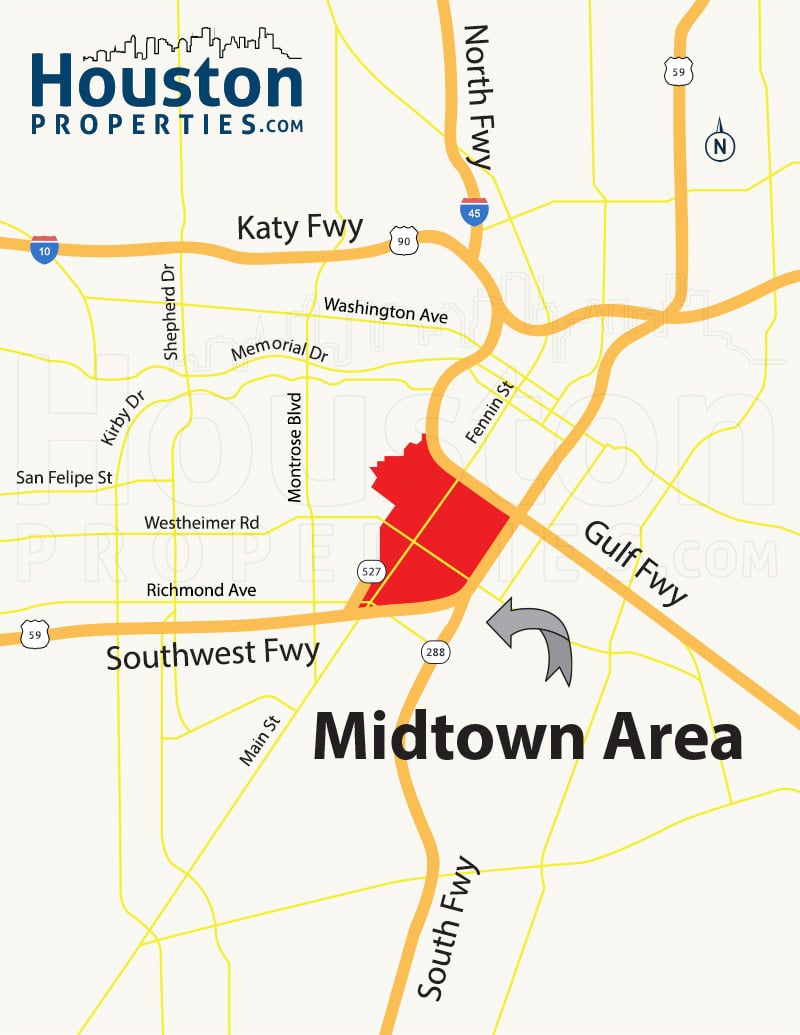 Midtown Houston Maps: Neighborhood
Located within Houston's Inner Loop, Midtown residents are a few blocks away from approximately 180 restaurants, bars, and coffee shops. Many of Midtown's new construction homes were designed to accommodate and encourage retail activities on the first floors of multi-story buildings.
Midtown also has an excellent reputation in public transportation and bike-ability.
Midtown suffered a great population loss in the past, but through the establishment of the Tax Increment Reinvestment Zone (TIRZ), the neighborhood has seen an increase of townhomes and condominiums, parks, and businesses developments.
Moving around the district is made easy through the MetroRail line that runs through Main Street, and the many bus routes that pass through the area. Midtown Houston attracts people looking for varied dining options, energetic nightlife, and shopping destinations.
Midtown homes for sale prices range from over $100,000 to over $400,000. The area offers some of the most affordable prices per square foot located near Downtown Houston.
Nearby neighborhoods include Museum District, River Oaks, Montrose, Rice Military, and Upper Kirby.