Montrose Real Estate Guide
Montrose homes for sale & insider real estate guide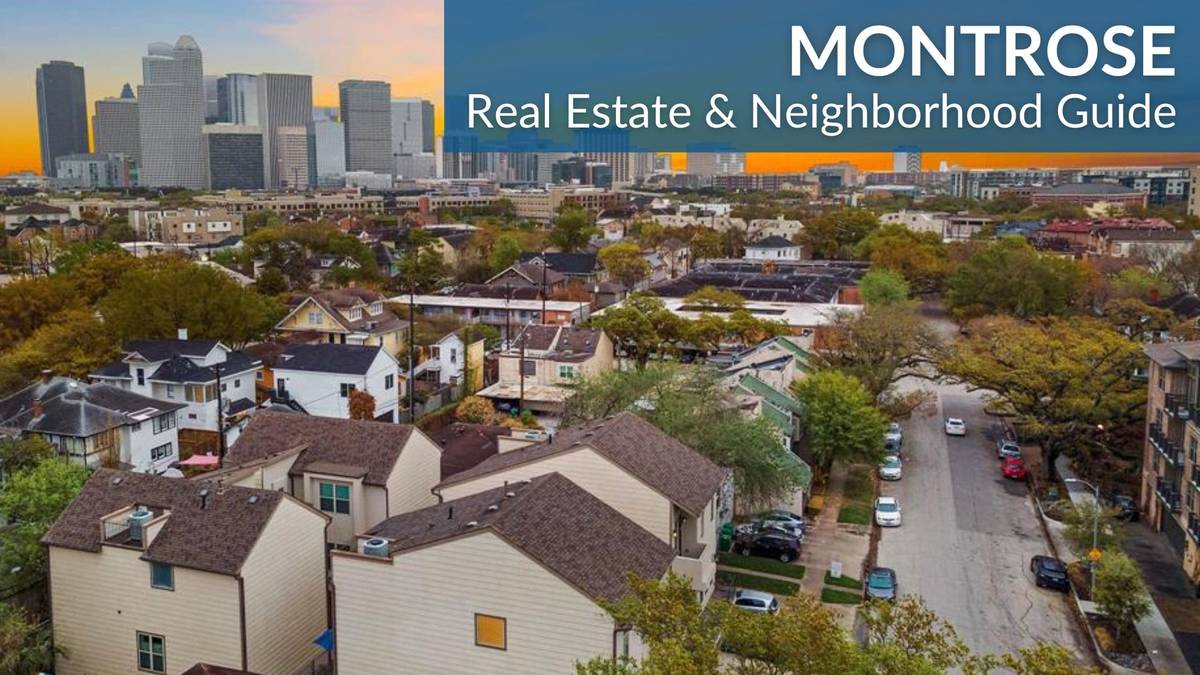 Known for its bohemian flavor, Montrose has a unique combination of 1920s mansions, modern townhomes, luxury condos, art museums, wine lounges, and hip restaurants.
Montrose is constantly in high demand due to its:
GREAT CULTURE: Home to art museums and festivals, Montrose is one of Houston's cultural centers. The Menil Collection and the Rothko Chapel (both from John and Dominique de Menil) feature many pieces from world-renowned artists like Jackson Pollock, Andy Warhol, Pablo Picasso, and Henri Matisse.

CENTRAL LOCATION: Montrose is centrally located within The Loop and is minutes away from key districts like downtown, Medical Center, and Galleria.

SHORT COMMUTES: One of the most accessible neighborhoods in Houston, Montrose homes have convenient access to main roads and freeways, including Richmond Avenue, Montrose Boulevard, Southwest Freeway, Shepherd Drive, Allen Parkway, and Westheimer Road, among others.

HIGH-QUALITY SCHOOLS: Students in the area may opt to attend some of the best schools in Greater Houston. Neighborhood schools include several International Baccalaureate World Schools, including Poe Elementary, Lanier Middle School, and Lamar High School. High School for the Performing and Visual Arts (HSPVA), a highly sought-after Fine Arts magnet school, is located in Montrose.

VIBRANT RETAIL: Montrose is constantly referred to as "One of Houston's Most Accessible Neighborhoods". The neighborhood houses numerous top-ranked restaurants, boutique shops, dive bars, wine lounges, music bars, cafes, and pubs. Other retail and entertainment hotspots (Rice Military, Galleria, and downtown) are all minutes away.

STRONG APPRECIATION: Land values in Montrose have steadily appreciated over the past decade, making the neighborhood one of the best places to invest in Houston real estate.
Montrose real estate can be tricky to navigate due to its uneven development (no zoning laws), a wide variety of home types (some are difficult to value properly), and rising property values. In addition, certain blocks can be problematic as they go back to bars (loud) and/or get a ton of street parking on certain days of the week. Also, some vintage homes in the area are within city-designated historic districts and are deed-restricted.
To get personal advice on buying or selling in the Montrose Area, contact Paige Martin, one of Houston's best realtors and one of the top-ranked Realtors in the United States.
"Review for Brad Evans, Realtor (Houston Properties Team) Brad is a gift to his clients. There is a reason this group is the #1 Boutique Real Estate Team in Houston — And Brad is a perfect embodiment of what you would expect from such a team. We have bought and sold four homes at this point and Brad represented us as Buyers in this transaction (Bridgeland in Cypress, TX). We can say, without reservation, that we've had a beyond 5 star experience with him. Everything was smooth from start to finish, even in a multiple offer scenario in which we were up against an over-asking cash offer. It could have easily been a more stressful situation, but Brad has a way of presenting facts and talking through information with his clients that keeps the feeling of the situation positive and invites trust. We never felt pushed or rushed to accept anything during the entire transaction that was not 100% in our best interest. He is tactful in his presentation, even when put on the spot, and responsive to emails, texts, and phone calls; he's also fantastic and quick at obtaining info his clients need or want.; moreover, we greatly appreciated his total honesty and transparency through the process and he being flexible with our timings. He is a consummate professional, with a personal touch. As busy as their group must be, he definitely made us feel that we were his only clients and his #1 priority. He gave credit time and again, saying "the entire team at Houston Properties is terrific", so you can't go wrong with them, but Brad is whom we had the pleasure of being connected with, and we recommend him 1,000x over." - Stephanie Ubale (Google Review)
---
Table of Contents
---
Montrose Home Sale Trends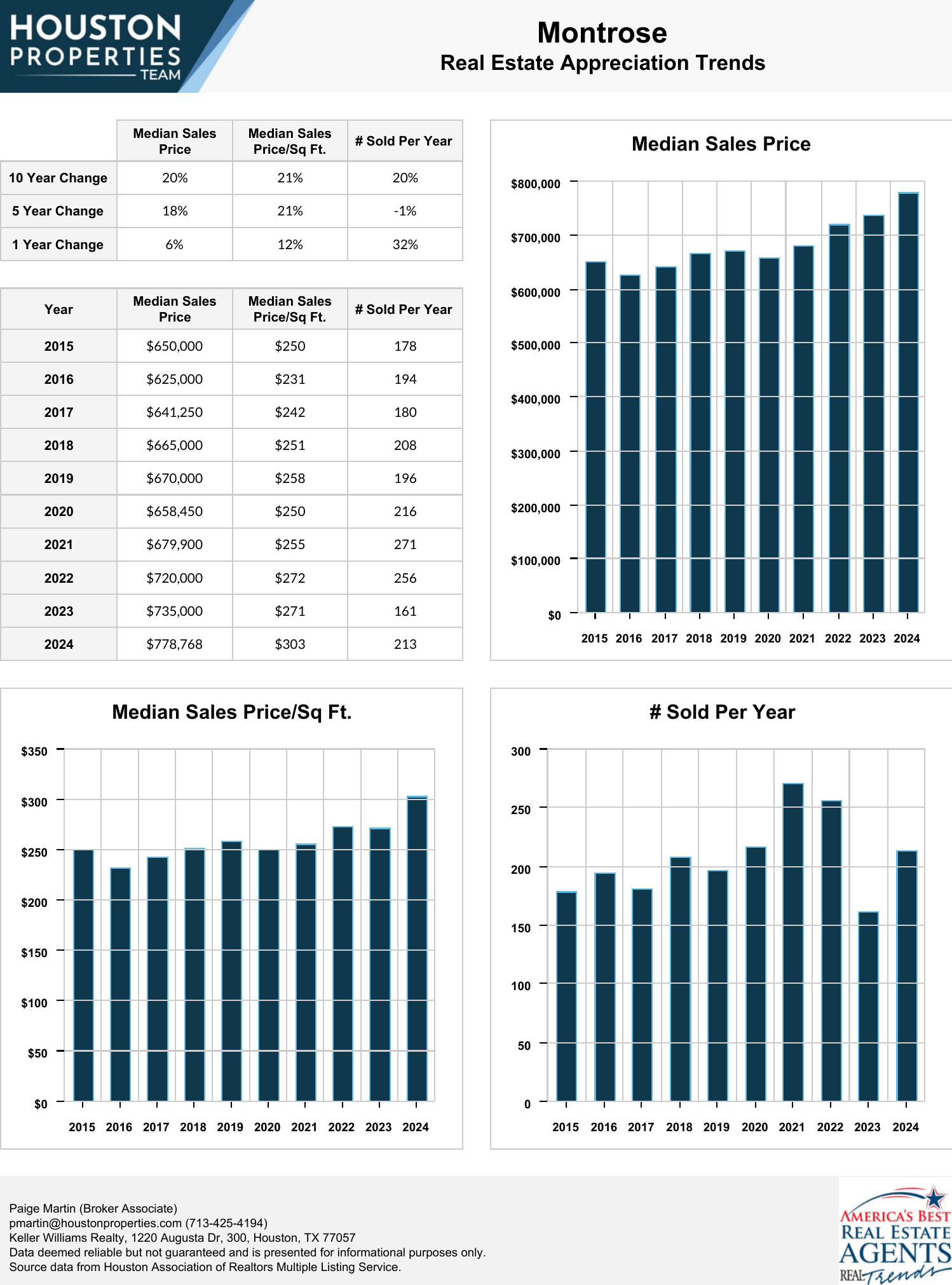 Known as a vibrant neighborhood, Montrose features a mix of historic homes, custom-built contemporary homes, and recent construction townhomes. It is one of the most accessible neighborhoods in Houston.
Montrose homes are in high demand, thanks to their:
UNIQUE ATMOSPHERE: Montrose is home to museums, parks, and historic neighborhoods. It is often considered one of Houston's cultural centers.

VIBRANT STREET SCENE: Montrose's main thoroughfares (Shepherd Drive, Montrose Boulevard, and West Alabama Street) are lined with many retail, dining, and nightlife spots.

STRONG APPRECIATION: The neighborhood has had one of Houston's best real estate appreciation rates over the past years.
Montrose is about 3 miles away from Downtown Houston. It is south of the Buffalo Bayou and north of Southwest Freeway. The area showcases several historic neighborhoods.
---
Montrose Best Realtor Insights
Once nicknamed the "Heart of Houston", Montrose is one of the most accessible neighborhoods in the city.
Montrose is centrally located within the Inner Loop and is minutes away from key districts like Downtown, the Medical Center, and the Galleria.

One of the most accessible neighborhoods in Houston, Montrose homes have convenient access to main roads and freeways, including Richmond Avenue, Montrose Boulevard, Southwest Freeway, Shepherd Drive, Allen Parkway, and Westheimer Road, among others.

The neighborhood houses numerous dive bars, wine lounges, music bars, and pubs, alongside several food joints, restaurants, and cafes.

Montrose homes for sale can range from 1920s mansions, quirky townhomes, upscale condominiums, and old-style and new construction single-family homes.

Rising demand for housing in the area has driven new residential development in the form of townhomes and condos. New condos in the area include Flats on Fairview and 3615 Montrose.

Montrose is home to several neighborhood organizations and business associations, including the First Montrose Commons.

One of Houston's older neighborhoods, Montrose exudes a sort of bohemian, anything-goes atmosphere.

Older Montrose homes – some dating back to the 1920s – have since been updated and maintained. Others have since been replaced with newer custom-built homes. Some parts of the Neartown/Montrose area are deed-restricted, including Hyde Park and the historic district, Courtlandt Place.

Homes in the area mostly offer 2- to 4-bedroom floor plans, with living spaces between 2,000 to more than 4,500 square feet. Montrose homes typically sit on mid to large-sized lots (by Houston standards), ranging from 1,500 to more than 9,000 square feet.

Prices for Montrose homes for sale can start at around $150,000 and can go up to more than $2,000,000.
---
Montrose Maps, Location & Zip Code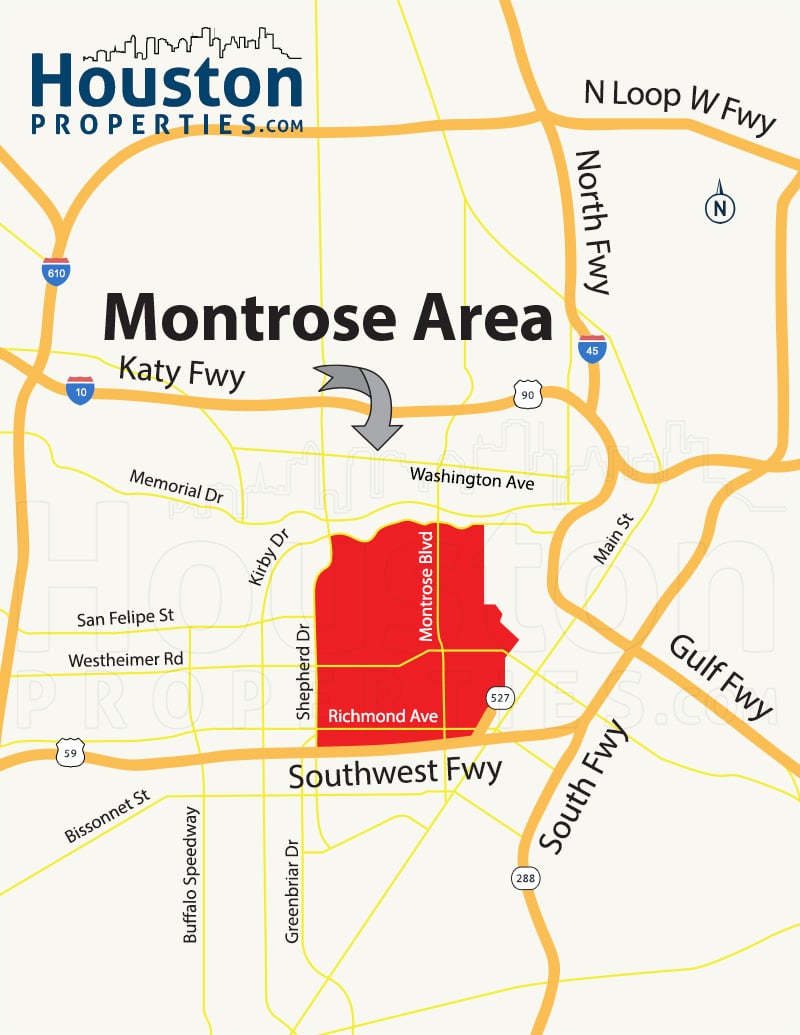 | Commute Time | Montrose |
| --- | --- |
| Downtown (min) | 15 |
| Med Ctr (min) | 15 |
| Energy Corridor (min) | 30 |
| Galleria (min) | 15 |
| Exxon Campus (min) | 45 |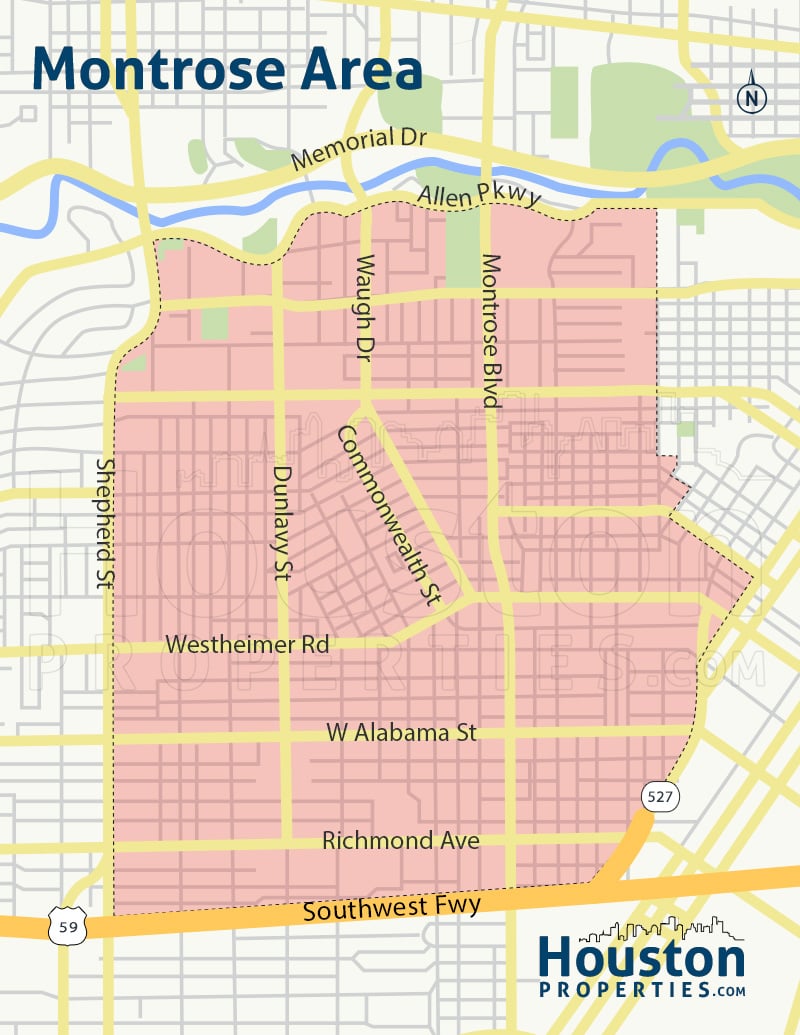 Highlights
Montrose
Amenities
Montrose is nestled within the Inner Loop. Downtown, Medical Center, and Galleria are easily accessible to the area.

The neighborhood is bustling with restaurants, boutiques, bars, and cafes.
Golf Courses
Limited Option
Run / Bike Trails
- Menil Park
- Mandell Park
- Autry Park
- Cherryhurst Park
- Live Oak Park
- Spotts Park
- Cleveland Park
- Belle Park
- Ervan Chew Park
- Buffalo Bayou Park
- Eleanor Tinsley Park
- Peggy H. Shiffick Park
Nearby Retail / Dining
Dining:

- Piggy's Kitchen & Bar
- Flora
- Jack in the Box
- BlendIn Coffee Club
- Izakaya Wa
- Khun KayRiel
- The Burger Joint
- The Pit Room
- Hugo's
- Riva's Italian Restaurant
- La Tapatia Mexican Cafe
- Bludorn

Entertainment:

- African Art Room
- Art League of Houston
- Blue Orange
- Contemporary Arts Museum
- The Riot Comedy Show

Groceries and Retail:

- River Oaks Shopping Center
- Walgreens
- Bakery Square
- Menil Collection
- Kroger
- Lankford
- H-E-B
- Central City Co-Op
- Whole Foods Market
- Mercantile Montrose
- Trader Joe's
- Randalls
- Target
- Marshalls & HomeGoods
- Dollar Tree
Major Employers
The neighborhood is in proximity to Downtown and Medical Center. These two areas are the home to company headquarters, professional service firms, and health and financial institutions such as:

- United Airlines
- Bank of America
- Kinder Morgan
- Plains All American Pipeline
- EnerVest
- Ernst & Young LLP
- Wells Fargo
- JP Morgan Chase & Co.
- CenterPoint Energy
- Chevron Corporation
- DataCore - IT Solutions
- Schlumberger Limited
- GE Energy
---
Montrose Schools
| Top Middle Schools | Great Schools Ranking |
| --- | --- |
| Lanier Middle | 9 |
Montrose homes are zoned to the Houston Independent School District (HISD).
Established in the 1920s, Houston ISD is the largest school district in the state (with 283 schools). The Texas Education Agency (TEA) gave the district a "Met Standard".
HISD features several International Baccalaureate (IB) World schools. This includes Lamar High School, Lanier Middle School, and Poe Elementary School.
Students in the area may attend the following public schools:
---
Elementary Schools
---
MacGregor Elementary School at 4801 La Branch St. MacGregor Elementary can trace its roots back to 1922. It serves students in grades PK to 5 and offers magnet programs in music and science. After-school activities include girl and boy scouts, as well as an Extended Day program.

Poe Elementary School at 5100 Hazard St. Named after Edgar Allan Poe, this elementary school is a fine arts magnet school. It is a candidate school for the International Baccalaureate Primary Years Programme (PYP).

Wharton Dual Language Academy at 900 W Gray St. An alternative primary school, Wharton offers a Language Magnet program for students in grades PK through 8. It features a program that incorporates both Spanish and English languages.

Wilson Montessori at 2100 Yupon St. Also known as Wilson Elementary, this school offers a Montessori program that encourages self-reliance and independence.
---
Middle Schools
---
Lanier Middle School at 2600 Woodhead St. Lanier Middle School received a Texas Gold Performance Award. It offers a Vanguard program for exemplary students. It is also an authorized IB World School serving the Middle Years Programme (MYP).

Gregory-Lincoln Education Center at 1101 Taft. GLEC features a Fine Arts magnet program for students in grades K to 8. It offers classes in vocal and instrumental music, theater, dance, culinary, visual, and multimedia arts.

Baylor College of Medicine Academy at Ryan at 2610 Elgin St. BCMAR is a magnet middle school located on the campus. It is where Ryan Middle School once stood. BCMAR is a relatively new school. It offers a unique Medical Magnet program that is centered on a health science-based curriculum.
---
High Schools
---
Lamar High School at 3325 Westheimer Rd. Home to the Lamar Texans, this high school has one of the best Athletics programs in the area and boasts of the oldest lacrosse programs in Texas. Lamar is also an International Baccalaureate World School. It serves the IB Diploma Programme. The school also offers a business management magnet program, a neighborhood program, and an Advanced Placement program.

High School for the Performing and Visual Arts at 4001 Stanford St. HSPVA boasts of "an academic program with concentrated training in the arts." HSPVA is divided into six departments. These are creative writing, vocal music, instrumental music, dance, theater, and visual arts.
---
Montrose Houston Private Schools
---
The following are some of the more notable private schools near Montrose.
River Oaks Academy at 10600 Richmond Ave.

Annunciation Orthodox School at 3600 Yoakum Blvd.

The Harris School at 900 Lovett Blvd.

Avalon Academy at 1616 Indiana St.

Kipling Street Academy at 1425 Kipling St.

School For Young Children at 810 Sul Ross St.

St. Stephens Episcopal School at 1800 Sul Ross St.

University of St. Thomas at 3800 Montrose Blvd.
To find an updated listing of all Montrose real estate zoned to any specific public school, please send an email to Paige Martin at PMartin@HoustonProperties.com with the property preference and budget that you're working with.
Note: School zoning tends to change from year to year, the information provided above is accurate but not guaranteed. Please double-check by visiting the school's website.
---
Montrose Real Estate Market
Montrose Single-Family Home Sale Trends
---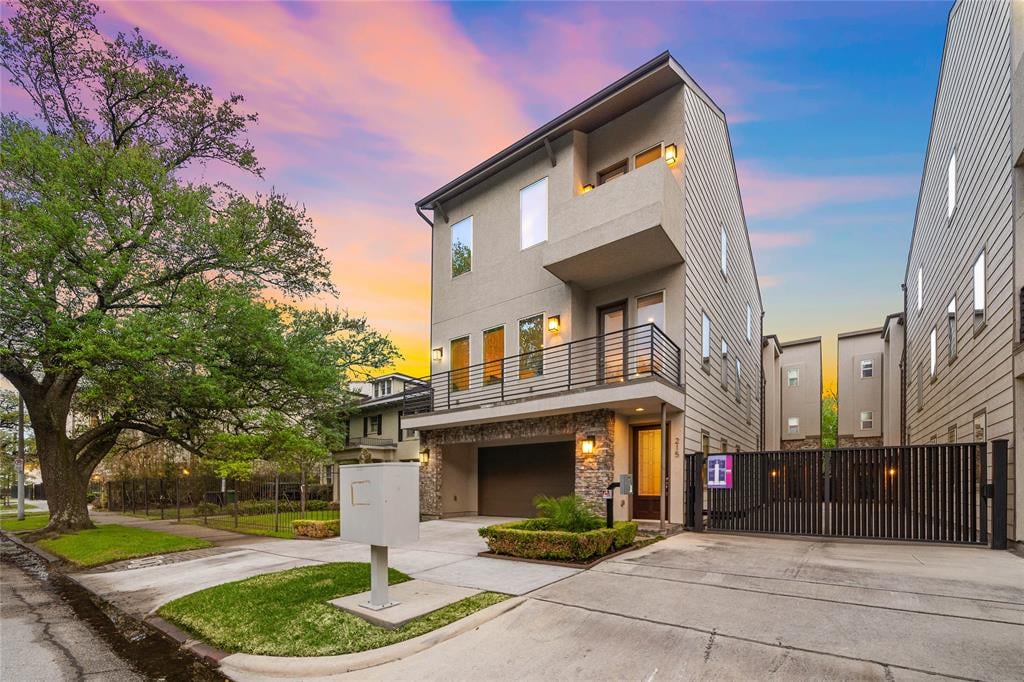 Despite an increase in new construction townhomes and condos, Montrose single-family homes are still a popular housing option.
From 2-story homes with sprawling land areas to smaller, older bungalows, Montrose offers a variety of styles and sizes.
Some of the neighborhood's older homes have been replaced with larger custom-built homes, though a number of its vintage homes from the 1920s (and older) have been carefully updated and maintained.
Montrose homes typically feature 3- to 4-bedroom floor plans, with 2,000 to more than 4,500 square feet of living spaces. Homes in the area feature mid to large-sized lots, ranging from 1,500 to more than 9,000 square feet.
The most expensive Montrose real estate can offer as many as 5 bedrooms, spread over 4,000 square feet.
Montrose homes for sale come in different architectural styles, including Colonial, Tudor Revival, Craftsman, Queen Anne, and Victorian, among others.
Prices vary widely too. Older bungalows can sell for as low as $200,000, while beautifully renovated or maintained 1920s mansions can sell for almost $2,000,000.
---
Montrose Townhomes Sale Trends
---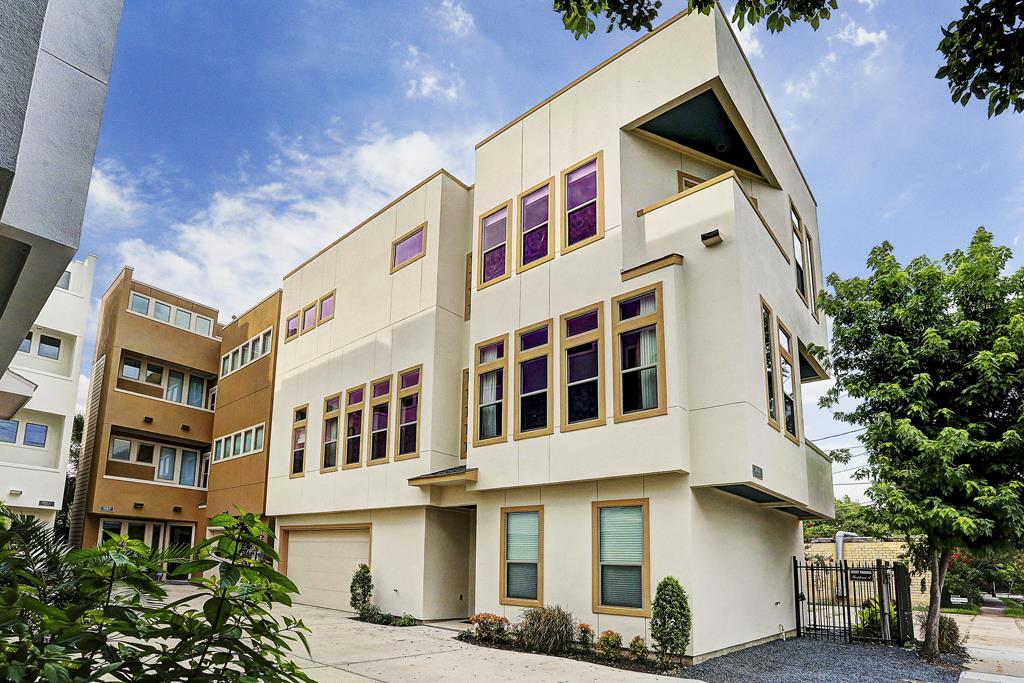 Demand for housing near Houston's key districts has sparked development in neighborhoods within the Inner Loop, including Montrose. New construction of Montrose townhomes and patio homes have replaced some of the area's older homes. Some of these properties are within gated communities.
Three- to four-bedroom floor plans are common, spread across 1,000 to more than 3,500 square feet of living space. Lot sizes are smaller, between 1,000 to 2,500 square feet.
Architectural styles vary, though most new construction features contemporary aesthetics.
Like most Inner Loop neighborhoods, Montrose also features upscale multi-level townhomes with game rooms, 2-car garages, and roof decks/terraces. Some even feature front and/or backyards. Townhomes within gated communities have controlled access and other amenities.
Prices for Montrose townhomes for sale range from $150,000 to over $1,000,000.
---
Montrose Condo Sale Trends
---
Montrose condos are an emerging trend. The neighborhood is expecting a few new mid-rise condos in the future. Some of the newest developments in the area include 1400 California, 3615 Montrose, and Flats on Fairview.
Condo units in Montrose typically feature 1 to 3 bedrooms, with living spaces ranging from 600 to more than 2,000 square feet. Bigger 4-bedroom properties with 4 and a half baths are also available in some residential buildings. Luxury Montrose condos feature 24/7 concierge services, controlled access, swimming pools, parking, and other community amenities.
Prices, floor plans, and architectural styles vary and there are many from which to choose, including:
Montrose condos for sale can start at around $150,000. Units in newer residential developments can sell for more than $2,500,000.
Highrise condos and lofts located near and around Montrose include:
Downtown Houston (77002 / 77010):
To see other condos within the Inner Loop, see Inner Loop Houston Condos. To see condos within the nearby Museum District area, see Museum District Area, Houston Condos.
---
Montrose TX History
---
In 1911, Houston Land Corporation executive J.W. Link spearheaded Montrose's development. Link purchased some 250 acres of land and developed the main street (Montrose Boulevard) through the property's center. Montrose was one of Houston's original streetcar suburbs, with the Montrose Line running through the neighborhood.
Link also built his own home on the property. The Link-Lee Mansion now serves as the administration office for the University of St. Thomas.
In the 1960s and 70s, Montrose attracted the counterculture movement and became home to alternative community centers, communes, and artists' studios. During this time, Montrose developed its bohemian, anything-goes flavor, with residents ranging from artists to members of the LGBT community, from writers to wealthy eccentrics.
Montrose has five city-designated historic districts: Courtlandt Place, Westmoreland, Avondale East, Avondale West, and Audubon Place.
Montrose's notable residents include Howard Hughes, Lyndon Johnson, O. Henry, and former Houston mayor Annise Parker.
---
Fun Things To Do Near Montrose
---
One of Houston's cultural and historical centers, Montrose is home to a diverse mix of cafes, restaurants, dive bars, vintage shops, and art galleries. Montrose offers a fusion of new and old, upscale and artsy.
The neighborhood has thrift, antique, and secondhand shops. The River Oaks Shopping Center, one of the oldest shopping centers in the US, is minutes away from Montrose homes. The Galleria, Uptown Park, Highland Village, and other retail hotspots are also nearby.
Rudyard's, a pub at 2010 Waugh Street, is known as "Montrose's Living Room." It seems to have everything: an on-tap selection of beer, great food, comedy and musical acts upstairs, beer tastings, and a dart league. Dog-friendly West Alabama Ice House is a favorite spot for Montrose residents. A casual ice house with a taco truck and a patio, West Alabama offers an unassuming place to kick back after a long day.
Da Marco Cucino E Vino, an upscale Italian bistro, is popular in the neighborhood. Brasil, on the other hand, draws in music lovers and creative types with its wide selection of beer, coffee, tea, and wine.
The Menil Collection, founded by John and Dominique de Menil, has about 17,000 paintings, sculptures, photographs, and rare books. The private art collection includes some works of Pablo Picasso and Henri Matisse, alongside contemporary pieces from Jackson Pollock and Andy Warhol.
The Rothko Chapel, also founded by the de Menils, is an interfaith chapel that houses various books and writings from different religions. It also features art and the Broken Obelisk, a sculpture dedicated to Martin Luther King Jr.
Montrose also plays host to festivals, including the four-decade-old Houston Greek Festival. The Houston Pride Parade and the bi-annual Westheimer Colony Arts Festival used to be held in the neighborhood.
Here are some of the best places to visit in and around Neartown / Montrose:
Dining
Cooking Girl
Snooze, an AM Eatery
LES BAG'ET Vietnamese Cafe
The Burger Joint
Brookstreet Bar-B-Que
The Hay Merchant
Just Dinner
Paulie's
The Flat
Oporto Fooding House & Wine
Art Galleries
African Art Room
Art League of Houston
Blue Orange
Contemporary Arts Museum
Menil Collection
Nightlife
Poison Girl
Etro Lounge
RIPCORD
The Flat
Rosemont
Avant Garden
Anvil Bar & Refuge
Lola's Depot
Boondocks
South Beach
Rudyard's British Pub
Cezanne
Absinthe Brasserie
Stone's Throw
Groceries
Kroger
Lankford
H-E-B
Central City Co-Op
Whole Foods Market
Mercantile Montrose
Trader Joe's
Randalls
Parks
Menil Park
Mandell Park
Cherryhurst Community Center
Bethel Park
Ervan Chew Park
West Webster Street Park
Buffalo Bayou Park
Eleanor Tinsley Park
Peggy H. Shiffick Park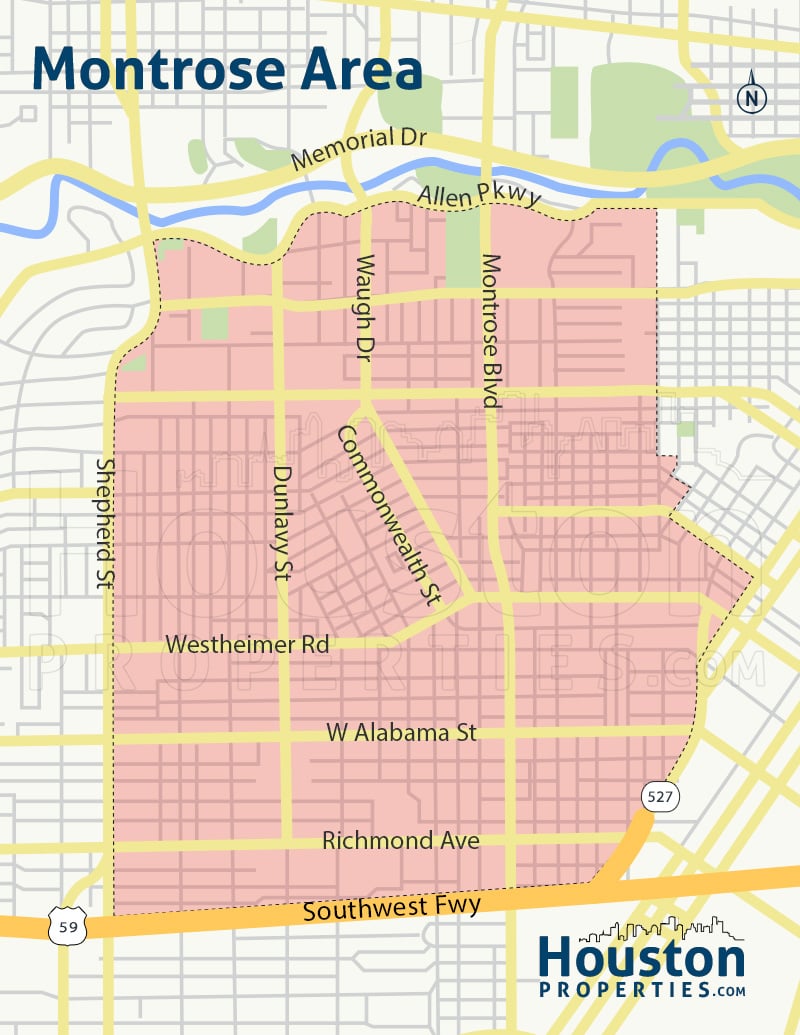 ---
Best Montrose Realtor – Paige Martin
---
As featured on Fox News in the Morning, Houston Business Journal, and Houston Magazine, Paige Martin, a consistent Top Producing Broker-Associate and head of the Houston Properties Team, is ranked as one of the top residential real estate agents in the world.
---
Best Houston Real Estate Resources
---