A Guide To Montrose Luxury Real Estate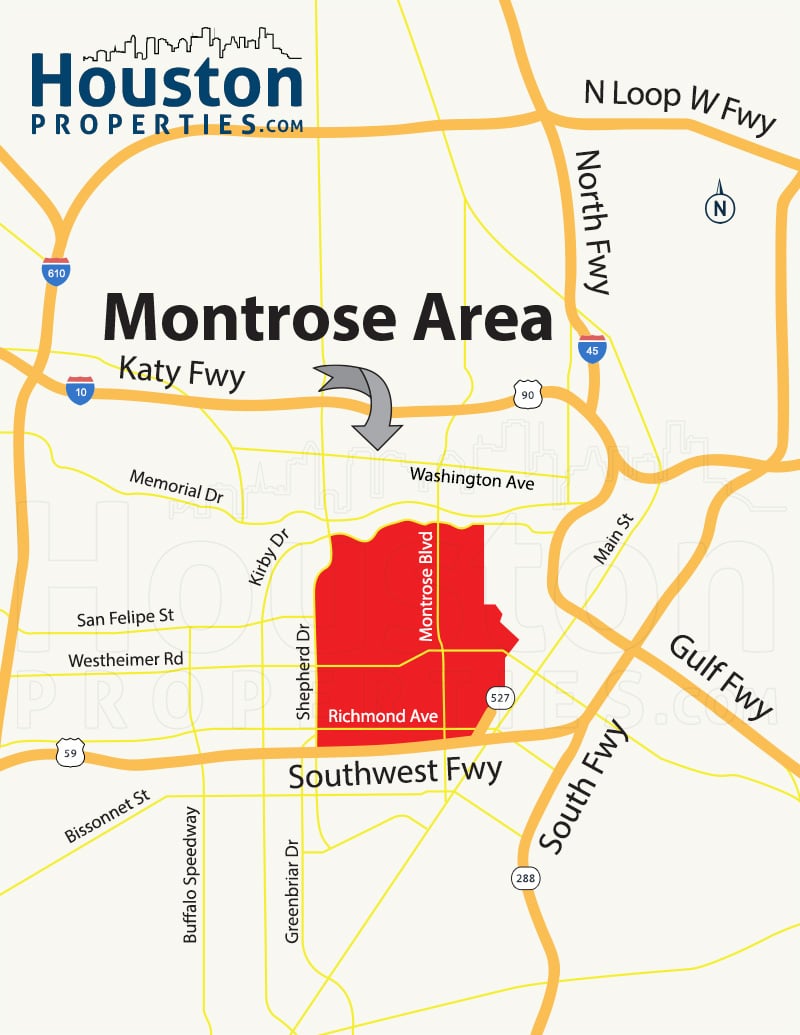 Montrose is a diverse and vibrant community west of Downtown Houston.
Nicknamed the "Heart of Houston," Montrose is one of Houston's cultural hubs as well as one of the city's most accessible neighborhoods.
Montrose luxury real estate offer:
Central location: Montrose's close-in location provides its residents with great accessibility to the most exciting districts in Houston.
Great entertainment options: Even with Houston's finest at its fingertips, Montrose offers great nightlife and dining options within its borders. The district also has several cultural and historic hubs.
Excellent access to business centers: Montrose is minutes away from the Downtown and Medical Center, two of Houston's busiest business centers.
Great choice of homes: Montrose boasts of an artistic culture that bleeds into its real estate offerings. Montrose has graceful mansions from the roaring '20s to chic townhouses from recent developments.
Montrose Houston is once part of the American Planning Association's 10 top neighborhoods.
Montrose has a variety luxury real estate within upscale areas. Montrose has been undergoing changes and new construction is common in the district.
Contact Paige Martin, head of the Houston Properties Team & Broker Associate at [email protected] or 713-425-4194 for more information about Montrose luxury real estate.
Montrose Houston Resources:
For more information on available Montrose luxury real estate call Paige Martin at 713-425-4194 or email [email protected].
Montrose Neighborhood Information
Centrally located within the Inner Loop, Montrose has Midtown and Downtown Houston to the east, Rice Military to the north, Upper Kirby and River Oaks to the west, and Museum District and Medical Center to the south.
Montrose features 250 acres of mixed-use land. It is home to both the Menil Collection and the Rothko Chapel, along with smaller art galleries.
The district has a vibrant street scene and nightlife, with several coffee shops, restaurants, patio bars, ice houses, and lounges lining Montrose's wide boulevards.
The district started out as a largely residential neighborhood in 1911. J.W. Link of the Houston Land Corporation headed the development. It was one of the original streetcar suburbs in Houston, with the Montrose Line serving the community.
During the 1990s, renewed interest in the district sparked plans for redevelopment. A number of townhomes were built during this period. Montrose's revitalization continues to today.
Like Midtown and EaDo, new construction is a common sight in Montrose. Some upscale mid-rise condominiums and luxury townhomes are slated for development.
Montrose luxury real estate also includes beautifully restored and maintained mansions that date back to the 1920s. These typically sit on sprawling lot areas ranging from 8,000 to 10,000 square foot. Architectural styles can range from contemporary, Victorian, Colonial, and traditional, among others.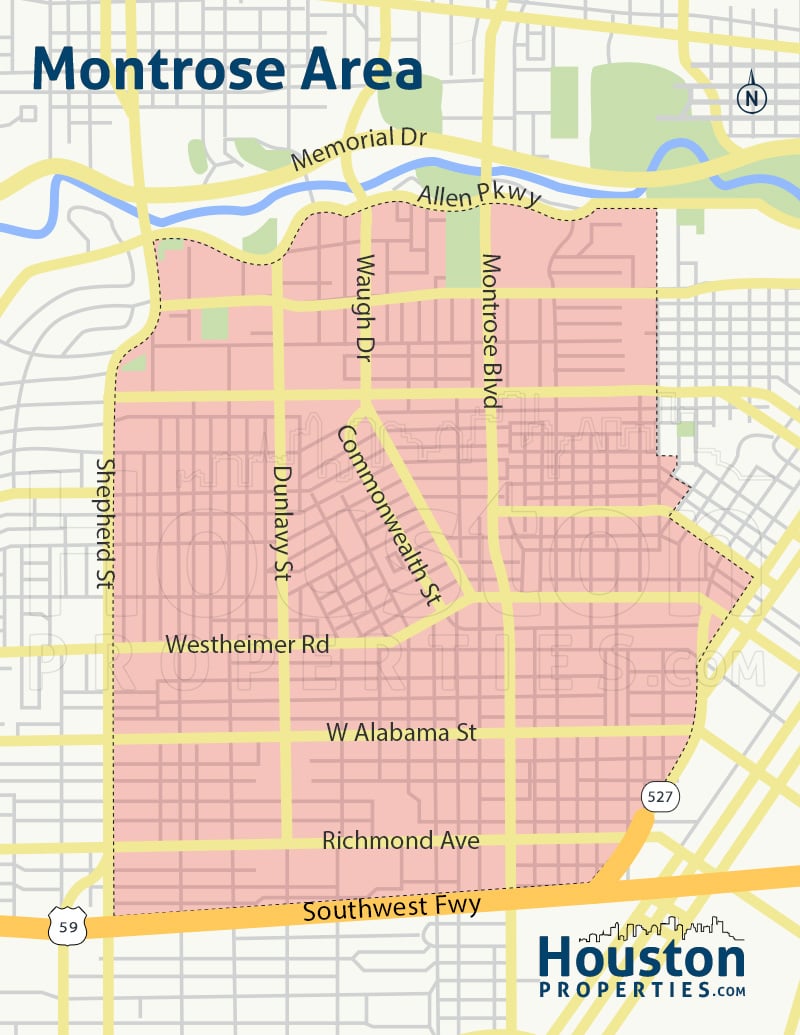 Montrose: Fun Things To Do In And Around The Neighborhood
One of Houston's cultural and historical centers, Montrose is home to a diverse mix of cafes, restaurants, dive bars, vintage shops, and art galleries. Montrose offers a fusion of new and old, upscale and artsy.
Residents lounge in the neighborhood's lively street scene and nightlife.
Rudyard's, a pub at 2010 Waugh Street, is known as "Montrose's Living Room." Dog-friendly West Alabama Ice House is a favorite spot for Montrose residents. A casual ice house with a taco truck and a patio, West Alabama offers an unassuming place to kick back after a long day.
Da Marco Cucino E Vino, an upscale Italian bistro, is popular in the neighborhood. Brasil, on the other hand, draws in music lovers and creative types with its wide selection of beer, coffee, tea, and wine.
The Menil Collection, founded by John and Dominique de Menil, has about 17,000 paintings, sculptures, photographs, and rare books. The private art collection includes some works of Pablo Picasso and Henri Matisse, alongside contemporary pieces from Jackson Pollock and Andy Warhol.
The Rothko Chapel, also founded by the de Menils, is an interfaith chapel that houses various books and writings from different religions. It also features art and the Broken Obelisk, a sculpture dedicated to Martin Luther King Jr.
Montrose also plays host to festivals, including the four-decade old Houston Greek Festival. The Houston Pride Parade and the bi-annual Westheimer Colony Arts Festival used to be held at the neighborhood.
Here are some of the best places to visit in and around Montrose:
Art Galleries
African Art Room
Art League of Houston
Blue Orange
Contemporary Arts Museum
Menil Collection
Shops
Domy Books
Peel
Mortar
Magick Cauldron
Spec's Liquor
Mio-boutique
Nightlife
Lola's Depot
Poison Girl
Griff's Houston
Cecil's Pub
Firkin & Phoenix Pub
Absinthe Restaurant Lounge
Agora
Boondocks
The Next Door
Anvil Bar & Refuge
Boheme Cafe & Wine Bar
Rudyard's
JR's
West Alabama Ice House
Dining
Baba Yega's
Barnaby's
La Mexicana Restaurant
Niko Niko's
The Breakfast Klub
Cafe Brussels
Feast
Osaka
Ocean's
Brasil
Fine Dining
Uchi
Mark's American Cuisine
Da Marco
Hugo
Tony's
Brennan's of Houston
Parks
Buffalo Bayou Park
Eleanor Tinsley Park
Ervan Chew Park
Mandell Park
Cherryhurst Park
Montrose Houston Realtor – Paige Martin
As featured on Fox News in the Morning, the Houston Business Journal, Houston Chronicle, and Houston Magazine, Paige Martin – a consistent Top Producing Broker-Associate and head of the Houston Properties Team – is ranked amongst the very top Keller Williams agents in the Houston area.
Paige is ranked as one of the top realtors in Montrose Houston and the state of Texas. Read more about the over 65 awards she's won in the last few years.
Paige works with a tremendous number of buyers and sellers within the Inner Loop.
For a specific recommendation of neighborhoods, homes or properties based upon your personal style, goals & price point, please contact Paige Martin, head of the Houston Properties Team & Broker Associate at [email protected] or 713-425-4194.