Best Value Montrose Homes Under $500K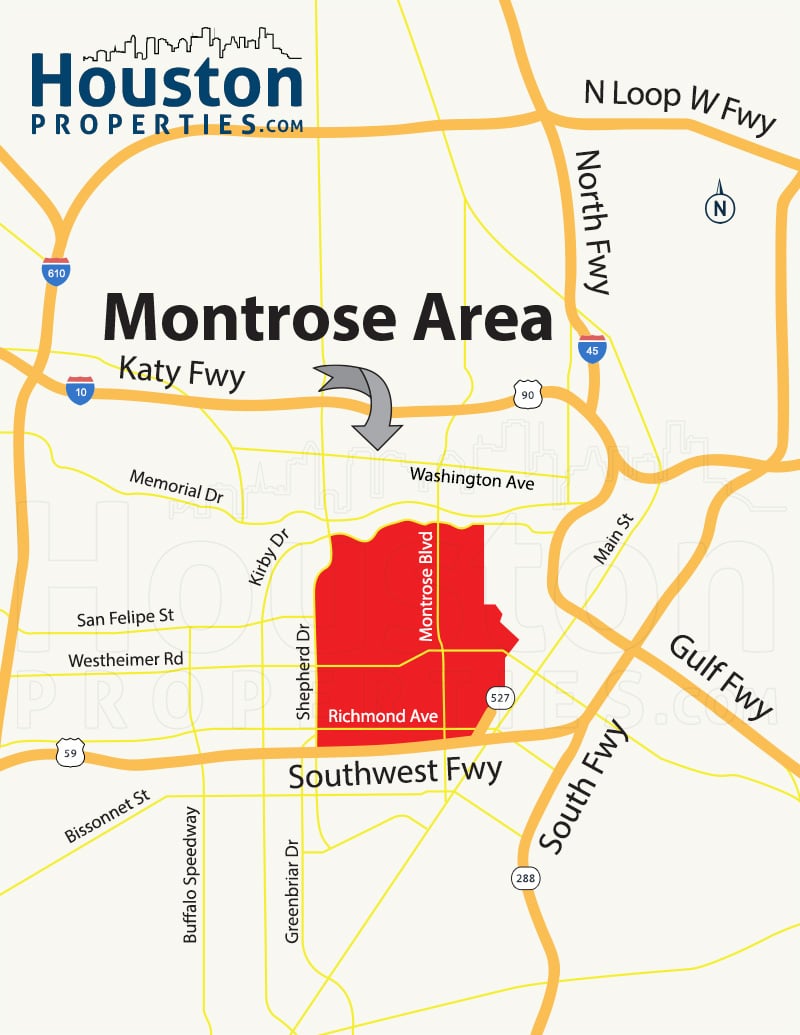 Montrose is a mixed-use neighborhood located between Downtown and the Museum District.
Montrose homes for sale are in high demand due to the following:
Excellent accessibility: Montrose's close-in location provides it with easy accessibility. Key Houston districts like Downtown, Museum District, Greenway Plaza, and the Texas Medical Center are within minutes of the area.
Lively nightlife and street scene: Montrose is a popular destination for its patio bars, ice houses, restaurants, coffee shops,
Shopping destinations: River Oaks Shopping Center is located within the Montrose/Neartown area while The Galleria is a short drive away. Smaller retail stores, including thrift stores and upscale boutiques, also call Montrose home.
Access to great schools: Montrose residents have access to excellent schools including Lamar High School, Lanier Middle School, and MacGregor Elementary.
Great selection of homes: Montrose has a wide variety of homes available, including patio homes, single-family bungalows, luxury townhomes, mid-rise condos, and grand 1920s mansions.
The American Planning Association listed Montrose as one of the great neighborhoods in America. The district is also considered as one of Houston's most accessible neighborhoods.
Like neighboring EaDo and Midtown, Montrose is on the road to renewal. New residential developments are slated for the district, including townhomes and mid-rise condos.
Contact Paige Martin, head of the Houston Properties Team & Broker Associate at [email protected] or 713-425-4194 for advice or questions about buying or selling a Montrose townhome.
Montrose Houston Resources:
For more information on available Montrose homes for sale call Paige Martin at 713-425-4194 or email [email protected]
Montrose Houston Neighborhood Guide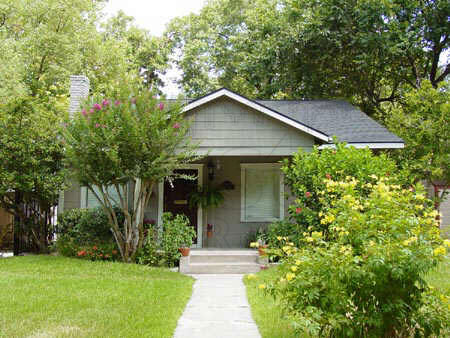 Montrose is a 250-acre district located in central Houston. Its boundaries are defined as Allen Parkway on the north, Spur 527 and Bagby Street to the east, Southwest Freeway (US Highway 59) on the south, and Shepherd Street on the west.
Montrose prides itself for the artistic, Bohemian vibe that shows in both its residential and commercial establishments.
The neighborhood features a quirky mix of patio bars, wine lounges, fine dining restaurants, hole-in-the-walls, dive bars, coffee shops, and ice houses. Its retail stores are equally eclectic, with a number of second-hand and thrift shops, antique stores, and upscale boutiques.
River Oaks Shopping Center is within the neighborhood. Should one find the district's retail offerings lacking, The Galleria is but a short drive away.
True to its artsy vibe, Montrose houses the Menil Collection and the Rothko Chapel. It also has smaller art galleries in and around the district.
Back in 1911, J.W. Link developed Montrose from 250 acres of land. He had originally envisioned it as a master planned upscale neighborhood. It was one of Houston's first streetcar suburbs.
A real estate boom in the 1990s inspired a renewal of the district, and many townhomes and mid-rise condos were developed during this period. Many single-family homes, mostly patio homes and bungalows, were renovated.
The housing boom is still ongoing, with more developments slated for Montrose.
Montrose is under the 77006 zip code of Harris County.
Neighborhoods near Montrose include Downtown Houston, Upper Kirby, River Oaks, Rice Military, Museum District, Midtown, EaDo, and Medical Center.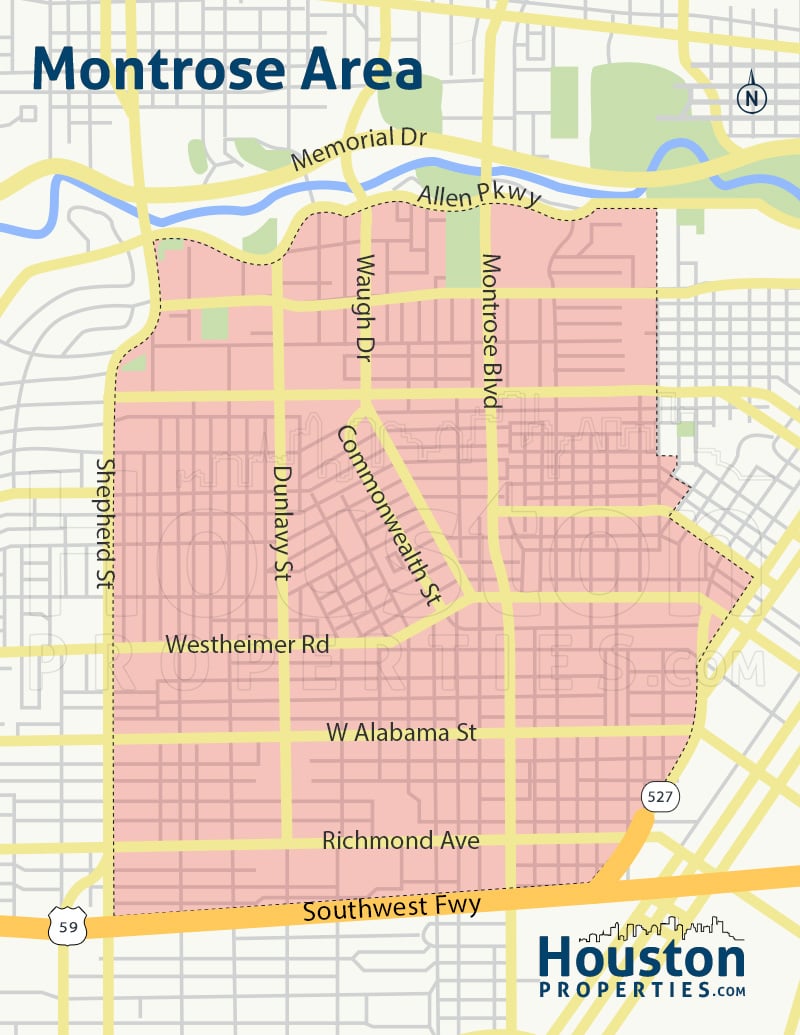 Montrose Schools Information
Montrose is zoned to the Houston Independent School District (HISD) and is home to the University of St. Thomas (UST), a Catholic university in the Archdiocese of Galveston-Houston.
Public
Elementary
MacGregor Elementary School at 4801 La Branch St. MacGregor Elementary can trace its roots back to 1922. It serves students in grades PK to 5 and offers magnet programs in music and science. Afterschool activities include girl and boy scouts, as well as an Extended Day program.
Poe Elementary School at 5100 Hazard St. Named after Edgar Allan Poe, this elementary school is a fine arts magnet school. It has a GreatSchools.org rating of 8/10.
Wharton Dual Language Academy at 900 W Gray St. An alternative primary school, Wharton offers a Language Magnet program for students in grades PK through 8. It features a program that incorporates both Spanish and English languages. It has a GreatSchools.org rating of 10/10.
Wilson Montessori at 2100 Yupon St. Also known as Wilson Elementary, this school offers a Montessori program that encourages self-reliance and independence.
Middle School
Lanier Middle School at 2600 Woodhead St. In 2011, Sidney Lanier Middle School received a Texas Gold Performance Award. It offers a Vanguard program for exemplary students and has a GreatSchools.org rating of 10/10.
Gregory-Lincoln Education Center at 1101 Taft. GLEC features a Fine Arts magnet program for students in grades K to 8. It offers classes in vocal and instrumental music, theater, dance, culinary arts, visual arts, and multimedia arts.
Baylor College of Medicine Academy at Ryan at 2610 Elgin St. BCMAR is a magnet middle school located in the campus where Ryan Middle School once stood. A relatively new school, it offers offers a unique Medical Magnet program that is centered on a health science based curriculum.
High School
Lamar High School at 3325 Westheimer Rd. Home to the Lamar Redskins, this high school has one of the best Athletics programs in the area. Lamar also boasts of the oldest lacrosse programs in Texas. It has a GreatSchools.org rating of 7/10.
High School for the Performing and Visual Arts at 4001 Stanford St. Also known as HSPVA, this school boasts of "an academic program with concentrated training in the arts." HSPVA is divided into six departments, including creative writing, vocal music, instrumental music, dance, theater, and visual arts.
Montrose also features several private schools. Here are some of them:
The Harris School at 900 Lovett Blvd.
Avalon Academy at 1616 Indiana St.
Kipling Street Academy at 1425 Kipling St.
School For Young Children at 810 Sul Ross St.
St Stephens Episcopal School at 1800 Sul Ross St.
Annunciation Orthodox School at 3600 Yoakum Blvd.
To find an updated listing of all Montrose real estate zoned to any specific public school, please send an email to Paige Martin at [email protected] with the property preference and budget that you're working with.
*Note: School zoning tends to change from year to year, information provided above are accurate but not guaranteed. Please double check by visiting the school's website.
Montrose Houston Realtor – Paige Martin
As featured on Fox News in the Morning, the Houston Business Journal, Houston Chronicle, and Houston Magazine, Paige Martin – a consistent Top Producing Broker-Associate and head of the Houston Properties Team – is ranked amongst the very top Keller Williams agents in the Houston area.
Paige is ranked as one of the top realtors in Montrose Houston and the state of Texas. Read more about the over 65 awards she's won in the last few years.
Paige works with a tremendous number of buyers and sellers within the Inner Loop.
For a specific recommendation of neighborhoods, homes or properties based upon your personal style, goals & price point, please contact Paige Martin, head of the Houston Properties Team & Broker Associate at [email protected] or 713-425-4194.